GARDENA smart sileno city 500 robomower review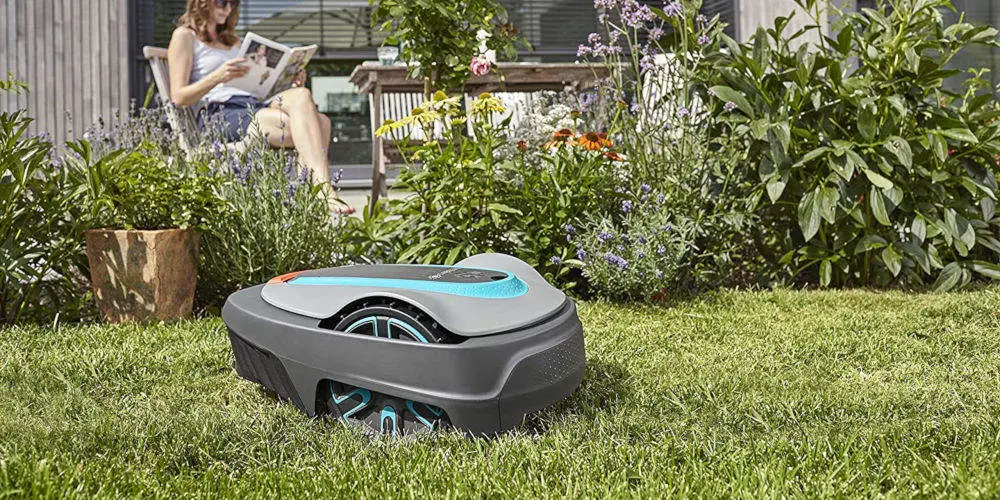 PUBLISHED: 8th September 2020 | LAST UPDATE: 19th July 2022
Reliable, precise and near-silent, the GARDENA smart sileno city 500 is an exciting robotic lawn mower that's ideal for lawns up to 500 m2. It continues to mow your grass all year round with minimal input from you.
Designed around GARDENA's Sensor Cut System, this robomower offers a precise, stripe-free cut, ensuring a healthy-looking lawn all year round. It can handle gradients of up to 25% as well as small corridors and narrow passages.
Using a combination of boundary wire and highly sensitive sensors to navigate, the GARDENA smart sileno city 500 robomower is extremely agile and manoeuvrable. It's tilting rear wheels ensure maximum efficiency when mowing.
Powering the unit is an 18 V Li-ion battery which takes an hour to charge and provides over an hour of mowing time when fully charged. When finished or the battery is low, it automatically returns to the charger.
At the heart of the machine is an adjustable cutting deck which uses three blades and can be set between 2 and 5 cm. Designed to be operated in all weathers, not in the even rain can stop it from maintaining your lawn!
With built-in Wi-Fi and onboard controls, getting set-up and running is simple. Plus, the GARDENA smart app allows control from anywhere in the world. The app can also be used to control any of the GARDENA smart system devices in your garden.
Maintain the unit is easy as you wash the housing, blades and wheels down with your garden hose. Perfect if you dealing with longer, slightly damp grass!
As one of the best robotic lawn mowers currently available, the GARDENA smart sileno city 500 robomower scores a respectable 8/10.
Pros
Multiple control method including app
Efficient battery charging
Easy to clean
Design
As far as robomower go, the GARDENA smart sileno city 500 is fairly attractive with its two-tone charcoal grey case with aqua highlights. it weighs 7 kg and measures 55 cm (w) by 36 cm (d) by 22 cm (h).
Starting on top. You'll notice a large orange stop button, which allows you to instantly pause the unit. Next to this is a panel which covers the controls and has a finger hole at the bottom. Lifting this door reveals a cutting height adjustment knob, basic controls and an LCD display.
Turning the unit over, you'll see three wheels with the front two being larger than the rear one. In the centre is the cutting deck with blades and there is a handle at the front, allowing you to easily lift and move it.
On the front of the unit below the orange stop button and above the smaller wheel is the charging point.
Finally, the GARDENA smart sileno city 500 robomower comes with a dock allowing it to recharge safely when not in use. It doesn't protect the unit from the elements, so you may want to invest in a robomower garage.
That said, the GARDENA robomower is designed to work in most weather conditions.
Features
The standard electric lawn mower produces an ungodly amount of noise. Thankfully, the GARDENA smart sileno city 500 only produces 58 dB of noise or about half of that of a typical electric mower. You'll be able to enjoy your garden while it mows your lawn in relative peace.
The 18V 2Ah Lithium-Ion battery ensures the unit is near silent yet optimised for performance. Unlike a lot of battery-powered garden tools, which have a poor charge to use ratio, a 60-minute charge allows the GARDENA smart sileno city 500 to operate for 65 minutes.
As you'd expect, when the battery is low, the robomower will automatically make it's way back to the dock and start to recharge.
Providing a streak-free, even cut are 3 blades sit on an adjustable plate which can be moved between 2 and 5 cm, allowing you to tailor how your lawn appears. These blades, together offer a cutting width of 16 cm.
Using a combination of boundary wire, sensors and onboard software, the GARDENA can navigate any lawn up to 500 m2 with ease including narrow passages and inclines up to 35%. It's even programmed to retrace its path if get stuck down a dead-end path.
A basic set controls are available on the unit including a timer function, stop/start and cutting height. That said, the onboard Wi-Fi allows you to control the GARDENA smart sileno city using an App (versions for iOS, Android and Web) which is accessible from anywhere in the world.
There's no built-in alarm system but you can set a PIN code to limit who can operate the unit. It also has a lift sensor which when triggered stops the unit until it's safe to restart.
Set-up
Getting set up takes a bit of work as you need to lay and peg boundary wire. However, this is no different from buying any other robomower. In the box are 200 pegs and 150 m of wire, which should be plenty.
Before laying the wire, you'll want to set-up the dock. As long as it has clearance 30 cm on both side and 2 metres in front, it can be located anywhere. Of course, it needs to be near an electrical socket for power.
With the dock secured, you can start to lay the boundary wire so that it creates a loop. Ideally, you should lay the wire so that it's around 30 cm from the border to stop the GARDENA smart sileno city 500 robomower from crashing into objects.
Don't worry if after securing the boundary wire, it looks unsightly as it will soon disappear as the grass grows.
Other than charging the unit, the first time, you'll need to complete the basic set-up including language, time and the mowing schedule. We'd recommend setting up the PIN code as it's the only security features.
The only thing left to adjust is the cutting height, which should be set in the middle, to begin with. You can adjust this based on your seasonal lawn care plan.
After charging for an hour, your GARDENA smart sileno city 500 robomower will jump into life and start mowing. It's worth watching it while it mows for the first time to check it can safely navigate your lawn and that the result is up to your standards.
If you're happy, then it's best to set a schedule and keep an eye on it. It's also worth setting up the App on your smart device so that you can track your GARDENA smart sileno city 500 robomower from anywhere and view up to the minute reports.
Performance
Even with the limited controls on the unit, you still have access to a few different modes and the ability to schedule GARDENA smart sileno city 500 robomower to cut on certain days and time. Of course, we'd recommend using the App as this offer far more controls and options.
Overall the cut is precise and it's fairly quiet, allowing you to use the garden while it runs. As it's designed to deal with rain, there's no onboard rain sensor and will it happily continue mowing regardless of the weather. That said, you'll want to move it inside during the winter.
As with other robomowers, the GARDENA smart sileno city 500 cuts directly on to the lawn leaving small pieces of grass, which then break down into the soil providing it with much-needed nutrients. This promotes a healthy lawn which is regularly cared for.
There are 5 different mowing modes, ensuring your lawn can be correctly cut and looked after.
Edge cut
In this mode, it will cut right up to the edge of the boundary wire. You'll likely need to trim the edges especially if you have hard surfaces next to the lawn.
Spot cut
As a handy mode, the spot cut uses a spiral mowing action to cut hard to reach areas such as under shrubs or garden fixtures or furniture. Thanks to the unit's low profile, it easily fits into tight spaces where a traditional lawn mower simply won't.
Basic cut
Using a random pattern to ensure all area are cut evenly, the basic operating mode is surprising highly effective.
Narrow passages
Thanks to its intelligent navigation, the GARDENA smart sileno city 500 can seamlessly navigate tight areas and passages. But that's not to say it isn't limited. A long passage less than 1.5m wide might cause it to get stuck. You want to watch it or exclude the area using boundary wire.
Is the GARDENA smart SILENO city 500 worth buying?
There's plenty of features that make the GARDENA smart sileno city 500 robomower worth buying. It's compact, intelligent and offers a superb cut. Not to mention the excellent battery charge to use ratio.
It does have a few negatives including no built-in alarm which is essential if you plan to leave it working around the clock. That said, the onboard PIN code will mean should your robot mower get stolen, the thief won't be able to use it.
Another issue, while it can cover up to 500 m2 and navigate tricky passage, it doesn't offer multi-zone out of the box. Instead, you have to run it in manual mode and move the unit between zones. In this regard, other robomower offer a better experience.
Putting that to one side, the GARDENA smart sileno city 500 robomower offers multiple modes, a precise cut and will continue in the rain. It's easy to programme even if the onboard controls aren't the easiest to use.
Ensuring a precise cut, the three blades are easily changed and adjusting the cutting height takes seconds and involves no tools. It's simple to achieve a superior looking lawn thanks to these features.
As smart home fans, the App allows us to extend wireless control to the garden and as GARDENA keep release home automation products for the garden, having the App on a few smart devices makes sense.
Overall, the GARDENA smart sileno city 500 robomower scores 8/10.