Heatit Z-Push wall controller review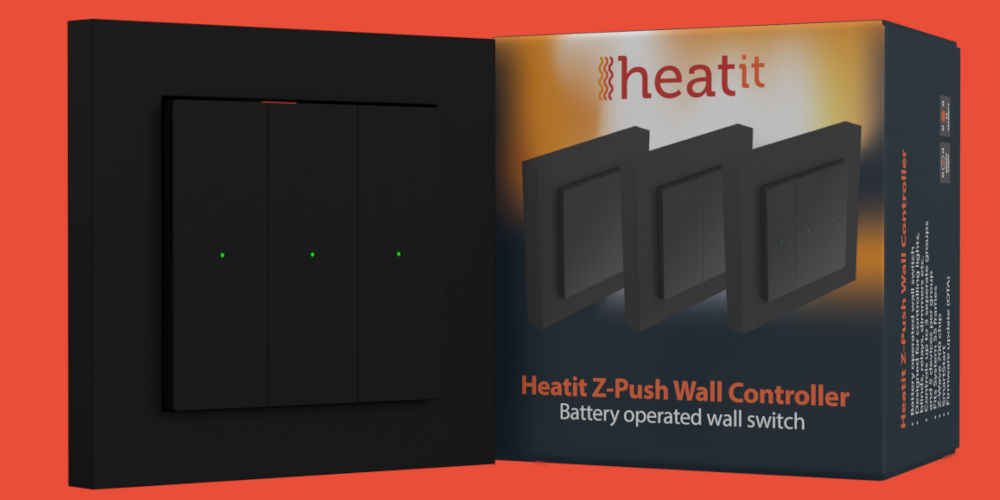 I recently met Tom from Birkdale Smart Home. He offered to send us a Heatit Z-Push wall controller to review. So, while we got it for free, this is our honest opinion. With that disclaimer out of the way, let's explore this cool Z-Wave device.
If you've been following us for some time, you'll know I'm a massive fan of Z-Wave and Fibaro in particular. But a problem I've encountered is the lack of scene controllers for the UK/EU market.
There's plenty for the USA, but they run on a different Z-Wave frequency and run on 110 Volts. So they aren't remotely compatible with my Fibaro Home Center 3 Lite.
After hours of internet research, I was at a loss. Then, a few weeks ago, I met Tom who owns Birkdale Smart Home on a Fibaro webinar about building scenes. He suggested I try the Heatit Z-Push wall controller. I asked if he would send me one for review, which he did.
This review aims to highlight what problem it solves, how I'm using it with my system, and why I'll buy more as I scale the automation in my home.
Why do you need a scene controller?
Recently we wrote about using Fibaro modules without a local switch. Here's a recap of that article, just in case you didn't read it.
You can run almost all Z-Wave modules without a local switch. For example, you can install a dimmer module with no light switch. But the only way to operate them is with some form of a controller, such as an app, virtual assistant, or scene controller.
There are plenty of reasons why you might not want local switches. You might feel that with more than 3 light switches, your wall looks cluttered. Add in a thermostat control, and it feels like the Starship Enterprise! But you still need to operate your lights, blinds, and other devices.
By building scenes, you can control multiple devices with the touch of a single button and remove the need for multiple switches. Plus, you don't have to remember the correct settings as you've already programmed them into the system.
What options do we have?
You'll find plenty of Z-Wave scene controllers with a quick Google search. For example, The Eaton RFWC5DBK is a 5-button controller that looks similar to a Control4 or Crestron keypad. Another superb option is the Zooz ZEN32, which offers 4 scene buttons and a dimmer controller.
However, most are designed for the US market, meaning it's a frustrating process. Z-wave operate at a different frequency in the US vs EU. Plus, they run devices on 110 Volts and not the 230 us Brits do.
In terms of UK options, Vesternet sells a 12-button Z-Wave remote but it's not the most attractive looking device. A more alluring option is the Aeotec WallMote Quad, but it's expensive! Fibaro sells The Button. However, that's only a single controller button.
The Heatit Z-Push Wall Controller is another option. It's affordable, attractive, and flexible. It's available in black or white, so blends in with most interior schemes.
What comes in the Heatit Z-Push box?
It can be a little confusing at the start as it looks like the Heatit Z-Push wall controller comes in several configurations. And while this is the case, the box includes all of the different options.
Inside the box, you'll find the switch (battery included), three different face plates, a wall mount, and the surround. As the surround and the face plates are plastic, you can easily stick labels on them or have them engraved.
Let's look closer at the face plates. The first is one large button with two positions (up or down). With the second face plate, you have two paddles creating four buttons. Lastly, the third plate has three paddles, creating six buttons.
The benefit of this approach is you can easily customise the look and function of your Heatit Z-Push wall controller. In under 10 minutes, you can completely change the face plate and reprogramme it for a new use.
Powering the device is a 3-volt coin battery. So you can easily find them at a supermarket or online, and have a spare or two in a draw. That said, I'm not a massive fan of battery-operated devices as they can easily die at the key moment!
Getting started with the Heatit Z-Push wall controller
Firstly, you need to open the back of the switch by sliding the door up. Next, remove the battery tab to activate the device. You'll want to remove the switch from the wall mount and select your faceplate, either one/two/three paddles. Slide the face plate over the switch and click it into place.
You can then replace the wall mount and add the surround. That's the basic set up. Of course, if you want to use the wall mount as a guide for drilling holes, you can easily remove it and then screw it to the wall after you've drilled the correct holes.
At this point, you'll want to add it to your Z-Wave network and programme it to control scenes or devices. Using the Fibaro app, I got the Heatit Z-Push included in a few seconds. No different from adding any other Z-Wave device.
Programming it with the Fibaro Home Center 3 Lite
As I have a Fibaro Home Center 3 Lite installed, it makes sense to talk about programming the Heatit Z-Push using the Fibaro online portal. You have a few options, all of which are easy to set up.
The first way is to build new scenes using the built-in Block Scene editor. Clicking on the gear icon of the Z-Push takes you to the device settings menu. From there, click on the advanced tab, and you'll see options to configure each of the 6 potential buttons.
You'll see a long list of options as you can assign different functions whether you press a button once, twice, or three times; as well as hold or release. It can get confusing quickly. So, you'll want to play around with things.
Let's set up a living room light scene on button #1 for a single press. Simply, click on the Add Action button. A pop up will appear that will let you build a scene for that particular button.
Another way to programme scenes is to click on the gear icon at the bottom left. You'll see the settings menu load. Click on the 3rd option: Scenes to load the scene editor.
In this window, you can build scenes that you can control using the Heatit Z-Push or Fibaro app. The Block Editor is the easiest way to build scenes, as you can drag and down elements. You can also use the LUA Editor if you're good at coding!
Using the Heatit Z-Push wall controller
As I don't fancy having a wall of switches but need some form of controller, I'm using the Heatit Z-Push wall controller to do the heavy lifting.
I'm testing it in my bedroom to control a few different scenes. There is a Good Morning scene that raises the blinds and turns on the main pendant light to 65%. It's ideal for getting ready in the morning without getting blinded!
Another scene is Goodnight, which lowers the blinds and turns the main pendant light to 39%. Perfect for reading in bed or watching YouTube videos.
I've programmed these two scenes on a single button. Press the button once to activate Good Morning or tap it twice for Goodnight. Very cool!
On another button, I've set up an All Off scene that turns off every device in the system. Stealing an idea from the guys at Art Of Smart, I've set this scene up as a double press; so isn't easily activated by mistake.
Will I add more scene controllers to my system?
Birkdale Smart Home is the only place to buy the Heatit Z-Push wall controller in the UK. And Tom will be glad to know I'll be buying more and asking them to engrave the face plates for me. A very cool additional service they offer.
I don't like that they are battery-operated as they don't help to build a stronger Z-Wave network and could potentially die when a guest is staying over, making their trip less than perfect! I don't fancy having to change batteries every year or two.
However, as I add more elements to my smart home system, the number of Heatit Z-Push wall controllers will also increase! They remove the need to have a bank of switches while making it easy to control devices. Plus, guests of all ages can easily understand and use them.
If you're looking for a flexible scene controller that adds Control4/Crestron/Savant like control keypads to your home, consider buying the Heatit Z-Push wall controller.