Do you need a switch with Fibaro modules?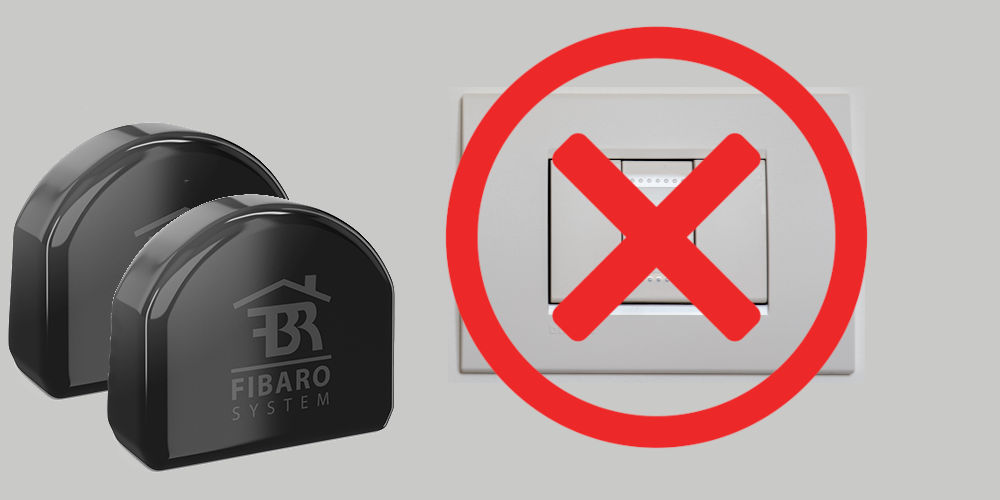 As big fans of Fibaro, we recently wondered do you need a switch with Fibaro modules? It's a simple question and an easy one to answer.
You can use Fibaro modules without a local switch, meaning the Fibaro app becomes your only mode of operation, unless you add other controllers. Come with us as we explore this question and help you understand why we'd ask it!
What do we mean by Fibaro modules?
In short, we mean anything that requires mains power and controls an electrical device. The list includes Single and Double Switch 2, Roller Shutter 3, RGBW Controller 2, and Dimmer 2.
You'll notice that the Walli range has built-in local switches. So, you have to use them as they come. We can't count any of their sensors (motion, flood, door/window), as they all are battery powered.
What are local switches?
Typically, you'll install the Fibaro module behind some form of a switch. With the Dimmer 2, you could use a standard light switch (not recommended) or a single gang retractive switch (allowing you to dim the light up and down).
You can even use a Dimmer 2 module with two light switches, allowing you to control the light from the hallway and the upstairs landing.
If you install a Roller Shutter 3, you'll want to control it using a dual switch that allows you to lower or raise them.
Hopefully, you get the idea.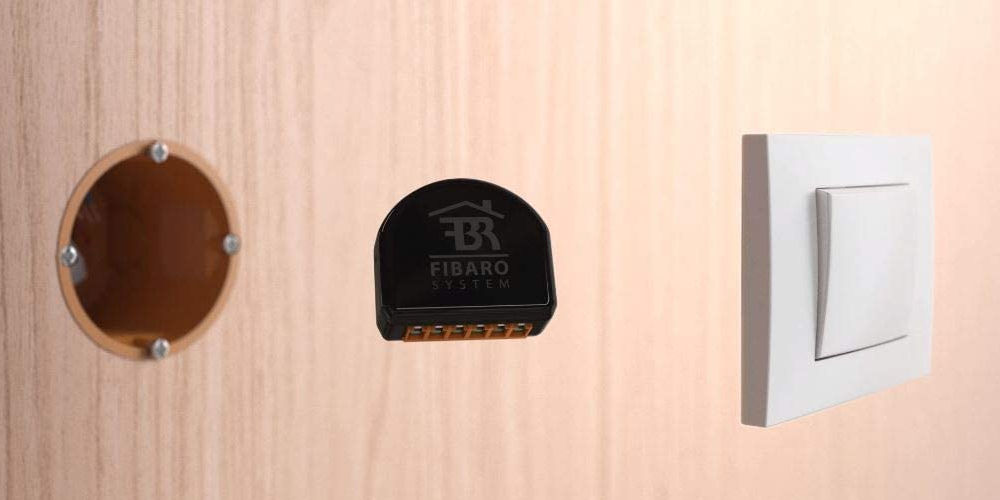 Do you need a switch with Fibaro modules?
While Fibaro recommends installing a local switch to control your Fibaro module, it isn't necessary. Having local switches is fine if you have between one and three devices. Over this number, your wall starts to look like the Starship Enterprise!
So you might want to install the modules without a local switch to free up wall space or maintain a minimalist look. However, there is a slight problem.
Without a local switch, you won't be able to control the device without using the app or a scene controller, such as Fibaro The Button.
How can we control our devices?
If you have no switches in the room, you can't control your devices without another option. Thankfully, we can use the Fibaro app. You might even want to install it on a tablet and mount it to the wall. It's ideal for using on your smartphone and on a tablet.
Another option is to use Fibaro Swipe. You can control devices and scenes with hand gestures. It's a very cool device that looks like a photo frame and actually holds a physical 10 x 15 cm (6 x 4 inches) picture of your choice.
Fibaro offers The Button, which allows you to trigger a scene. They also offer a KeyFob that has six buttons, allowing you to control a range of functions.
Sounds great, but there's a slight issue!
These options are great, but there's a slight problem. Always carrying your phone or a key-fob isn't ideal. The idea of mounting tablets on your walls might sound crazy! Will guests handle remembering 10 different hand gestures? Unlikely!
And while The Button is a superb piece of kit, you might say we're changing one switch for another, which defeats the object of this exercise!
So how can we operate our Fibaro modules and devices? Simple! Use Z-Wave scene controllers. We've borrowed this idea from many of the high-end automation systems.
How do Z-Wave scene controller work?
If you look at Control4/Crestron/Savant/etc systems, you'll notice they use scene controllers in each room. They don't use individual switches or controls for each device. So you'll always need remotes, touch screens, a tablet or two and your smartphone.
Having a scene controller in each room allows you to programme the main functions into one easy to use keypad that everyone can use. The high-end systems use fancy looking keypads with labels and backlights! Nothing stops us from doing the same with our Z-Wave system. 
For example, you can have a morning scene that opens the blinds. A good night scene could lower the blinds and dim the main pendant light. You could programme a goodbye scene that turns everything off, ideal for when you leave home.
Are many Z-Wave scene controllers available?
Several Z-Wave scene controllers are currently available, including a range by Aeotec, MCO Home, and Heatit.
MCO Home offers 2, 3, 4, and 5 button Z-Wave scene controllers that are easy to wire in and pair with any Z-Wave hub. But be aware they require Live and Neutral wire. So you might need to do some rewiring before you can use them.
The Heatit Z-Push wall controller is a highly flexible scene device. You can customise it to have 2, 4, or 6 switches. It's battery-powered and comes with a wall mount, making it easy to install and use anywhere within your home.
Vesternet also sells a range of its own brand Z-Wave controllers with 2, 4, and 8 button options. While these are functional, they are quite ugly, and we wouldn't want them in our house! They also offer an attractive 12 button remote.

Will you need several control options?
You need a few different control options to successfully run any home automation system. Scene controllers allow you to quickly operate several devices. However, they don't provide the level of flexibility the app offers. So we need a range of controllers.
And we're yet to mention Alexa or the Google Assistant, which are great options for controlling certain aspects of your Fibaro system.
Automating your life with Fibaro
So, do you need a switch with Fibaro modules? You now know that you don't. But you'll need to think about how to control your devices. You could forgo wall switches and use the app on your phone and tablet.
Another option is to use scene controllers to operate devices and scenes that in turn run several devices. This idea is similar to how you'd use a virtual assistant like Amazon's Alexa.