Using Z-Wave home automation to build a smart home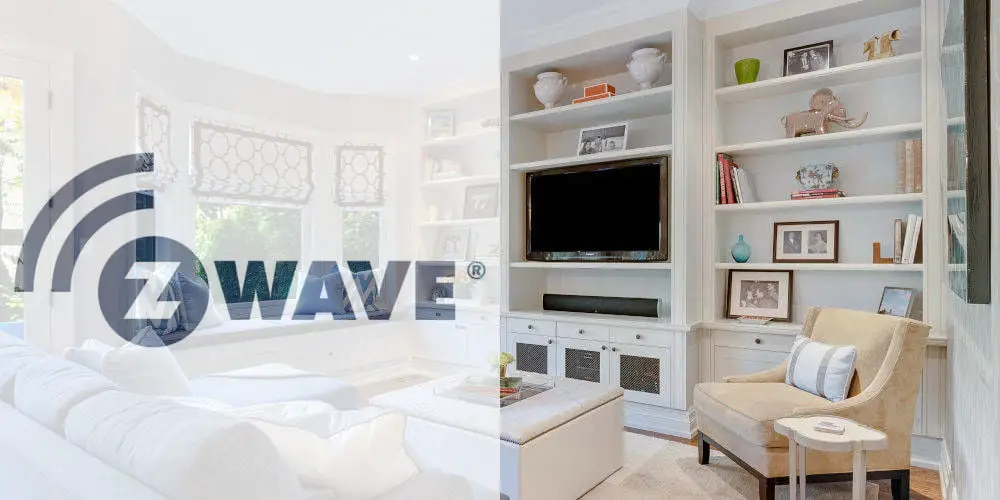 When it comes to consumer-level smart home tech, Z-Wave is a brand that constantly pops us. What makes a Z-Wave home automation system exciting is three things. These are: the underlying technology, the range of available products, and its compatibility with a range of other smart home protocols.
While it works completely different from Lightwave, the two share many similarities. Since comparing the two is beyond the scope of this piece, we'll have to settle that debate at a later date.
Plus, with big brands such as Bosch, Honeywell and Yale on board, it's easy to see that Z-Wave home automation is only getting started and will continue to grow. Let's start at the beginning.
History
With over 18 years of history, Z-Wave has been around a while! In 2001, a Danish company named Zensys set about to design a new way to control the home. So, the Z-Wave home automation protocol was born.
Later that year, Zensys introduced a consumer light-control system. After a short while, this system evolved into Z-Wave as a proprietary system on a chip (SoC) automation protocol, which uses an unlicensed frequency band in the 900 MHz range. As a lower power alternative to Wi-Fi, the protocol has a much bigger range than Bluetooth.
By 2005, our friends in the USA started developing products around the protocol, enabling users to add basic automation to their homes. It was around this time that five companies, including Danfoss, Ingersoll-Rand and Leviton Manufacturing, adopted Z-Wave. Together they formed the Z-Wave Alliance, whose objective is to promote the use of Z-Wave technology.
Since then, the technology has grown from being in six smart home products in 2005 to over 2,400 smart home devices in 2018. Not bad for an evolving market!
System overview
The typical Z-Wave smart home system home has two components; a hub and devices. At the heart of every system is the hub, which is the brain of the operation. Smart home devices link into this hub and control heating, blinds, power, lighting and other functions.
Devices communicate wirelessly with each other. They create a strong mesh that improves connectivity and ensures drop-outs are virtually non-existent. Unlike Zigbee and Wi-Fi, they communicate using a low frequency. So don't experience major interference issues.
Plus, as a protocol used by over 700 manufacturers, it's likely there's at least one product on the market that will solve your issue while seamlessly integrating with your system.
For example, you could use an Aeon Labs hub with Honeywell heating controls or a Z-Wave.me RaZberry 2 PI with some Fibaro smart home devices.
Again this provides the ultimate flexibility when compared to other systems like Control4 or Lightwave.
Selecting the ideal hub
At the heart of every Z-Wave home automation system is a hub. Unlike other smart home systems, you can choose between a few options.
For a long time, the Mi Casa Verde would be the one we'd often see on YouTube reviews and demos. Now discontinued, the VERA Edge replaced it. The Edge can control up to 1,300 compatible devices. You could automate a palace and still have space for more devices!
If that's too much or you're looking for a sleeker unit, the Aeotec Z-Stick is a superb option. Able to control up to 232 devices, this highly affordable USB stick also works with the new Z-Wave plus protocol.
The only downside to the Aeotec device is you'll need to find and install software (such as OpenHAB or HomeAssistant). However, it does work with Raspberry Pi.
You could, however, go down the Fibaro route. They offer several different hubs. Their flagship model is the Fibaro Home Center 3 can control up to 230 devices and allows you to program complex scenes.
Starting simple
While the three hubs above are all fantastic, if you're slightly intimidated or unsure where to start, the Samsung SmartThings Starter Kit might be your best option.
Included in the Samsung kit is a hub, a plug-in-and-play socket, three sensors. It's worth the £165 price tag. In addition to working with other Z-Wave devices and apps, you can also control the system via Google Assistant and Amazon Alexa.
Building a home automation system for the first time or exploring a different type of smart home, it's best to start with one feature in a single room and build from there. For example, you can easily add smart bulbs and more plug-in-and-plug sockets, giving you near-total control of your living room.
From there, you can expand lighting control to the whole house by using either smart bulbs or DIY retrofittable dimmers. It's a good idea to grow slowly, giving yourself time to test new features and functions. This way, you can easily problem solve and not end up with a mess!
Building your Z-Wave home automation system
Let the fun begin! We're going to build a system around the Vera Edge as it's affordable and can control a humongous amount of devices.
So what will our Vera Edge control? We'll start with the basics of lights, power and heating.
Power
Starting with power, currently, only plug-in-and-play devices are available. Typically these range from as low as £10 up to £55. While plug-in-and-play devices don't look as aesthetically pleasing as retrofitted sockets (such as the Lightwave ones), they allow instant control without any DIY or tools.
Our top pick is the NEO Coolcam Power Plug, which at £32 is a little pricey, but work with both Vera and Fibaro.
Lighting
There are plenty of lighting options, including bulbs, dimmer modules, plug-in-and-play lamp holders, and retrofittable light switches. So the choice is yours!
In terms of prices, plug-in-and-play lamp holders are your cheapest option at £10. At the other end of the price scale, bulbs such as the Aeotec LED Bulb start at £30.
Based offer a range of dimmer switches with both single and double gang switches available. Of course, these will require you to replace your current light switches. Whereas Fibaro offers a range of dimmer modules, which are easily wired into the existing back box and so it's possible to keep your light switches.
Heating
When it comes to heating, a few options are available depending on the type of control you're after. At one end, there are plenty of Z-Wave enabled thermostats available, which afford basic control.
If you're looking for control over each room, there are a few TRV options on the market, including the Popp POPE010101 Radiator Thermostat.
Basics covered
So with the basics covered, what else can we control?
Home security
A wide range of home security products are available, including cameras, motion sensors, doorbells and door locks. So you can leave your home knowing that it's safe and that you see in real-time what's happening.
Staying with home security. Several blind controls are available. For example, Fibaro has a module that can control any AC device. So you can easily control blinds, garage doors or any device with a motor.
Home Cinema and Media
As we have a soft spot for movies, let's explore what is available in the media category. Currently, no hardware uses Z-Wave. That said, you could use Logitech Harmony Ultimate Hub to control your TV, DVD/Bluray and games consoles. While the Logitech costs around the £100 mark, it's a time saver and can even be run using its own app.
If you want to use Sonos, you'll need to invest in a bridge to get the two systems to communicate.
Control
Several apps are available, including ones that enable you to combine different systems into an easy to use layout. The right option for you will depend on the hub you choose. For example, Fibaro has a fantastic app, for which there are many add-ons. Our favourite app is the openHAB, which works well with any system and provides effortless control.
There are also a few controllers on the market that enable a user to save/recall scenes. These devices are great for controlling lighting, for example, or as a way to turn everything off on your way out.
Common issues with Z-Wave
As an open-source protocol, Z-Wave is fairly easy to hack. And while security patches and updates are being added all the time, the wrong hands could cause problems.
It's worth checking that you're buying the latest version and if any software or firmware updates are available. Regardless of what you buy, you should keep units up to date as this helps to protect your smart home from hackers.
As a wireless network, devices pair with each other, and some users have experienced devices randomly unpairing with the system. And while we haven't seen many of these issues, it's worth rigorously testing every new device you add. Of course, this could also be a software issue that an update fixes.
Another issue with wireless networks, in general, is wall thickness. So if you do live in a 16th-century barn conversion with metre thick walls, you might face connectivity issues. Luckily, repeaters are available that should solve this issue.
Can I use …?
Regardless of how amazing the available product range is, it's also worth considering how other major tech interfaces with Z-Wave.
Lightwave
While these two compete with each other, combining Z-Wave and Lightwave is extremely simple through using Athom Homey. The Homey can control Zigbee, Wi-Fi, Bluetooth, and more, creating a single unified smart home system.
Apple HomeKit
Again as a competing system, combining the HomeKit with a Z-Wave home automation system might be tricky. Apple has released a bridge that enables the two to communicate. However, there are limits and restrictions.
The good news is that the Athom Homey can bridge the gap and enable the two to work in harmony.
IFTTT
Z-Wave and IFTTT were built for each other! Well, not quite, but the two interact with each other seamlessly. If you don't have a clue about IFTTT, read our introduction to IFTTT for home automation.
Sonos
Yes, you can use all of your Sonos gear with Z-Wave. However, it's easier to combine Sonos with a Fibaro system, for example, than others.
The Fibaro system has a Sonos app that is easy to install within the Home Center control app. If you're using a Vera, you'll have to invest in a bridge or use an app that controls both.
Amazon Alexa / Google Home
You can easily link any of the Amazon Echo products and Google Home into any Z-Wave hub and use your voice to control the system using either Alexa or Google Assistant.
How does it compare to other smart home systems?
Z-Wave is just one option for automating a property, so it's worth considering other systems. By looking at DIY and professional-level systems, you can form a complete picture of what Z-Wave offers.
The leading professional-level smart home system includes Crestron, Savant, and Control4. They all require a highly trained engineer to install and configure the system, meaning none of these options are cheap or DIY-friendly.
The differences between Crestron vs Z-Wave are stark. Crestron is far more sophisticated and reliable, but these come at a considerable cost. As a dealer will install your Crestron system, you won't need to solve any compatibility issues that you might encounter with Z-Wave.
Lightwave is a good Z-Wave alternative that's highly affordable. However, when comparing Lightwave vs Z-Wave, the latter wins as the former is very limited and is a closed system.
Samsung SmartThing uses both Z-Wave and Zigbee protocols, allowing you to integrate thousands of smart home devices into a single system. Another draw of SmartThings is the technology is built into several Samsung products, allowing you to create a fully connected home.
The future of Z-Wave home automation
If anything can be predicted about Z-Wave home automation, is it will continue to expand with new products and brands.
We would like to see more Z-Wave ready hardware come onto the market such as fridges, kettles (the Smarter iKettle looks cool!), robovacs, robomowers, and media devices.
Overall, Z-Wave home automation is the system we've been looking for. The entry price is inexpensive enough for anyone to get started. Plus, as it's DIY friendly, you don't have any expensive installation costs.
All in all, we recommend starting with an eBay search for Fibaro products. Remember to start with one feature in a single room and build from there.