4 Cheap ways to hide wheelie bins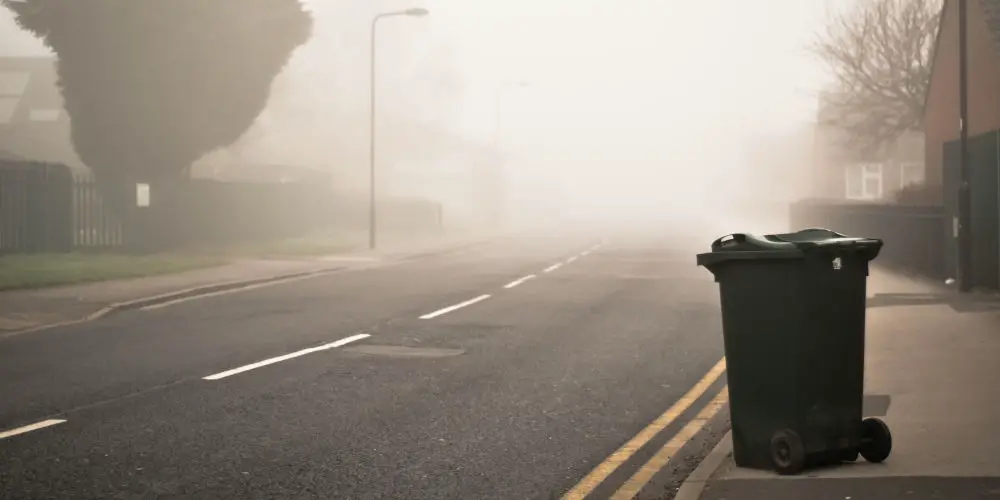 No one in their right mind enjoys looking at bins scattered across their front lawn or driveway, especially as there are plenty of ideas to hide wheelie bins and recycling boxes.
Plus with local authorities insisting on different coloured boxes for recycling, composting, food waste, and garden waste, it looks like your collection will continue to grow! Even if space is tight, you'll want to find a way to camouflage them, restoring harmony to your front garden!
Rather than trying to find any solution to hide wheelie bins, consider how you can create a beautiful feature in your garden that's attractive no matter your view.
Label your bins and boxes
Before we get into how to hide wheelie bins, it's worth ensuring you can identify yours to ensure it doesn't get stolen or taken. The simplest way is to mark your collection with your house number or name.
While there isn't a single best way, you could use a black permanent marker, white paint or even self adhesive wheelie bin numbers (we're partial to the fluorescent kind!). It's worth marking every box, bins and lid to ensure none go missing or are easily recovered.
#1 Try potted plants
As it's easy to move and position plants in containers, you can hide your bins yet gain access to them in minutes. Of course, you'll want to use fairly tall specimens for the maximum effect. You could use a faux box hedge, small tree or even a tall container with plants flowing over the sides.
If you're trying to hide wheelie bins down the side of your property, then you might have to deal with a shady situation. Before planting, consider how much sun and water each plant needs. You might need to swap plants around to ensure they get enough sun or use faux alternatives.
If you have a small driveway or front garden, then choose a variety of flowers that also smells nice. This way, any nasty smells should be masked. Consider picking plants with attractive glossy leaves or choose an interesting colour like red or silvery grey.
You might be able to get away with having plotted plants on two sides, leaving one side open for access. However, that's the benefit of using plants in containers, as you can easily experiment with different layouts and ideas.
#2 Create a bespoke brick or metal store
Rather than trying to hide them, you could make it into a feature that blends with your home exterior while enhancing the space. Consider building a bin store using red bricks to match your property, and tiled with slate or one made from steel.
You could even extend the look by building some flower beds using red bricks in your front garden. These ideas will add character and interest to your driveway. Of course, adding these features will cost more than potted plants or trellis screens, but they'll last longer.
A bonus of building a bespoke solution is that you're able to customise it to your needs. You could design and build a unit that offers a compartment for your wheelie bin on the left and two smaller storage compartments on the right are ideal for stacking recycling boxes.
#3 Tuck it into a border
As eye-sores wheelie bins and recycling boxes, don't automatically blend into their surroundings. However, you could, incorporate a storage area into a current border. By disguising your bins in a decorative floral border and planting low trees alongside it, you lessen the impact your bins have.
To fully disguise the structure, plant succulents or grass over the roof as this will it as visually appealing as possible. You could leave it open or add doors in a subtle green hue to completely hide your bins.
Mel at Little Terraced House has created a step by step tutorial of how to build a living roof bin store complete with plans.
#4 Screen them in!
Another superb idea to hide wheelie bins is to build a three-sided screen with trellis panels. You can leave them plain or use shed paint to continue your existing colour scheme.
They will need to be weighed down to prevent them from being blown away. Consider using potted plants, rectangle containers or trellis planers to make it look more attractive. You could attach the panels to a wall or fence. 
If you decide on basic trellis panels rather than an intricate design, then consider planting Clematis or Jasminum. Both are attractive colourful plants that love climbing. Another superb option is Trachelospermum jasminoides (Confederate jasmine) which produces scented white flowers in summer.
Another option is to use a folding woven willow screen as it's a more flexible option. Plus, most sit on a robust metal frame, which is hard to knock over!
#5 Bonus – Use a bin store
You could always cheat and buy a pre-made outdoor bin store. Most arrive flat-packed and take about an hour to assemble. If you're stuck for ideas, then start with our list of the best outdoor bin stores. 
Our list includes a range of options including different materials, finishes and configurations. You should be able to find at least one solution that works for your driveway and home. Plus if you decide on a wooden unit, you can paint it to match your front door.
Your best option to hide wheelie bins and recycling boxes
Hopefully, we've inspired you to find a more attractive way to hide wheelie bins and recycling boxes in your garden. It's best to ensure you mark your boxes and bins first as this will make them less likely to go walking!
Next, before building or installing anything, consider viewing angles and practicality. There's little point putting up a screen, planting hedges or building a structure if you can still see your bins from your kitchen window!
Also consider how you'll add things to your bins and how easy it is to move them to curb for collection. Otherwise, you might regret your decision and have to revert back to the eye-sore of having boxes piled up on the driveway.
And if all else fails, invest in a bin store and keep it locked to ensure your front garden and driveway always looks neat and tidy!