What's the best home cinema projector for gardens?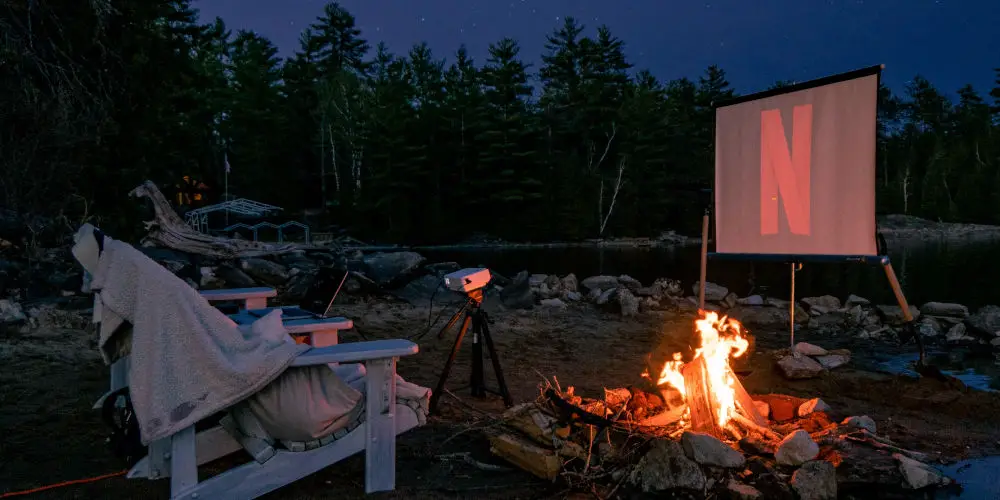 PUBLISHED: 14th July 2022 | LAST UPDATE: 29th August 2023
A key component of every garden cinema is the projector. Ideally, you'd use a portable unit that still offers plenty of brightness, a built-in speaker and a few connectivity options. Finding the best home cinema projector for gardens doesn't have to be hard or confusing.
Most budget portable projectors are rubbish. They use cheap LEDs that are incapable of producing a clear, bright image unless you're using them in complete darkness. They might be attractive due to their affordable price but are not your best option.
Ideally, you should steer well clear of any projectors offering less than 300 Lumens of brightness, regardless of how attractive the price might seem. Projectors over 500 Lumens will give you a fighting chance of creating a strong image outdoors, whether on a sheet or a screen.
Portability is another thing to be mindful of. Very few projectors are truly portable and good. Before you dump your power cables and consider where best to charge your new LED projector, just remember that the best performance comes from having a unit plugged into the mains.
Like TV, most projector built-in speakers leave lots to be desired. So, you either want to accept a less than perfect sound, use a Bluetooth transmitter to run speakers/headphones, or invest in a soundbar with subwoofer package (it'll be worth the extra cables!).
With those points cleared up, it's worth getting down to business and finding the best home cinema projector for gardens or terraces. We've picked 5 that we'd happily use in our homes and so will work for yours.
* Prices correct at time of publishing
XGIMI Elfin Portable Projector
Description
The ultra-portable XGIMI Elfin Portable Mini Projector delivers crisp and bright images in 1080p resolution, thanks to its 800 Lumen LED lamp. Slightly bigger than an A5 book, the Elfin is sleek and lightweight, making it ideal for outdoor use.
Easy to set as it uses AI technology to adjust the picture perfectly and focus the image on start up or if moved. You don't need to speed hours adjusting it or suffer from badly aligned images. Simply, plug it in, allow it a few minutes to calibrate and it's ready to go.
Able to product an image size of up to 120 inches at a distance of 3.2 metre. It has a short throw ratio of 1.2:1, making it idea for small spaces.
The built-in Harman Kardon speakers deliver a pleasant sound regardless of what you're watching. Plus, with DTS and DOLBY compatibilities, you can enjoy richer-sounding audio when watching movies. You can use the headphones output to power external speakers or headphones.
The built-in Android TV 10.0 provides access Google Play store for apps and comes with plenty of apps already installed, including Netflix and YouTube, and 10GB of storage. The UI also supports automatic Google updates, ensuring you always have the latest version of Android TV.
In addition to the built-in Wi-Fi, the XGIMI Elfin also has HDMI and USB inputs, allowing you to connect your phone or a Blu-ray player. You can easily enjoy watching your favourite content, regardless of the source!
Pros
Easy to set-up
Lightweight
Superb sounding Harman Kardon speaker
Cons
Doesn't come with tripod
Limited App store
Conclusion
Having been sent an XGIMI Elfin to review, we can safely say it's a superb projector. It's equally at home outdoors or inside as it creates a bright picture and the speaker sounds quite good. It doesn't come with AV cables or batteries. You could use it with a tripod or a book as we did!
The OS is easy to use, and you can use the Google Assistant feature on the remote to navigate the menus. That said, you can only access a limited amount of options on the Google Play Store (for example, BBC iPlayer was missing and Netflix doesn't fully work).
The built-in Chromecast is buggy, which led us to connect a physical Chromecast. Thankfully the HDMI and USB sockets are helpful. The mini-jack headphone socket is ideal for connecting external speakers or a Bluetooth transmitter to power several sets of headphones.
For such a compact and affordable unit, The XGIMI Elfin is a fantastic option when building a cinema set up for your garden. 9/10
ASUS ZenBeam Latte L1 Portable LED Projector
Description
As a truly portable projector, the ASUS ZenBeam Latte L1 Portable LED Projector has a built-in 6000 mAh battery that provides 3 hours of video projection or 12 hours of audio playback. It even features a unique coffee-mug-shaped design with a fabric aesthetic.
With up to 300 LED Lumens output and 720p native resolution, this short-throw lens creates a 40" image at 1 metre and up to a 120" image at 3.2 metres. So, is ideal for home and garden use.
The built-in 10 W Bluetooth stereo speaker with sound by Harman Kardon has three audio modes (Movie, Music and Game), allowing you to optimise the audio for different scenarios and situations.
View your favourite videos and movies on the pre-installed third-party Aptoide TV app that includes YouTube, Netflix and other streaming services. Other connectivity options include wireless mirroring for mobile devices, HDMI, USB Type-A and a headphone output jack.
A convenient carry pouch lets you take ZenBeam Latte anywhere, and the built-in battery provides up to 3 hours of non-stop entertainment (in Eco-mode). All of these features make ZenBeam Latte perfect for an outdoor viewing party with family and friends.
Pros
6000 mAh battery (3 hours of videos or 12 hours of audio)
Aptoide TV app
Convenient carry pouch
Cons
Only 300 Lumens
Non HD resolution (only 720p)
Conclusion
At 300 lumens, the ASUS ZenBeam Latte L1 Portable LED Projector isn't the brightest on our list, nor does it produce the best resolution as it only offers 720p. However, it's fully portable, a claim few on our list can make. It creates an excellent, bright picture with superb colours.
Thanks to its handy size, it's ideal for home, garden and travelling. It still performs well despite being pocket-sized. If you're at home and have Wi-Fi in your garden, you can use the built-in apps to stream content or connect a phone/tablet using an HDMI cable.
You might find that it's a little quiet, despite the 10-watt stereo speaker. But this issue is easily solved with a soundbar or Bluetooth headphones (so long as you have a transmitter) as the unit has a headphones output. 8/10
LG CineBeam PF50KS Projector
Description
As the first Full HD battery-powered projector, the LG CineBeam PF50KS Projector creates a 1080p resolution picture and offers a brightess of 600 Lumen. Twice the image clarity of basic HD projectors for more natural-looking details.
It takes seconds to set up, thanks to a vertical auto keystone that automatically detects and corrects screen image distortion for optimised projection alignment. It easily produces an image up to 100″ screen size, creating a superb a home cinema experience indoors and outside.
LG's exclusive Smart TV platform, webOS makes it easy to discover internet content like YouTube. There's also Bluetooth connectivity to stream audio. Twin HDMI ports make it easy to connect Blu-ray players and streaming sticks. Two 1 watt speakers are also built-in.
A USB port, allows you to Plug-in and Play to watch movies, view photos or look at files. The other USB port is used for charging the battery. There's also a LAN port for wired internet connection and a headphones output. So, you can easily use external speakers with it.
With a 12,000mAh battery, you can enjoy up to 2.5 hours of movie watching on a single charge. The powerful LED light source lasts up to 30,000 hours, meaning it'll be years before you need to replace the unit.
The convenient, compact design makes LG CineBeam PF50KS Projector easy to bring with you anywhere.
Pros
Auto vertical keystone
2.5 hours of viewing time per charge
Built-in media player
Cons
Tiny 2 x 1 watt speaker
remote isn't backlit or glow in the dark
Conclusion
Offering a superb picture, and plenty of connectivity options, the LG CineBeam PF50KS Projector is very nice. It might lack a proper speaker and have limited apps, but it's a compact unit with plenty of battery power and so is ideal for travelling and at home.
Using web OS, the software is fine but isn't inspiring. While it does have Netflix, iPlayer and YouTube, you'll probably end up using a streaming stick to stream content. Thankfully, there's a wealth of connectivity options.
As the built-in speakers lack any real volume, ideally you will switch to using headphones or external speakers. The fan isn't noisy in the traditional sense but makes the unit louder than an LED projector. So, you'll need headphones or speakers.
Getting it in focus is not as easy as other units, and the focus changes slightly as the projector warms up. So, you might need to refocus the projector again after 20 mins of use.
It would be nice if the remote was backlit or glowed in the dark. It does take a moment to get used to where buttons are without staring at it, which isn't ideal if you're outdoors in poor lighting. However, on picture quality alone, this projector is fantastic. 8/10
NEBULA by Anker Mars II Pro Portable Projector
Description
Delivering breathtaking images with deep colours, the NEBULA by Anker Mars II Pro uses DLP IntelliBright technology to offer 500 Lumens of brightness and 720p resolution.
Watch YouTube, Netflix, and more with Android 7.1, sit back and enjoy hours of content on your portable projector. Plug and play your favourite HDMI and USB 2.0 devices such as tablets, laptops, and game consoles.
Setting it up is easy. Mars II Pro utilizes autofocus technology to deliver a razor-sharp, high-definition image You also have Horizontal and vertical keystone controls that allow you to project a squared, stable image at almost any angle. Fantastic for outdoor uses on a dodgy table.
Ideal for outdoor use, thanks to the built-in dual 10-watt speakers, that deliver a superb sound. Easily adjust the screen size from 40" all the way up to 100" for an epic watch party.
When using the 500mAh battery, the projector outputs 200 lumens, allowing it to run for 3 hours. Plugging it into the mains, the projector switches to 500 lumens, producing a much brighter image. It also doubles as a Bluetooth speaker, making it ideal for parties.
Included in the box is the projector, power cable, remote control and batteries. The NEBULA by Anker Mars II Pro doesn't support Chromecast.
Pros
Suitable for screens up to 150 inches
Power saving facility
DLP IntelliBright technology
Cons
Chromecast not supported
Only running Android 7.1
Conclusion
Honestly, we want to love the NEBULA by Anker Mars II Pro, if only for the unique design. But it misses the mark on a few key areas. Firstly, it only offers a 720p resolution, whereas most of our list is at 1080p.
While it's a truly portable unit, thanks to a built-in battery, switching to this mode changes the brightness from 500 Lumens to 200. Quite the downgrade, particular compared to others on this list.
The speakers might not be Harman Kardon but are sufficient enough for watching movies or TV. They aren't world-changing but are better than the ones found on the average laptop.
One thing that puts a damper on the speakers is fan noise. As a DLP projector, it uses a fairly old-fashioned technology that makes some noise. It's not as quiet as an LED projector. So, while the speakers are good, you're fighting against the background noise.
Thankfully, it has built-in autofocus, allowing you to push a button and have the projector adjust itself rather than needing to fiddle with it.
The biggest issue, by far, is Android 7. While other units use Android 10, the Mars II Pro is left back behind. The result is a poor user experience that makes using the unit harder than it needs to be. Again, we want to love it but just can't. 7/10
ViewSonic M2e Portable LED Projector
Description
Packed full of features, the ViewSonic M2e Projector produces immersive colours in Full HD (1920x1080p) on a screen up to 100-inches from just 2.7 meters away. Super bright, it offers 1,000 Lumens in brightness.
Setting it up is simple as it auto-calibrates, meaning you don't need to make any adjustments or suffer through with a poorly optimised image. Simple, plug and play your presentations, videos, and pictures.
With a lamp life of up to 30,000 hours (in SuperEco+ mode), you could watch a movie a day for 15 years and still have plenty of lamp life remaining. The integrated Harman Kardon dual speakers create a crisp and clear sound, so you don't need external speakers.
With built-in Wi-fi and 10GB of storage, you can easily access apps using the Google Play store, including BBC iPlayer, Netflix, and YouTube. You can even cast content from your phone. The M2e also has Bluetooth, allowing you to enjoy music from your phone or tablet without cables.
In addition to streaming, the M2e has several inputs, including a USB port, HDMI port, USB reader, and Micro SD slot. It comes with an excellent carrying case, power cable, USB-C cable and remote control.
Pros
1,000 Lumens
Micro SD slot
Carrying case
Cons
Limited app store
Resets volume and input source on start up
Conclusion
On paper, the ViewSonic M2e Projector looks amazing. But in reality, it does have many flaws. The biggest is the user interface, it's hard to navigate and impossible to run a search. The app store is limited, so you might struggle to find what you're looking for.
You can plug a mouse into the USB socket, but it doesn't always work as expected. Sometime a single click returns you to the home page, which isn't very helpful. While it claims to offer screen mirroring, it doesn't always work.
Able to produce 1,000 Lumens of brightness, it's surprisingly bright and sharp. The built-in speakers are quite good, comparable to those on the average TV. Plus, the audio output will allow you to connect a soundbar or headphones.
Rather than using the built-in software, pair it with a Chromecast or Fire TV stick and use your chosen device as the media player. This way, you'll feel a lot better as you won't have to deal with the poor user interface experience.
The M2e is very well made and comes with an excellent carrying case and cables. Overall, there are better options. 7/10
Best home cinema projector for gardens is?
Sadly, there's no perfect home cinema projector for gardens as all have flaws. Some of which are easily forgiven. Having to add external speakers or Bluetooth headphones (keep the neighbours happy!) is a minor issue compared to a unit that desperately needs a software upgrade.
So, there are two units we'd consider to be the What's the best home cinema projector for gardens.
The ASUS ZenBeam Latte L1 Portable LED Projector. It offers a 6000 mAh battery, Aptoide TV app, 300 Lumens of brightness, and a convenient carry pouch. Ideal for travelling, in the garden or in the bedroom.
If you want something more impressive, the XGIMI Elfin projector is superb. It's lightweight, small and delivers 1080p resolution, thanks to its 800 Lumen LED lamp. It's quiet, easy to set up, and a joy to watch, whether in the living, bedroom or outdoors in the BBQ area.
Getting your new projector set up couldn't be easier, especially if you follow our tips!