XGIMI Elfin portable LED projector review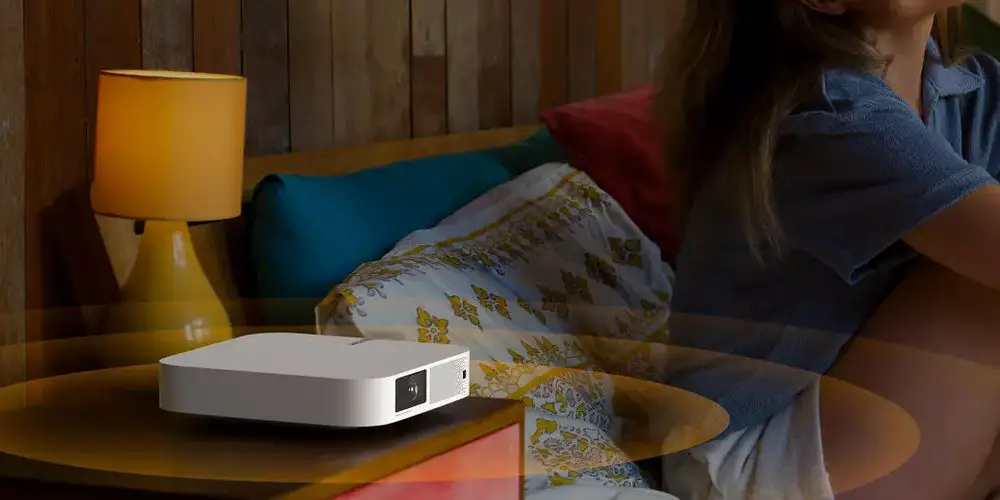 A few weeks ago, XGIMI sent us an XGIMI Elfin XL03A portable projector. While they have given us a product to review for free, the following is our honest opinion.
The XGIMI Elfin is an 800 lumens LED projector designed for indoors or outside use. As a smart projector, it has a built-in Chromecast, meaning you can cast content from a smartphone in seconds.
An HDMI port enables you to easily connect a Blu-ray player, Game console or TV set-top box. You'll also spot a USB port and a mini-jack audio output on the rear, ideal if you want to use external speakers over the built-in Harman Kardon ones.
It offers a 1080 p full HD resolution and support for HDR10+. It can comfortably project onto a screen of up to 200 inches. The built 3D Auto Keystone Correction ensure you can get it up and working with minimal effort.
The XGIMI Elfin XL03A portable projector is a fantastic unit packed with features that make watching content or gaming simple yet fun. 9/10
Pros
Easy to set-up
Lightweight
Superb sounding Harman Kardon speaker
Cons
Directional remote
Limited App store
Design
XGIMI have done a fantastic job of producing a compact projector that has plenty of connectivity and options. The first thing you'll notice with the XGIMI Elfin is how sleek the design yet it has a nice size and weight.
When considering portable vs normal projectors, we generally imagine tiny units with a poor brightness. Not so with this one! The Elfin measures a comfortable 28 cm (w) by 15 cm (h) by 28 cm (d) or slightly larger than an A5 book.
The front panel contains the lens and LED lamp, a 3-watt Harman Kardon speaker and sensors used for autofocus and the auto keystone function.
Moving to the rear, you'll see the power button and a large vent on the left. To the right are the connectivity options, consisting of a USB port, HDMI port, mini-jack audio output and a power input.
The underneath features a tripod socket, three small rubber feet and another 3-watt Harman Kardon speaker.
Also in the box is a power cable and a remote. Powered by 2 x AAA batteries, the remote has buttons to adjust the volume, turn it on/off, activate Google Assistant and a few menu controls.
Features
For such an unassuming unit, it's packed full of features that make enjoying content easy. As with other XGIMI projectors, the Elfin uses the Android operating system and running Android 10.0, it has 2GB of RAM and 16GB of built-in storage.
It comes preloaded with some apps, including YouTube, Netflix, and Spotify. You also have access to the Google Play Store, allowing you to install more apps and games.
As a 3D-ready home projector, it displays images in 1080p resolution and offers an HDR10+ option. Regardless of the image mode, pictures are bright, deep and nuanced, thanks in part to the High Light Transmission Coated Lens.
While it only produces 800 ANSI Lumen, it is an LED unit, so the actual brightness is significantly greater. You can use it with some ambient light both inside and outdoors.
It has a throw ratio of 1.2:1, making it ideal for smaller rooms as it doesn't need a long distance between the lens and screen to produce a fairly large image. Plus, the XGIMI Elfin XL03A has built-in Auto Keystone Correction for both vertical and horizontal axes.
An element that puts people off buying a compact projector is the limited projection method, which is usually only forward. Thankfully, the Elfin offers forward, backward and hang ceiling projection methods, allowing you to install it for the room, not the other way round.
In addition to the inputs and outputs, it has a built-in Chromecast, dual-band Wi-Fi and Bluetooth functions, so is highly flexible.
Producing less than 30dB in noise, you can easily hear and enjoy the two built-in 3-watt speakers.
Set-up
The packaging is well designed, with the projector sitting on top of the manual, power cable and remote. No cables or batteries come with the XGIMI Elfin projector, so you'll might need to buy some when you order the unit.
With it powered up, the set up guide is straightforward to follow and is simplified by using your existing Google account settings. You'll want to ensure your smartphone and the projector are on the same network to allow for easy pairing.
In our case, it wanted to update the firmware straight away, so we put the kettle on while it downloaded the latest version. With that sorted, we used the Auto Keystone Correction to quickly set up the projector for our living room as it was placed on a coffee table, about a metre from the wall.
As with the lack of batteries and cables, we were a bit annoyed that no tripod stand comes with it. Instead, we used two books to prop it up, which covered one of the speakers, resulting in a slightly muffled sound. Of course, this is easy to solve, so isn't a massive issue.
At this point, we could have connected devices using the HDMI port or the USB port. Instead, we stuck with the built-in Chromecast. Similarly, we considered using our soundbar and subwoofer system but again kept things simple and used the built-in speakers.
Performance
What surprised us about the XGIMI Elfin projector was how good the built-in speakers sound. It's not uncommon for these to sound thin and nasty. However, by partnering with Harman Kardon, the speakers sound good.
And while our soundbar and subwoofer system does produce excellent audio, the built-in speaker aren't a million miles away as we first assumed. Of course, with a long enough mini-jack cable, we'd still choose our soundbar set up, but for outdoor use, the built-in speakers are quite good.
After a smooth set up process, we encountered a few issues. The built-in Google Play store has limited options. We couldn't find the BBC iPlayer app, so had to download it onto a smartphone. iPlayer worked great for streaming catch up TV but refused to play live programmes.
It has Netflix built-in, allowing you to access your account in seconds without signing in. However, you can't log-out and cast from your phone. It didn't like that we already had 4 devices on our plan and refused to play content from Netflix, despite no other devices being active.
We didn't have time to properly troubleshoot or see if we could remove the Netflix app from the projector and just use the Chromecast. That said, YouTube worked flawlessly, both using the built-in Google Assistant or casting content from a smartphone.
It produces a bright picture with plenty of contrast and colour depth. Even playing older 720p content from YouTube looked fantastic. We didn't test the HDMI port but could have connected a Blu-ray player or Fire TV Stick to access even more content.
We particularly enjoyed using the built-in Google Assistant in the remote to find content without having to type it in using the remote.
Overall, it's an impressive unit that's easy to use and flexible, despite a few hiccups.
Is the XGIMI Elfin XL03A projector worth buying?
Despite the few small issues we encountered, the XGIMI Elfin XL03A projector is worth buying if you want a portable unit for your home that offers plenty of useful features, good connectivity and smart functionality.
Of course, it doesn't compete with high-end professional-level units such as the Sony VPL-VW570ES or BenQ W5700, which are designed for a dedicated home cinema room. But the XGIMI Elfin costs a fraction of the Sony or BenQ.
As usual, check what cables you need before ordering and ensure you have a pack of AAA batteries in your home. You'll also benefit from having a tripod or purpose-built stand over using books. In time, you'll want to invest in some good external speakers to make the experience even better.
We can imagine using this projector a lot in the winter both in the living room and bedroom to enjoy movies and catch-up TV. Plus, when summer comes round, we can see us getting plenty of use out of it. We plan to hang a sheet against the house to project onto and fire up the BBQ. 9/10