How to create the ideal home office design on a budget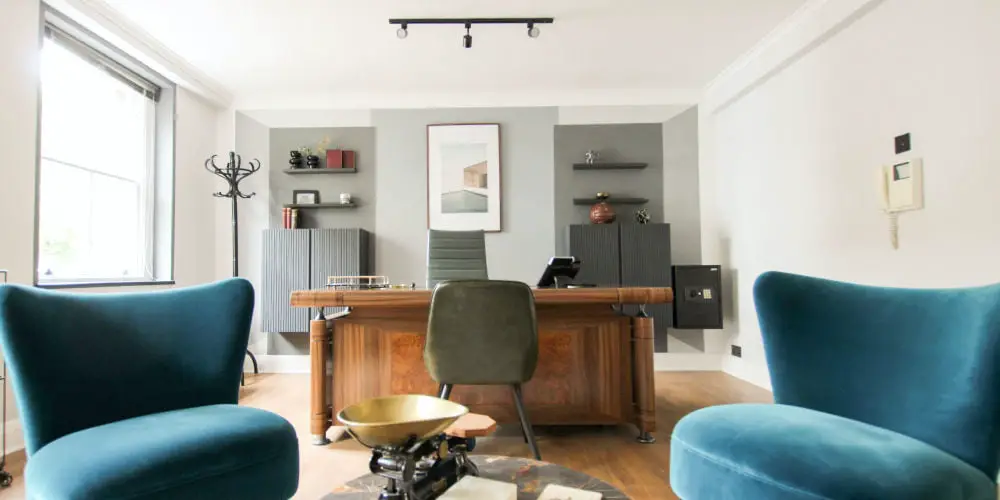 With more of us continuing to work from home, many are willing to invest in creating their dream home office design on a budget. Whether you have a dedicated office, a spare bedroom you're planning to convert or just the corner of a room, there are a few key elements to consider.
With the right home office design, you'll be more productive, allowing you to keep your working hours to a minimum. You don't need a vast space, just one that reflects your personality that's is comfortable and practical.
Here are the key elements which make up any successful home office design on a budget that you can easily apply to your space and create an instagrammable space.
Creating separation between work and home
If you're used to working in an office, you might not consider the need to create separation between work and home. For some, they'll have a room they can dedicate to being a home office. Once the door shuts, work is over, and home life begins.
Other's will have to be a little more creative with how they create a space for working while not letting it encroach into every area of life. You may be able to paint the office wall in a different colour or use a tall cupboard, which can house your office yet is easily packed away.
It's worth taking some time to pick a location that quiet, with a decent-sized window and that's easy to shut off when the working day is done. As this might be easier said than done, you might want to experiment with a few locations within your home.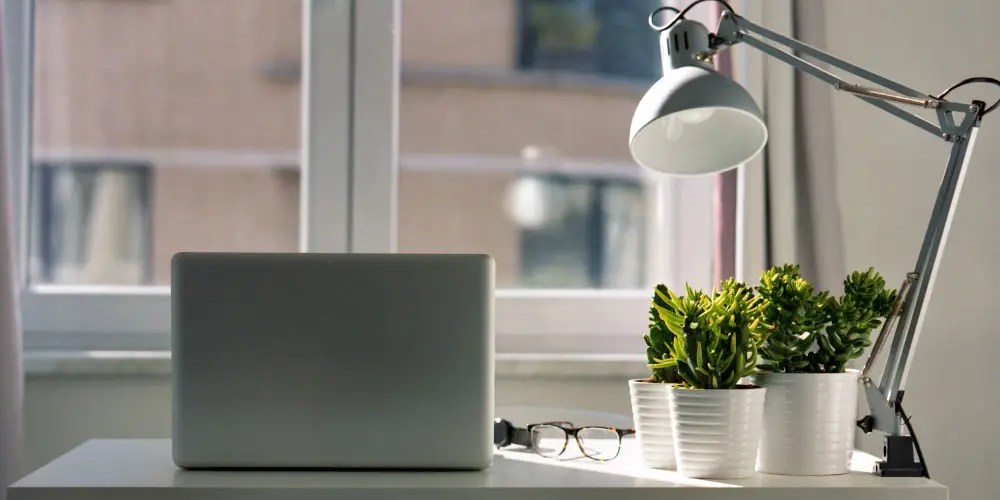 Allowing plenty of space
Your productivity is likely to suffer if you're uncomfortable. So, it's important that you have plenty of space to work and be able to easily move around. While this might sound like common sense, many underestimate how much space they need.
If you asked an interior designer to help you with your home office design, they'd advise you that you need at least 150 cm (w) by 210 cm (d) for a workstation.
On the other side of the coin, just because you have plenty of space, doesn't mean you have to use every square cm. Think about making your home office design functional, easy to move around and simple in design.
Natural light and lighting
Good lighting is critical, even when you are creating a home office design on a budget. So it's worth choosing a location with some natural light and a view if possible. Position your desk to face the windows or where your computer screen will not be affected.
Translucent window blinds can help reduce any glare without darkening your room. You can use a mirror can help to enhance natural light. An overhead ceiling light will provide good general lighting. It's also worth using a desk light for complete tasks and in the evenings.
If you don't have a view, you could position your desk under some artwork or an inspirational print. Doing this will give your eyes a rest and something to focus on when you look up from your work.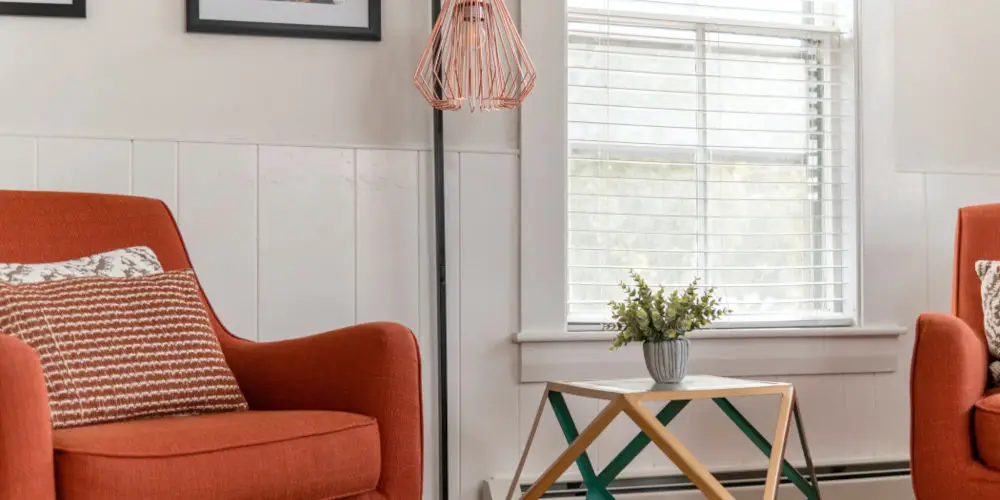 Selecting the basic furniture
At the most basic, trying to put together a home office design on a budget, means buying a desk and a chair. However, choosing either can be tricky as there thousands of options.
The ideal desk
The best home office desk is wide enough for a computer as well as plenty of space for paperwork and a drink. You might need space for an in-tray, a few books or a notepad. Even though a laptop takes up less space than a screen, keyboard and mouse, it's worth overestimating.
It's worth looking for a desk that's at least 120cm wide. Many find using a desk of around 150 cm wide or larger to be the most comfortable. Unless you're used to working on a height-adjustable desk, it's best to stick to a fixed height unit.
If you're tight on space, consider using a secretary desk such as the Jahnke MC Secretary Desk, available from Wayfair. It looks like a tall cupboard but lurking behind, is a compact office solution.
The top folds down to create a worktop and reveal space for a computer monitor or files. On the bottom is a cupboard with shelves, which is ideal for storing a computer base, printer or files.
Comfy chair
If you have to sit down for hours, it's worth investing in the best home office chair that's comfortable and adjustable. It should provide good lumbar support and keep your spine aligned.
You might consider using a gaming chair if you have to sit and type for an extended period. While this might seem a little unorthodox, they're designed to provide unparalleled comfort over extended periods.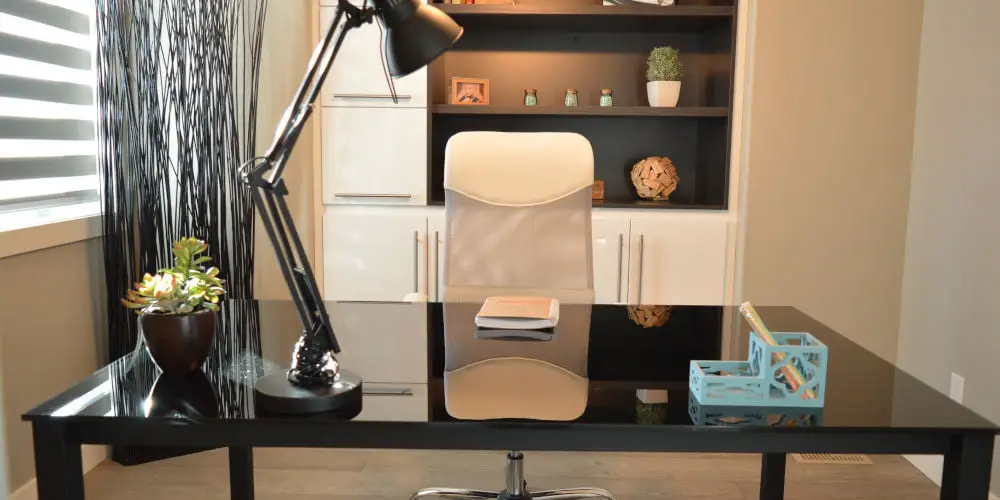 Storage and shelving
The ideal home office design includes plenty of storage to allow you to keep your space tidy and boost your productivity. You'll also want to ensure you have enough shelving, filing cabinets or cupboards for your storage needs.
When planning how much storage you need and where it put it, consider your workflow. Where will documents go when they come in? Do you have plenty of space to work on documents? And where will they be filed when completed?
It's worth placing your inbox on or next to your desk and keeping your current work within arm's reach. You'll want to locate your filing system and bookcases nearby. Following these tips will allow you to be able to reach all you'll need to complete your work without having to move far.
Occasional seating
You might have clients or customers who visit now and again or want a seating area for relaxing with a book. If you have space, consider incorporating a small meeting area into your home office design. Otherwise, it's worth having additional seating to allow for meetings or video Zoom calls.
Tidy wires, tidy mind!
Having wires running everywhere will make your work  space feel cluttered and will easily distract you. Even if you're trying to create a home office design on a budget, it's worth taking control of your technology and wires with a few simple steps.
Firstly, invest in a wireless printer, keyboard and mouse. They might cost slightly more and require new batteries fairly often but you'll feel less distracted and won't waste time untangling cables!
Either buy a desk with cable management built-in or add a grommet to the tabletop allowing you to neatly group wires. Where possible use cable clips to keep multiple cables together including on table legs and along the floor.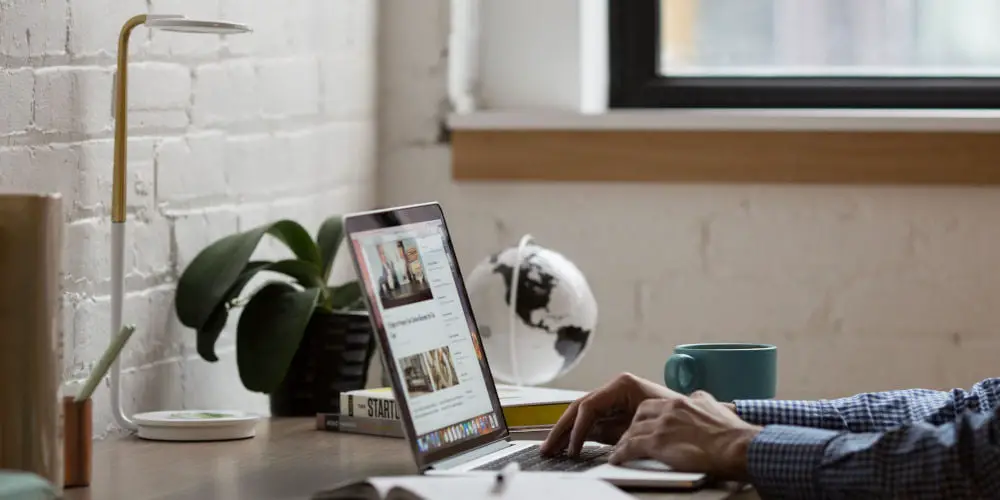 Just add plants
Even if you only have a tiny corner for your home office, plants are superb for adding some natural greenery and improving the air quality. You don't need to spend much on easy to grow houseplants, and many only need occasional watering.
Incorporate fun
Nothing is worse than having to work in an uninspiring room, especially if you have to work long hours. And while we'd never recommend adding a TV and game console, ok we just might! You should add an element of fun.
You could benefit from something such as putting mat to allow yourself the odd 5-minute break or a valve Hi-Fi to listen to music while you work.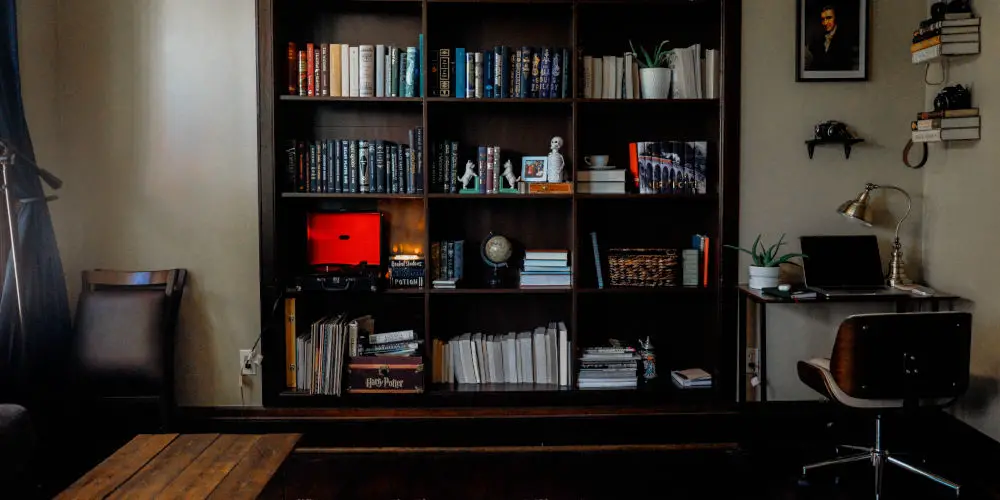 Don't blow your budget!
Keep within your budget will require compromise. It's worth investing in a good quality desk and chair. If you can, try to repurpose existing furniture or buy affordable units that you can upgrade as and when you have the money.
That said, do allow yourself to buy the odd luxury or two to create your dream home office design on budget. Again, the overall goal is to create a space you can enjoy working from.
Personalise your home office design on a budget
Part of being able to create your dream home office design on a budget is that you can customise its look and feel to match your personality. Let your office reflect your style and make it an inspiring space to work. Don't be afraid to be bold!