Where's the ideal soundbar placement? Below vs above TV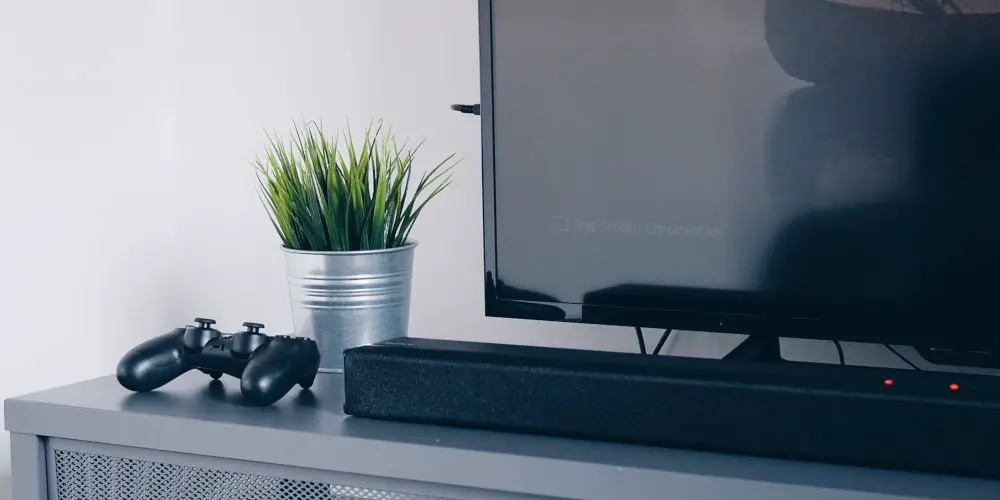 Most TVs suffer from poor sound, due to rear-mounted speakers. These force the audio to bounce off the wall before hitting your ears. Luckily there's an affordable solution: the soundbar. After buying the best soundbar under £100, you'll want to know where is the ideal soundbar placement.
As a compact device, soundbars instantly improve your television's sound. Some even come with a subwoofer, allowing you to create a virtual home cinema with surround sound, well not quite as good but close.
Regardless of the unit you buy, the only question you'll wonder after buying one is why you didn't get one sooner.
When it comes to selecting the ideal soundbar placement, there's no right or wrong location. Some prefer having it under their TV, others like it above. We've even seen people place their soundbar behind them, giving the effect of being surrounded by sound.
Let's explore the options we have when it comes to finding the ideal soundbar placement so that you get the best sound for your TV.
Why soundbar placement matters
Unless you like to experiment or aren't happy with the first location of your soundbar, you might simply place it down, plug it in and accept that's the best improvement to your TV's sound. But not so fast.
Every object in your room affects the sound that your speakers produce. Sometimes, even the smallest of adjustments can have a massive impact on the quality of audio you enjoy.
Should sounds have to bounce off a wall before hitting your ears, then they might be a little muffled. In a room with plenty of soft furnishings, any audio is likely to sound flat as the fabric will soak up some of the mid and low frequencies.
Just as you might try a few different layouts to ensure you get the best TV viewing angle from your favourite spot, experimenting with where your sound comes from is equally important. Hence the need to find the ideal soundbar placement in your room.
On top of the TV unit
If your TV sits on a unit or table, then the obvious choice is to place your soundbar in front of it. As you don't need to secure your soundbar to a stand or mount it on the wall, you can get set up in a minute or two.
As the TV is above the soundbar, connecting the two is painlessly easy with the right AV cables and you'll feel like the sound coming out from the TV itself. However, bear in mind that for your remote to work properly, the soundbar shouldn't interfere with the Infrared Receiver (IR) placement of the TV.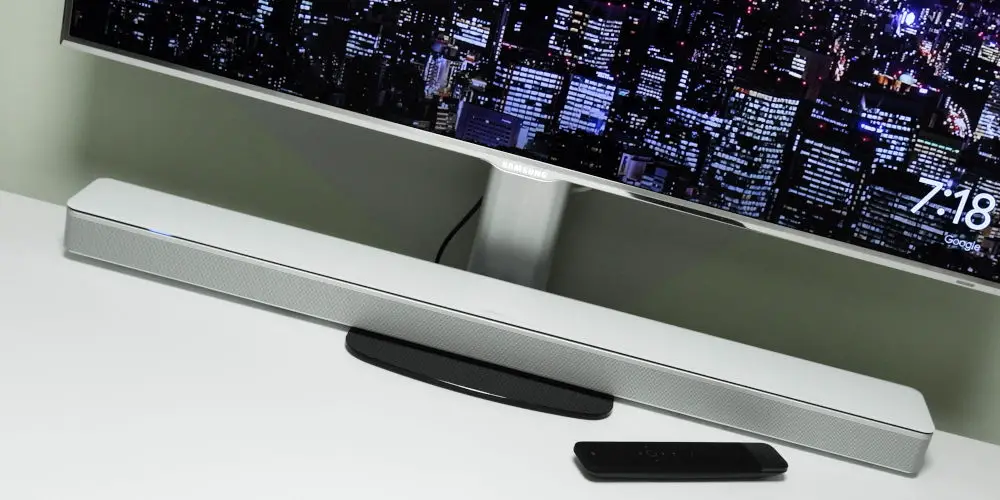 Wall mounting your soundbar under TV
Many of us have mounted our TVs on the wall, usually above the fireplace. So, it makes sense to mount your soundbar below the TV and above the mantelpiece. Again, the sound will feel like it's coming from the television and connecting the two devices couldn't be simpler.
You'll need to drill two holes in your wall to mount the soundbar, and you should find drilling instructions in the manual. Not only does this look superb, but it also uses up minimal space and short cables.
Behind your seating
While not the most ideal soundbar placement, you can place it behind you and your sofa. As the sound is coming from behind, it'll need to bounce off a wall before hitting your ears. It's likely to sound weird as it'll have a slight delay to it.
Another more practical issue is cabling. At best, you'll need to run a long audio cable from your TV. You also might need to run a power cable as well, unless you have a socket behind your sofa.
Placing your soundbar behind the TV
Another option is placing it behind your TV. However, this isn't ideal and is best to avoid. By placing your soundbar behind the TV, any audio will be obstructed by the television, and have a negative impact on the sound quality.
Any obstacles (including a TV) in front of the soundbar will drastically impact the sound quality, meaning your viewing experience isn't the best it could be.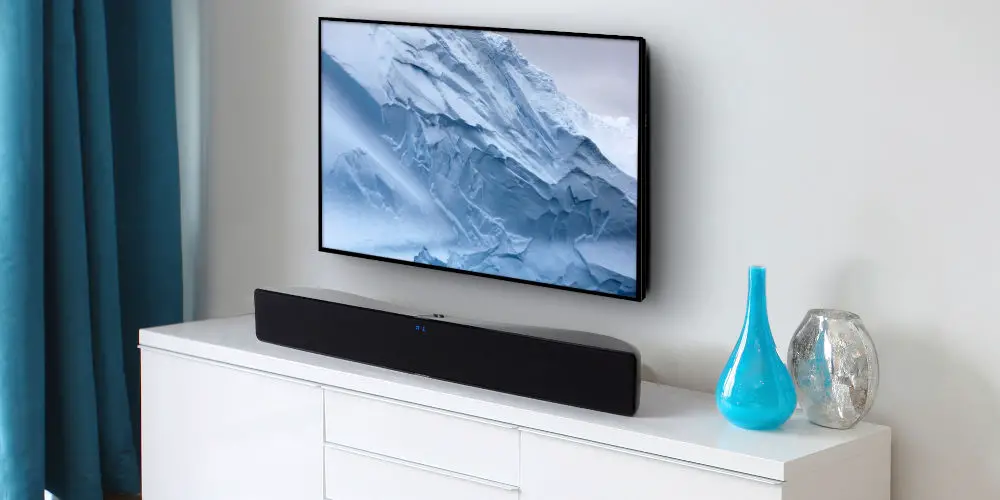 Should you hide the soundbar inside the TV cabinet?
As another classic mistake, you should resist the urge to hide your soundbar inside the TV cabinet. Just as placing it behind the TV, the sound waves are blocked, leading to a poor overall listening experience.
Concerned about hiding your TV and soundbar? Invest in an armoire. When not use, your devices will be hidden within an attractive cabinet, simply open the doors to reveal them, ready for use.
Should you place your soundbar on the floor?
Another common position is to place your soundbar on the floor. Ideally, locate it directly under the TV for the best sound quality. You might find that this position sounds muffled and raising it, even just slightly, off the ground offers a vast improvement.
If you have kids, then it's best to avoid this position entirely as they might hurt themselves and the soundbar. And you don't want either to get damaged.
Is it worth mounting your soundbar above the TV?
There's a noticeable difference between placing a soundbar above vs below the TV. Some prefer having their soundbar above the TV as they feel it adds extra depth to the sound, this is especially true if your soundbar has a surround sound feature.
That said, for the most natural sound, try to position your soundbar so that it's close to the ear level of the listener. If you can, spend some time experimenting with placing your soundbar both above and below your TV to decide which option works the best for you.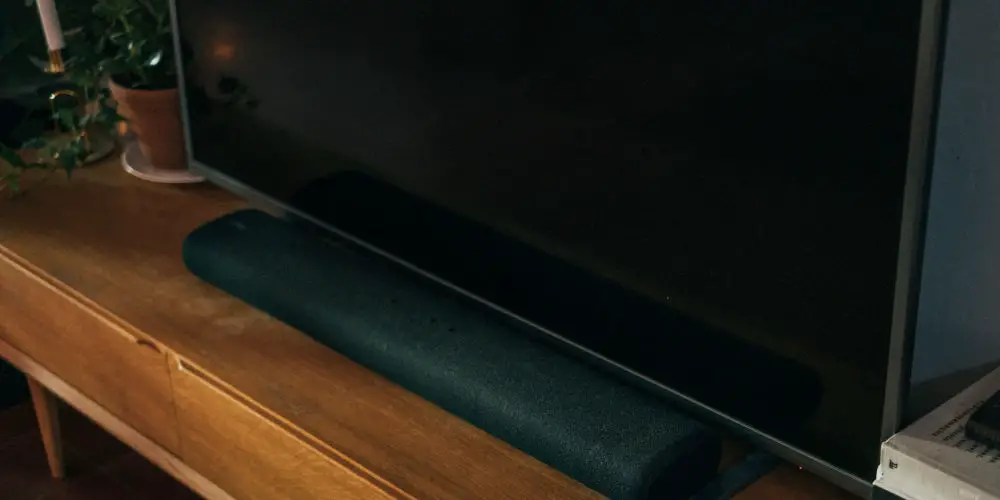 Soundbars with subwoofers placement options
If your soundbar comes with a subwoofer or you added one, then you'll want to follow our tips to position them for the best sound experience.
Place your soundbar in front of your TV without any obstructions and either above or below it. Ideally, position it at ear-level for the most natural sound. With the subwoofer, you have more freedom, some prefer to place their subwoofer on the floor in the centre of the TV, others place it to the side.
It's worth testing a few different positions to find one where the bass frequencies blend the best with the higher frequencies of the soundbar. If the bass is too noticeable then you want to keep experimenting until the sound feels more balanced.
Does the perfect position exist?
With each of the locations we've discussed, there are both positives and negatives. Sadly, the ideal soundbar placement doesn't exist. The majority of soundbars are designed for easy wall mounting with built-in cable management, allowing a seamless look.
Should your unit have the connections in a weird place making it difficult to wall mount, then your options will be limited. You might only be able to place it on the TV unit or floor. If you're yet to buy and want to wall mount your unit, then ensure the design makes it easy to do so.
Another element to bear in mind is virtual sound experiences and how your room and furnishings might impact the overall audio quality. Sony, for example, offers a range of soundbars that have a virtual surround sound setting that emulates a 5.1 home cinema sound.
Yamaha on the other hand was the first to bring out units with Dolby Atmos built-in, bringing a whole new level of sound complexity in a compact package.
So you'll want to consider how sound will bounce off your walls and what impact your interior design will have on the audio quality. If in doubt, experiment!
As already mentioned, you want to be careful that your soundbar doesn't block your TV's IR as this will stop the remote from working. A simple way to check is to measure the space below the TV's IR and look for soundbars with a height less than this figure. If you can't, then you might want to raise the TV using some pieces of wood.
How to find the ideal soundbar placement
Using a soundbar will instantly improve your TV's sound turning it from sounding flat to exciting. However, using the wrong soundbar position could ruin your experience. You now have a few options to choose from when trying to decide on the ideal soundbar placement.