Soundbar buying guide: Painlessly upgrade TV sound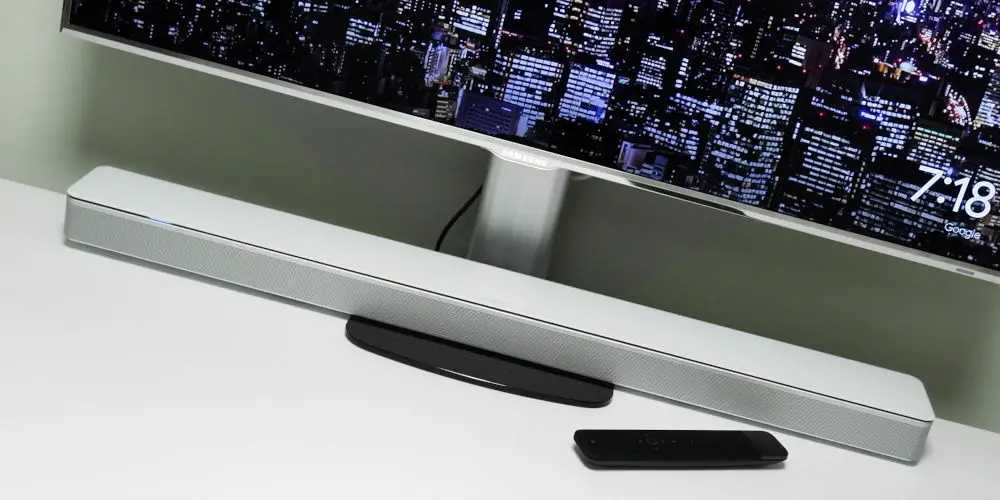 One way to solve your TV's poor sound is to invest in a soundbar. These long tubes instantly improve your audio experience. But if you haven't purchased one before, you might need some advice. In this soundbar buying guide, we'll help you find the ideal soundbar for your TV, home and budget.
Most modern television prioritises graphics over sound, with the speakers relegated to the rear. The result is a muffled sound lacking in presence and power, and that's after adjusting the sound setting. Not the ideal companion for 4k images.
A soundbar is a simple solution as it's a compact speaker system that typically sits below the TV. These stylish solutions enhance your TV watching experience with more volume, enhanced bass and greater clarity.
Unlike a surround sound system that's bulky, expensive and complex to configure, a soundbar is easy to set up and highly affordable.
Soundbar Buying Guide: What to looking
There are a few elements to consider when looking to buy a soundbar. In this soundbar buying guide, we'll discuss:
Size
Connectivity
Control
Surround sound
Subwoofer
Music speakers
Additional Features
Multi-room speaker system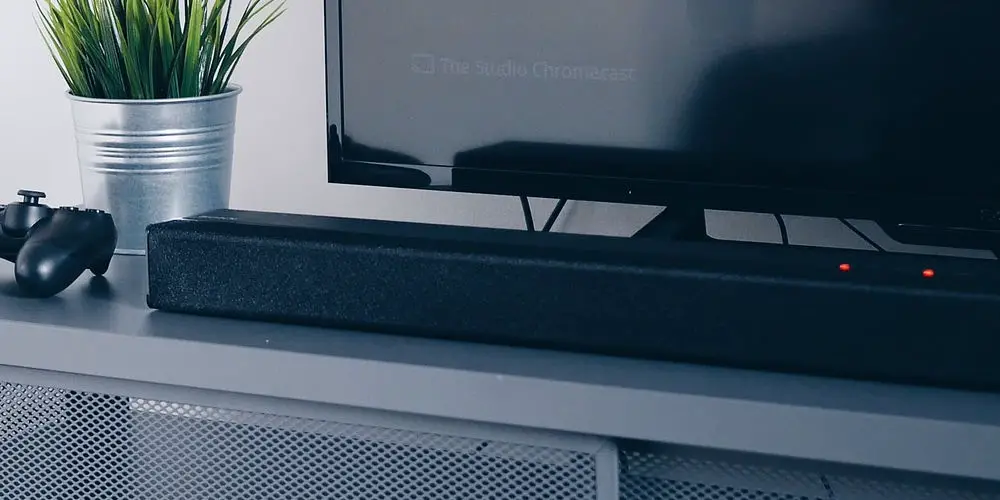 #1 Soundbar size and position
With soundbars, size matters! So much, in fact, we wrote an entire article about the topic: What size soundbar do I need for my TV? Here's a summary of that article.
Room size
Soundbars are ideal for small to medium-sized rooms. In a large room, the sound might get lost as it has more air to move before it reaches your ears.
Ideal soundbar length
The ideal soundbar is slightly larger than the TV. It's fine to use a small (or compact) soundbar but you don't want a unit that's larger than your TV as it'll look odd!
Position
If you're hoping to mount your soundbar on the wall or squeeze it onto your existing TV unit, you'll need space. So consider how and where you'll position your soundbar, estimating the maximum possible length.
If you have a 2.1 channel soundbar with subwoofer, you'll need to experiment to find the ideal soundbar and subwoofer placement.
#2 Connectivity
You'll want to consider how you'll connect your soundbar and TV or other media devices (such as set-top boxes, Blue-ray players, game consoles). But don't spend a small fortune buying a soundbar with multiple inputs, if you only need an optical port.
Analogue inputs
Soundbars typically offer several analogue inputs. Budget-friendly options typically have optical and mini-jack inputs. The more pricey units will offer optical, HDMI (or HDMI ARC) and mini-jack.
Digital inputs
All modern soundbars also offer a range of digital inputs, including Bluetooth and USB. However, you'll pay more for a soundbar with built-in Wi-Fi and Chromecast.
Bluetooth – Stream music from your phone, tablet or PC to the soundbar.
USB port – Attach any USB storage device (memory stick or hard drive) and play music directly from there.
Built-in Wi-Fi – Stream music from the internet (Spotify, YouTube Music, Amazon Prime Music, etc.). You might even be able to control your soundbar using voice commands.
Cables
Before you purchase any soundbar, check what cables come in the box. Some will come with none, while others will only arrive with power and optical cables. So, it's worth being clear from the start and ensuring you buy or have the correct cables when your soundbar is delivered.
#3 Controls
Most soundbars will have the basic controls on the unit. They will also come with a remote, which generally offers more options. That said, the idea of needing yet another remote control could drive you mad!
Some manufacturers have designed their soundbars to work seamlessly with their TVs. After pairing them together, you can continue to use your TV remote to operate both units.
If your soundbar has an HDMI ARC/eARC port and you use an HDMI cable to connect the two units, you can use your TV remote to control it.
Many soundbars with built-in Wi-Fi should work with an app or voice control using Amazon Alexa or Google Assistant. If you have a few different devices, you might control them using several apps rather than a pile of remotes.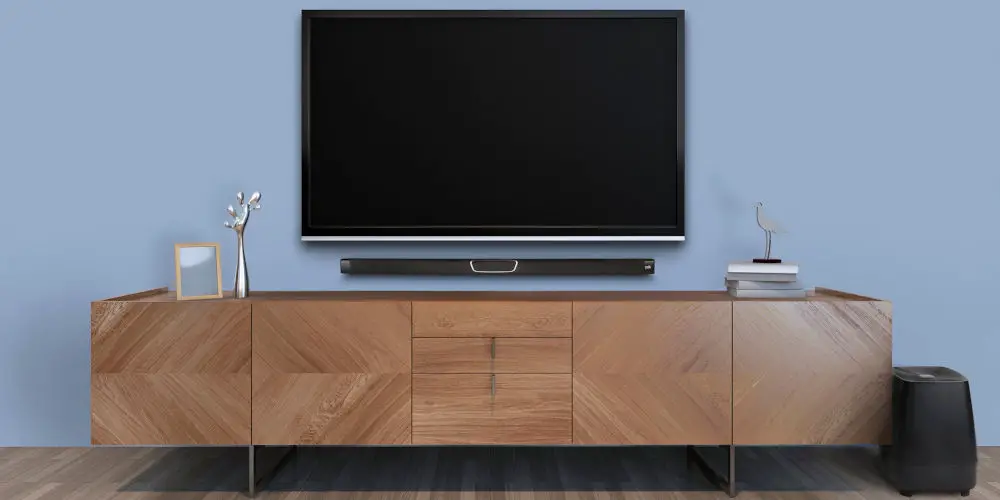 #4 Surround Sound
Beneath the soundbar's grill is multiple speakers. Typically different speakers handle distinct frequency groups (low, mid, hi) or function (dialogue) and are fine-tuned to their role. So the greater the number of speakers, the richer the sound.
Some soundbars will use speakers at each end to give more of a surround sound experience, albeit without the need for additional speakers. Others will use software to model and reproduce a surround sound experience.
What do the numbers mean?
When comparing soundbars, you'll see that they all have several numbers in the title. The first digit is the number of channels. Usually, you'll see a 2, which means stereo (left and right) speakers or 3, which indicates stereo speakers with a centre speaker for dialogue.
The second digit is the number of subwoofers (either built-in or external). These speakers hand the low frequencies in music and explosions in movies.
If you see a third digit, your soundbar has upward-firing speakers that simulate overhead sounds such as planes flying or items falling to earth.
In short, the numbers mean:
2.0 – Left and right channels, better than your TV
2.1 – Left and right channels soundbar with a separate subwoofer. Rich sound with deep bass.
5.1 – 5 channels for virtual surround sound with a subwoofer. Fantastic detailed sound with deep bass.
7.1.2 – 7 channels for virtual surround sound, a subwoofer for deep bass, and two upward-firing drivers simulate overhead sounds.
Will a 5.1 soundbar compete with a 5.1 surround sound system?
It's true that the more channels your soundbar offers, the fuller the sound. There's a massive difference in sound quality between a 2.0 soundbar and a unit that's 7.1.2.
However, nothing compares to a surround sound system, complete with rear speakers and up-firing drivers. A manufacturer might claim that their soundbar offers a virtual surround sound experience without the need for all the speakers, but it won't be the same quality as the real deal.
One solution for surround sound
You could compromise by investing in a soundbar that works with wireless rear speakers and a wireless subwoofer such as the Samsung HW-Q60T or the Bose Smart Soundbar 300. With either of these options, you could invest in the soundbar now, then when you have the cash, buy the subwoofer and rear speakers.
#5 Subwoofer
If you like hearing low frequencies, you need a subwoofer. They increase the amount of bass you hear, which is important if you like action movies, TV shows, games and music with lots of lower frequency sounds.
Some soundbars come with a subwoofer built-in. However, these are poor sounding as they don't fully reproduce the lower frequencies as a separate subwoofer speaker enclosure does. So bear this in mind when looking to buy a soundbar or you might up end disappointed.
It's worth buying a 2.1 soundbar and subwoofer package as many soundbars don't offer a separate sub output. Typically the subwoofer is wireless and automatically pairs with the soundbar. These are an affordable solution that dramatically improves your TV's sound.
#6 Music speakers
If you enjoy listening to music, your soundbar will be your best friend. You could use Bluetooth to stream tracks from your phone, tablet or PC.
Many soundbars have a USB port that allows you to attach a memory stick or hard disc and play your favourite music. But, you'll want to check the file formats your soundbar supports, such as MP3, WMA, and FLAC.
If this sound a little old fashion, invest in a soundbar with built-in Wi-Fi. It will allow to you listen to your online music libraries and streaming services. Plus, much more!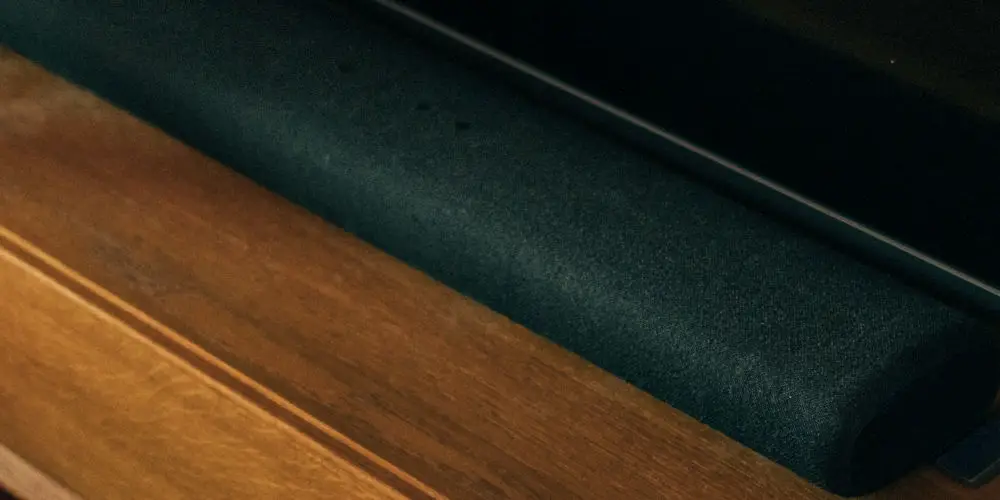 #7 Additional Features
Budget-friendly soundbars are typically light on features. But as you spend more, you'll see the list of features grows. So you'll want to think about what additional features are important to you. The options include:
Dialogue settings – to enhance speech, making every word clear.
Special modes – specifically enhance your movie, gaming or music experiences.
Volume levelling technology – makes all sound consistent for quieter ads and sound effects.
Distortion-cancelling technology – helps prevent distortion for deep, detailed-sounding bass.
Surround Sound Expansion technology – fuller sound so you feel immersed in the action.
4K/HDR/3D Pass-through – maintains the quality of content as it passes through the soundbar.
Google Assistant/Alexa compatible – allowing you to use your favourite voice assistant to control the soundbar and stream music.
Dolby Atmos technology – reproduces audio created in Dolby Atmos with impressive clarity, richness, and detail.
DTS-X sound technology – reproduces the audio carefully crafted by TV and filmmakers for an immersive surround-sound experience.
#8 Multi-room speaker system
A trend we've seen grow in popularity over the last few years is multi-room audio systems. You can use each speaker in the system as a separate unit or combine them for a whole-home entertainment system.
Sonos was a game-changer as they built this feature into their products from the start, allowing users to easily and wirelessly add more speakers, while retaining control over them, both separately and as a complete system.
That said, Yamaha and Sony have been offering multi-room audio systems for many years. Regardless of the system, you can control it using a smartphone app and easily listen to the same song throughout your home.
Buying the ideal soundbar
It's worth starting with a list of essentials from the size, connections, features, and price. Using this list, you can select a few different soundbars to test. From there, it's the fun part of testing soundbars out!
Again, before you buy any soundbar, check what cables come with it. Otherwise, you'll be left waiting for a cable delivery. It should take you a minute.
Unless you a massive fan of a particular feature such as Dolby Atmos or multi-room audio capabilities, it's not worth overpaying for these features. Plus, as new soundbars are released each month, you always have the option to upgrade in a few years to something far superior.
Hopefully, you've found this soundbar buying guide helpful and has made you think a little more deeply about your impending purchase.