iRobot Roomba 671 robotic vacuum cleaner review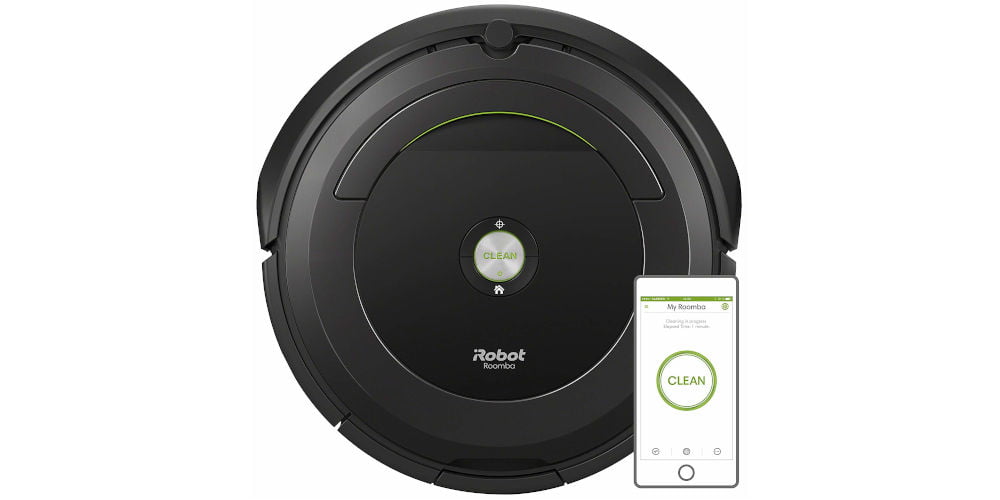 The iRobot Roomba 671 robotic vacuum is an exciting, mid-priced device, which is packed full of useful features and functions. It offers an exciting starting point for anyone looking to automate key tasks in their home.
iRobot are the original purveyors of robotic vacuum cleaners, having been in the market for well over 25 years. The Roomba 671 uses this experience to build a robovac that's ideal for today's modern living.
Connecting to your phone or tablet using its inbuilt Wi-Fi, the Roomba 671 robotic vacuum allows you to control it using a range of options. It can even be scheduled up to 7 days in advance!
It's slim design and iAdapt technology enables the device to navigate around the room, cleaning under and around furniture.
The iRobot Roomba 671 couples it's smart technology with a durable battery, charger and dustbin, creating one of the best robotic vacuum cleaner on the market. 6/10
Pros
Flexible control – on device, app, Amazon Alexa and Google Home
Fast charging time
Unique cleaning method
Cons
Lacks suction
No mapping feature
Small 350ml dustbin
Design
As a pioneer of robovacs, iRobot is responsible for the circular design we know and come to expect. The Roomba 671 robot vacuum is no different and uses this classic design. It weights just over 3 kg and measures 34 cm in diameter by 9 cm tall.
On the device's top are several necessary controls including start/stop, dock and mode. There's also one for releasing the dustbin. A large handle is tucked away yet is easy to put out, making it ideal for moving the unit around.
The body features two sensors (RCON and Light Touch) as well as the 0.3 litre dustbin and filters.
Turning the unit over reveals the brushes, wheels, cliff sensors and the charging points. With 3 wheels, the 671 can easily navigate around a room and between different flooring.
The unit sits on the charging base and re-charges using two contact points. The dock also has an RCON sensor, which is the brains behind the iRobot's docking feature.
Features
Under the sleek exterior sits a powerhouse of a vacuum cleaner. The Lithium-Ion battery provides 90 minutes of operation on a full charge. It's 120 minutes charge time means you're close to getting a minute of operation for per every minute of charging.
To put this in perspective, many battery-powered tools produce 30 minutes for every 2 hours of charging, and a lot perform worse. So having a ratio that's close to 1:1 is amazing.
Powering the motor, the battery enables the unit to delivery 600 Pa of suction power. Having reviewed a range of robotic vacuum cleaners, 600 Pa is quite small and is a fraction of suction produced by a standard upright vacuum cleaner.
The battery also powers the iAdapt responsive navigation technology which operates the unit's 3 wheels as well as multiple sensors.
Using a patented 3-Stage Cleaning System, this Roomba 671 is designed to work best with low and medium-pile carpets as well as a range of wood, stone and laminate floorings.
Coupled with dual multi-surface brushes, the 3-stag cleaning system collects more dust and debris than a traditional vacuum. Also, it's slim design means it can navigate under furniture – again something the typical upright can't.
Another useful yet expected feature of the iAdapt technology is how it uses sensors to avoid falling or bumping. While you should expect some light bumping, the unit actively tracks where it is in relation to drops and steps, ensure it never falls over the edge.
Set-up
Getting up and running is quite painless as there's actually very little to do. You'll need to plug in the dock to the mains and clear any objects within a metre of it. Next, you'll want to place your iRobot Roomba 671 on the dock and allow it to charge for around 3 hours.
With it fully charged, you can set it running. It's best to watch it for the first few times, so you get a feel for how it cleans and to protect any cables or valuables that might have been left in its path.
As there are only three modes (Clean, Spot, and Scheduled) to choose from, we'll select automatic mode. We'll use the onboard controls for the first clean or two, then get to the iRobot home
app or integrate it into a home automation system.
So we'll start by Pressing the CLEAN button will turn the unit on and activate the basic mode. Once it's work, this button turns into a pause/re-start button, allowing you to momentarily stop your Roomba.
If you need it to stop for any reasons, push the DOCK button and it will stop cleaning and return to its charging dock. As it automatically charges, docking is fine at any point.
What it can't do, is be docked and then navigate to its last cleaning point and re-start. Of course, you can always place it back where it ended and push clean again.
Modes
With only 3 modes, it's straight forward to operate the robot vacuum.
Clean Mode
In the default mode, start your Roomba by pressing the CLEAN button. It will then automatically calculate the room size and adjusts its cleaning time appropriately.
Spot Mode
While the default mode keeps cleaning from room to room, in SPOT mode, it will tackle a small area. Simple press the SPOT Clean option and the unit will spiral 1 metre in diameter until the dirt or pet hairs is removed.
Scheduled Cleaning Mode
If you want your iRobot Roomba 671 to clean at a certain time each week, then you can set up a schedule. There's two ways to programme, on the unit an using the app.
At the specified time, your Roomba will leave its dock and starts to clean. After it's finished vacuuming, it'll return to its dock and start recharging.
Performance
Let's start with control options. One of the benefits of the iRobot Roomba range is you have all the necessary controls on the unit. You don't need a remote or the app to operate it. Of course, it's worth using the app.
If you want to get advanced, then you can integrate with Amazon Alexa, Google Assistant and even a Z-Wave home automation system. It can be as simple or complex as you want it to be.
While this is fantastic, the dustbin size is less than ideal. At 0.3 litres, it's tiny and you'll end up having to empty it often.
This is a concern as any robovac will clean more thoroughly and consistently. So it collects more dust, pet hair and debris than a traditional upright.
Since it doesn't map rooms, it will always navigate in a fairly clunky way. Thankfully, it's sensors help to lessen the number of bumps.
As it automatically recharges, ideally you'd set the iRobot Roomba 671 on a weekly schedule and empty its bin after each clean.
On top of scheduled cleans, should anyone or a pet drop debris on the floor, then you could always attack that area using spot mode.
An element we haven't touched on is room blocking. While you can shut doors, iRobot has a unique solution, called the Dual Mode Virtual Wall. It runs on batteries and has three positions. Plus it's far more advanced than having to shut doors or lay tape!
Wall mode (top position) creates a straight line barrier, so can be placed in front of a doorway to stop the Roomba in its tracks. The middle position is off. Halo, is the bottom position and creates a 60 cm diameter circle, which the iRobot Roomba 671 won't enter.
Is the iRobot Roomba 671 robotic vacuum worth buying?
Having reviewed a range of robovac, sadly the iRobot Roomba 671 robotic vacuum falls short in a few key areas. So while you can pick one up for under £300, it's worth understanding it's limitations.
Firstly, it lacks power with only a tiny 600 Pa of suction available. And while this might not matter as you unlike the average human, you can command the Roomba 671 to redo certain rooms until they're clean, this will feel no different from vacuuming yourself.
This lack of power is somewhat overcome by using dual brushes and it's patented 3-Stage Cleaning System. However, it's worth bearing suction power in mind when buying a robovac.
The tiny dustbin will mean you spend more time emptying it that is desirable. To put it into context, the Neato Robotics Botvac D6, which we recently reviewed has a dustbin of 0.7 litres (or more than twice the size!).
As the iRobot Roomba 671 doesn't map spaces, it can't stop, recharge and restart in a similar position. Instead, it continues until the battery is low or the entire floor is vacuumed.
If having only 3 modes seems restrictive, then it's probably best to look at other units. We'd argue the 3 modes are all you'll need and want.
What the iRobot Roomba 671 excels at is its battery, a 2-hour charge enables 90 minutes of usage. Plus as you'd expect, it automatically docks and charges at will.
Control is another element that iRobot has been successful at. You have controls on the unit, an home app, and easy integration with a range of other systems. It's probably worth buying for this alone.
Overall, the iRobot Roomba 671 is a superb unit that's available for a fair price and is ideal as an entry-level robotic vacuum cleaning. 6/10