LG UBK80 vs Sony UBP-X800M2 Blu-ray players compared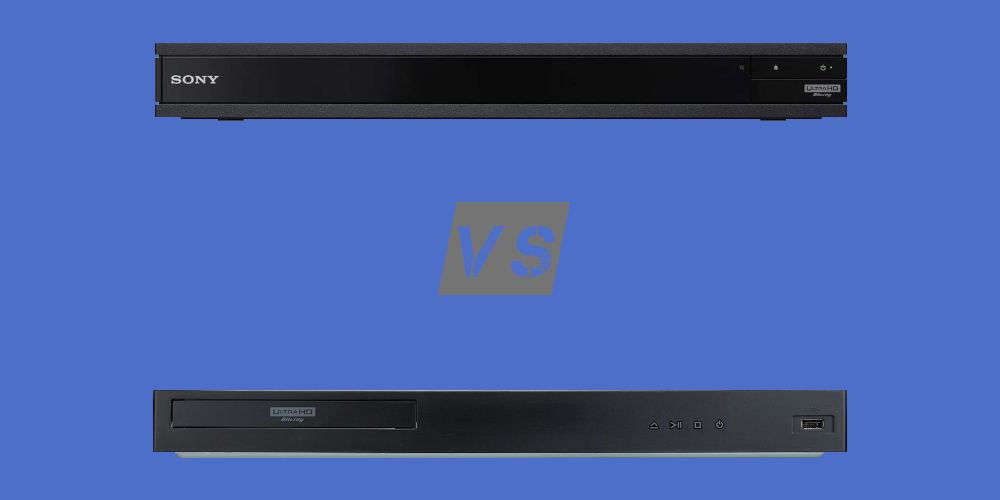 PUBLISHED: 3rd February 2022 | LAST UPDATE: 27th January 2023
Offering completely different features, it's worth comparing the LG UBK80 vs Sony UBP-X800M2 Blu-ray players. And while your first inclination might be to buy the cheaper LG UBK80 unit, buying on price alone could mean you miss out on key features.
At first glance, they appear to be similar. Both sport a generic black box design, play a range of file formats, are feature-packed and affordable. Yet, on closer inspection, many differences start to reveal themselves.
While both offer streaming capacities, only the Sony UBP-X800M2 has a built-in Wi-Fi receiver. With the LG, you're stuck using an Ethernet cable. The Sony unit is unique as it offers several HDR options, twin HDMI outputs, and can sync with Bluetooth headphones for silent movie nights.
It shouldn't be a struggle to choose between the LG UBK80 vs Sony UBP-X800M2. We've done the hard work for you with our honest no-fluff comparison of these two 4K Blu-ray players.
LG UBK80 Blu-ray player overview
The LG UBK80 Blu-ray player is a fantastic, budget-friendly unit. Experience movies in 4K quality without leaving home. Enjoy watching 4K Ultra HD Blu-rays, regular Blu-rays, 3D Blu-rays, DVDs and CDs.
Connect to your internet router and enjoy multiple smart features, including 4K streaming. A front-loaded USB port allows you to enjoy an even wider range of content from your phone or a hard disk.
Regardless of the original resolution and format, the onboard software will upscale it to the highest possible resolution with rich and vibrant colours. You'll forget whether you're playing a DVD or the latest 4K Blu-ray.
Thanks to sleek and minimal design, you can be set up and enjoy movies in minutes. Plus with a slim footprint, it'll sit comfortably in any media unit or on a shelf. The UBK80 offers a single HDMI output, Ethernet port and digital audio output.
Sony UBP-X800M2 Blu-ray player overview
The Sony UBP-X800M2 Ultra HD 4K Blu-ray Player offers exceptional picture quality, support for Dolby Vision, HDR10 and HLG, and many other superb features. Built to an exceptional standard to ensure noise-less operation and longevity, you'll enjoy the unit for many years to come.
Regardless if you're playing the latest releases in 4K or an old format, the UBP-X800M2 displays each frame with a higher level of detail than before. Offering High Dynamic Range (HDR), each picture comes alive with new brightness, shades and colours.
The onboard audio is equally impressive as it supports Dolby Atmos and DTS:X decoders and High-Resolution Audio. Listen as lightning cracks, sirens wail, and car horns blare all around you in startling clarity.
Beyond playing a range of disc formats, you can use the Sony UBP-X800M2 to watch, listen, and stream content, thanks to its built-in Wi-Fi! There's also a USB port enabling you to enjoy even more formats!
Offering several outputs, The UBP-X800M2 also supports Bluetooth audio transmission. Simply pair your favourite Bluetooth headphones with the unit and enjoy a private viewing, without wires. The remote even has a Netflix button, allowing for easy access.
Design
The Sony is slightly better looking than the LG. But only barely! While everything is on display on the LG UBK80, the Sony's disc tray and USB port are hidden behind a panel, leaving only the power button and disc open/close button on show.
Both units offer a USB port and disc tray, allowing you to enjoy content from various sources. The LG has four control buttons (power on/off, play, stop, disc tray open/close) on the front panel. The Sony, in comparison, only offers two (power on/off, disc tray open/close).
The rear is where the Sony shines. It offers more options than the LG. And while you shouldn't base your decision solely on connectivity, it's worth bearing in mind your requirements.
The unimaginative design continues to the remotes. The LG is far simpler than the Sony remote, which offers buttons for controlling Netflix, Bluetooth function, and HDR settings. Both remotes also allow you control over your TV.
Winner: Sony
Features
While both units play various formats, including DVDs, 4k Blu-rays and audio CDs, the LG can also handle 3D Blu-rays. The UBS ports on both unit, allows you to enjoy even more media.
Older formats are upscaled to near 4K on both units, noticeably enhancing the picture quality. You can enjoy various HDR formats using either unit. However, the Sony offers more options, including Dolby Vision, HDR10 and HLG formats.
Another unique feature only available on the Sony is an inbuilt HDR to SDR converter. Using this mode, you can experience the picture improvements offered by HDR formats on a standard TV or projector.
Both offer impressive audio processes with multiple Dolby and DTS options. But the UBP-X800M2 takes things to the next level as it can faithfully reproduce a wide range of Hi-Res music files.
You can enjoy streaming content with the LG and Sony units, such as Netflix and YouTube, using a hard-wired connection between the unit and your Wi-Fi router. Again, the Sony is more impressive as it has dual-band, built-in Wi-Fi, allowing you to quickly access services, all in 4K.
A final difference is the Sony has built-in Bluetooth capabilities, allowing you to listen using Bluetooth headphones or speakers. The Sony UBP-X800M2 uses LDAC for improved Bluetooth sound transferring around 3x the data.
Winner: Sony
Connectivity
Despite the similar options on the front panels, the UBP-X800M2 has one additional HDMI port and a built-in Wi-Fi. Both units have a fitted power cable, which we're not massive fans of as it removes some of the flexibility when plugging units in.
Both units have an Ethernet port to allow an internet connection and an optical audio output, ideal for supplying a soundbar. The UBK80 has a single HDMI output for video and audio, while the UBP-X800M2 has twin HDMI ports (1 x video and audio, 2 x audio only), making it more flexible.
Winner: Sony
Set-up
As the UBK80 has fewer options, it's easier to set up. While this shouldn't surprise you, it still offers some flexibility thanks to the optical audio output.
With both units, you can simply connect an HDMI cable from your TV to the Blu-ray player; and be up and running in minutes. Of course, you could add a soundbar or external speaker using the optical audio output.
Things can become slightly more complex with Sony UBP-X800M2 as you can use both HDMI outputs. The first HDMI port can supply video to a TV or projector and the second HDMI port to feed audio to an AV receiver, which powers a surround speaker set up.
If you decide to connect to the internet, you could hard-wire either unit using an Ethernet cable from your router. The UBP-X800M2 is simpler as it also has built-in Wi-Fi, allowing you to get set up in minutes without hassle.
Winner: LG
Performance
For a budget-friendly Blu-ray player, the LG UBK80 is easy to use. It loads media quickly, whether you're using a disc, USB drive or a streaming service.
The Sony UBP-X800M2 has a simple and minimalistic user interface, which is easy to use yet lacks any fancy graphics. It does feel quite basic. Again it's quick to load content, regardless of the source.
You'll notice an improvement in picture and audio with both units, whether you're watching an old DVD or the latest Blu-ray release as both use complex software to ensure the brightest colours with the widest possible contrast.
Both units offer hundreds of settings hidden in menus if you want to fine-tune the audio or visuals. There's plenty of scope for experimentation. That said, the Sony offer far more flexibility as it plays more formats and uses better software, even if the user interface is slightly lacking.
For some, having to hard-wire an internet connection isn't ideal, and so the Sony wins more points. Also, the UBP-X800M2 offers next-gen Bluetooth, which is a nice extra, even if you don't plan to use it.
Sony is known for its build quality. Sadly, some LG UBK80 units have developed a low droning noise. Thankfully, this usually happens within the warranty period.
While neither unit has the most attractive remote, the LG remote is highly directional. Sometimes, it doesn't transmit signals unless pointing it directly at the sensor. There are no such problems with the Sony Blu-ray player.
Winner: Sony
LG UBK80 vs Sony UBP-X800M2 Blu-ray players: Which is better?
When comparing LG UBK80 vs Sony UBP-X800M2 Blu-ray players, the Sony comes out on top. It's better built, offers more options and features, and is only slightly more expensive.
If you're looking for your first Blu-ray player or a second one for your home, the LG is ideal. Otherwise, invest in the Sony. it's worth the money.
What makes the Sony UBP-X800M2 better is several features. First, it sports a better design with improved connectivity options. The remote, while it has an uninspiring design, works like a charm every time.
The Sony offers plays formats, including multiple HDR, HLG, Dolby Atmos and DTS:X, and also has an inbuilt HDR to SDR converter, allowing you to enjoy newer formats on any TV or projector. Sony is well respected for audio, and the UBP-X800M2 is no exception as it offers superb sound.
A feature that might seem unusual, especially if you're building a cinema room is the Bluetooth function on the Sony. If you have kids, you might want to enjoy movie watching without making a noise, which is where this option shines.