LG UBK80 4K Blu-ray player review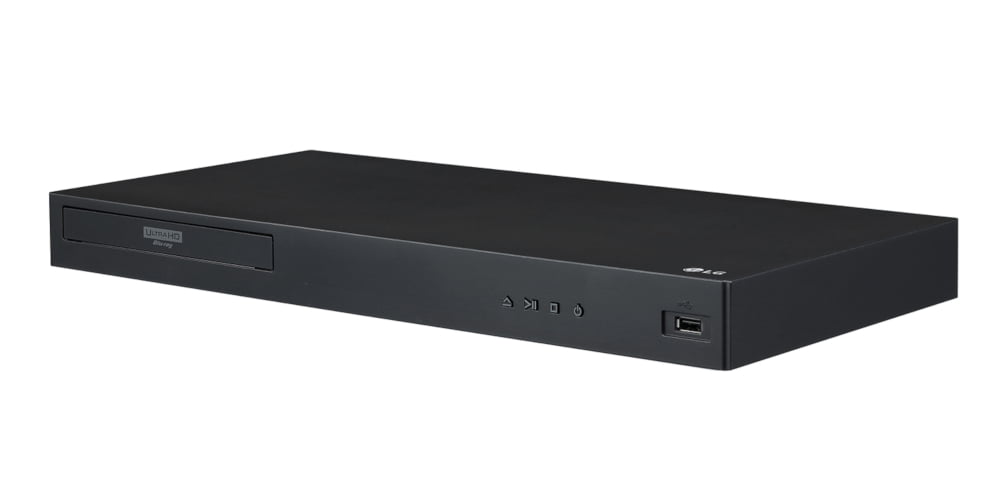 PUBLISHED: 13th March 2020 | LAST UPDATE: 10th July 2023
LG UBK80 is a fantastic, budget-friendly Blu-ray player which enables you to experience movies in 4K HDR quality without leaving home. Pair with a compatible TV and sit back and enjoy all of your favourite films in expressive detail.
The LG UBK80 4K Ultra HD HDR Blu-ray player plays a long list of formats including 4K Ultra HD Blu-rays, regular Blu-rays, 3D Blu-rays, DVDs and CDs. Hook into your internet router and enjoy a range of smart features like 4K streaming from Netflix and YouTube.
There's also a USB port which enables you to play music or video or view images from your phone or a hard disk.
Regardless of the format, the onboard software will upscale it to the highest possible resolution with rich and vibrant colours. You'll forget whether you're playing a DVD or the latest 4K Blu-ray.
It's sleek and minimal design means you can start to enjoy movies in minutes. Plus with a slim footprint, it'll sit comfortably in any media unit or on a shelf.
Overall, the LG UBK80 is one of the best affordable Blu-ray players on the market today and we award it a score of 7/10.
Pros
Slim design
Optical audio output
Access to streaming services (via Ethernet)
Cons
Lacks built-in wifi
Some units are noisy
Remote control is directional
Design
Sporting a sleek design, the black LG UBK80 easily fits into any home entertainment set up. At just shy of 5 cm tall by 43 cm wide, the unit doesn't require that much space.
The front of the unit features a disc tray, controls, power LED and a USB port. Unlike some similar priced Blu-ray players which lack even the basic controls on the unit, the LG UBK80 offers a welcome change. These controls include power, tray open/close, play and stop.
The USB port is handy, especially as you might only use it occasionally and won't want to have to move the unit.
The rear is just as sleek with an Ethernet port, Optical output and HDMI output. The power cable is already wired in but is of a decent length, however, you might end up moving plugs around to get it to fit.
The remote is where the real action takes place. There are all the basic controls such as play, pause, stop, power on/off and tray open/close. As well as more advanced options such as Closed Captions, Repeat, menu controls and colour buttons for BD-ROM.
The final row of buttons enables you to control a linked LG TV via SIMPLINK. This is fantastic if you're always searching for remotes!
Features
Able to play a wide range of formats, you'll enjoy watching all of your favourite movies and box sets with the LG UBK80. The long list of disc formats includes standard/4K/3D Blu-rays, DVDs and audio CDs.
In addition to playing discs, if you have movies, images or audio saved on a hard disk or portable USB device, then the front-loaded USB port enables you to enjoy even more media.
Making the unit smart is cutting edge software, which transforms all formats into 4k ready images. This upscaling technology seamlessly converts your standard Blu-rays into exquisite and cinema-like quality. Even on an HD TV, images have a depth and richness that was missing before.
The LG UBK80 also supports HDR10, which is the current minimum standard requirement for HDR implementation and is used widely.
The audio is equally impressive as the unit supports several Dolby options including Dolby Digital, Dolby Digital Plus, Dolby TrueHD, DTS and DTS-HD decoder.
While it doesn't have built-in Wi-Fi, you can connect to the internet using an Ethernet cable. Once connected, you can enjoy streaming services such as Netflix and YouTube.
Set-up
Getting ready to watch a movie is very simple. Unpack the unit from the box, plugged in the power and connect to your TV and you're ready to go. Unfortunately, no cables are included, so you'll need to ensure you at least have an HDMI cable.
You probably don't need the remote to play discs to begin with as the unit has the basic controls on the front. However, the remote does contain a range of useful functions and may additional options.
If you plan to use a soundbar then you'll want to connect this into the optical audio output. Again you'll need an optical cable but the improvement will be worth it.
As there's only a single HDMI output, if you want to use the LG UBK80 with a 5.1 AV receiver, you'll need to connect directly and use your receiver's HDMI output to feed your TV.
While there's no built-in Wi-Fi, you can connect to streaming services using LAN. All you need is an ethernet cable connected to your wireless router. Again this only takes a few minutes to set-up.
Performance
What's impressive about the LG UBK80 is it's easy to use. It loads media quickly and even supports formats you wouldn't expect a budget-friendly unit to. You can enjoy the latest 3D Blu-rays as well as your favourite CD from the 90s.
The USB port makes playing your favourite movie or music even easier as you can plug your phone or memory stick and start enjoying within seconds.
Of course, there are hundreds of settings hidden in menus if you want to fine-tune the audio or visuals. You likely have more options than you'll ever get to experiment with! However, out of the box, it's superb.
Another unexpected feature of the LG UBK80 is it's internet capabilities. Of course, you have to connect using an Ethernet cable, however, you can instantly access a range of streaming services.
The most impressive feature is the software. As more of us move to 4K TV, it's worth upgrading other pieces of your home entertainment system yet be able to still enjoy your favourite movies, songs and box sets.
The upscaling software enhances the picture quality of your old DVDs and standard Blu-rays to 4K. There will be little difference in quality between HD or 3D Blu-rays and DVDs. Even if you not using a 4K TV yet, you should be able to notice a difference in the quality.
Some LG UBK80 units have been known to produce low droning noise, which has a big impact on viewing. However, as this usually happens while the unit is covered under warranty, exchanging your UBK80 should be simple.
Unlike with other LG Blu-ray players, the remote sometimes does not transmit signals unless it's pointing directly at the sensor. You'll probably still need to be accurate with your aim.
Is the LG UBK80 worth buying?
Given its highly affordable price tag, the LG UBK80 4K Ultra HD HDR Blu-ray Player challenges units of twice the price. That said, it's more affordable than the LG UBK90 for slightly fewer features.
While the list of formats might provide little surprises, the fact it's 3D ready counts in its favour. Plus as it displays pictures in 4K, it's future proof. You'll notice the upgrade instantly as each picture has a heighten depth and vibrancy.
We're not big fans of built-in power cables as it can make the cable situation a little awkward. That said, we're impressed by the optical audio output as this allows us to easily connect with a range of speaker system and improve the audio quality without hassle.
Some users have experienced units which have developed some issues including a low pitch drone and difficultly getting the unit to pick up the remote. These could be issues with the batch but should yours develop any issues, they should be covered by the warranty.
As a fairly advanced unit, it's worth considering the LG UBK80 for your main Blu-ray player. It would be equally impressive in a bedroom or kitchen. Overall, our score is 7/10.