LG UBK80 vs UBK90 Blu-ray player comparison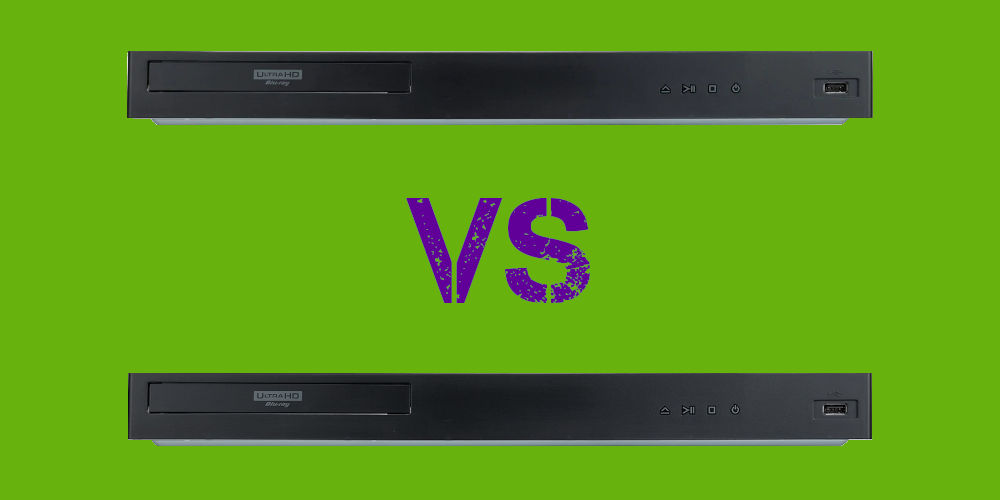 PUBLISHED: 12th February 2022 | LAST UPDATE: 27th January 2023
If you were to compare the LG UBK80 vs UBK90 Blu-ray players on price alone, you might be tempted to choose the cheaper UBK80. You'd save yourself around £50. However, you'd miss out on a range of features only available on the UBK90.
On the surface, both appear similar. Both units have a generic black box design, play a range of file formats, are feature-packed and affordable. Yet, look closer, and many differences start to be revealed.
While both offer content streaming capacities, only the LG UBK90 has a built-in Wi-Fi receiver. Otherwise, you'll need an Ethernet cable. The UBK90 also offer far more HDR options, twin HDMI outputs and most importantly, can play any disc as a multi-region Blu-ray player.
You shouldn't need to struggle to decide between the LG UBK80 vs UBK90 Blu-ray players. And so, we've done the hard work for you! Here's an honest, direct comparison of these two 4K Blu-ray players.
LG UBK80 Blu-ray player overview
LG UBK80 is a fantastic, budget-friendly Blu-ray player. Experience movies in 4K quality without leaving home. Enjoy watching 4K Ultra HD Blu-rays, regular Blu-rays, 3D Blu-rays, DVDs and CDs.
Connect to your internet router and enjoy multiple smart features, including 4K streaming. A front-loaded USB port allows you to enjoy an even wider range of content from your phone or a hard disk.
Regardless of the original resolution and format, the onboard software will upscale it to the highest possible resolution with rich and vibrant colours. You'll forget whether you're playing a DVD or the latest 4K Blu-ray.
Thanks to sleek and minimal design, you can be set up and enjoy movies in minutes. Plus with a slim footprint, it'll sit comfortably in any media unit or on a shelf. The UBK80 offers a single HDMI output, Ethernet port and digital audio output.
LG UBK90 Blu-ray player overview
As a multi-region media player, the LG UBK90 Blu-ray player allows you to enjoy content without limit. With 4K playback from multiple sources, LG electronics have released a future proof unit that delivers sharp and vibrant images, with rich audio to match.
After watching your Blu-ray and DVD collections, connect the LG UBK90 to the internet and enjoy streaming content in 4K from services such as YouTube and Netflix. You can even play media from a USB drive.
Regardless of the starting resolution, each image is displayed in near 4K quality, thanks to built-in technology. Offering support for premium HDR and Dolby Vision™, images are more realistic and natural, just as the director envisioned.
As one of LG's premium Blu-ray players, it offers dual HDMI ports. These allow you to send separate audio and video from the UBK90. In addition, there's a separate digital audio output.
Design
What makes comparing the LG UBK80 vs UBK90 Blu-ray players tricky; is they look nearly identical. The only subtle difference is a second HDMI port on the UBK90. The real differences are in the technology each unit uses.
LG, like most other manufacturers, seems to lack imagination with their Blu-ray play design. Both units are black, boxy and generally generic looking. On the front of both units are basic controls, a USB port and a disc tray. The rear panels vary slightly as already mentioned.
Looking pasted the vintage look of each unit's remote, you'll see they are quite similar. Both are jammed pack with buttons to control every aspect from the basic functions to RGB colour options, and TV controls. As both units work with HDMI-CEC, you can control your TV from the remote.
Winner: tie
Features
What makes the LG UBK90 stand out is that as a multi-region Blu-ray player, you're not limited by country codes and so can enjoy a wider range of content. Great news if you prefer to watch foreign-language films that are rarely released in the UK and all in 4K quality!
Both play a wide range of formats, including standard/4K/3D Blu-rays, DVDs and audio CDs. And as they both have a USB port on the front panel, you can enjoy movies, images or audio saved on a hard disk or portable USB device.
Another difference between the LG UBK80 vs UBK90 Blu-ray players is HDR. Only the basic HDR10 is available on the UBK80. The UBK90 also supports Dolby Vision format for a much superior experience.
While you might prefer to use a cable to ensure a stable internet connection, having built-in Wi-Fi is another feature that pushes the UBK90 above the UBK80.
A similarity between the units is their upscaling software. Regardless of your media's starting resolution, the onboard software displays every frame in 4K quality. Even with an HD TV, you'll notice a big improvement in picture depth, detail and colour contrast with both units.
Winner: UBK90
Connectivity
Despite the near-identical look of the front panels, the UBK90 has one additional port and a hidden feature on the rear. Both have a fitted power cable, which we're not massive fans of as it removes some of the flexibility of plugging units in.
Both units have an Ethernet port to allow an internet connection and an optical audio output, ideal for supplying a soundbar. The UBK80 has a single HDMI output for video and audio, while the UBK90 has twin HDMI ports (1 x video and audio, 2 x audio only), making it more flexible.
Winner: UBK90
Set-up
As the UBK80 has fewer options, it's easier to set up. While this shouldn't surprise you, it still offers some flexibility thanks to the optical audio output.
With both units, you can simply connect an HDMI cable from your TV to the Blu-ray player; and be up and running in minutes. Of course, you could add a soundbar or external speaker using the optical audio output.
Things can become complicated with LG UBK90, especially if you decide on using a hard-wired internet connection. You can use the UBK90's first HDMI port to supply video to a TV or projector and the second HDMI port to feed audio to an AV receiver, which powers a surround speaker set up.
Winner: UBK80
Performance
As you'd expect, both are easy to use and load content fast. Enjoy the latest Blu-ray, Netflix shows and your favourite CDs from the 90s! It's just as easy to stream content as watching a disc.
The picture quality is slightly improved when watching content with the LG UBK90 vs UBK80 in standard mode. In HDR mode, the UBK90 comes into its own. The improvement in colour contrast is very noticeable, thanks to built-in Dolby Vision support.
Both units are highly configurable with hundreds of adjustable settings. And while out of the box, they are good, you'll want to tweak your Blu-ray player to suit your equipment and preferences.
Some UBK80 have developed noise problems, mostly within the warranty period. Plus, the remote that comes with the UBK80 is highly directional and sometimes does not transmit signals unless it's pointing directly at the sensor.
Thankfully, we couldn't find any reports of similar issues with the LG UBK90, again pushing it above the UBK90.
Winner: UBK90
LG UBK80 vs UBK90 Blu-ray player: Which is better?
When comparing LG UBK80 vs UBK90 Blu-ray players, it's easy to buy the cheaper option and make peace with the missing features. However, as the price difference is minimal, in the grand scheme of things, we'd advise splashing out and buying the LG UBK90.
For the extra money, you get better picture technology with more options, including Dolby Vision, built-in Wi-Fi and SIMPLINK (LG's HDMI-CEC) for easier control. You also get slightly better connectivity.
Of course, if you're buying a new Blu-ray player for your bedroom, kitchen, or only to use occasionally, the LG UBK80 is probably your best option. That said, we'd still pay the extra and get more features, even if it's just to be fully future proof. So, the clear winner is the LG UBK90.