Onkyo TX-NR696 7.2 channel AV receiver review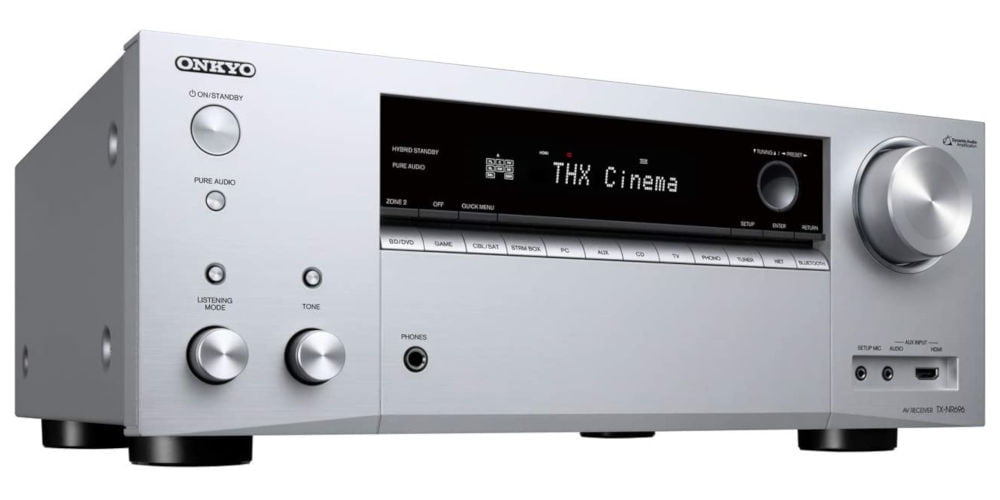 Enjoy movies with cinema-quality sound thanks to the THX Certified Onkyo TX-NR696 7.2 Channel AV Receiver.
Whether you're listening to a podcast, TV, film-score or vinyl record, the TX-NR696 creates an immersive sound which allows you to experience every note and the full dynamic range from the near-silent to thunderous sounds, exactly as the composer intended it.
As a flexible unit, it adapts to your speaker set-up whether you're running 5.1 or 7.1. Using the onboard Dolby Atmos Height Virtualizer or DTS Virtual:X enables you to replicate a surround sound experience from a 2.1 speaker set-up.
Featuring multiple 4K HMDI inputs and several audio inputs as well as AM and FM radio. You can seamlessly switch between a range of sources while maintaining superior audio-visual quality.
Supplementing these inputs is a plethora of digital options including a built-in Chromecast, AirPlay 2, Amazon Music and many more. Easily stream TV shows, music and films from all your favourite streaming services.
Each of the Onkyo TX-NR696 7 output channels delivers 175 watts of power, enabling you to enjoy whatever you're listening to, with plenty of volume still available.
As one of the best 7.2 Channel AV Receivers currently available, our rating for the Onkyo TX-NR696 is 9/10.
Pros
175 Watt per channel
THX Certified – same sound quality of at a commercial cinema
Built-in Chromecast
Cons
No Audio and Video RCA phonos input
Design
Available in silver or black finishes, the Onkyo TX-NR696 is ideal for any home cinema rooms. Let's take a look at the unit.
Front panel
Starting with the front panel of the Onkyo TX-NR696 which while fairly busy, uses generously sized buttons and knobs. It nicely splits into 3 sections, in a way that reminds us of older Onkyo AV receivers.
On the left-hand side, there are buttons for power on/standby, pure audio mode, listening mode and tone control. Both the listening mode and tone control button work with their respective rotary control below each button.
At the heart of the middle section is the screen. It's surrounded by status LEDs to the left and menu cursor buttons on the right. Directly below the screen are additional menu controls. The row of larger buttons corresponds to the rear inputs, allowing for easy switching between sources. A headphone output completes the middle section.
The final section features a large master volume knob. Below there is an input for the included set-up microphone. Finally, there are a USB and AUX mini-jack inputs.
Rear panel
Moving on to the rear panel of the Onkyo TX-NR696, there are 7 pairs of speaker terminals as well as 2 passive subwoofers outputs. A stereo pair of RCA phonos completes the audio outputs.
In terms of inputs, there are 6 HDMI 5 RCA phono stereo pairs, 2 digital and AM/FM antenna inputs. 2 HDMI outputs are available.
The two built-in antennas are used for Wi-Fi and Bluetooth functions. There is an LAN port if you prefer hardwiring devices into your router. Finally, there is a second USB port and power socket.
Remote
As you'd expect, the remote is packed full of options including buttons for each input source, power on/standby, menu controls and volume control. There are also buttons for the tone control and 3 EQ modes as well as options for zone 2, listening mode and AM/FM memory.
Features
As you'd expect the Onkyo TX-NR696 is packed full of features that are useful for daily TV watching and listening to music as well as enjoying films and the latest 4K content.
On the video side, 6 4K HDMI inputs enable you to connect set-up boxes, Blu-ray players and game consoles. There also 2 USB ports which allow you to play media directly from a memory stick or hard disc.
Just like the HDMI inputs, 2 HDMI outputs support 4K/60p picture quality and can be connected to a Projector (view our top picks of projectors under £1,000) and/or TV.
With built-in Wi-Fi, Chromecast and Bluetooth, you can stream content from all the leading services such as TIDAL, Spotify and Netflix and directly from any smart device. And we've yet to mention the built-in AM and FM radios.
Built around a THX Certified Select certified Dynamic Audio Amplification, the TX-NR696 produces the same high-quality sound that you enjoy at a commercial cinema, albeit from the comfort of your home.
While designed for a 7.2 speaker set-up, the Onkyo TX-NR696 is equally at home with either a 5.2 or 2.1 set-up. In these smaller speaker configurations, the onboard Dolby Atmos Height Virtualizer and DTS Virtual:X recreate the presence of the full 7.2 experience.
Regardless of your speaker set-up, several DSP modes are available including a Vocal Enhancer mode which improves dialogue. Tweak the sound further using the built-in bass and treble tone controls, or by selecting the Pure Audio mode.
Adding additional speakers is simple thanks to the Zone 2 outputs which can feed two powered speakers. You can also connect to FlareConnect wireless multi-room audio and enjoy music throughout your home.
Set-up
Getting any AV receiver set-up and properly configured isn't a short process. Sadly, it involves more than just plugging-in some AV cables as you need to optimize the unit's performance.
The first step is, of course, is getting all your devices and home cinema speakers connected to the Onkyo TX-N696. Start by filling up the inputs, then connect to your projector or TV using the HDMI outputs. Finally wire in your desired speaker configuration.
Next, you'll want to set-up the internet connection either using the built-in Wi-Fi or hardwiring the Onkyo into your router using the rear LAN port. It's worth at this stage downloading the latest firmware as this will ensure your unit is up to date.
You're now able to run the initial set-up including AccuEQ Room Calibration using the included microphone. This program takes around 10 to 15 minutes (depending on your speaker set-up) and automatically measures and adjusts the system to your room's natural acoustics.
After you've completed the initial set-up, you can further adjust the Onkyo TX-NR696 to your preferences using both the DSP modes and EQ controls on the remote. If you are super technical, there's plenty of options to tweak within the extensive menu.
At this point, you're ready to start enjoying watching TV and movies or listening to music.
Performance
A good AV receiver shouldn't be noticeable as it should distribute signals and faithfully reproduce audio without adding anything. Thankfully, the Onkyo TX-NR696 at its core offers this and more.
Regardless of what media you're playing, the sound is full with sparkling highs and thumping lows. This in part is due to the power amp which puts out 175 watts per channel and means there's plenty of volume available.
And while it produces the best audio experience using a 7.1 speakers set-up, the onboard Dolby Atmos Height Virtualizer works well to recreate that feeling using fewer speakers.
That said, by no means is it a perfect emulation of 5.1 or 7.1 speaker configuration but is good enough in small rooms where it's impractical to use multiple speakers.
Switching between sources is easy whether you're using the buttons on the unit or remote. It's very reactive to control by either method. While the Onkyo TX-NR696 doesn't claim to upscale images to 4K, merely stating that it supports the quality, pictures look fantastic rich and deep.
Even if you don't plan to use the USB, Bluetooth, Chromecast and internet capabilities, it's worth exploring these as they add another set of useful options that extend the number of sources you can enjoy media from.
Is the Onkyo TX-NR696 worth buying?
Like other Onkyo products, the TX-NR696 is well-built and feature-packed. It does take some time to set-up but it's worth the effort as one calibrated to your room and set-up, it provides excellent sound.
A few things are missing from the Onkyo TX-NR696. Firstly, it only offers audio inputs via RCA phonos and a mini-jack. We'd like to see at least one channel of RCA audio-video. The front USB port is fantastic for occasional use and is more user-friendly than the rear.
That said there are 6 HDMI ports, onboard Wi-Fi which allows you access to streaming services and a built-in Chromecast. So unless you have vintage games consoles, you should be fine.
Another point which Onkyo could improve on is control options. It's surprising that you can't control the unit using an app given its superb internet capabilities. So for the time being, the only control methods available are on the unit and the remote.
Putting those to one side, the Onkyo TX-NR696 seamlessly distributes audio-visual signals and faithfully reproduces a fantastic sounds experience. You'll enjoy listening to your favourite music and watching the latest movies. All with the highest quality sound and pictures.
As far as 7.2 AV receivers go, the Onkyo TX-NR696 is an excellent choice for any home cinema set-up. 9/10