Best projector under £1000 for home cinema 2021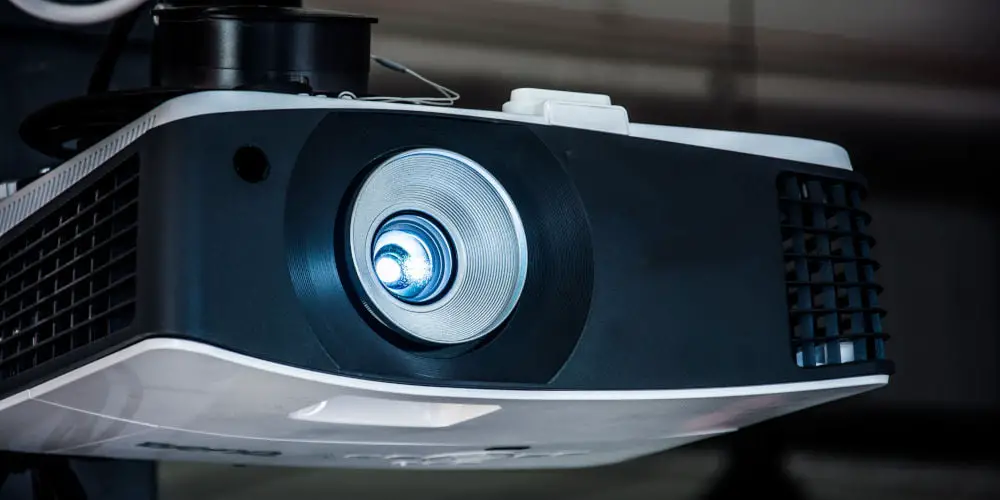 Deciding on the best projector under £1000 for your home cinema room is an investment you can't get wrong. Whether you have a couple of hundred pounds to spend or thousands.
Luckily there a fantastic range of HD projectors available between £500 and £1000. All are ideal for your home cinema and once set-up should last for many years to come.
If you have a smaller budget or just starting your home cinema journey, then you might want to read our top picks for the best projector under £500 or explore our complete list of projector review.
Having researched the market, we've chosen 5 best projector under £1000. We've selected models from both well-known brands and newer manufactures to ensure you have a good range to choose from.
* Prices correct at time of publishing
BenQ W2000 Home Cinema Projector
Description
BenQ W2000 is a short-throw projector complete with 20-watt stereo speaker, native 1080P HD resolution and superb connectivity.
The onboard CinematicColour technology ensures an exceptional image quality noted by superior sharpness and clarity. The W2000 has a native 1080p Full HD resolution with a brightness of 2000 Lumen and a contrast ratio of 15000:1. Also, it's 3D ready, so you can enjoy the latest releases.
As a short-throw projector, the W2000 is excellent for smaller home cinemas as it can produce an impressive 100-inch image at only 2.5 metres. This along with the built-in 20-watt stereo speaker means you can watch movies, sports and play games with few additional devices.
This BENQ projector has excellent connectivity. There are multiple HDMI and USB inputs as well as VGA and phono AV. There's also mini-jack audio in and out, allowing you to easily connect a soundbar or external speakers.
Making set-up easier, is a built-in 1.3:1 zoom as well as horizontal and vertical keystone corrections. These are especially useful at eliminating trapezoid effects when the projector is placed at an indirect angle.
A range of buttons are available on the top and allow for easy operation, whether the projector is mounted or free-standing. The rear feet adjust to raise or lower the angle when free-standing.
Pros
Native 1080p Full HD resolution
100 inch image at 2.5 metres
3D ready
Cons
Fairly loud fan
Only 2,000 lumen
Conclusion
For the price, the BenQ W2000 projector offers a lot. The picture quality is exceptional and large even at short distances and it's highly configurable. As you might expect, it does produce noise but this quickly blends into the background.
Thanks to its range of inputs, you can connect a game console, Blu-ray or an AV receiver. While the speaker is adequate, the audio output enables you to connect external speakers, if you're not already using an AV receiver.
In terms of brightness, at 2000 lumens, you'll need a completely dark room as even a sliver of daylight could overpower it. That said, it performs very well under the right conditions with crystal clear images.
The remote is well designed and offers more options than the buttons on the unit. However, you might not need the remote after setting it up. Finally, as a 3D ready unit, you can enjoy the latest releases in full 1080P HD quality as long as you have some 3D glasses. 9/10 (read our full review)
Optoma HD152x Home Cinema Projector
Description
Featuring award-winning Darbee Visual Presence technology, the Optoma HD152x Home Cinema Projector offers a Full HD 1080p picture, easy installation and good connectivity.
Combining 3,200 ANSI lumens of brightness with a 30,000:1 contrast ratio, the HD152X is ideal for any home cinema. The detail Full HD 1080p viewing experience enables users to enjoy advanced colours and lifelike images.
Optoma projectors combine superior DLP image processing technologies as used in 80% of cinemas, with high-quality engineering and innovation to deliver crystal clear images with high reliability.
The projector also integrates DARBEE Visual Presence image enhancement technology, which brings revolutionary levels of depth and realism. It doesn't matter if you're watching a classic film, the latest 3D Blu-ray or gaming, you'll experience it as if you were on set.
Switch it into gaming mode and enjoy lightning response times (16ms to be exact), maximum contrast and vivid colours to capture every detail. You'll enjoy winning even more!
Getting started is simple thanks to 2 HDMI inputs, a USB port (ideal for powering a Google Chromecast). There are even a mini-jack audio output and built-it 10-watt speaker. Thanks to a 1.6x zoom and vertical lens shift installation is a breeze.
Whether you enjoy gaming, watching movies or binging a TV boxset, the Optoma HD152x brings the big screen experience from the comfort of your own home.
Pros
3,200 ANSI lumens
DARBEE Visual Presence image enhancement technology
Discrete gaming mode
Conclusion
Overall the Optoma HD152x is excellent. It does lack input options with only 2 HDMI and these will be filled without thinking (a Blu-ray and Chromecast, for example). That said, it does a USB output for powering streaming devices.
Getting it set-up is easy thanks to it's clear, simple menu as well as the zoom and vertical lens shift. If you're upgrading from another projector, you'll instantly notice that's brighter and faster. Plus the DARBEE Visual Presence image enhancement technology makes pictures pop.
While there are essential controls on the unit, the remote is sleek and offers future options without it feeling overly cluttered. Simply put, once set-up it's likely you won't need the remote.
We especially like gaming mode, it's fast and detailed. Plus in Eco mode, the lamp's life is extended yet it provides a superbly detailed picture. Overall, it's fantastic for a range of uses. 9/10
Epson EH-TW5650 Home Cinema Projector
Description
Enjoy the big-screen experience from home with Epson EH-TW5650. Out of the box, it's easy to set-up, thanks to its 1.6x zoom and, horizontal and vertical keystone correction.
The adjustable feet ensure easy set-up if using on a table. Equally, ceiling mounting the unit is very straight forward.
In terms of connections, there are 2 HDMI, VGA, and a USB. There's also mini-jack audio out. While not as numerous as other units, they do cover several options.
With 2,500 lumens of brightness and up to 3x wider colour gamut over DLP projectors, the EH-TW5650 produces bright and vivid images and offers 60,000:1 dynamic contrast ratio and up to a 300-inch image.
As a 3D ready, full HD projector, you can enjoy Blu-rays, DVDs, games and TV in exceptional detail and thanks to a long lamp life, can enjoy watching for up to 11 years (typical lamp life 7,500).
The built-in Wi-Fi enables you to stream video and pictures from your smartphone or tablet using Epson's iProjection app. The unit features essential controls for daily use, while the well-designed remote provide further controls and options.
Finally, as you might expect from Epson, the EH-TW5650 comes with a two-year warranty on the projector and one year/1000 hours warranty on the lamp.
Pros
Up to 300-inch image
6x zoom
Built-in Wi-Fi
Cons
Limited connectivity
Mounting bracket available separately
Conclusion
The Epson EH-TW5650 is packed full of fantastic features and is designed to allow an easy set-up. Designed to produce an image size of up to 300 inches, the EH-TW5650 is useful for a wide range of situations.
Making this model different is a very high contrast ratio (60,000:1), built-in Wi-Fi and superb brightness. It does offer limited connectivity which might dissuade some but is easily solved with an AV receiver. The 10-watt speaker is sufficient yet the mini-jack audio output is a nice feature.
Offering two modes of operation, the Economy mode is quieter than Normal. However, the fan noise is hardly noticeable. The mode also has an impact on the lamp's life but it should last up to 7,500 hours of use.
In terms of performance, the picture quality is stunning whether watching TV or a film or playing a game. 3D Blu-rays look especially rich, but you'll have to buy some glasses! 8/10 (read our full review)
Acer H6517ST Projector
Description
Boasting 3,000 lumens, native 1080P resolution and short-throw lens, the Acer H6517ST is a fantastic portal projector, ideal for most home cinemas.
This Acer projector solves the conundrum of the small room, thanks to an ultra short-throw lens (0.5:1). At just over a metre distance between lens and screen, this H6517ST can project a 100-inch picture. This is ideal if you're converting a single bedroom and prefer to use a projector vs TV.
Add to this 3,000 lumens of brightness and you have the start of something special. While the basic picture is vibrant and crisp, it does lose sharpness in the corners unless the projector is square with the screen. So you'll need to experiment with its position and the onboard settings for the best results.
What it does offer is 1080p Full HD picture quality. This is most noticeable on older films as they've given a new sheen with more colour contrast and vibrancy. And you'll be able to enjoy watching movies for years to come as the lamp should last 6,000 hours in ECO mode (4,000 in standard).
The H6517ST offers 2 HDMI, audio in, VGA and Video phono. The first HDMI is Mobile High-Definition Link (MHL), allowing you to power and use a Chromecast directly. On the top, there are the essentials controls, whereas the remote provides future options.
Pros
3,000 lumens of brightness
Ultra short-throw lens (0.5:1)
Easily mounted
Conclusion
As an affordable home cinema projector, the Acer H6517ST offers 1080p HD pictures and is ideal for small rooms. With 3,000 lumens, it's bright enough for use in ambient light yet excels in a dark space.
What it lacks are connectivity options. While it does have 2 HDMI ports, they'll be used within seconds. There's no audio out, you'll either have to use a media player with audio output or feed the H6517ST from an AV receiver.
It is excellent in small spaces where you would have typically considered using a TV, especially given its HD picture. Also, as a highly portable unit, it's ideal for watching football with a BBQ at friends or watching movies outdoors in the summer.
Overall, the Acer H6517ST is fantastic if you're just starting or converting a small space. 8/10 (read our full review)
ViewSonic PG706HD Home Cinema and Business Projector
Description
The ViewSonic PG706HD is an incredibly bright projector that displays full HD images on a screen up to 300-inches in size.
With 4,000 ANSI lumens of brightness, the PG706HD produces a bright, crisp image regardless of the environment and the level of ambient light. Colours are rich and vibrant thanks to the SuperColor Technology which performs equally well in both bright and dark environments.
Able to produce an image up to 300-inches, whether you're gaming, watching a movie or TV, you can enjoy an immersive experience, all in 1080p full HD. It's also 3D ready, so you can enjoy all of the latest releases.
Selecting the energy-saving SuperEco+ mode, the PG706HD reduces power consumption and extends lamp life to 20,000 hours. Not only does this lower maintenance costs but reduces the frequency of lamp replacement.
Offering several inputs including HDMI, Video, S-Video, and VGA, you can easily connect most media players, games consoles and computers. Plus the built-in USB port can be used to power HDMI wireless dongles, eliminating the need for separate power sockets.
In addition to the superb connectivity, the projector is integrated with RS232 and LAN. It's certified by Crestron, AMX, PJ Link and Extron networkable solutions, making it easy to control and monitor the projector remotely.
The ViewSonic PG706HD features a dedicated gaming mode, so is ideal for those who want to be able to watch TV and movies yet enjoy gaming on a big screen.
Pros
4,000 ANSI lumens brightness
Lamp life of up to 20,000 hours
Superb connectivity
Conclusion
The ViewSonic PG706HD provides fantastic value for money with excellent picture quality and good connectivity. Set-up is fairly straight forward thanks to 1.1x zoom and adjustable feet.
With 4,000 lumens, it can handle some sunlight without washing out. That said, it comes into its own in a dark room, even with the brightness set at 30%. Even older formats perform well without pixelation.
That said, while it offers full HD picture quality, it doesn't support 4K content which will disappoint some, especially as Netflix and Amazon Prime Video (30-day FREE trial) have started to add more 4k content to their libraries.
While it has a built-in speaker, it's less than ideal. So you'll want to upgrade to at least a soundbar. Thankfully, the PG706HD has a mini-jack audio output which makes adding external speakers simple. 8/10 (read our full review)
What's the best projector under £1000?
All 5 units on our list of the best projector under £1000 are good options for any home cinema, whether you're just starting or upgrading. Two stand out above the rest.
The BenQ W2000 Projector features a range of inputs, crisp full HD pictures and thanks to its short-throw lens, can be used in a small room. Just be warned for the best results, you need a dark room.
Another fantastic option is the Optoma HD152x Home Cinema Projector while it may lack a range of inputs, it offers superior picture quality thanks to DARBEE Visual Presence image enhancement technology. It also excels for gaming.