Onkyo TX-SR373 5.1 AV receiver review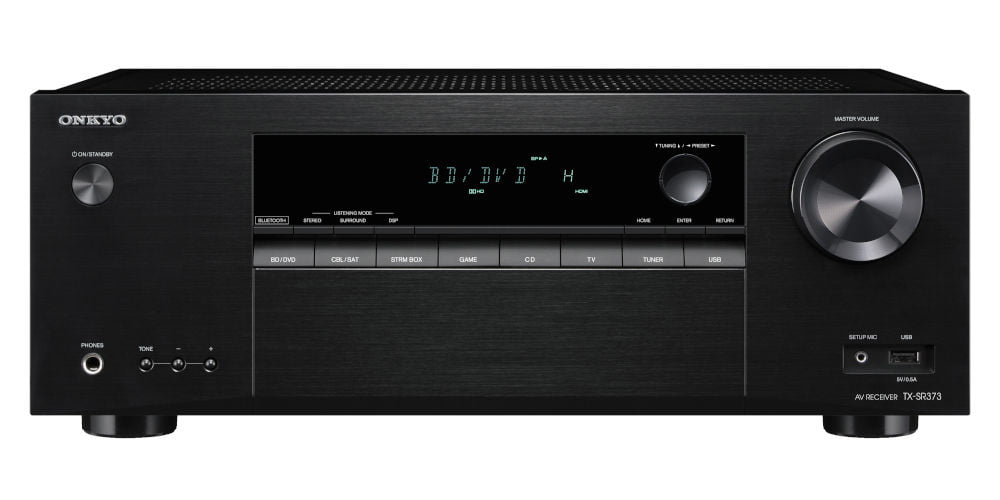 The Onkyo TX-SR373 AV receiver is a fantastic option for any home cinema set-up as it's packed full of features yet is easy to set-up and operate.
Whether you're looking for a way to control multiple inputs or to improve your sound, the Onkyo TX-SR373 dies this and more.
With 11 inputs (including HDMI, AV phonos, Bluetooth and USB), you can easily streamline and control multiple devices with a single click.
Using a range of the latest software, this Onkyo unit provides superb audio and visual experience. Dolby True HD and DTS HD Master Audio technology ensure the sound is excellent. The visuals are just as impressive, especially as it's 4k and 3D ready.
As of the best 5.1 AV receivers on the markets, the Onkyo TX-SR373 scores 7/10.
Pros
Onkyo is know for building long lasting units
Good features list for price
Superb sound quality
Cons
Doesn't power sub-woofer
Bluetooth doesn't always sync with devices
Old fashioned user interface
Design
With a stylish black metal shell, the Onkyo TX-SR373 AV will fit right into any home media or cinema set-up.
It's relatively heavy at 8 kg and is fairly sizeable, measuring 43.5cm (w) x 16.8 (h) x 32.6 (d) cm. So, you'll want to check you have enough space in your unit before you buy. Sadly, this is a common complaint with Onkyo AV receivers.
In addition to the unit, the box includes FM and AM antennas, manual, remote and set-up microphone for AccuEQ. However, you'll need to supply your AV cables (HDMI, phono and speaker).
Front panel
Like most AV receivers, the front panel is quite busy, even though it's well designed. It manages to pack a lot in without feeling cramped.
A power button and master volume control are the first things that grab our attention. The lower row features a headphone out, mic input (for calibrating the room) and a USB socket.
Sitting in the middle is the bulk of the controls. Underneath the LCD screen, is a row of buttons that control the Bluetooth input, sound settings and menu options.
Below this are buttons for each input – allowing you to easily change between them. Finally, to the right of the screen is a tuning/present button which enables the fine-tuning of some functions.
Rear panel
The rear panel is easy to understand as the Onkyo TX-SR373 have used clear labels. There's even a basic speaker layout diagram allowing you to easily wire in your speaker set-up.
Starting with the top row: There are 4 HDMI inputs and an HDMI output that's ARC enabled. Two digital inputs are also available including an optical input.
The bottom row is split into 4 sections: the first relates to the radio functions, with AM and FM antenna inputs.
Next, there are 2 sets of AV phono inputs, a set of audio phono and monitor output.
The third section is where speakers connect to. There are sockets for the front right and left, centre, rear right and left and sub-woofer.
Lastly, there's a diagram of the typical speaker set-up. This diagram is easy to follow, especially if this is your first 5.1 AV receiver.
Remote
Like most remotes, the Onkyo TX-SR373 doesn't disappoint! Sporting a vintage design, there's are well more options than you'll ever need. However, everything is easily accessible, you don't have to search through the menu to make changes.
Features
As a feature-packed unit, there's quite a lot to cover on the Onkyo TX-SR373.
First, let's take a look at the built-in technology. In terms of visual, the unit supports 4K, 3D and of course standard HD content. So you'll be able to enjoy the latest Blu-ray discs without any issue.
The unit processes audio using Dolby® TrueHD and DTS-HD Master Audio™. You'll be able to hear the quietest of sounds as well as the richness of music.
A microphone comes with the package and is used for the AccuEQ Room Acoustic Calibration software. By scanning the room, the software builds up a picture of your room and then fine-tunes the unit to eliminates standing waves and balance the surround-sound.
While these features are impressive, Onkyo TX-SR373 cherry on top is the inputs. There are 11 inputs, so you can connect most devices.
There are 4 HDMI inputs, ideal for all of your DVD and Blu-ray players, games consoles and TV set-top boxes. 2 Digital inputs for if you want to power the unit using a TV output.
But that's not all. There's also 2 sets of audiovisual phonos and a further set of phonos for audio. The unit has built-in Bluetooth and FM/AM tuners. A USB input on the front enables you to play media from a phone, tablet or external drive.
In terms of power, the unit provides 135 watts per channel. And while it doesn't power the subwoofer, it does have plenty of power on top for the other 5 speakers.
Setting the TX-SR373 up
Getting everything connected is fairly simple, thanks in part to a quick start guide on the back of the Onkyo TX-SR373.
You'll need to supply HDMI, speaker and phono cables. Once you've plugged in your devices and speakers, then you can get to work configuring how the unit sounds.
The rear diagram details the default speaker set-up. A speaker pair sits to the left and right of the screen. The centre speaker sits under the screen, as does the sub-woofer. Finally, rear speakers, these should be at the back of your room and mirror the front left and right speakers.
For optimum set-up, it's best to plug-in the mic and run the AccuEQ Room Acoustic Calibration software. This will enable the TX-SR373 to scan the room and adjust for any issues it encounters.
You don't need to run the calibration software again, so the mic can be stored.
Finally, you'll want to try switching between sources on the remote and the unit. Doing so, allows you to check everything works and there are no connectivity issues.
Performance
While the Onkyo TX-SR373 doesn't power your sub-woof, it does provide plenty of power to your other speakers. It might not be as powerful as other AV receivers. However, thanks to Onkyo software, each sound wave feels more defined than other units.
The visuals are equally impressive, especially as the unit supports 4k and 3D. Whether you're enjoying a DVD, the latest Blu-ray or HD game console, pictures look sharp and pull you in. It's easy to get forget your at home and not in the movie or game.
Overall it's easy to control. Yes, there are plenty of options on the front as well as on the remote. However, once you've set the TX-SR373 up, you can probably ignore most of the buttons.
The LCD screen isn't as useful as you'd expect unless you plan to use the radio functions. While it does display some useful information. In our opinion, it would be better to use LED to indicate which input is selected and display menus over the screen.
Whether using the remote or the front panel, it's easy to select sources and raise/lower the volume. If you want more controls, the remote enables you to tweak the treble and bass settings, control the USB input and operate the FM/AM radio.
With multiple inputs and options, the Onkyo TX-SR373 can be complex or simple as you want.
Is the Onkyo TX-SR373 worth buying?
Overall, Onkyo TX-SR373 is a fantastic unit that's also affordable. There are many features we like, and only a few we don't. So overall, we feel positive about recommending it.
The biggest issue with the Onkyo TX-SR373 is it doesn't power your subwoofer. This means you'll end up spending extra on an active unit. This might be fine if you're starting from new, but could be annoying if you're planning on upgrading only your AV receiver.
You might find that the LCD screen is obsolete or at best only used occasionally. While this is a personal judgement, Onkyo could easily either remove it or update it to be useful.
Our usual complaint about remotes still applies. It's far more complex than it needs to be, especially as some of these options could be hidden on a menu.
Finally, it's heavy and big. You'll want to make sure your unit can handle the 8 kg it weighs and that you have enough space.
On the positives, there's plenty of inputs and power output. Once you've connected all your devices, you'll be happy that you can easily switch between them without having to rewire each time.
As a 4k and 3D ready device, it's unlikely you'll need to change the Onkyo TX-SR373 for many years to come. You'll enjoy watching TV, movies and games in high quality with sound to match. 7/10