Optoma UHD370X 4K projector review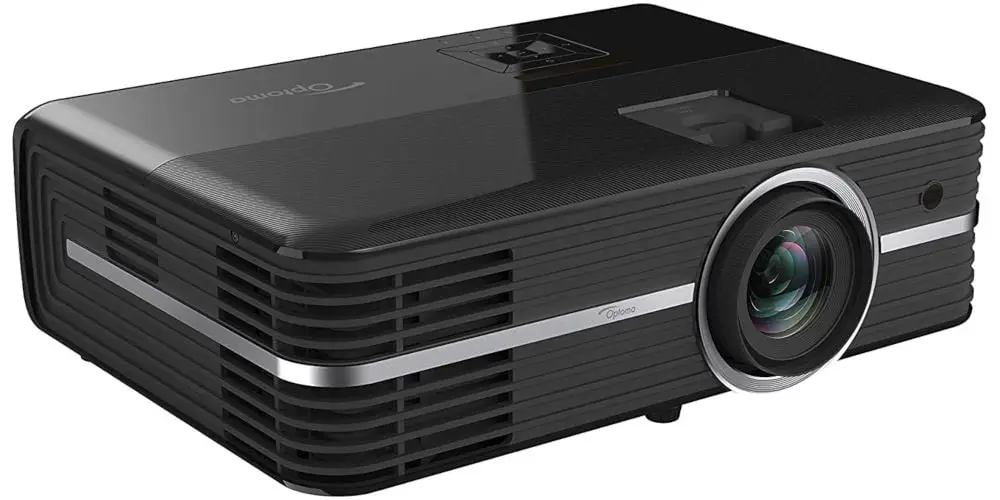 Ideal for any high-end home cinema, the Optoma UHD370X DLP projector delivers a super bright picture with sparkling contrast and true-to-life colours.
Imagine watching a movie, sports or gaming with 4K quality images regardless of the original picture quality. The UHD370X offers this as well as High Dynamic Range (HDR) and is also 3D compatible.
Offering 3,500 lumens of brightness, this projector is super bright allowing you to enjoy watching movies and TV despite the ambient light in the room. It easily doubles as a business projector that's fantastic for presentations.
The impressive range of inputs includes 2 HDMI ports, a VGA port, trigger jack and audio in/out. There's even a USB power socket making it easy to connect a streaming stick such as an Amazon Fire TV or Google Chromecast. There's also a built-in 3-watt speaker.
With a built-in media player, you no longer need a laptop or PC to watch content, simply load whatever you want to watch onto a USB memory stick, plug it in and enjoy the big screen experience.
Built into the UHD370X is Optoma's PureMotion technology which eliminates motion blurring or image judder, even in high-speed action sequences.
Installation is painless thanks to the built-in 1.3x zoom and vertical lens shift, which allow for a wide range of projector placements and screen size options.
With a lamp life of 15,000 hours, the Optoma UHD370X is very low maintenance and highly affordable to run. You'll be able to enjoy years of movies before needing to change the lamp!
A 3-year warranty means you can buy in confidence. And as one of the best 4K home cinema projector currently available, Optoma UHD370X scores 9/10.
Pros
4K UHD image quality
Built-in media player
Low Noise
Cons
Build quality seems very plastic
Little Keystone correction
Design
The first thing you'll notice about the Optoma UHD370X is how compact is it. the unit measures 39 cm (w) by 28 cm (d) by 12 cm (h) and weighing just over 5kg.
Starting on top, there are some basic control buttons (including power, menu, home), status LEDs and a lamp cover. Removing the cover reveals the projectors lamp allowing you to change or adjust it.
The front contains the remote sensor, the lens and focus ring, and an adjustable foot. This is useful if you're placing the projector on a table, angled up at a screen. On each side are two vents which suck and expel air.
Finally, the rear of the unit which features an inputs panel and two additional adjustable feet. The input panel includes an IEC power port, 2 HDMI ports, VGA port, RS232 port, Audio In and Out, and an Ethernet port. It also contains a USB power out port, a USB service input, an S/PDIF port and a 12-volt trigger output.
The included remote add additional options to the controls on the unit's top. There are buttons for volume up and down, volume mute, menu, input source selection and display mode.
Features
As a featured-packed unit, it would be tricky to cover every last detail of the Optoma UHD370X. So allow us to highlight the major ones which will impact your viewing experience.
Firstly, the lamp which has a life of 15,000 hours and produces 3,500 lumens of brightness. It easily outperforms the far more expensive Sony VPL-VW570ES on both metrics.
It's inherent brightness, means you don't need a perfectly darkened room unlike projectors with a lower lumen count. Even some ambient light within the room won't wash out the picture. The Optoma UHD370X, therefore, is ideal for the home and office.
With an onboard upscaling software, regardless of the original quality, each picture is displayed in 4K (that's more than 4 times the quality of HD). Colours appear with enhanced depth and vibrancy with crystal clear details.
This along with all Optoma projectors are capable of reproducing the Rec.709 colour gamut. This is the international HDTV standard to guarantee accurate reproduction of cinematic colour. Watch movies exactly as the director intended.
Whether you're enjoying the latest HD or 3D content, the UHD370X handles both with ease and precision. It's also High Dynamic Range (HDR) compatibility and offers HDCP 2.2 support. Experience far more detail, depth and texture.
In addition to the range of inputs, there is a built-in media player. Previously you'd need to connect a laptop and play videos from there. Thankfully, the Optoma UHD370X can read several media formats directly from a USB memory stick.
If you've found certain movies unwatchable due to excess blurring or juddering, then you'll be relieved to try PureMotion. This sophisticated technology eliminates motion blurring and image judder. Even high-speed action sequences react better.
Finally, the Optoma UHD370X features a built-in 3-watt speaker. And while you'll likely be adding this projector to an equally impressive audio set-up, this speaker is ideal if you plan to use the UHD370X outdoors in summer.
Set-up
Included with the projector and remote is a power cable. So it's worth checking when you order your Optoma UHD370X that you have the right AV cables for your home cinema or that you purchase any required ones.
Basic set-up options
You can set-up the UHD370X in 4 ways. You can place it on a table and project forward onto your screen. If you've plenty of space behind the screen, you can rear project from the table. You can also mount it on the ceiling and project onto the screen again from both the front and rear.
Ceiling mounting
For the sake of simplicity, we'll assume you're going to mount on the ceiling and project forward onto your projection screen.
For a 100 inches (diagonal) image, you need roughly 2.7 m between the lens and the screen. The Optoma UHD370X can produce an image size between 30 and 300 inches (diagonal) depending on the lens to screen distance.
If you have a motorised screen, the 12-volt trigger output can be used to activate the motor allowing the screen to unfold or fold.
Connecting
With the projector safely mounted in place, you'll want to plug in the power cable and then run an HDMI from your AV receiver to one of the HDMI ports.
If you're not yet using an AV receiver in your home cinema, then you can run an HDMI cable to your Blu-ray player, set-up box or games console. You can even plug-in a Chromecast and use the built-in USB port to power it!
In this case, We'd recommend using the audio output to feed external speakers at the front of the room as this will sound better than the projector's built-in speaker as it will be projecting the sound behind the users, leading to a weird sound.
Calibrating
Next using the built-in test screen, you'll want to adjust the zoom, lens shift and focus. Don't use an image or a paused still from a movie as the results won't be honest as a test screen and may lead to poor overall performance.
As you might expect, it's highly configurable with plenty of options to tweak if you so wish. So it worth spending some time looking through the various menus and experimenting to find the best picture quality for your set-up and room.
Remote
Depending on where you mount your Optoma UHD370X, the remote can be indispensable. There are two IR sensors on the unit which pick up the remote. Each sensor is highly directional and so it might take a bit of time for you to get used to it.
That said, the remote offers more options than the basic controls on the unit and is far more practical to use than having to stand on a chair under the projector!
Performance
If you're upgrading to the Optoma UHD370X, you'll notice how quiet it is. As far as projectors go, it's near-silent and your ears will quickly block out the little noise it does create.
From the first image, you'll enjoy how bright it is. Again as it produces 3,500 lumens, it can happily compete with ambient light but really shines in a dark room. The UHD370X is ideal as a multi-purpose projector for watching TV, gaming and of course, movies.
Two issues with the DLP chip used by the UHD370X is that it has a very moderate black value which leads to a weak contrast ratio. Another problem is in the 16:9 aspect, it produces a rather wide 'clear' edge. Depending on your screen, this might not be a big issue.
In HDR mode, HDR10 is supported and while it delivers a superb image quality, it is pale in comparison to a TV. That said, it does offer support for 3D formats.
Using the Optoma UHD370X for gaming is possible but is held back by the input lag of 75 ms making gameplay less responsive than you might like.
For general movie watching, it excels with a nice, bright image and rich colours regardless of the original resolution. We like how user friendly it is with many tweakable options and extras such as the built-in speaker and media player.
Is the Optoma UHD370X worth buying?
If you're looking for a multi-purpose projector with superb specifications and a few nice extras, then consider the Optoma UHD370X. It's well worth ti's affordable price tag.
There are many fantastic features including good connectivity, superb software and chipset, and strong brightness. These outweigh the few negatives of limit contrast range and lacklustre HDR image.
The long lamp life (15,000 hours) can't be overstated as even with daily use, you should be able to watch at least 5,000 movies before it needs replacing.
You might feel the some of the extras such as the audio output, built-in speakers and media player, are slightly gimmicky. However, if you plan to use the Optoma UHD370X outdoor in summer for entertaining, you'll appreciate both of these features.
Likewise, if you're using this projector instead of a TV, all of these extra features ensure you can get set-up and running in minutes without needing any additional equipment.
On balance, we'd recommend the Optoma UHD370X and score it: 9/10.