Panasonic DP-UB150 vs Sony UBP-X700 comparison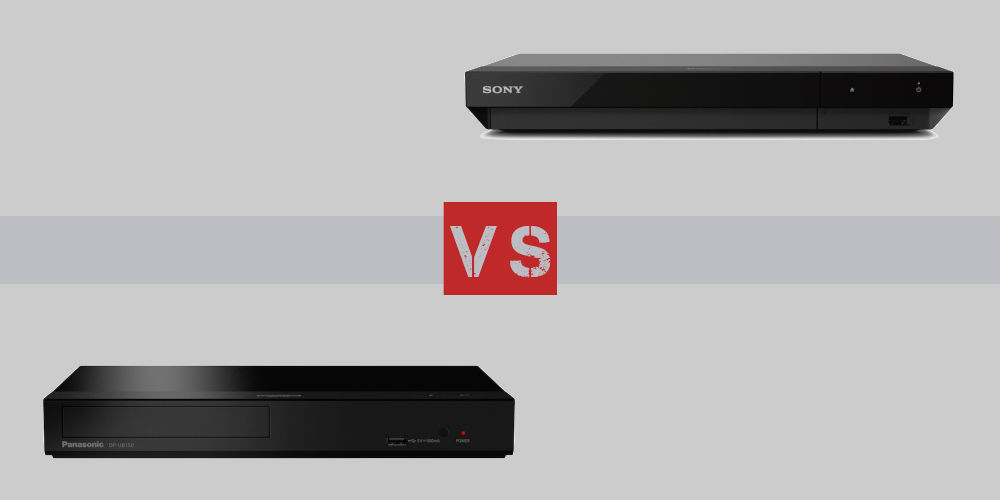 PUBLISHED: 8th May 2022 | LAST UPDATE: 10th July 2023
Many Blu-ray players claim they offer many superior features. So, comparing two units can be tricky. That said, we wanted to directly compare Panasonic DP-UB150 vs Sony UBP-X700 to see which is the best.
Granted, they look remarkably similar as they are both Blu-ray players! However, it doesn't take much to realise they different beasts and that one is superior. Both units offer distinctive technology, different connectivity options and can play a range of file formats.
So, if you can't decide and want an honest, direct comparison between Panasonic DP-UB320 vs Sony UBP-X700, we've done the hard work for you!
Panasonic DP-UB150 Blu-ray player overview
The Panasonic DP-UB150 Blu-ray player features Panasonic's HCX processor, which brings together years of picture expertise and collaboration with Hollywood studios. It delivers vibrant colour and lifelike images with audio to match.
Using the latest HDR picture technology, each scene is optimised. Each image displays the maximum detail possible, from bright whites to deep blues. The DP-UB150 also supports HLG formats (Hybrid Log-Gamma).
The DP-UB150 is more than just a great UHD Blu-ray player, it's a highly flexible music player. Enjoy Hi-Res music via streaming or USB. It can even handle Dolby Atmos and DTS:X soundtracks with a compatible AV receiver, allowing you to experience a whole new dimension in sound.
With 4K networking, you can enjoy your home made footage on the big screen and in the highest possible quality. The Panasonic DP-UB150 Blu-ray player is easy to use and makes watching content painless.
Sony UBP-X700 Blu-ray player overview
Bring your movies to life with a Sony UBP-X700 4K Ultra HD Blu-ray Player, which produces astounding image and audio quality to match. Enjoy all of your favourite movies on Blu-rays and DVDs as well as music CDs. There's even a USB port extending the range of media playable.
Displaying images in the highest 4K quality, even on an HD TV, you'll notice the difference with brighter whites and deeper blues. The audio is equally as rich thanks to the built-in Dolby Atmos.
More than just a Blu-ray player, the built-in wireless connection gives you access to online streaming services. You can even connect with an Ethernet cable if you prefer. Once online, you can use your smartphone or tablet to control the unit.
Unlike some Blu-ray players, the Sony UBP-X700 has 2 HDMI sockets and coaxial for easy connectivity.
Design
Yes, they both are black, square and plastic. And with those basics out of the way, we can explore the main design differences.
Panasonic has invested the lion's share of their budget in the technology under the hook and very little in the design or manufacture of their DP-UB150 Blu-ray player. The unit feels a little flimsy, especially the disc tray.
Sony has spent more on the design and manufacturing of its unit. And it's noticeable. It feels more rigid and able to withstand some abuse. Plus, it has more connectivity options on the rear.
Neither unit stands out from their front panel as they are pretty much identical with a disc tray, power button, open/close tray button and USB port. The Sony UBP-X700 has its two buttons on the front, rather than on the top like the Panasonic DP-UB150.
Winner: Sony
Features
Both play a range of file formats, including Ultra HD Blu-ray discs, 3D and standard Blu-ray discs, DVDs, CDs and rewritable discs. Also, you can enjoy files saved on any USB stick or hard drive. Plus, both upscale content to near 4K quality regardless of the original resolution.
While Sony doesn't specify what computer chip powers their Blu-ray player, Panasonic uses their HCX processor. That said, the results are similar. So it's hard to pick a winner on picture quality alone.
Both support multiple HDR (High Dynamic Range) formats for enhanced colours and a richer viewing experience. That said Sony's technology lets you playback HDR-encoded discs on any TV with impressive results.
The audio specifications are equally impressive on both units. However, the Panasonic has a slight edge as it supports more formats, including Dolby® Digital, DTS-HD Master Audio, and DTS: X. Both support Dolby Atmos.
One big difference between the Panasonic DP-UB150 vs Sony UBP-X700 is the internet capabilities. Both offer 4K wired internet, which is a slight disappointment. However, you can only view your own content with the Panasonic.
The Sony unit has several apps pre-installed. You can easily binge on Netflix or Amazon Prime Video (30-day FREE trial) or watch YouTube, and all in 4K!
Winner: Tie
Connectivity
Both units offer the same basic connectivity. These include a power input, HDMI output, USB port and LAN port. However, the Sony UBP-X700 offers a second HDMI output that offers audio-only and a coaxial digital audio output.
For most, these additional outputs on the Sony unit are nice to have but aren't a deal-breaker.
Winner: Sony
Set-up
With minimal options, it's relativity simple to connect either unit to a TV or AV receiver. The Sony offers a second HDMI output, which takes another couple of seconds longer to wire in! Setting up either is slightly faster as both have power sockets rather than attached cables.
With the power cable and HDMI cable connected, you're pretty much ready to go. Of course, you could wire either unit into your Wi-Fi router using an Ethernet cable for internet access.
We'd advise connecting whichever unit you buy to the internet before placing it in your media unit as you want to check for updates. After updating your unit, you could disconnect it from your router, especially if you won't use the internet functionalities.
However, you should occasionally connect it to your router and check for updates as they should improve the unit's performance.
Both units play a range of formats without touching the vast array of settings. That said, each offers plenty of customisable options, allowing you to get the best from your device and set-up.
Winner: Tie
Performance
You'll see a noticeable improvement from using either unit as they both upscale content to 4k, regardless of the original resolution. Even playing media using the USB port receives the same attention, with equally impressive results.
The Sony offers slight more connectivity options than the Panasonic, making it more future proof and flexible.
An area where both disappoint is controls on the unit. Simply put, they don't have any other than power on/off and tray open/close. So you'll need to keep the remote handy. Another issue with both units is adjusting any settings requires you to scroll through menu after menu!
The Panasonic doesn't offer any streaming options. So the Sony UBP-X700 wins on this point and performs very well. Disappointingly both need to be hardwired into your router.
Winner: Sony
Panasonic DP-UB150 vs Sony UBP-X700: Which is better?
Choosing between Panasonic DP-UB150 vs Sony UBP-X700 Blu-ray players could seem tricky at the start. However, the Sony UBP-X700 is superior.
The Sony unit offers a range of Dolby options for both audio and video, compared to Panasonic, which only uses their in-house designed processor chip. The Sony UBP-X700 also comes with the YouTube app pre-installed.
Both units produce a vibrant colour spectrum with equally high-quality audio regardless of the initial resolution. Even on a standard HD TV, you'll notice a difference in picture quality. Of course, the best results come when you connect either Blu-ray player to a 4K TV.
Neither has in-built Wi-Fi. So, you'll need to connect a cable between them and your router. Yes, this is a pain. That said, the Sony UBP-X700 offers more streaming options and apps, as well as a far stronger signal with almost zero drop-offs or buffering.
The final difference is the connectivity, which could be the most important factor. Both have at least one HDMI port. That said, there are two additional audio outputs on the Sony UBP-X700, making it more versatile.