Panasonic DP-UB150 Blu-ray player review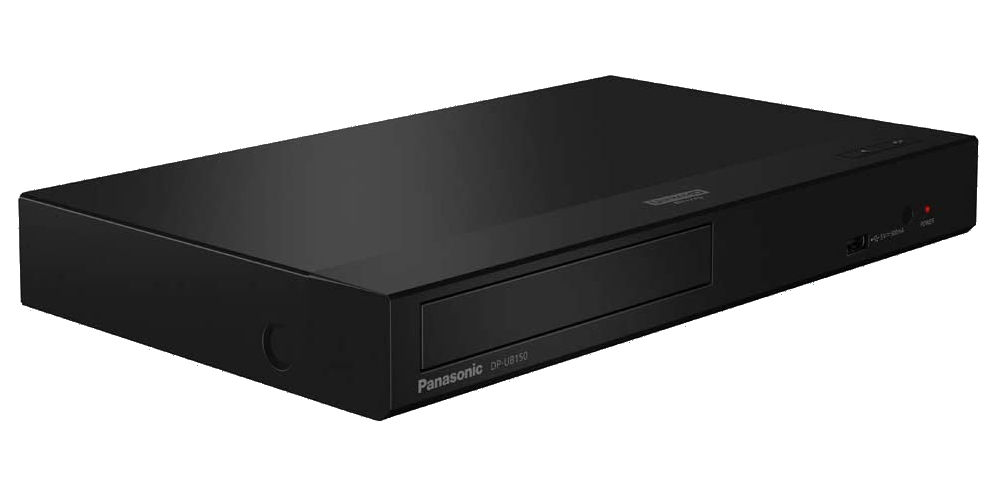 PUBLISHED: 6th August 2021 | LAST UPDATE: 10th July 2023
The Panasonic DP-UB150 Blu-ray player features Panasonic's HCX processor, which brings together years of picture expertise and collaboration with Hollywood studios. The DP-UB150 UHD Blu-ray player delivers vibrant colour and lifelike images with audio to match.
Using the latest HDR picture technology, each scene is optimised. Each image displays the maximum detail possible, from bright whites to deep blues. The DP-UB150 also supports HLG formats (Hybrid Log-Gamma).
The DP-UB150 is more than just a great UHD Blu-ray player, it's a highly flexible music player. Enjoy Hi-Res music via streaming or USB. It can even handle Dolby Atmos and DTS:X soundtracks with a compatible AV receiver, allowing you to experience a whole new dimension in sound.
With 4K networking, you can enjoy your home made footage on the big screen and in the highest possible quality. The Panasonic DP-UB150 Blu-ray player is easy to use and makes watching content painless.
For a budget Blu-ray player, the Panasonic DP-UB150 offers many great features. 8/10
Pros
Enjoy Hi-Res music via streaming or USB
Supports HDR10+ and HLG formats
Dolby Atmos and DTS:X
Cons
Feels cheaply built not up to usual Panasonic quality
Generic remote that's doesn't always work
Design
As a budget Blu-ray player, the Panasonic DP-UB150 doesn't offer multiple connectivity options, an exciting colour, nor is it up to the usual Panasonic build quality. While hardly surprising on all accounts, Panasonic has instead focused on building a technologically advanced unit. Let's have a look at the unit in more detail.
Sporting a compact design at just 32cm wide and a small footprint, the DP-UB150 is ideal for tight spaces such as in the bedroom, kitchen, or for travelling. And at 1.2 kg, it's lightweight too.
The first element that stands out is the disc tray on the left. Next to this is a USB port, a remote control signal sensor and a power LED. On top of the unit are two buttons. The first opens/closes the disc tray and the other is a standby/power switch. So, you'll always want to keep the remote handy.
Moving to the rear. It's equally sparse with only a power input, LAN port and HDMI output.
All that's left to cover is the remote. No surprises here. It's compact with plenty of buttons, including power, menu options, and playback controls. It also has buttons for scene selection, colour balances and the settings menu.
Features
Delivering a great picture quality, the Panasonic DP-UB150 supports 4K Ultra HD content and even upscales lower-resolution sources. Like most Panasonic Blu-ray players, it provides an affordable solution.
With a 4K TV or 4K projector, you can play your favourite 4K Blu-ray discs using this Blu-ray player. It plays Ultra HD Blu-ray discs, 3D and standard Blu-ray discs, DVDs, CDs and rewritable discs.
Panasonic's new HCX processor brings together years of picture expertise and collaboration with Hollywood studios. For vibrant colour and lifelike images, little can get close to this processor's power.
Supporting HDR (High Dynamic Range) and HLG formats, you can enjoy improved picture contrast and brightness with compatible TVs. The result is a sharp picture with deep blacks, vibrant highlights, and lifelike colours.
The audio specifications are equally as impressive with built-in decoding for Dolby® Digital, Dolby TrueHD, DTS®, and DTS-HD Master Audio. It also supports Dolby Atmos and DTS: X.
If you enjoy listening to high-resolution audio, you'll be glad to know the DP-UB150 plays a range of file formats, including AIFF, FLAC, and WMA.
The front USB port expands the range of files you can enjoy. Simply, plug any USB storage drive to play movies or view stored images. You can also use the USB port to listen to high-resolution PCM and DSD audio files.
With 4K networking, you can enjoy your own footage on the big screen in the best possible picture quality. 4K videos shot in MP4 from your camera or camcorder can be replayed in JPEG data, giving stunning detail and definition to your home movies.
Set-up
With only the essential connections, getting set up doesn't take long. You'll want to buy 4K HDMI cables when you buy the Panasonic DP-UB150 as only a power cable is included.
As a 4K Blu-ray player, to enjoy the best image quality, you need to connect this unit to a 4K compatible TV using a 4K HDMI cable. Selecting "Easy Settings", will be automatically select 4K (50p/60p).
If you're connecting the DP-UP150 to a TV or project, you just need to plug in the power cable and an HDMI cable, and you're ready. To enjoy surround sound, you'll need to connect it to a 5.1 or 7.2 AV receiver.
Before connecting an Ethernet cable to your router and exploring the internet capabilities, you probably want to spend time getting it set up and experimenting with the basic settings. As there are no control buttons on the units, you'll need to use the remote.
When you're happy with how it plays discs, try playing media using the USB port or enjoy using the internet function.
Performance
After spending a few minutes setting the unit, the first thing you'll see is the slightly dated and clunky user interface. Thankfully, the picture and sound quality are excellent, and so helps to restore faith in the DP-UB150!
It handles a range of disc and file formats with ease. One downside is that you have to use the remote for everything. The remote is intuitive, but it would be nice to have even the basic controls on the unit.
There can be a slight delay between clips when playing a 4K video from a USB stick. Plus, it can take a couple of seconds to load content, which is slower than most units and what we'd expect.
Another small issue is the lack of a subtitles button on the remote. Instead, you have to navigate through the settings menu to turn this on. Of course, this is a tiny issue that doesn't distract from the excellent picture and audio quality that the Panasonic DP-UB150 provides.
Is the Panasonic DP-UB150 Blu-ray player worth buying?
The budget-friendly Panasonic DP-UB150 Blu-ray player is a solid albeit not the most exciting option. We prefer the Sony BDP-S6700, which is much cheaper and offers a better range of functions.
The DP-UB150 does feel quite generic and doesn't live up to the Panasonic quality we know and love, but this is hardly surprising. Panasonic spent the budget on developing a technologically advanced unit and not one that will last for years to come.
That said, it offers some nice features, including playing UHD and 3D Blu-rays, multiple HDR formats and is Dolby Atmos ready. Even on a non-4K TV, it enhances the image resolution thanks to its HCX processor and software.
If you're looking for your first Blu-ray player or one for the bedroom, the Panasonic DP-UB150 is ideal. 8/10