Sony UBP-X700 4K Ultra HD Blu-ray player review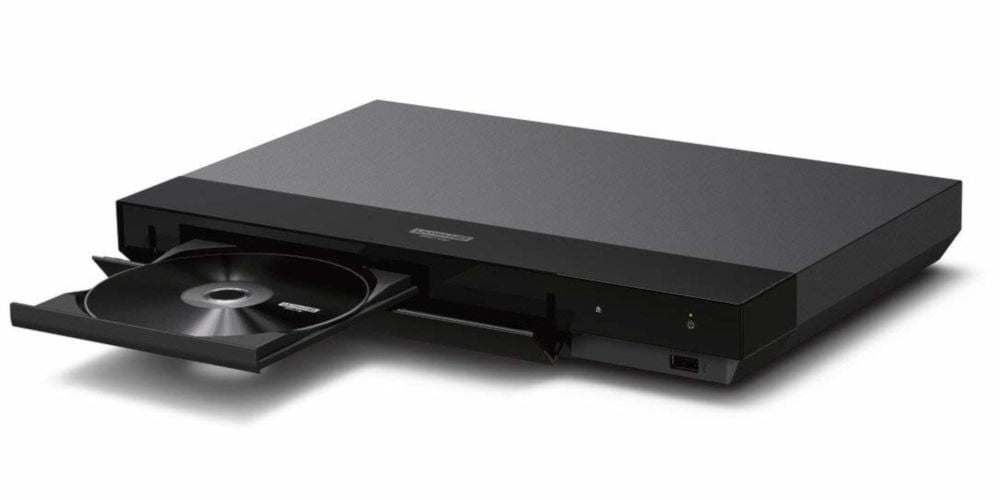 PUBLISHED: 9th July 2020 | LAST UPDATE: 10th July 2023
Bring your movies to life with a Sony UBP-X700 4K Ultra HD Blu-ray Player, which produces astounding image and audio quality to match.
Enjoy all of your favourite movies on Blu-rays and DVDs as well as music CDs. There's even a USB port which extends the range of media playable.
Displaying images in the highest 4K quality, even on an HD TV, you'll notice the difference. The audio is equally as rich thanks to the built-in Dolby Atmos.
More than just a Blu-ray player, the built-in wireless connection gives you access to online streaming services. You can even connect with an Ethernet cable if you prefer. Once online, you can use your smartphone or tablet to control the unit.
Unlike some of Blu-ray players available for under £200 we've covered, the Sony UBP-X700 has 2 HDMI sockets and coaxial for easy connectivity.
If you're looking for a future proof Blu-ray player, then you'll want to invest in a Sony UBP-X700. 9/10
Pros
Built-in Wi-Fi
Good connectivity including 2 HDMI outputs
4K viewing with HDR10 and Dolby Vision
Cons
Cheap looking remote
Settings page is very basic
Design
The sleek design of the Sony UBP-X700 means it seamlessly slots into any TV set up. Plus at 45 cm wide by 4 cm high, it requires little space.
The front, while minimalist, actually packed in several features. The disk tray and USB port are easily found as are the standby/on control and the tray release button. There's also a remote sense and power LED.
Unlike most Blu-ray players which only have limited connectivity, the UBP-X700 has several options. The rear panel contains a power input, two HDMI outputs (1 video and audio, 2 audio only), LAN port and coaxial digital output.
The remote has that classic retro Sony look and is comprehensive. It features a range of controls for the Blu-ray player as well as a Netflix button for easy access. As you're able to pair the Blu-ray player with a range of TV from Sony and other manufacturers, the remote allows you to control both units.
Features
Playing a range of file formats in the latest 4K quality, regardless of what you're watching, you'll feel like you're right in the action, on set.
The HDR (High Dynamic Range) and Dolby Vision options produce enhanced colours and richer viewing experience. Even if your TV isn't HDR-compatible, Sony's unique technology lets you playback HDR-encoded discs on any TV in the highest possible picture quality.
If you think the picture quality is impressive, then you'll be relieved to know that the unit uses Dolby Atmos to faithfully recreate audio in stunning detail.
Using the Sony UBP-X700, you can enjoy Blu-rays, DVDs, and CDs. As well as a wide range of other discs including SACD (Super Audio Compact Disc). The USB port, located on the front enables you to experience a wide range of file formats via a Hard Disk or memory stick.
Easily connecting to the internet via Ethernet or onboard Wi-Fi, you can watch all your favourite online streaming services. Whether you want to binge on Netflix or Amazon Prime Video (30-day FREE trial) or watch YouTube, you can and all in 4K!
Set-up
Straight out of the box, the Sony UBP-X700 is ready for action. Simply plug in the power and connect an HDMI cable to the TV (you'll need to supply your own).
Of course, if you want to use smart functions such as watching streaming services or YouTube, then you'll need to connect to the internet. There are two ways to do so. Firstly, the unit has built-in Wi-Fi.
You could hardwire the Sony into your router using an Ethernet cable. This is preferable as it the best way to avoid dropouts and maintain a solid connection.
What makes the Sony UBP-X700 unique is its second HDMI output. While audio-only, it's very useful if you want to connect a soundbar or have an old AV receiver which doesn't handle 4K media. The coaxial digital audio output might also be useful.
With the unit set-up, you can enjoy watching TV and movies or listening to music. Of course, there's plenty of ways to customise the picture and audio quality to your preferences.
Another feature which is unique to this Sony is their TV SideView app, available for both iPhone or Android. This app allows you to take control of the unit with your smartphone or tablet.
You can also view real-time information about the show you're watching and find related videos via the Sony Entertainment Network.
Performance
If this is your first 4K or UHD unit, then you'll be impressed by the picture quality even if you're only using an HD screen. Both HDR10 and Dolby Live are supported giving you multiple picture options.
In terms of audio, while it does depend on the speakers you have, the improvement is noticeable thanks to the built-in Dolby Atmos capabilities. Of course, the audio can be further enhanced by adding a soundbar or surround sound system.
The two dedicated audio output provides you with many options and enables you to quickly get it connected into an existing set-up.
It handles multiple formats with ease including 3D Blu-rays, CDs and even DVDs. While you might not use the USB port to play media, it's another fantastic feature which gives you options.
The smart functions are useful and even though wireless support is limited to 2.4 GHz, you shouldn't experience any drop-outs or buffer. As the basic apps include Netflix, Amazon and YouTube, you can enjoy a wide range of entertainment from the start.
Is the Sony UBP-X700 worth buying?
Delivering the ultimate experience, the Sony UBP-X700 4K Ultra HD Blu-ray Disc Player is affordable and future proof.
Some will say it outperforms its more expensive, bigger brother, the UBP-X800 by a country mile. We're happy to agree with this conclusion. That said, both of these Sony Blu-ray players are excellent.
What makes the Sony UBP-X700 great is the image and audio quality, the internet capabilities and its support of multiple formats both disc and via USB. But that's not all.
Sony has released several software updates including Dolby Live, which gives you further options. Each update makes the unit even more future proof.
While we have reviewed cheaper unit from other well-known manufacturers, we'd recommend paying the extra and purchasing yourself a Sony UBP-X700 Blu-ray Player, it'll work out better in the long run. 9/10