Panasonic DP-UB320 vs Sony UBP-X700 Blu-ray players comparison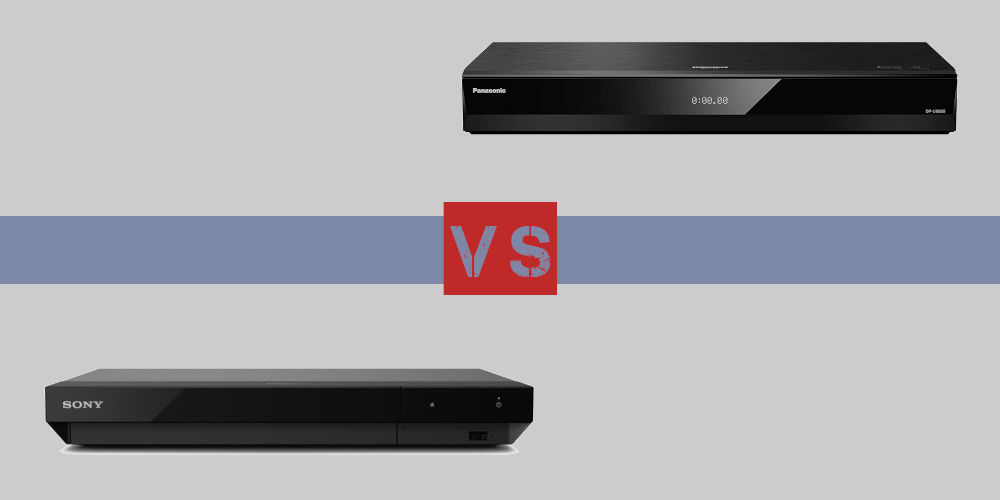 PUBLISHED: 22nd February 2022 | LAST UPDATE: 10th July 2023
Comparing Blu-ray players can be a tricky affair as many units claim to offer a superior set of features. In our recent shoot out of the best Blu-ray players under £200, two stood out. So we wanted to directly compare Panasonic DP-UB320 vs Sony UBP-X700 to see which comes out on top!
While they look remarkably similar, as do most Blu-ray and DVD players! They each offer distinctive technology, different connectivity and can play a range of file formats. Under the microscope, subtle differences emerge that makes one superior to the other.
So, if you can't decide and want an honest, direct comparison between Panasonic DP-UB320 vs Sony UBP-X700, we've done the hard work for you!
Panasonic DP-UB320 Blu-ray player overview
The highly affordable Panasonic DP-UB320 4K Ultra HD Blu-ray Player has a compact, sleek design and excellent features list.
Built to play a range of media in 4K, you'll notice a distinct upgrade in picture quality from the moment you connect the UB320 to your TV. Even if you don't yet have a 4K TV, it will still display superior image quality.
Panasonic's unique HCX (Hollywood Cinema Experience) processor sits at the heart of the unit, you'll feel like your on the movie set.
The picture quality is matched by High-Resolution Audio Playback, whether you plan to use your TV's speakers or a soundbar, you'll enjoy studio master sound quality.
Extend your viewing experience by connecting your DP-UB320 to the internet. You'll be able to enjoy the top streaming services from the likes of Netflix and Amazon. Also, you'll be able to stream all of your favourite tracks.
Sony UBP-X700 Blu-ray player 0verview
Bring your movies to life with a Sony UBP-X700 4K Ultra HD Blu-ray Player, which produces astounding image and audio quality to match.
Enjoy all of your favourite movies on Blu-rays and DVDs as well as music CDs. There's even a USB port which extends the range of media playable.
Displaying images in the highest 4K quality, even on an HD TV, you'll notice the difference. The audio is equally as rich thanks to the built-in Dolby Atmos.
More than just a Blu-ray player, the built-in wireless connection gives you access to online streaming services. You can even connect with an Ethernet cable if you prefer. Once online, you can use your smartphone or tablet to control the unit.
Unlike some Blu-ray players, the Sony UBP-X700 has 2 HDMI sockets and coaxial for easy connectivity.
Design
Let's start with the design. They both look quite similar with minimal designs and styling. A key difference is the Sony offer more connectivity options on the rear. The Panasonic has power on/off and disk tray open/close buttons on the top of the unit, while the Sony has these on the front.
Overall, the Sony has a slight edge as it features softer lines and a more interesting frame. Plus having the buttons on the front, rather than the top makes operating the unit a little easier. That said, both units are only available in black.
Winner: Sony
Features
As both units offer 4k picture quality, you're able to enjoy rich, vibrant colours whether you're using a 4k TV or not. Even older formats come to live in a new way as both units offer onboard pixel upscaling. Of course, when paired with a 4k TV or project, either device excels.
In terms of file formats, both seamlessly handle DVDs, standard Blu-rays, 4K Blu-rays and audio CDs. The Sony UBP-X700 is superior to the Panasonic as it can play 3D Blu-rays and SACD (Super Audio Compact Disc).
Both units feature a front-loaded USB port, enabling you to enjoy a range of media from a Hard Disc, smartphone or tablet. You can easily view photos, audio (standard and Hi-Res) and movies.
The Panasonic DP-UB320 uses a Hollywood Cinema Experience (HCX) processor chip. The HDR (High Dynamic Range) mode is equally impressive, especially on older DVDs. While the Sony UBP-X700 uses Dolby Vision and its unique HDR processing to deliver enhanced colours.
Onboard Dolby Atmos, pushes the Sony UBP-X700 ahead of the Panasonic.
Neither has built-in Wi-Fi but both connect to the internet using a rear LAN port. On either unit, you can enjoy watching Netflix, Amazon Prime (30-day FREE trial) or catch up on BBC or ITV shows.
Winner: Sony
Connectivity
Both units offer the same basic connectivity. However, the Sony UBP-X700 offers a coaxial digital output and a second HDMI output that offers audio-only. Other than this, both feature a power input, HDMI output, USB port and LAN port.
Unless you're looking to connect a soundbar or external speakers directly from your Blu-ray player, the units are fairly equal in terms of connectivity.
Winner: Tie
Set-up
Getting either unit set-up is relativity simple as there's not much to connect or configure. As the Sony offers 2 HDMI outputs, it takes a few seconds more to wire in!
Both have power sockets rather than attached cables, making it slightly easier to connect them to your existing set-up. That said, the Panasonic uses the commonly available figure-of-8 socket, while Sony has a custom socket and cable.
At the most basic level, once the power cable and HDMI cable are connected, you're pretty much set-up. Of course, you could wire either unit into your Wi-Fi router using an Ethernet cable and gain access to the internet.
Regardless of the unit, we'd advise connecting it to the internet before placing it in your media unit and checking for updates. Once you've updated your unit, consider disconnecting it from the router if you don't plan to use the internet functionalities.
Out of the box, both units play a range of formats without needing to experiment with the vast array of settings. However, each offers plenty of customisable options, allowing you to get the best from your device and set-up.
Winner: Panasonic (by a hair!)
Performance
As both units upscale content to 4k, regardless of your set-up or the original resolution, you'll see a noticeable improvement. Even playing media using the USB port receives the same attention, with equally impressive results.
The Panasonic does lack the range of connectivity of the Sony, which will be a deal-breaker for some. Also, the Sony UBP-X700 plays a wider range of formats including 3D Blu-rays.
Neither offers a sufficient amount of controls on the unit, so you're left to wrangle the remotes. The Sony remote has a vintage look and is a little simpler than the Panasonic remote. And as you'd expect, changing settings on either unit involves scrolling through menu after menu!
In terms of streaming, while you'd expect both units to be comparable as they are hardwired into a router, sadly this isn't the case. The Panasonic DP-UB320 is prone to the occasional drop-out, while the Sony UBP-X700 is solid and doesn't need to stop for buffering.
On the Panasonic remote, there is a Netflix button, allowing you to quickly access the service.
Winner: Sony
Panasonic DP-UB320 vs Sony UBP-X700: Which is better?
At the first glance, it might be hard to decide between Panasonic DP-UB320 vs Sony UBP-X700 Blu-ray players. However, the Sony UBP-X700 comes out on top!
Onboard the Sony unit is a range of Dolby options for both audio and video, while the Panasonic only use their in-house designed processor chip. Also, the Sony UBP-X700 is 3D ready and comes with the YouTube app pre-installed.
Both units produce exciting colours and depth with audio to match regardless of the starting resolution. Even if you don't have a 4k TV, you'll notice a difference in picture quality with either unit.
As neither has in-built Wi-Fi, having to hardwire them into your router is a pain. That said, the Sony offers a far stronger signal with almost zero drop-offs or buffering.
Connectivity is the final difference, and while the two offer the same basic options, the Sony offers two additional audio outputs. These are great for connecting external speakers or a soundbar to the Blu-ray Player.