Panasonic DP-UB320 4K Ultra HD Blu-ray player review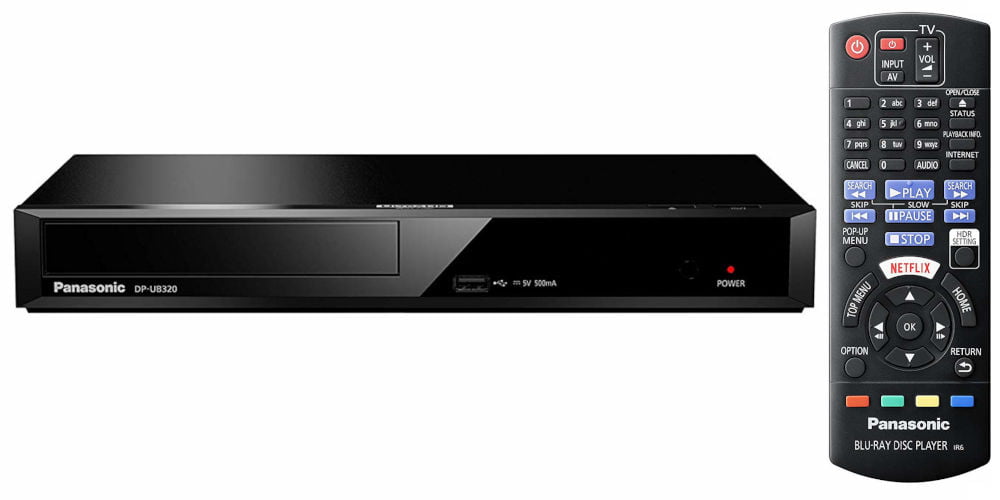 PUBLISHED: 13th March 2021 | LAST UPDATE: 10th July 2023
The highly affordable Panasonic DP-UB320 4K Ultra HD Blu-ray Player has a compact, sleek design and excellent features list.
Built to play a range of media in 4K, you'll notice a distinct upgrade in picture quality from the moment you connect the UB320 to your TV. Even if you don't yet have a 4K TV, it will still display superior image quality.
At the heart of this and most Panasonic Blu-ray players is their unique HCX (Hollywood Cinema Experience) processor. You'll feel like your on the movie set.
The picture quality is matched by High-Resolution Audio Playback, whether you plan to use your TV's speakers or a soundbar, you'll enjoy studio master sound quality.
Extend your viewing experience by connecting your DP-UB320 to the internet. You'll be able to enjoy the top streaming services from the likes of Netflix and Amazon. Also, you'll be able to stream all of your favourite tracks.
As one of the best budget Blu-ray players available, the Panasonic DP-UB320 4K Ultra HD Blu-ray Player means you'll never be short of entertainment! 8/10
Pros
Compact design
Ultra HD premium output resolution
Netflix capabilities out of the box
Cons
No built-in Wi-Fi
Complex, small remote
Limited connectivity
Design
The first you'll notice about the Panasonic DP-UB320 is how compact it is. At 32 cm wide and just over 4 cm high, it doesn't need much space.
The sleek front panel contains a disc tray, USB port, power LED and remote sensor. On the top are a standby/on button and tray open/close button. While covering the basics, the remote contains sufficient control options.
Turning our attention to the rear. It's equally sparse, containing an HDMI output, LAN port and power in.
Finally, the remote is packed full of features including the basics such as tray open/close, power and play/pause/stop. There are also buttons to access setting menus and colour options.
The remote also contains buttons to control your TV as well as a Netflix button for easy access to the streaming service.
Features
As a 4K device, the Panasonic DP-UB320 uses the latest technology to upscale images to ultra hi-def resolution. Even on a non 4K TV, colours are more vibrant and crisp. Of course, you'll have the best results with a 4K or UHD TV.
The seemingly endless list of media types includes DVDs, standard Blu-rays, 4K Blu-rays and audio CDs. Sadly, it doesn't offer support for 3D Blu-rays. The front-loaded USB port enables you to enjoy a range of media from a Hard Disc, smartphone or tablet.
Movies come to life, thanks to the built-in Hollywood Cinema Experience (HCX). This picture processor chip delivers precise colour and picture definition. The HDR mode is equally as impressive, delivering crisp, clear vibrant colours.
If you haven't yet upgraded to a 4K TV, then the onboard HDR to SDR (Standard Dynamic Range) scaling software enables you to enjoy 4K content from a regular screen. While it won't quite match an HDR screen, colours will appear more vibrant over standard Blu-ray.
The Panasonic DP-UB320 offers equally impressive audio and allows you to enjoy Hi-Res music via streaming or USB. The device handles a wide range of audio formats with ease including AIFF, WAV, FLAC and more.
Connect to the internet using the LAN port and enjoy a huge range of content, with 4k streaming available. Whether you enjoy snuggling up to watch Netflix or Amazon Prime Video (30-day FREE trial) or want to catch up on the latest BBC or ITV shows, the DP-UB320 offer these functions and more.
Set-up
Getting started is simple and unlike most Blu-ray players, the Panasonic DP-UB320 comes with both power and HDMI cables.
Having connected the power, You'll want to use the HDMI cable to link to a TV or AV receiver. With batteries in the remote, you're ready to start enjoying the unit.
As the unit lack any real controls (other than power and tray open/close), you'll need the remote handy at all times. That said, it's easy to sync the remote with any VIERA Link-enabled Panasonic TV, allowing you to control both devices from a single remote.
There are plenty of viewing options to experiment with including HDR and Panasonic's HCX as well as Dolby Digital + for audio.
If you plan to enjoy streaming services, then you'll need an Ethernet cable. You'll have to hardwire this cable into your Wi-Fi router as the Panasonic DP-UB320 doesn't have built-in Wi-Fi.
Even if you don't plan to connect it to the internet, it's worth having an Ethernet cable handy as Panasonic releases regular software updates which can be easily downloaded and applied.
Performance
Regardless of whether you have a 4K TV, the Panasonic DP-UB320 will provide a noticeable improvement as all content is upscaled to the highest possible resolution. Colours have a greater depth and are more vibrant.
As the unit can play a range of media from both discs (Blu-rays, DVD and CDs) and using the USB port, you'll be able to enjoy all of your favourite films, TV and songs. All in 4K quality!
While it lacks a separate audio output, the Dolby Digital + software ensures a crystal clear sound. It sounds superb whether playing just music or a movie with audio and dialogue.
If you're looking for a Blu-ray player which is easy to control without a remote, then you'll be disappointed. The remote while very busy is essential as the unit only has power standby/on and tray open/close buttons.
You'll have to experiment with the Panasonic DP-UB320 for the optimum performance as there are quite a lot of settings and preferences.
Streaming from the device is straight forward and while you have to hardwire it into your router, you should expect fewer drop-outs. The Netflix button on the remote is a fantastic option.
Is the Panasonic DP-UB320 worth buying?
The Panasonic DP-UB320 is a fantastic budget Blu-ray player. It's ideal as your first Blu-ray player or as a second unit for the kitchen or bedroom.
You'll need a 4K TV for the best results. That said, the onboard software will tweak the device's performance to match the screen's resolution. Of course, there are a plethora of options to fine-tune the picture quality further.
For a budget unit, the list of playable media is impressive, especially as you can play both discs and via the USB port. It doesn't support 3D Blu-rays but for the price, this is to be expected.
An area where the Panasonic DP-UB320 does lack is connectivity. It could benefit from an additional HDMI or audio output. If you're planning to use it an AV receiver which isn't 4K but your screen is, then you'll encounter image quality issues.
The internet capabilities are well designed but it lacks built-in Wi-Fi. While this might not be a massive issue for most, it does mean you need to run an Ethernet cable from your router.
Finally, the remote, while overly complex, it's easy to use. In addition to all of the basics features you'd expect, it contains some nice extras. Plus syncing the remote with any VIERA Link-enabled Panasonic TV is fair straightforward.
Overall, if you're looking for a compact Blu-ray player that features a sleek design and is packed full of features, then consider Panasonic DP-UB320 4K Ultra HD Blu-ray player. 8/10