Pioneer VSX-531 5.1 AV receiver review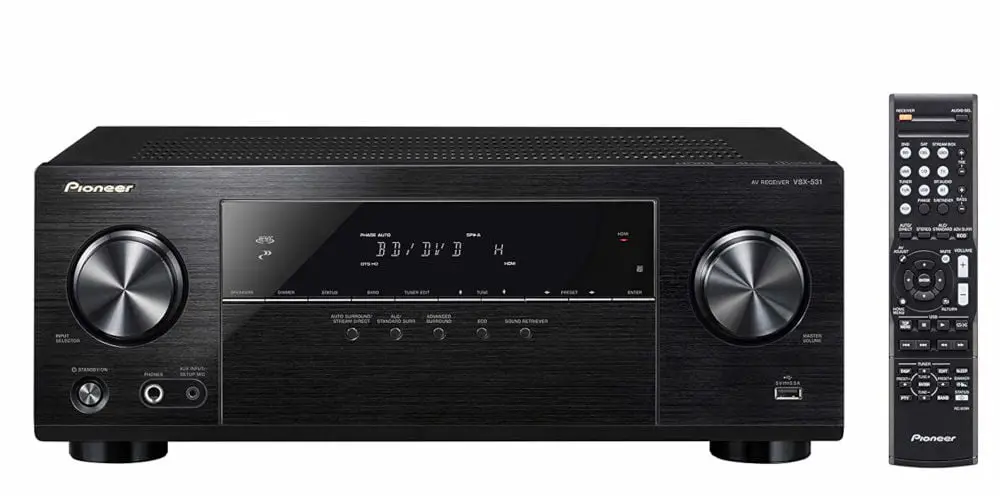 The Pioneer VSX-531 5.1 AV Receiver is ideal as the centrepiece of any home cinema set-up. It's affordable, powerful and packed full of features.
The VSX-531 does more than the average 5.1 AV receiver. It has built-in Bluetooth, USB socket and AM/FM/DAB radios.
It has plenty of connectivity options with multiple HDMI, digital and phono inputs. So you can easily switch between a Blu-ray player, a game console and satellite TV box.
It powers up to 5 speakers, with an impressive 130 watts per channel. There's also a subwoofer output and headphones.
That's not all, the Pioneer VSX-531 uses cutting edge technology to provide you with the best audio and visual experience. Relax and enjoy your favourite films in 4k Ultra HD with Dolby True HD surround sound.
As one of the best 5.1 AV receivers on the market, the Pioneer VSX-531 scores 8/10.
Pros
Impressive feature list for price point
Easy to navigate user interface
Has a built in microphone to optimize the sound
Cons
Requires an active subwoofer
Some features aren't user intuitive
Bluetooth doesn't work some devices
Design
With its slick black look, the Pioneer VSX-531 will slot into most homes with ease. It's fairly heavy at 8 kg and quite large at 43.5 x 16.8 x 32.1 cm. That said it should fit in most TV media units with a little effort and movement.
Front panel
Starting with the front panel. It has a USB socket, which enables you to stream music from a pen drive, MP3 player or phone. At the other end, there's is a large headphone jack, which enables you to listen to audio or movies without disturbing anyone.
There's also a microphone input, which is used in conjunction with the included mic and the onboard acoustics correction software.
Rear panel
Moving onto the rear. It's arranged in 5 groups.
The first group are the HDMI sockets (top left). With 4 HDMI inputs, you have plenty of sockets to connect your game consoles, DVD or Blu-ray players, set-top boxes etc.
There's also an ARC enabled HDMI output, which can feed a TV or projector.
Next on the top row is digital inputs. There are coaxial and optical inputs, which allow you to connect your TV's audio output to the Pioneer VSX-531.
The bottom row starts with FM and AM antenna inputs, which work with the built-in radio functions.
Next, on the bottom row are three sets of phono inputs. There are two sets of audio and visual for DVD players and games consoles. The third phono input is for audio, enabling you to connect in a CD player.
At the bottom of this group is a passive monitor output.
Finally, we're on the audio outputs. A passive sub-woof output starts this section. Next, there are 5 sets of terminals for speakers. These powered outputs feed the front left and right, centre and rear left and right speakers.
The only thing left to cover is the power cable, which is built-in and sits at the top right of the unit.
Remote
The remote contains more options than you'll ever need but the major controls are easy to find and use.
Features
The unit delivers 130 watts per channel, enabling you to connect speakers and start enjoying a professional cinema sound experience.
While the Pioneer VSX-531 powers 5 speakers (under the screen, front left and right, rear left and right), it doesn't power the sub-woofer. So you'll need to use it with an active sub.
In terms of audio, this AV receiver supports the latest Dolby TrueHD and DTS-HD Master Audio surround soundtracks. You'll enjoy listening to hi-def audio whether you're playing your favourite CD or the latest 4k Blu-ray.
The picture quality is just as impressive. The unit upscales all media to 4K UltraHD (which is four times the HD resolution). This means you'll see every pixel in full vibrant colours and experience each scene as if you were on the set.
It's also 3D ready, enabling you to enjoy the latest Blu-ray releases.
If you prefer to listen to music in true surround sound, then Pioneer VSX-531 provides plenty of option. The unit has inbuilt FM and DAB/DAB+ radio. Also, you can play music files (MP3, WMA, AAC) via Bluetooth or using the USB located on the front.
Using the included microphone, the onboard software analyses your room's acoustics then uses its MCACC system to correct any problems.
Finally, the unit has a sleep timer, automatic switch-off, and ECO modes to save energy when not in use.
Set-up
With many connectivity options, it might take a bit of time to fully set-up the Pioneer VSX-531. Before starting to connect devices to the VSX-531, you should wire in the speakers and plug-in the included microphone.
Next, run an acoustic scan. This way any imperfections in your room will be found and the Pioneer VSX-531 will adapt to provide you with the best possible surround sound.
After the MCACC corrects your acoustics, it's time to connect the unit. it's worth reminding you that it's much easier to test and fault find if you add one element at a time.
Start with a simple set-up of a DVD player, a screen and front left and right speakers. Once you've got this working, then continue adding the other speakers including the sub-woofer.
When you're happy with the speaker placement and the sound quality, then you can start to fill the other inputs with your Sky box, game console and CD player, amongst others.
With all of this up and running, you'll be able to sit back and start enjoying movies, TV and games.
Performance
As with other Pioneer AV receivers, the VSX-531 has a lot of options available. However, you'd be wrong to think the unit is difficult to use.
Each of the inputs on the rear has a corresponding button on the remote. So once you've connected everything, you can swap sources easily. You can also change inputs on the front of the unit
Changing the volume is also easy. You can use the plus/minus buttons on the remote or adjust the volume knob on the unit.
The radio functions are fairly straight forward and again can be controlled using the remote or button on the front panel.
You might run into issues with the built-in Bluetooth. It doesn't always work with every device and can be tricky to pair. As it's a separate option, you'll need to select it on the remote and then pair your phone/tablet with the Pioneer VSX-531.
Playing music using the USB is simpler as you can select plug in your device, select the option and hit play. Plus as the unit supports WMA/MP3/MPEG-4 AAC file formats, you can listen to your favourite tunes with superior audio quality.
As it automatically upscales media to the highest available quality, the sound quality is rich and full, and images are displayed with intensely deep colours.
Is the Pioneer VSX-531 worth buying?
While marketed as an entry-level AV receiver, the Pioneer VSX-531 provides truly great value for money and has a super range of features.
There are a few negatives, but they shouldn't put you off. The unit doesn't power the sub. So if you're upgrading or replace another AV receiver, you'll want to bear this mind.
Of course, if you're starting from scratch then you'll want to ensure that you've purchased an active sub-woofer, which will be more costly.
It's size, while not a deal-breaker, it is large. So you might have to rearrange your current media unit to fit it in. If you have a tight space, it probably best to consider other options.
Lastly, the front panel has more controls that you'll need, especially if you end up using the equally complex remote. Pioneer could have simplified this without the user losing any control.
On to the positives. The built-in software is superb and allows you to watch and listen to a range of media in the highest possible quality. You shouldn't notice a massive difference between the DVD and the latest Blu-rays.
While the remote does feature a range of buttons, most of which aren't useful, it does make switching inputs simple. The rear of the unit is clearly labelled and these labels also appear on the remote.
Putting the sub-woofer issues to one side, the Pioneer VSX-531 provide plenty of power to the speakers. You'll always have enough volume on tap. Overall, Pioneer VSX-531 scores 8/10