Samsung HW-N300 compact soundbar review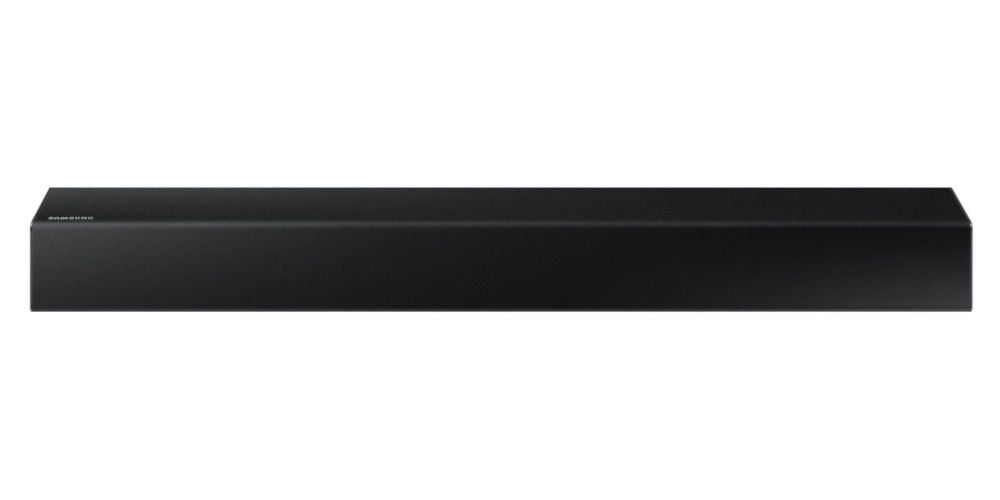 It may be small but the Samsung HW-N300 compact soundbar packs a punch and is affordable. If you don't have space or budget for a multiple speaker set-up, then trust the HW-N300 and its 4 speakers to faithfully reproduce any audio.
The 4 speakers produce a rich, full sound and so there's no need for a bulky subwoofer. The sleek and stylish design saves space without cluttering up a room.
In addition to several inputs, the HW-N300 connects wirelessly via Bluetooth to many of Samsung TVs as well as smartphones and tablets. Set-up could be as easy as power, sync and go!
That's not the only unique feature. Pair your Samsung TV with this soundbar and use a single remote to control both! Your coffee table no longer needs to be filled with multiple remotes!
Regardless of what you enjoy watching on TV, as one of the best soundbars currently available, the Samsung HW-N300 will provide a noticeable upgrade to your TV's speakers. 8/10
Pros
30 Watts output
Works effortlessly with Samsung smart TVs
Multiple inputs
Cons
No cables included
USB port is on the rear
Design
The compact design means the Samsung HW-N300 measures 64 cm (around 25 inches), which makes it the ideal companion to a range of TV sizes. It designed to be unobtrusive yet you'll hear the difference!
Beneath the front grille sits the unit's 4 speakers. There are also 4 status LEDs, which flash, glow or change colour depending on the mode or status.
On the right-hand side are a few basic controls including a power on/standby button, volume up/down and input source selector. Of course, the remote includes many more options.
Moving to the rear, the connection panel is inset which allows for the unit to be mounted flush with the wall, should you want. Split into two sections, the left-hand side features a power socket. While on the right are the audio inputs including a mini-jack AUX, Optical in and USB port.
The rear also has two mounting holes which hook over wall screws. This allows for easy wall mounting without needing any additional parts or special tools.
Finally, the remote which has all of the basics including mute, power on/standby, volume up/down and buttons for each input. It also contains some interesting features such as up/down Bass EQ buttons and two DSP buttons which allow you to switch between surround and standard modes.
In USB mode, you can use the remote to play or pause the track as well as skip to the next or previous one.
Features
Using 4 speakers to faithfully reproduce audio, the HW-N300 has a total output of 30 watts across its 2 channels. While it lacks a dedicated sub-woofer, Samsung has solved this by including a bass EQ control on the remote.
The Samsung HW-N300 soundbar supports both Dolby Digital 2.0 and DTS 2.0 formats, meaning the audio quality is exceptional whether you're listening to music, watching TV or a movie.
The inputs (Optical and mini-jack AUX) while basic are sufficient for the majority users. The Optical input can also carry control signals from a TV and is automatically set-up to adjust the volume on any Samsung TV.
Another fairly basic yet essential feature is the controls. 4 LEDs located in the middle indicate which source is active, volume level and several other functions. You don't always need the remote as there are basic controls on the unit's right hand-side.
While you can use Bluetooth to play audio from smartphones, tablets, etc., the rear USB port allows you to enjoy music BT connecting a media player or Hard-disc. Use remote to play/pause tracks, repeat (single, all, random) and skip to the next or previous tracks.
Set-up
Out of the box, it's fairly simple to hook up the Samsung HW-N300 and enjoy a better audio experience. There is one, small snag. You'll need to supply your own cables, both Optical and Mini-jack.
At it's most basic, the unit can be placed on your media unit under the TV. Its compact design means it will slot right in. Depending on your TV's outputs, it's best to connect the soundbar to an Optical output and mains power.
If you plan to wall-mount it, then you'll need to drill two holes and use the supplied screws. Thankfully, there's no complicated mounting system.
With the soundbar connected, use the controls on the unit to select the source and adjust the volume. With the basics set, you can experiment with the options on the remote.
It's also worth experimenting with the Bluetooth mode and seeing if you can sync your TV and the soundbar thus allowing control with a single remote.
While you might not use the USB port every day, it's still worth attempting to play music using this feature.
Performance
The Samsung HW-N300 soundbar will provide a vast, noticeable improvement over the TV's built-in speakers thanks to onboard Dolby Digital 2.0 and DTS 2.0 audio processors.
Out of the box, you can be up and running within a few minutes and enjoy music from several sources with the click of a button.
If you're expecting the HW-N300 to compete with a 2.1 or 5.1 surround sound system, then you'll be disappointed. It lacks a built-in subwoofer and while the bass EQ control and DSP settings can tweak the low end, it won't provide cinema-like sound.
That said, it does produce a balanced sound across the frequency range which makes watching TV/movies or listening to music far more enjoyable.
The remote will quite busy, allows the user to easily tweak the sound. We also like the controls on the side and the ability to sync with a range of TVs and control using a single remote.
Is the Samsung HW-N300 worth buying?
If you're looking for a compact soundbar that has several unique features, then the Samsung HW-N300 might be for you. That said, there are many fantastic Samsung soundbars available.
It's ideal if you don't have space or budget for a 2.1 or 5.1 sound system. Plus at 64 cm long, it fits snug under most TVs without being an eyesore.
Some features are badly placed from an ease of use standpoint. The USB port, for example, is a nice feature yet as it's located on the rear, it's hard to use without having to move the unit. The same is true for the AUX input.
That said, the optical input and Bluetooth connectivity provide sufficient inputs for most. Just remember to check you have the right cables or order some with the unit.
Of course, having an HDMI ARC port would be nice, however, Samsung has a unique take on how to control the soundbar using your TV's remote. The unit's control panel, while basic is enough for daily operation.
The remote includes plenty of options including the basics as well as a bass EQ control, 2 DSP modes and several control buttons for the USB port. It is busy but you can ignore most of the options once you've tweaked the HW-N300 to your desired sound.
Overall, the Samsung HW-N300 soundbar is a compact unit which offers Dolby processing, multiple inputs and is simple to use. 8/10