Can you sell your house on eBay without an estate agent?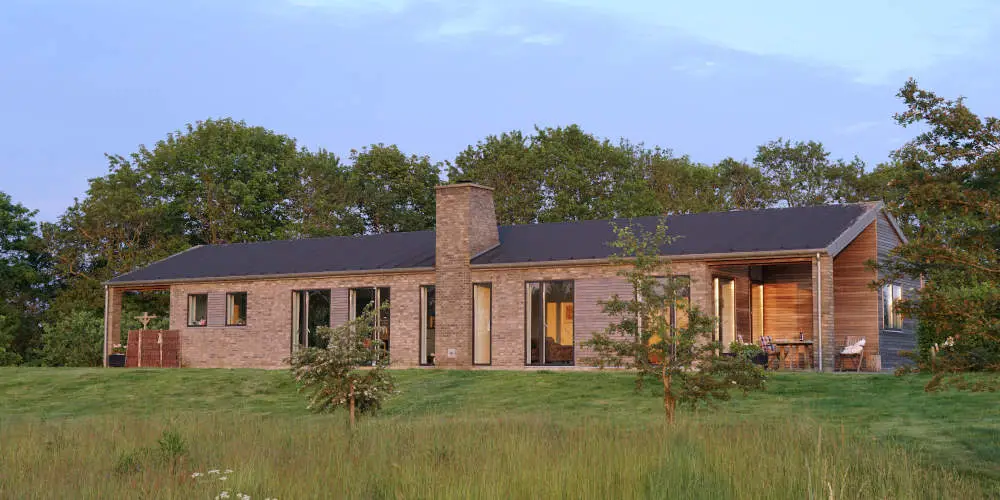 PUBLISHED: 5th November 2019 | LAST UPDATE: 1st September 2022
eBay is a fantastic place to pick up a bargain or simply source hard to find items. However, most don't know that they can use the website to buy and sell property. Yes, you can even sell your house on eBay!
The best part is that it's virtually free. There's no long contacts or expensive and lazy estate agents. And as you're in control, you can book viewings when it's best for you and try your hand at negotiating the best deal!
Let's explore how to successfully sell your house on eBay and bypass your local estate agent.
Why sell your house on eBay?
Over the last decade, eBay has evolved from a place you'd buy second DVDs, books and clothes, to a global marketplace powerhouse. You can safely buy items from the far east as you can from someone in your town.
It's estimated that eBay UK welcomes over 280 million visitors each month. That's a massive amount of people viewing the website, nearly as big as the population of the USA!
Some of them are looking for properties and while their house for sale section is a fraction of Rightmove, it can provide a low-cost alternative to an estate agent.
Plus if you have a unique property or one with an income stream, it could be difficult to find a local estate agent who can effectively market your property. eBay doesn't have any such limitations or the fees that go with it! So you may want to sell your house on eBay.
What does it cost?
As a fixed price listing, there's only a listing fee of £36.52 to sell your house on eBay. There are no final value fees on top. Of course, you can pay extra for listing upgrades such as more photos, sub-title and to schedule the start time.
How much will you save?
Potentially, you could save thousands of pounds. The average estate agent's selling fees is around 1.5%, which on a £250,000 property is £3750. Typically an online estate agent will charge around £800.
So you'll save anywhere from around £750 to over £3700. Plus you're not locked in. If you try to sell your house on eBay for a few months and have no results, you can dump it and move on. It's cheap enough.
Any laws I should be aware of?
The law on property transactions is quite thin. However, consumer protection laws still apply. These cover such things as the accuracy of the description and photos.
You'll still need to use a conveyancer or solicitor to handle the legal part of the transaction. So you will still need to pay their fees and have one ready to act for you if you do sell your house on eBay.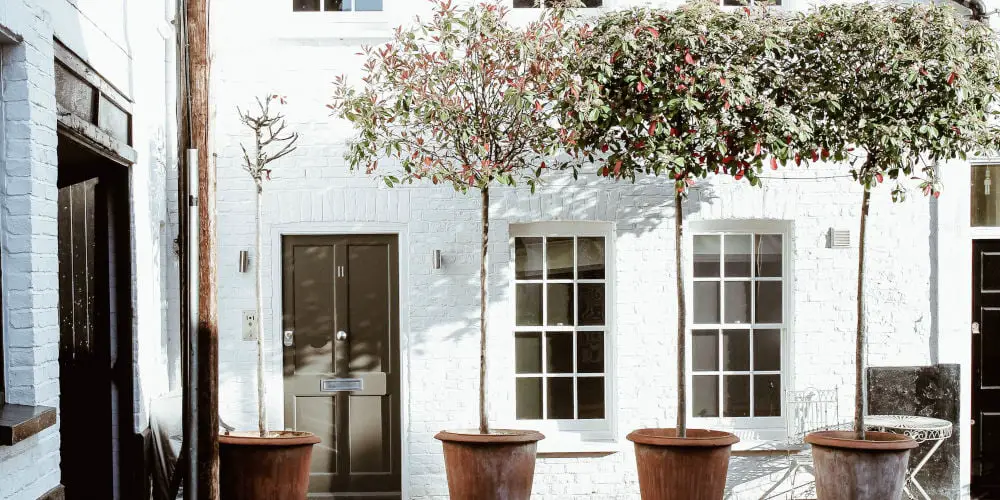 What's eBay policy on property sales?
Attempting to sell your house on eBay is covered by a separate policy as it's a different type of sale and product.
All property sales on eBay are non-binding as you're placing a form of classified advert. So while you might a buyer, they're under no obligation to complete the transaction.
eBay see their role as a matching service and not as a marketplace. It's your task to try and convert any interest or bids into a final offer that your solicitor can use to draft a contract.
How to Create an eBay property listing
As listing a property is no different from advertising any other item on eBay, if you've already sold on the marketplace then you'll be fine.
If you're new to eBay, don't worry as there are only a few pieces of information you need. You'll need to write a title and description, take some photos and fill some basic details including the price.
Title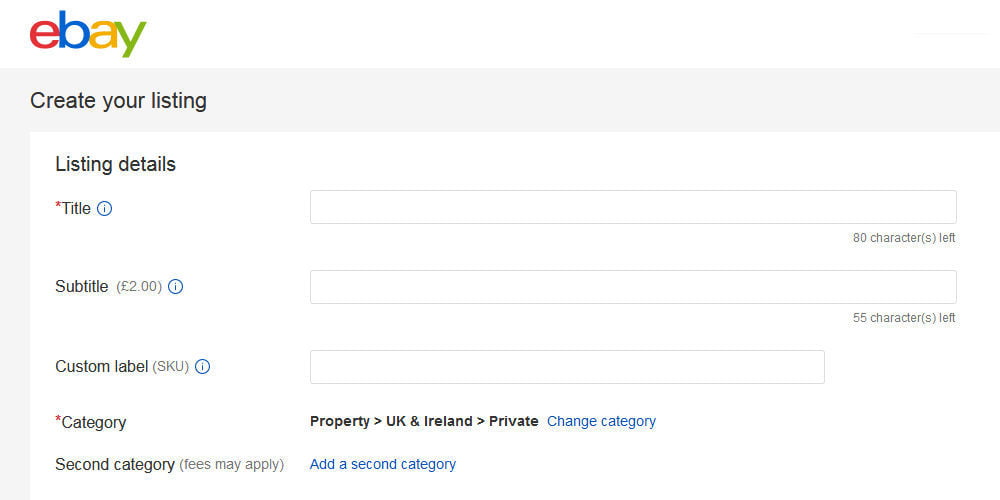 Writing a title is and will always be the hardest part. eBay limits their titles to 80 characters, which should be more than sufficient. You can add a subtitle but this an extra £2, so only consider doing this if it's really worth it.
The secret to writing an engaging title is to not use buzz words like "Look" or "Cheap". It's worth staying away from abbreviations (like BNIB = brand new in box) and ALL CAPS!
Instead, be short and to the point. If in doubt use Rightmove titles as a guide. For example:
3 bedroom bungalow in Chelmsford, recently refurbished
2 bedroom, second floor flat Bristol
5 bedroom terraced house Acton, West London
Avoid titles like:
Park home
Land for sale
2 bedroom mid-terrace
All of these only half describe the property they are trying to sell on eBay. Ideally include a location and any other stand-out features.
eBay automatically count characters, so you'll be able to see how many you have left or if you go over. They don't check the spelling. However, Grammarly – which is free can check character count, spelling and a lot more.
Photos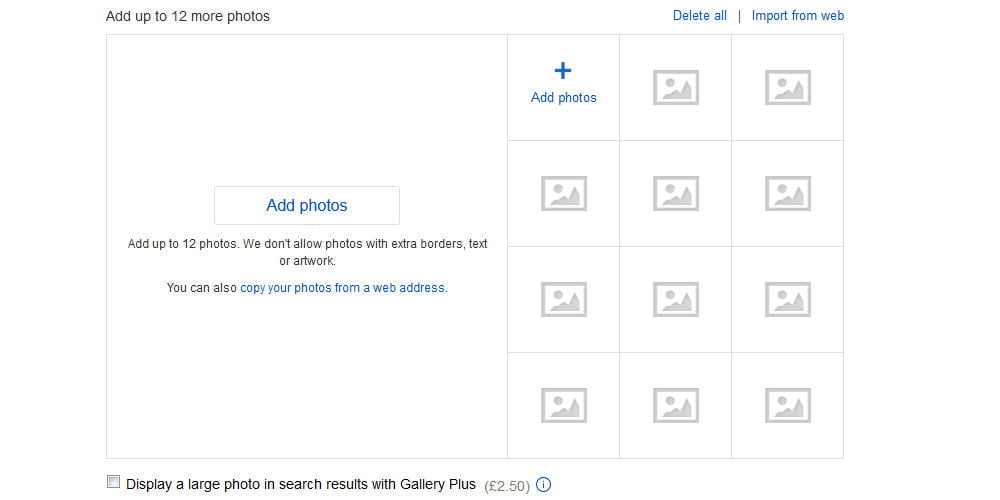 You don't need to be a professional to take good photos. But taking great photos does take time. Photos can make or break your chance to keep a potential buyer interested enough to book a viewing.
Our top advice is: If you're not sure about your photography skills, then it's worth spending the £200 a local professional will ask for.
If you're confident that you can take a good photo, then here are a few tips.
1) Wait for a sunny day
A property which looks brighter will always seem more appealing over a dull-looking one. Also, sunlight has a natural sheen to it which isn't present in artificial lights.
2) Takes lots of photos
It's worth taking as many photos as you can. Don't worry as you can edit or delete most of them later but the more you have to work with the better.
3) Be honest but accentuate the positives
Consumer protection laws state the photos should be an honest depiction of the object. However, they do not state you have to show every centimetre of space.
Be honest with your photos but make sure they show off each room in their best light.
4) Edit photos
If you're using your phone then download Snapseed and use one of the many filters to add a touch of brightness. If you're on a computer, then download GIMP and play with the brightness and contrast controls. If you need to, also crop your photos.
Again don't edit every photo so that it looks like a brochure or computer-generated. Do edit them slightly to make more appealing.
5) Make your photos count
eBay allows you to upload 12 photos for free. This probably isn't enough to show every aspect of your house off. However, that's not the point.
What you're trying to do is give a potential buyer a taste of your house, so that they book a viewing or make you an offer. Focus on what you think will sell your home.
For example, If you have a cosy lounge with fire or a recently updated kitchen, photograph them. Nice enclosed garden, which is ideal kids, take a picture. You get the idea.
You want the 12 photos to tell the story of your property and excite potential buyers into action. You can always come back update photos or reshoot, so don't worry if you don't get it right the first time.
Item specifics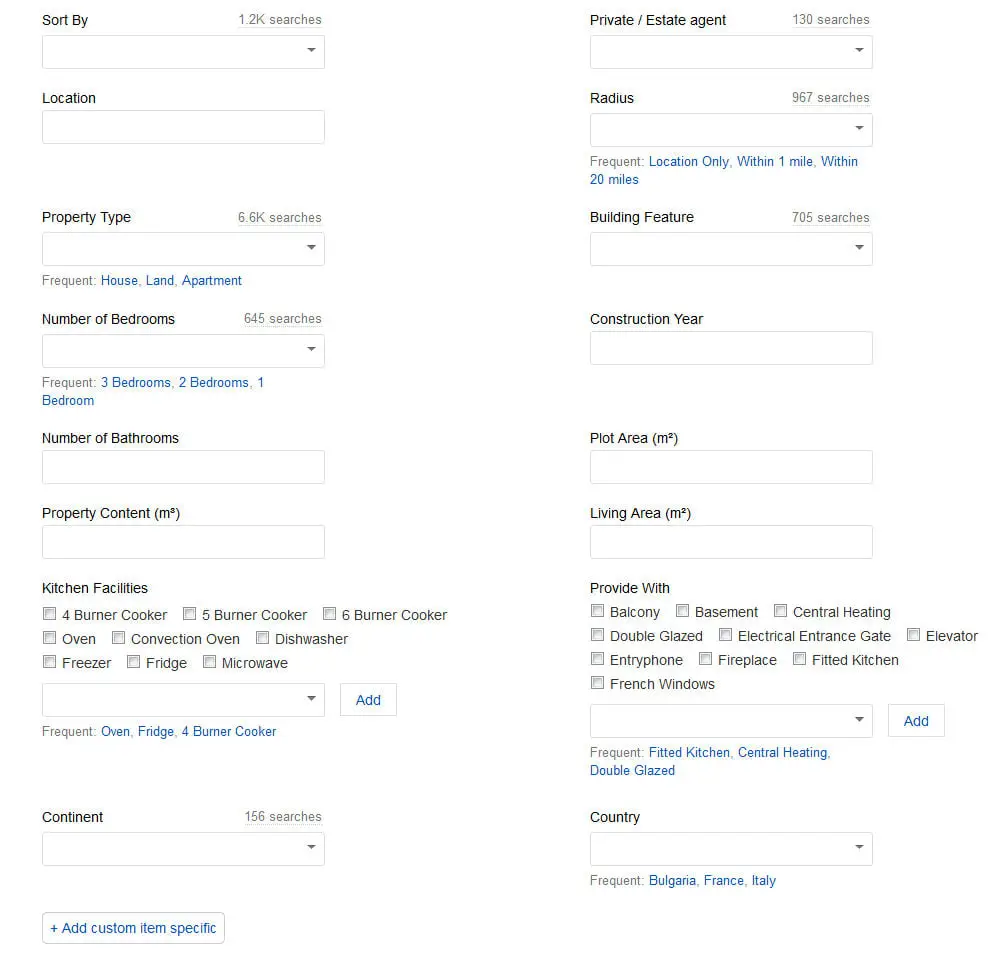 Before we cover how to write a fantastic description, let's discuss "Item Specifics". These options are directly above the description box.
While you might not be competing with many other listings, It's worth filling out as many specifics as you can. Doing this helps potential buyers to answer any basic questions they might have.
Also, the more information you give eBay, the more likely it is to promote your listing. You might find that your property is always on the first page and so your listing receives more views and therefore you book more viewings.
Description

Like the title, the description is your best weapon to create interest and start to book viewings. A good description balances the essential information with an engaging narrative.
First, explain why you purchased the property, who you think it'd be ideal for and why you're trying to moving. If you moved to the property with young kids as the garden is big and there are lots of good schools nearby, then say that.
You might be looking to downsize but feel your house is perfect for a large family with teenagers. By including these details in your description you start to build a connection with the potential buyer and begin to paint a picture of what life is like living there.
Next cover the floorplan. You could give basics measurements for each room. However, it's worth expanding these figures into a virtual walkthrough. Again consider what aspect of each room you like and weave that into your story.
Finally, discuss any features you feel make your home unique that you haven't already covered. Are you near a supermarket or good schools? Do you have off-road parking? Is there a good community spirit?
eBay allows you to use different sized heading and fonts. It's worth keeping paragraphs to 3 or 4 sentences and using headings to give your description flow while making it easy to scan.
Do be careful not to waffle and ideally get someone else to read it, who can offer some good constructive criticism. Also, double-check for spelling mistakes!
What's the right price?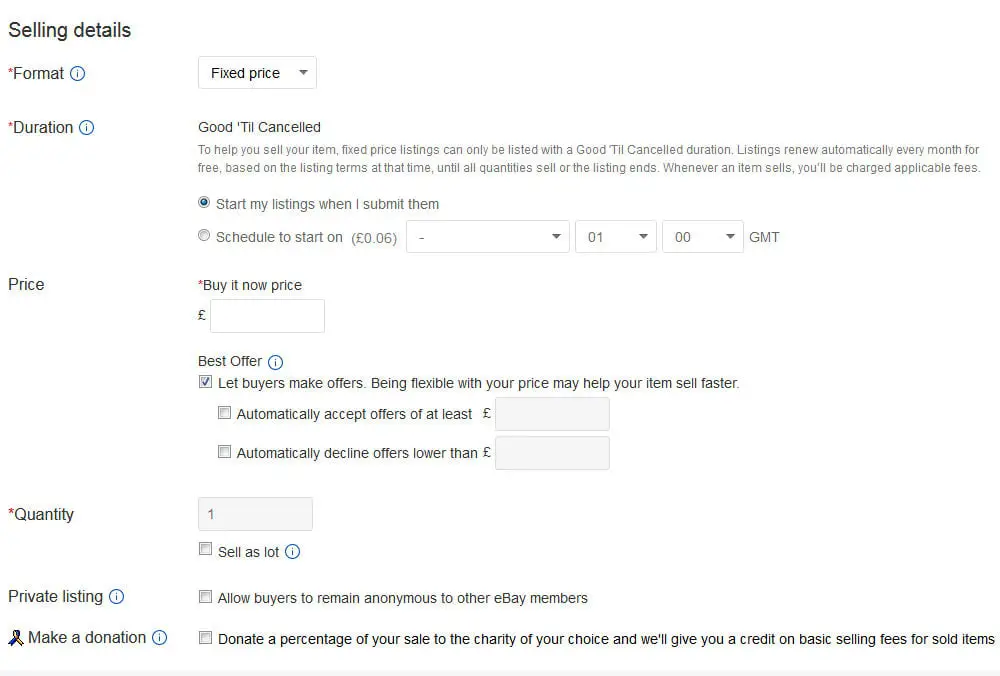 Pricing anything is more of an art than science, and property is no different. If you're unsure how to price your property for sale,then start with our guide: How to value a property.
In short, look at what similar properties have sold for in your area recently as this will indicate what you're likely to achieve. It's then worth adding 5-10% on as this then gives you room to negotiate.
It's not a good idea to copy prices from Rightmove as these could have no factual basis and might end up causing you untold frustration. Be smart and focus on getting your property sold for a fair price.
Going live
With all of the details gathered and inputted, you'll be ready to list your house for sell on eBay. You'll be charged by eBay at the end of the month for any fees incurred up to the 15th of that month. So it's best to launch on the 18th as you'll have 6 weeks to pay!
As a fixed price advert, eBay will automatically relist your listing for free every 30 days until you remove it. Of course, if you remove your listing then a sale falls through, eBay will charge you again.
Will you be able sell your house on ebay?
With your listing live, it's down to you to convert any interest into viewings and offers. It won't be easy to sell your house on eBay, but it's doable.
By being in control, you can choose who can view and when. It's a good idea to talk to potential buyers on the phone before agreeing to a viewing. This way you can weed out time waster, find out a little more about them, and arrange a timeslot that works for both of you.
Be flexible on viewings and ideally only book 2 or 3 per day. This way you won't be stressed if one slot runs over or someone is late. Also, you won't feel swamped if you keep the numbers down.
If you are lucky enough to get an offer or two, you should ask them for it in write along with proof of funds. They might be able to pay cash or have a letter from a mortgage company.
Having considered their offer, if you decide to go ahead, then you'll need a solicitor to deal with the legal aspects of property transfer.
When you complete your sale, crack open a bottle of bubbly as you've managed to sell your house on eBay! Congrats!