5 Unique ways to sell your house for free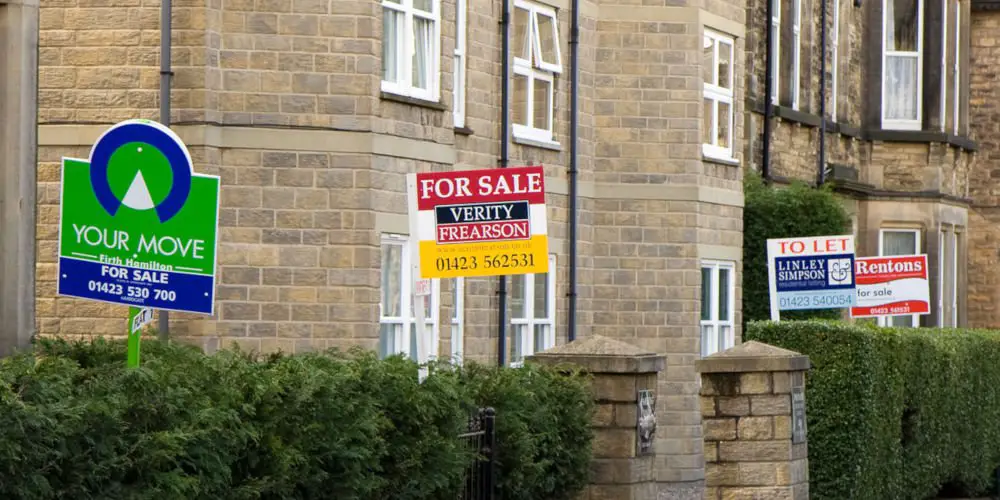 Thanks to the internet, it's now easier than ever to sell your house for free or for a relatively tiny fee without having to use an estate agent.
More and more homeowners are choosing to go it alone and avoid paying the high estate agent selling fees that are usually charged.
Why pay between 1% and 3% of the sales price to someone who simply uploads your property's details to Rightmove and prays for the phone to ring?!
However, selling your own home isn't easy or for the faint-hearted. So, while you can sell your house for free, it's worth considering whether you're up for the task.
Social media, auction websites and house swap portals have all made buying and selling property nearly fee-free. Here are five unique ways to sell your house for free.
The Law
Before we cover how to sell your house for free, it's worth starting with the boring yet important bit.
As with any transfer of property, you will still need a conveyancer or solicitor to handle the legal process. It doesn't matter if you raffle your home, swap it for another, or give it away free, you need to satisfy the legal component of property transfer.
In terms of marketing your property, there are very few laws. You do have to abide by consumer protection rules. So you'll want to ensure that photos and any descriptions are honest and accurate.
#1 House swap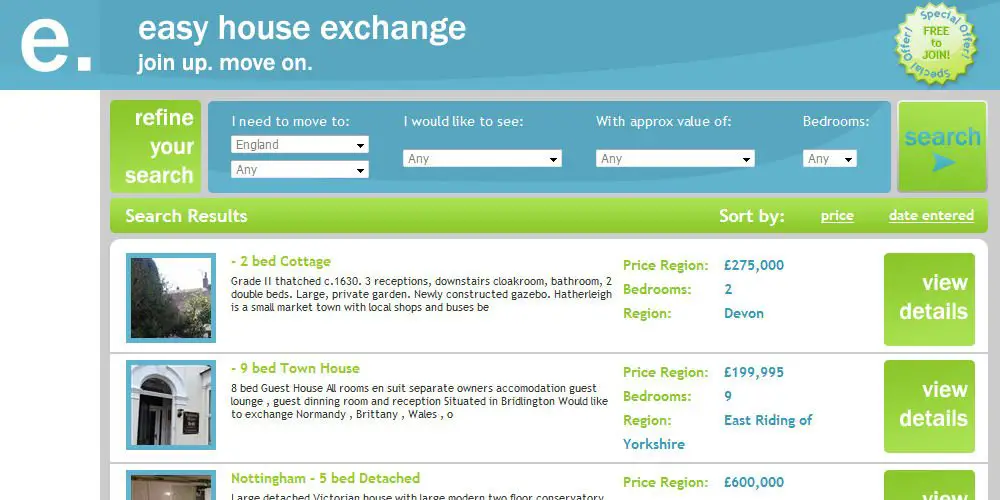 At the top of our list of ways to sell your house for free is to swap it! There are several online portals including Easy House Exchange and Preloved.
These websites enable homeowners to market their properties using photographs, a description and the home's value. The homeowner can also explain what they're looking for in return.
For example, a couple currently living in a 2-bed apartment in London might be looking to move to a 5-bed detached property in Bristol to provide enough space for their growing family.
A couple of empty nesters might have decided it's that downsizing their home make sense and plan to move from London from Bristol, swapping their large family home for something smaller.
They might be able to directly swap or come to an agreement about swapping properties and paying any difference in values in cash.
Both parties must appoint solicitors to carry out the necessary checks and complete any legal paperwork.
2. Facebook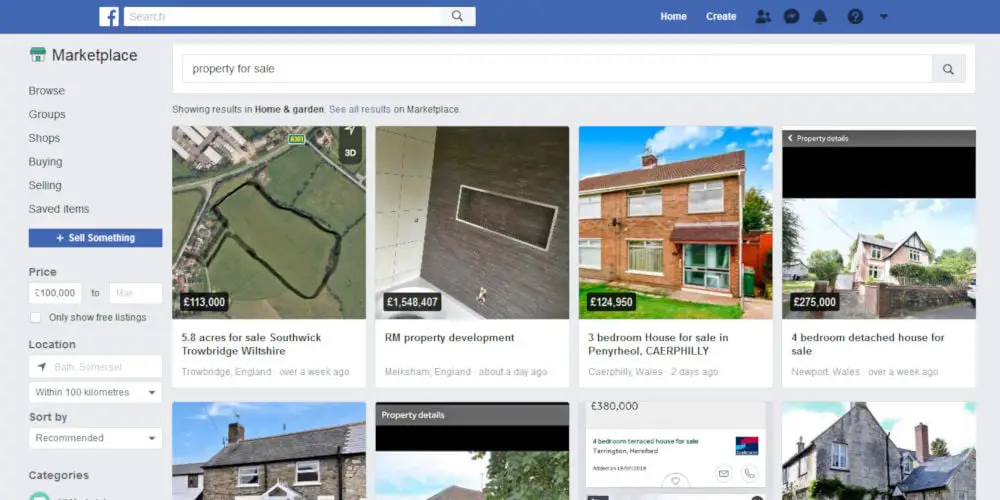 Still in its infancy, Facebook Marketplace is a fantastic way to promote and sell your house for free. You can upload over 50 photos, provide details such as the overall size (in square foot), the number of bedrooms and bathrooms, and whether there's parking or garden. There's even space for you to write a description.
You can even stream live video. You could use a live video to provide potential buyers with a virtual tour, answer questions and encourage viewers to make an offer using Facebook messenger.
As Facebook marketplace is viewable by anyone, you might be able to generate some interest organically. However, if that fails, then you can always purchase Facebook adverts relatively cheaply and give your property the boost it deserves!
It's worth viewing any profile who make contact to see if they're legitimate. Also arrange viewings over the phone, so you have an opportunity to talk with them first.
#3 Gumtree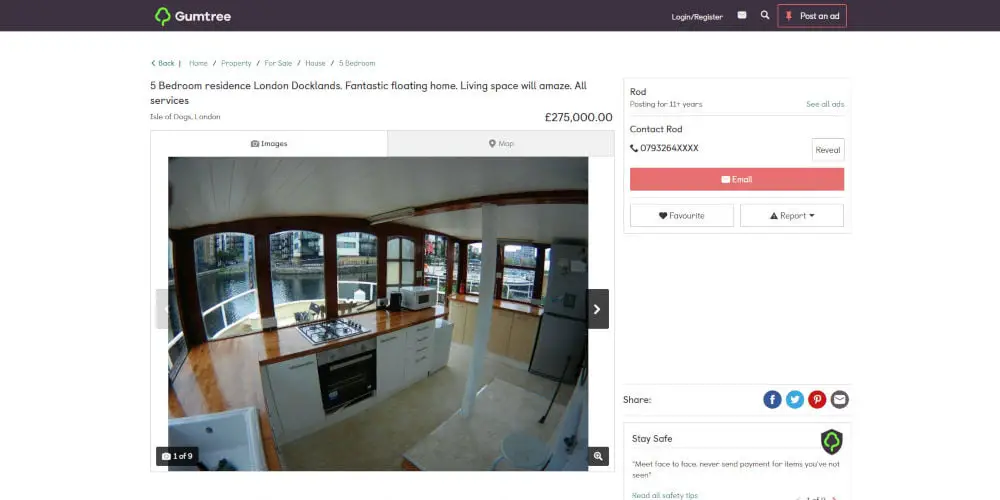 Seemly around forever online, Gumtree is the UK's largest free classified ads website with over 16 million visitors each month.
The site has well over a thousand properties for sale and many more for rent. It's still an excellent way to rent or sell a house for free without needing a middleman.
The process is quite similar to Facebook Marketplace, simply upload some photos, fill out the property's main features and a description and wait for the phone to ring.
A basic listing will cost £10. So, while you can't sell your house for free using Gumtree, the fee is a fraction of paying a local agent. Gumtree also offers several listing upgrades like linking to a website (or YouTube video), appear on the home or stay on the top of any results for 7 days.
All of these options are highly affordable (prices range from £20 to £65) and just might help you sell your property quickly.
#4 Raffles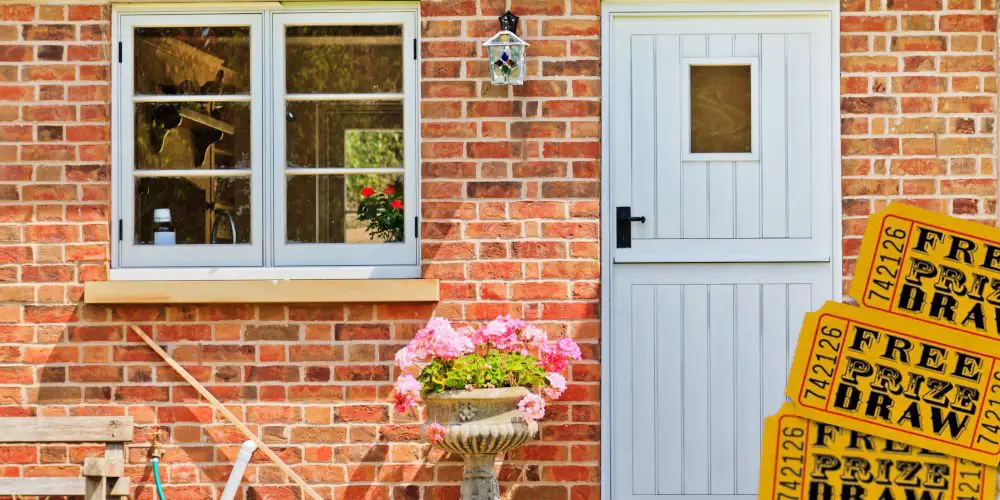 Each month, the news covers yet another homeowner attempting to raffle their home off. Many rush in, buying multiple tickets, in the hope that they'll win the property.
A raffle can be an exciting way to generate interest in your property and achieve your asking price, albeit in a unique way! Plus if you can't sell your house for free, why not give it away!
While the press may have covered a few of these prize draws, many have been held since the economic crash of 2008. The market tanked and people didn't want to move, hence many tried holding a prize draw!
Firstly, let's clear up the legal aspect. Running a prize draw for private benefit, broadly speaking is fine. Whereas lotteries can only be run for good causes.
If your raffle could be viewed as a lottery, you might be fined up to £5,000 and face imprisonment of up to 51 weeks. So if you decide to go down this route, you must seek the appropriate legal advice.
The difference between a lottery and a prize draw is simple. Lotteries are based on chance. Whereas a prize competition depends on skill, knowledge or judgement. This is the reason many house raffles require participants to answer a question to be entered into the draw.
The rules also state "The option to enter for free must be publicised so that it is likely to come to the attention of anyone intending to participate,". So there must be a free way to enter, usually via post. The entrant submits their answer in writing and posts using a 1st or 2nd class stamp.
#5 eBay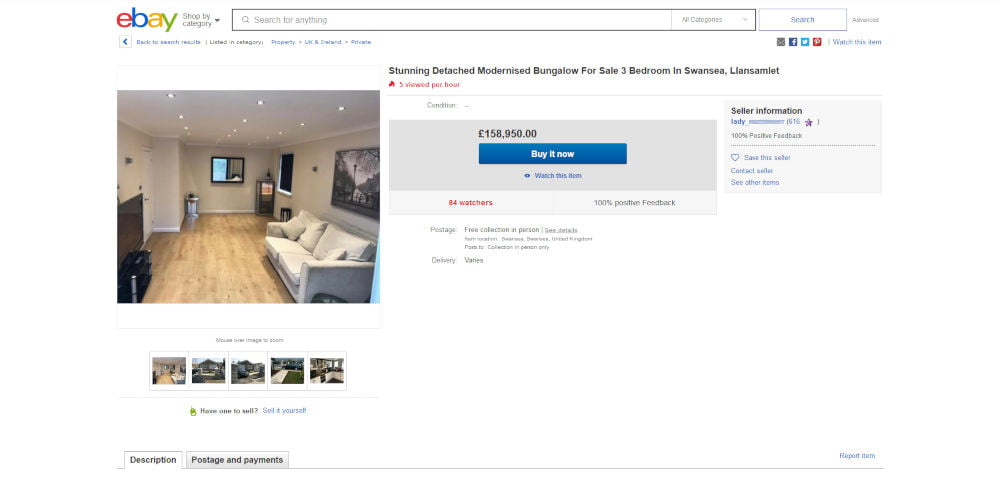 It's easy to think of eBay as a place to buy clothes, DVDs and all manner of things. However, it does allow property listings. Currently, there are around 300 listings, while this less than Gumtree (which eBay also own), you could find your ideal property!
As with Gumtree, you can't sell your house for free but the price to list a property on eBay is £36.52. This is slightly more expensive than Gumtree. There is no final value fee or any additional fees. However, if you accept a deposit or payment using PayPal, you will incur additional charges.
Like any other classified adverts, you'll need to upload photos and description. You can also add a video of your property. As there's no bidding, it's worth setting the price at a sensible amount and allow potential buyers to place offers.
Again, arrange viewings over the phone rather than email to ensure your safety and peace of mind.
If all fails and you can't sell your house for free…
Try to sell your house using an online estate agent. For as little as £600, they will promote your property on their website and list it on the big portals. Also, they'll handle any offers and ensure your transaction completes and your property sells.
It's impossible to place your property on Rightmove or Zoopla without going through an estate agent. And as these two websites receive millions of visitors each week, being on them can make or break your chances of selling your property.
It's that why choosing a fixed fee agent is your best route. Especially if you've exhausted all other options and can't seem to sell your house for free.