Sony HT-S20R review – Best home cinema audio package?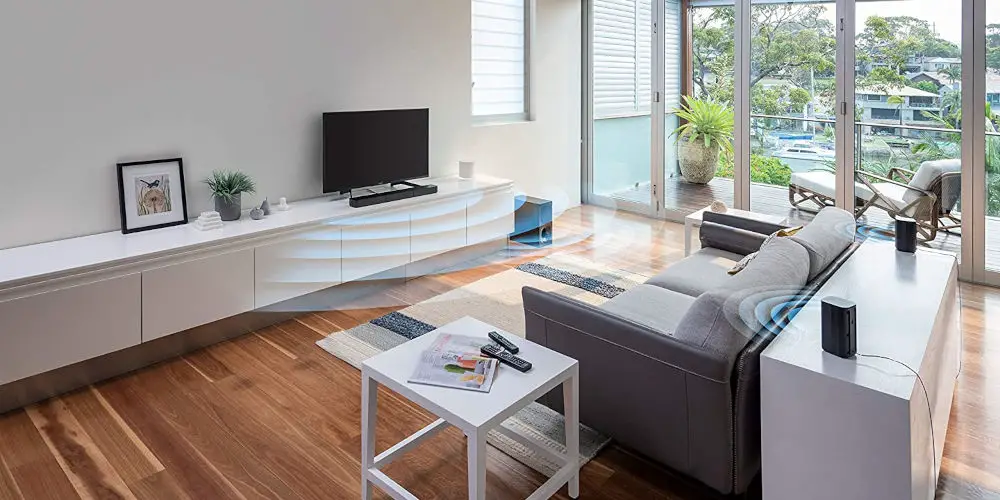 Many think that surround sound systems are expensive and complex to set up. Thankfully the Sony HT-S20R is highly affordable, powerful and takes minutes to install.
Comprised of a 3 channel soundbar, subwoofer and rear speakers, the HT-S20R package is an excellent option for any starter home cinema or media room.
With its sleek design, the HT-S20R 5.1 channel soundbar with subwoofer takes a few minutes to set up and offers HDMI, optical or analogue inputs. You can also listen to music using the USB port on the subwoofer or via Bluetooth using your phone.
Whether you enjoy listening to music, watching movies, gaming or cheering on sports, the Sony HT-S20R is ideal. Offering 400 watts of output and Dolby Digital, it delivers plenty of volume across the frequency spectrum, inviting you to experience the action rather than just watching.
As all elements plug into the subwoofer, set up takes minutes. Sony has made it even easier by using colour-coded connections. Simply, plug in and position each speaker, and you're ready to enjoy 5.1 channels of surround sound.
Customise your listening experience with different sound modes. Select from Cinema, Voice, Night and more, allowing you to fine-tune your viewing experience for an even more immersive movie night.
As one of the best soundbar packages currently available, we rate the Sony HT-S20R 5.1ch Soundbar with wired subwoofer and rear speakers as 10/10!
Pros
5.1 Surround-sound channel
400 watts
Dolby Digital technology
Design
Sporting the classic Sony black hue, the Sony HT-S20R effortlessly slot into any room without drawing much attention. The package contains a soundbar, subwoofer and two smaller rear speakers.
The soundbar and rear speakers can be wall-mounted. However, no fixings are included. Place the subwoofer on the floor. Sony has managed to keep each unit lightweight, making installation even easier.
The subwoofer acts as the hub with a USB port on the front. The rear panel includes the three inputs (HDMI, optical, analogue), speaker output ports and a power socket. While this does mean you need to wire everything into the subwoofer, it does make problem-solving easy.
Each speaker has a coloured input, allowing quick wiring into the sub using the different coloured cables. To Sony's credit, setting up the HT-S20R couldn't be easier.
Completing the package is a remote control. Based on the classic Sony remotes we all love, it's well designed and easy to use. It requires 2 x AAA batteries, and Sony has included a set. That said, you'll need to supply audio cables to link your media players to the HT-S20R.
Finally, the Sony HT-S20R comes with a 1-year manufacture guarantee.
Features
The HT-S20R manages to strip out seemingly unnecessary features, leaving only the essential, making the package ideal if you're just starting your home cinema journey.
Rather than offering a wide selection of multiple inputs, the Sony HT-S20R has five. You're likely to use the HDMI ARC, Optical, and mini-jack inputs. The HDMI ARC port allows you to simplify cabling, meaning you only need a single HDMI port.
If you're using this speaker set up with a TV or Blu-ray player, then the optical output might be ideal. If you can't use the HDMI ARC or optical inputs, use a mini-jack cable to connect your media player to the analogue input.
There are two further inputs, Bluetooth and USB. Wirelessly stream music from your phone or tablet using Bluetooth. If you would rather, use the USB port to plug and play from a USB memory stick.
The built-in power amp delivers 400 watts of volume across speaker set up. So, you'll always have plenty of volume on tap. It produces a clear, punchy sound thanks to Dolby Digital technology that forms the backbone of the system.
Enjoy movies exactly as the director intended with 5.1 channel surround sound. The rear speakers and an external subwoofer work with a 3 channel soundbar to deliver dynamic, cinematic sound.
Fine-tune your viewing experience with multiple sound modes, including Auto, Standard, Cinema and Music. You can also select Night and Voice modes. Both optimise the sound so you can clearly hear everything, even at low volume levels.
Set-up
The installation process of the typical 5.1 surround sound system can easily descend into a confusing pile of cables! Typically, to get things up and run, you need speaker cables, HDMI cables and more. Thankfully the Sony HT-S20R simplifies the set up process by using colour-coded cables.
Out of the box, there isn't much to install. Simply, place the subwoofer near a power socket and your Blu-ray or media player. Next, connect the power cable to the subwoofer and use either an HDMI or optical cable (neither are included) to connect the HT-S20R to your media player.
You then want to position and connect the soundbar and two rear speakers. Ideally, place the soundbar either above or below the screen in the centre. Doing this will provide you with the best sound.
With the rear speakers, you can experiment with where you place them. Some prefer them angled in, creating a sweet spot in the middle of the room. Others will place them straight on so they fill the room, but aren't directed to a specific point.
After positioning and connecting the soundbar and rear speakers to the subwoofer, you want to angle the sub toward the listening position. Finally, play some music or a movie that you're familiar with and experiment with the different modes on the remote (batteries included).
If required, adjust the speakers, and you're done! Now, it's time to enjoy your home cinema room and the excellent sound produced by the Sony HT-S20R
Performance
It would be easy to compare the Sony HT-S20R with any old soundbar or soundbar with a subwoofer package and declare the Sony superior. However, this misses the point.
And while the JBL Bar 5.0 Multibeam Soundbar and Yamaha YAS-109 Soundbar might sound better as far as the soundbar element, neither compare to the HT-S20R as they are completely different animals. It would be equally unfair to compare a private jet with a Ford Focus.
As a 5.1 surround sound system, the HT-S20R produces a rich and punchy yet clear sound across all frequencies. Add in the different modes that slightly enhance the sound further, and you have a package worthy of any beginner home cinema room.
It doesn't offer Dolby Atmos or even tries to emulate it. Instead, it delivers a solid 5.1 surround sound. The soundbar does a good job of amplifying speech, making it ideal for watching films. While the subwoofer can be a bit all or nothing, it does produce a punchy low-end.
The night mode may seem to be a contradiction in terms. Why would you want to watch a movie at low volumes? But as any parent will tell you, even a slight improvement in sound quality without needing to turn the speakers up is a godsend, but one that should be used sparingly.
The remote makes it easy to adjust settings or change between options. It even has track controls for Bluetooth, allowing you to operate your tracklist without needing your phone or tablet.
Is the Sony HT-S20R worth buying?
All things considered, the Sony HT-S20R is worth buying. It manages to balance essential features, plenty of volume, ease of installation with a highly affordable price. It's ideal if you want the full surround sound experience without the hassle of buying and installing the components.
It may not be the best-sounding package currently available, but other comparable systems offer fewer features, such as using technology to virtually replace the rear speakers.
What the HT-S20R excels at is being easy to set up, thanks to colour-coded speaker cables, minimal inputs and the fact it uses the subwoofer as the hub rather than having a separate audio receiver. The Bluetooth and USB options are also pleasant bonuses.
The remote offers buttons for the different sound modes, source selection, and overall volume. Plus, we love its retro Sony look! It makes controlling the set up super easy.
If you're building your first cinema room or want to add 5.1 surround sound to your TV, you'll want to invest in the Sony HT-S20R. 10/10