Sony UBP-X700 vs LG UBK80 Blu-ray player comparison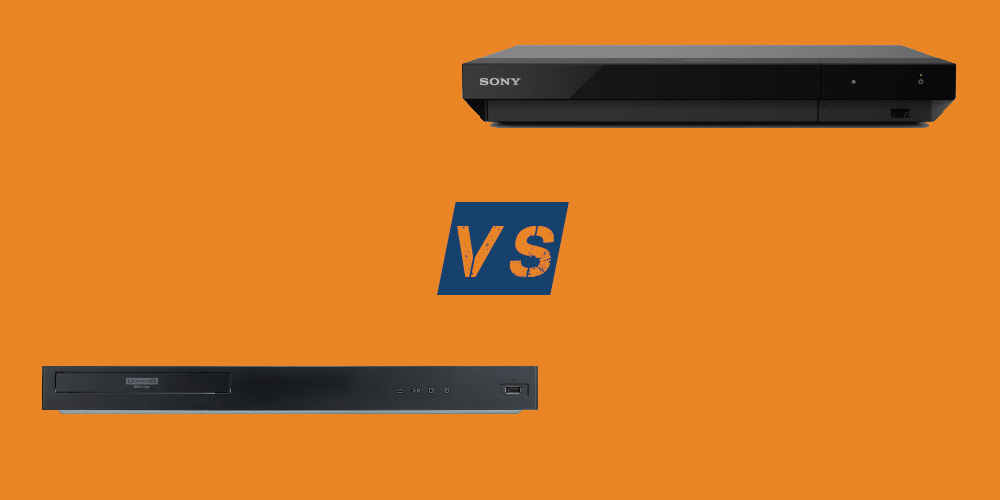 PUBLISHED: 1st February 2022 | LAST UPDATE: 24th April 2023
Comparing the Sony UBP-X700 vs LG UBK80 Blu-ray players might lead you to buy the slightly cheaper LG UBK80 unit. However, they are different beasts, each with their own pluses and minuses. Buying on price alone could mean you miss out on key features.
On the surface, both units appear to be similar. Both sport a generic black box design, play a range of file formats, are feature-packed and affordable. Yet, on closer inspection, many differences start to reveal themselves.
While both offer content streaming capacities, only the Sony UBP-X700 has a built-in Wi-Fi receiver. You'll need to use an Ethernet cable with the LG. A few features unique to the Sony are wider HDR options, twin HDMI outputs, and most importantly, smartphone or tablet control.
There's no need to struggle when deciding between the Sony UBP-X700 vs LG UBK80 Blu-ray players, especially as we've done the hard work for you! Here's an honest, direct comparison of these two 4K Blu-ray players.
Sony UBP-X700 overview
Bring your movies to life with a Sony UBP-X700 4K Ultra HD Blu-ray Player. It produces astounding images with superb audio quality to match. Enjoy all of your favourite movies on Blu-rays and DVDs, and music CDs. A USB port on the front extends the range of playable media.
Displaying images in the highest 4K quality, even on an HD TV, you'll notice the difference with brighter whites and deeper blues. The audio is equally as rich and the unit also works with Dolby Atmos.
More than just a Blu-ray player, the built-in wireless connection gives you access to online streaming services. If you prefer, you can hardwire the unit to your router using an Ethernet cable. Once online, you can use your smartphone or tablet to control the unit.
The Sony UBP-X700 has 2 HDMI sockets, A LAN port and coaxial digital audio output, all of which allow for easy connectivity.
LG UBK80 overview
The LG UBK80 Blu-ray player is a fantastic, budget-friendly unit. Experience movies in 4K quality without leaving home. Enjoy watching 4K Ultra HD Blu-rays, regular Blu-rays, 3D Blu-rays, DVDs and CDs.
Connect to your internet router and enjoy multiple smart features, including 4K streaming. A front-loaded USB port allows you to enjoy an even wider range of content from your phone or a hard disk.
Regardless of the original resolution and format, the onboard software will upscale it to the highest possible resolution with rich and vibrant colours. You'll forget whether you're playing a DVD or the latest 4K Blu-ray.
Thanks to sleek and minimal design, you can be set up and enjoy movies in minutes. Plus with a slim footprint, it'll sit comfortably in any media unit or on a shelf. The UBK80 offers a single HDMI output, Ethernet port and digital audio output.
Design
Sony has invested slightly more time in their design than LG, who've stuck to the classic, black box design. The Sony looks more elegant, particularly as the disc tray and USB port are hidden behind a door. Plus, the Sony has a superior build quality.
Another point of difference is the front panel controls. LG takes the lead here as you have basic controls over just power on/off and tray open/close that the Sony offers. Some people prefer to live remote free, which isn't possible with the Sony, but is with the LG.
The rear panels vary quite a bit, with the Sony offering more options as well as built-in Wi-Fi.
Both remotes have a vintage vibe and are quite similar. Both are jammed pack with buttons to control every aspect of their respective Blu-ray player. Using the remote, you can access a range of options allowing you to tweak either unit to your heart's content.
Winner: Sony
Features
Both play a range of file formats in the latest 4K quality, including standard/4K/3D Blu-rays, DVDs and audio CDs. Plus, both feature USB ports that allow you to enjoy movies, images or audio saved on a hard disk or portable USB device.
The Sony offer multiple HDR formats, including Dolby Vision over the basic HDR10 that's available on the LG. Even on a non HDR-TV, the Sony excels.
Both offer equally outstanding audio options with support for Dolby Digital. Again the Sony is more impressive as it also offers support for Dolby Atmos and SACD (Super Audio Compact Disc).
A feature that holds the LG back is streaming capabilities. They are highly limited on the LG UBK80 when compared to the Sony UBP-X700, which allows you to enjoy Netflix or Amazon Prime Video (30-day FREE trial) or YouTube; all in 4K!
Winner: Sony
Connectivity
Despite the similarities of the front panels, the Sony UBP-X700 offers an additional port and a hidden feature on the rear. The LG has a fitted power cable, which we're not massive fans of as it removes some of the flexibility. Thankfully, the Sony comes with a separate power cable.
While both units have an Ethernet port to allow an internet connection, the Sony has built-in Wi-Fi. You could connect a soundbar to either using the optical audio output.
A major difference is the number of HDMI outputs. The LG UBK80 has a single HDMI output for video and audio, while the Sony UBP-X700 has twin HDMI ports (1 x video and audio, 2 x audio only), making it more flexible.
Winner: Sony
Set-up
With fewer options, the LG UBK80 is slightly easier to set up. While this shouldn't surprise you, it still offers some flexibility thanks to the optical audio output. Of course, if you're after flexibility, the Sony is a better option.
The simplest set up with both units is to connect an HDMI cable from your TV to the Blu-ray player. You'll be up and running in minutes. If you want to get a little more complicated, you could add a soundbar or external speaker using the optical audio output.
Depending on how you look at it, the Sony UBP-X700 could offer more options than you'll need. It has twin-HDMI ports, built-in Wi-Fi and an optical audio output. You could decide on using a hard-wired internet connection.
The Sony makes it simple to connect the first HDMI port to supply video to a TV or projector and the second HDMI port to feed audio to an AV receiver, which in turns powers a surround speaker system.
Winner: LG
Performance
If you're looking for your first 4K Blu-ray player, either unit will produce a rich picture quality, even on an HD screen. That said, the Sony unit uses better software and hardware, resulting in more options and a better overall experience.
Some LG UBK80 units have produced low droning noise, which impacts viewing. Thankfully, this issue typically arises during the warranty period, meaning you can exchange your unit. The UBK80 remote sometimes doesn't transmit signals unless pointing directly at the sensor.
The Sony offer rock solid performance, whether you're enjoying a CD from the 90s or the latest Netflix release. Plus, with multiple HDR options and Dolby Atmos support, it's far superior to the LG UBK80.
Winner: Sony
Sony UBP-X700 vs LG UBK80 Blu-ray player: Which is better?
Choosing between the Sony UBP-X700 vs LG UBK80 Blu-ray players could seem tricky. However, the Sony UBP-X700 is a clear winner.
One element that pushes the Sony Blu-ray player ahead is its processor chip. Compared to the LG processor chip, the Sony unit offers more flexibility. Offering a range of Dolby options for both audio and video, it also arrives with the YouTube app pre-installed.
Regardless of the media's initial resolution, both units produce a vibrant colour spectrum with matching high-quality audio. Even on a standard HD TV, there is a noticeable difference in picture quality. Of course, with a 4K TV, the differences are even more apparent.
The Sony XBP-X700 offers more streaming options and apps; and has built-in Wi-Fi. The LG offers limited internet functions and has to be hard-wired into your Wi-Fi router. You can also hard-wire Song into your router.
The Sony works with almost zero drop-offs or buffering, particularly when hard wired into a Wi-Fi router. Sadly, the LG struggles to compete in this regard.
Overall, the Sony UBP-X700 is more versatile and offers a future-proof set of features that will last for years.