Sony UBP-X700 vs LG UBK90 Blu-ray players compared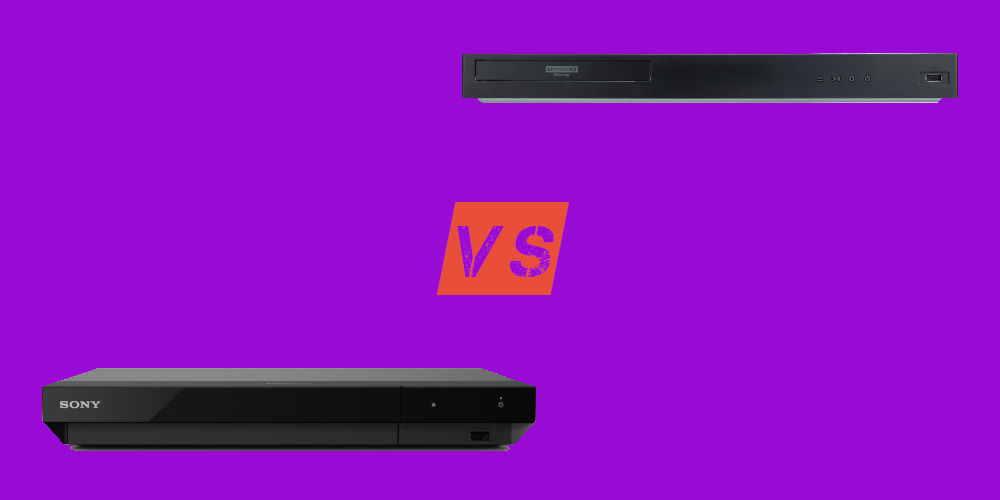 PUBLISHED: 17th February 2022 | LAST UPDATE: 27th January 2023
Two of the leading Blu-ray players currently available are the Sony UBP-X700 and LG UBK90. Each offers something slightly different yet do the same basic function of playing a range of media. So comparing Sony UBP-X700 vs LG UBK90 Blu-ray players isn't child's play! It's quite a tough exercise.
Beyond the basic black nondescript boxy design, the LG UBK90 is a multi-region Blu-ray player. You can enjoy movies and shows regardless of where they were released. You don't have to wait for studios to release content in Region B (Blu-rays) or Region 2 (DVDs).
The Sony UBP-X700 has a built-in Wi-Fi receiver, wider HDR options, twin HDMI outputs, and most importantly offers smartphone or tablet control. No more searching for a remote that's stuck down the sofa.
If you can't decide between Sony UBP-X700 vs LG UBK90 Blu-ray players, don't worry. We've done the hard work for you! Here's an honest, direct comparison of these two excellent 4K Blu-ray players.
LG UBK90 Blu-ray player overview
As a multi-region media player, the LG UBK90 Blu-ray player allows you to enjoy content without limit. With 4K playback from multiple sources, LG electronics have released a future-proof unit that delivers sharp and vibrant images, with rich audio to match.
After watching your Blu-ray and DVD collections, connect the LG UBK90 to the internet and enjoy streaming content in 4K from services such as YouTube and Netflix. You can even play media from a USB drive.
Regardless of the starting resolution, each image is displayed in near 4K quality, thanks to built-in technology. Offering support for premium HDR and Dolby Vision™, images are more realistic and natural, just as the director envisioned.
As one of LG's premium Blu-ray players, it offers dual HDMI ports. These allow you to send separate audio and video from the UBK90. In addition, there's a separate digital audio output.
Sony UBP-X700 overview
Bring your movies to life with a Sony UBP-X700 4K Ultra HD Blu-ray Player. It produces astounding images with superb audio quality to match. Enjoy all of your favourite movies on Blu-rays and DVDs, and music CDs. A USB port on the front extends the range of playable media.
Displaying images in the highest 4K quality, even on an HD TV, you'll notice the difference with brighter whites and deeper blues. The audio is equally as rich and the unit also works with Dolby Atmos.
More than just a Blu-ray player, the built-in wireless connection gives you access to online streaming services. If you prefer, you can hardwire the unit to your router using an Ethernet cable. Once online, you can use your smartphone or tablet to control the unit.
The Sony UBP-X700 has 2 HDMI sockets, A LAN port and coaxial digital audio output, all of which allow for easy connectivity.
Design
While the Sony has the edge on the design, both look fairly generic. Both are quite large, with the LG measuring 43 cm wide and the Sony being 45 cm. So you'll need to measure your slot before you buy either unit.
If you prefer a more minimalistic look, the Sony might be your best option as the disc tray, and USB port are hidden behind a door. The LG is simpler with everything on display.
The LG UBK90 has several controls on the front panel, allowing you to operate the unit without needing to search for the remote. Sadly, the only buttons on the Sony are power and disc tray open/close., meaning you'll need to keep the remote handy at all times.
We'll come to the rear panels shortly, but suffice to say, they are pretty much identical.
A final design element to compare between Sony UBP-X700 vs LG UBK90 Blu-ray players is the remotes. Both sport vintage-inspired designs but are easy to navigate, comfortable to hold, and have plenty of options to adjust/operate your unit.
Winner: Sony
Features
When comparing the Sony UBP-X700 vs LG UBK90, one thing stands out. The LG unit is a multi-region player, meaning you can enjoy releases from all over the world. You don't have to wait for content to be available in Region B/2 or 2 (UK). This is a major difference between the units.
Both units play a seemingly endless list of media formats. So you can enjoy watching any Blu-ray, DVD, or 3D discs you already have or listening to your favourite CDs. You can also play videos, music, and images straight from a USB storage device.
While you can enjoy HDR content on both units, the Sony has built-in software to maximise the benefits of HDR content when using a non-HDR TV. So you can still enjoy the extra picture detail without the cost of upgrading your TV.
Enjoy 4K streaming from both units as they have built-in Wi-Fi and come with apps installed. The Sony has the edge as it offers more apps from the start and also offers Dolby Atmos.
Winner: Sony
Connectivity
On the face of it, one thing we dislike is the fitted power cable on the LG UBK90. Thankfully, the Sony has a power socket, allowing you to change the cable with ease.
With that out of the way, both units have the same outputs. They have twin HDMI ports (one for both audio and video, and second audio only), a LAN port for hard wiring the unit into your Wi-Fi router, and digital audio output (a coaxial port on the Sony and an optical port on the LG).
With little difference between the two, it's only fair to call it a tie on this element.
Winner: tie
Performance
The biggest selling point of the LG UBK90 is multi-region support. A feature not offered by the Sony UBP-X700.
Both units offer several HDR options, including Dolby Vision, ensuring you're watching images with vibrant colours and high contrast. It doesn't matter if your media is 4K as both units provide excellent picture quality.
Built-in to both units are Wi-Fi receivers and Ethernet ports for hard-wiring into a router; if you prefer that. The Sony unit arrives with several basic apps, including Netflix, Amazon, and YouTube installed. The LG unit offers limited streaming options.
Regardless of the unit, you can enjoy Blu-rays, DVDs, CDs, and other media formats using the USB port on the front of each device.
Winner: tie
Sony UBP-X700 vs LG UBK90: Which is better?
Out of all the Blu-ray comparisons we've written, this has been the hardest. What makes comparing the Sony UBP-X700 vs LG UBK90 hard is their differences are only slight.
And so while we might urge you to buy the Sony. It's worth summing up what each unit is good for.
The Sony UBP-X700 is good if you want to stream 4K or HDR content onto any TV. You can use it to watch a range of content. Thanks to the built-in software, even older content looks superb. Plus, you can control the unit from your smartphone or tablet, no remote required!
One major selling point of the LG UBK90 is it can play all regions of disc media. So if you enjoy a foreign film or travel and want to be able to purchase Blu-rays and play them when you return, the LG is your best option.