Staging outdoor spaces: Make the garden sell your home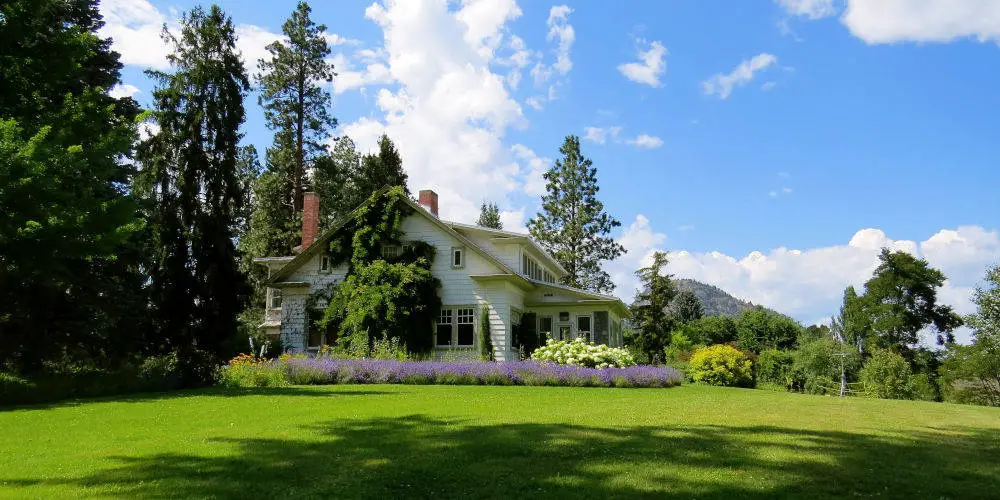 Love it or hate it, a buyer's first impression counts and nothing introduces a property like it's garden. If you have an inviting front garden then people are more likely to want to step into your home and might even pay more to seal the deal!
Since we've covered how to stage the indoors, let's focus on the basics of staging outdoor spaces. You don't need to spend a lot of money as most of our tips and tricks for staging outdoor spaces involve manual labour!
Top Tips for staging outdoor spaces
Focus on the big picture (fix fencing, paint, mow)
Less is more
Neutral colours
Use accents sparingly
Add shade
What is Staging?
Simply put, staging a property is when you try to make it attractive to a wide range of potential buyers. This is achieved in many ways including adding and removing furniture, de-cluttering and neutralise the colour pallet. As well as use other tips and tricks.
In terms of staging a garden, you want to capture the imagination from the first glance and sell its unique lifestyle.
Can your potential buyers see themselves enjoy a BBQ in the summer? Or relaxing in your hot tub? Or reading a book on a bench? Maybe, they feel calm and relaxed from the moment they walk through the gate.
Done right, a staged property will sell quicker and for more money. So what are the basics of staging outdoor spaces?
Where to start
Let's get going with some basics. Tackle your lawn with a good cut and fill in any bald patches. You'll want to clear and rake over the patch before planting new grass seeds.
Once you've taken care of the lawn and it looks luscious, then it's on to painting fencing and stain your decking. Let's face it, if you're not green-fingered or enjoy a spot of DIY, it's easy to leave big repairing and painting job.
So take the bull by the horns and plan to get a big job done every weekend for the next few weeks plus a reward for completing each task.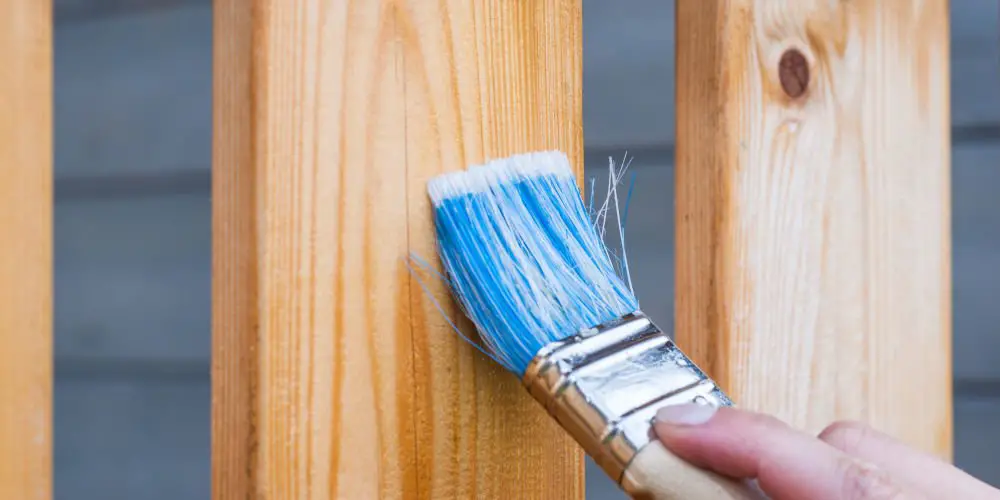 Fire up a pressure washer
If you want to make your home's exterior more inviting then hire a pressure washer for the day. You can use it to clean your property's façade, giving it a brand new look.
If your decking didn't need repainting, it's worth freshening it up with a clean. The same is true for paving slabs and walls.
Also, you'll want to get rid of cobwebs, dead bugs, and anything else that is stuck to the walls, decking or light fixtures. Finally, you'll want to clean your gutters.
Weeds and flowers
Believe it or not, you've done most of the big jobs. So your garden should look miles better. Now it's time to take care of the details.
Take a walk through your garden and pull out any weeds. Normally, we wouldn't suggest using off the shelf weed killer. However, as you're trying to sell, your time is limited and you need results quickly. So, go ahead.
Next, add some colour with plants and flowers. You don't need to go crazy, just a few will do. Plus, if you don't have flower beds, then get creative with pot plants. As an added bonus, you can take these with you when you move!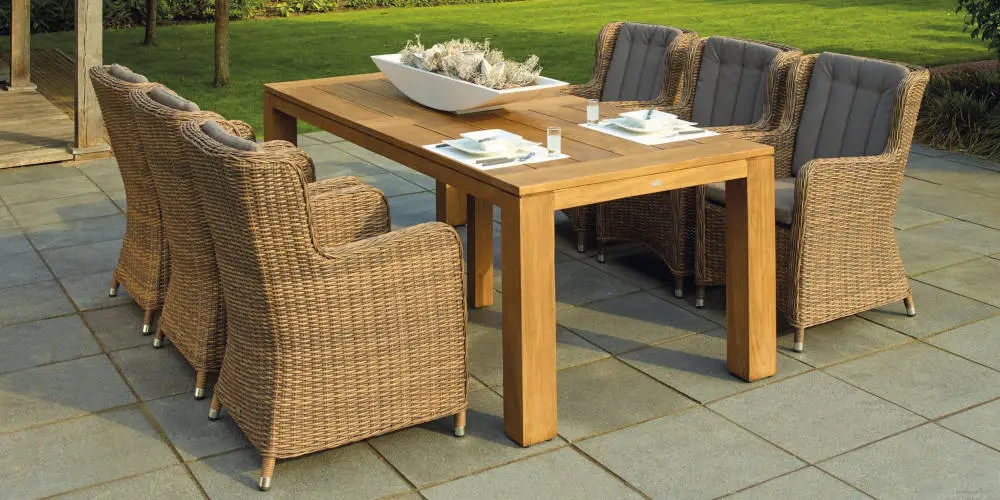 Furniture, tools and ornaments
Having a lot of seating or toys may be perfect for you and the kids in the summer, but they make the garden look cluttered. Start by tiding the shed. When that's stored then you'll have space to store all your tools, toys and furniture.
Once you've cleared everything away, then you can add elements back in. Consider how someone might use the space. For example, is there a few different areas to sit? How about a space for dining? BBQ area? And so on.
If you have a budget, it's worth investing in the best rattan garden furniture. Polyrattan (plastic rattan) is very hard wearing and on trend. There are many affordable options available, which will look great in your current and next garden!
As with everything, less is more, and so you'll want to box up the majority of toys, ornaments and furniture ready for your move.
Use accents sparingly
If you have lots of colour within the plants, furniture and accessories, then you'll want to simplify. If you can borrow or buy cheaply large pieces, such as seating, tables and BBQs in neutral colours then do it.
You can add colourful accents with pillows, rugs and towels. Also, you can use some colourful potted plants around your garden to liven it up.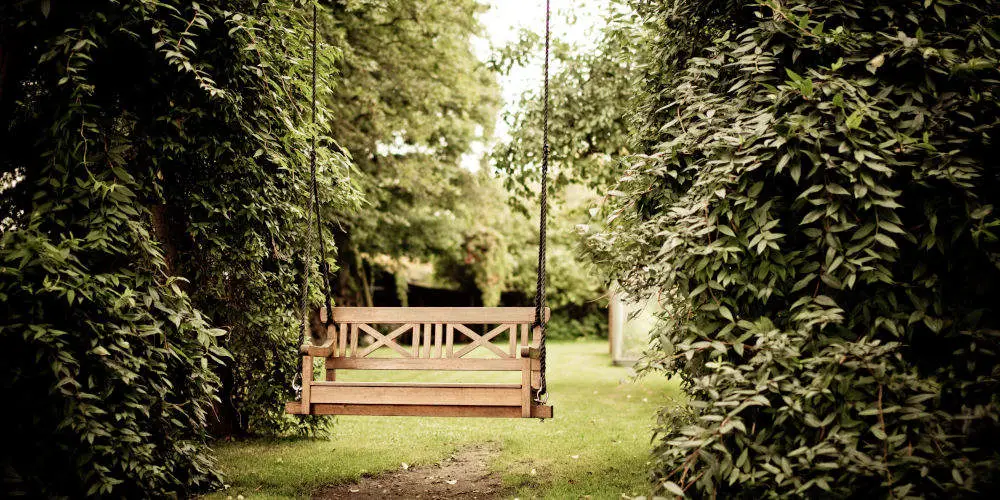 Create shade
As no sane person wants to sit in direct sunlight for more than an hour or so, creating shade is important. There are actually a few simple ways to add shade to your garden. You can use an umbrella, off-white or green work well in any garden.
If you like DIY then you could make a simple canopy using a sheet, some hooks and a few poles. Not only does this add interest to the garden, but it's also easy to fold away in the winter (or even take with you!).
Finally, you might want to add a gazebos, especially if your DIY skills leave much to be desired! However, with a starting price of £100, they are quite costly, so you might want to see it as an investment in your new place.
Start here when staging outdoor spaces
Staging outdoor spaces is about helping to create an instant emotional attachment. While this sounds simple, it's quite hard to achieve.
Start by taking care of the big picture. If your fence looks old, your potential buyer's eye will be drawn toward it and away from the pretty flowers. So you want to start there.
Once you've sorted the big items, then it's about editing what you add. You'll want to add some personality, but not let it run wild. Remember the aim is to help potential buyers imagine themselves living there.
Adding furniture and toys is fine, just as long as you do it sparingly and doesn't look crowded. Investing in new furniture, while costly, makes sense as your garden will look better now. Plus you'll be able to take it to your new home.
Finally, think about zones. You want space for kids, dining and relaxing. Creating different zones is a fantastic way to make your garden feel larger and therefore appeal to a wider target market.