Webb WEER33 lawnmower review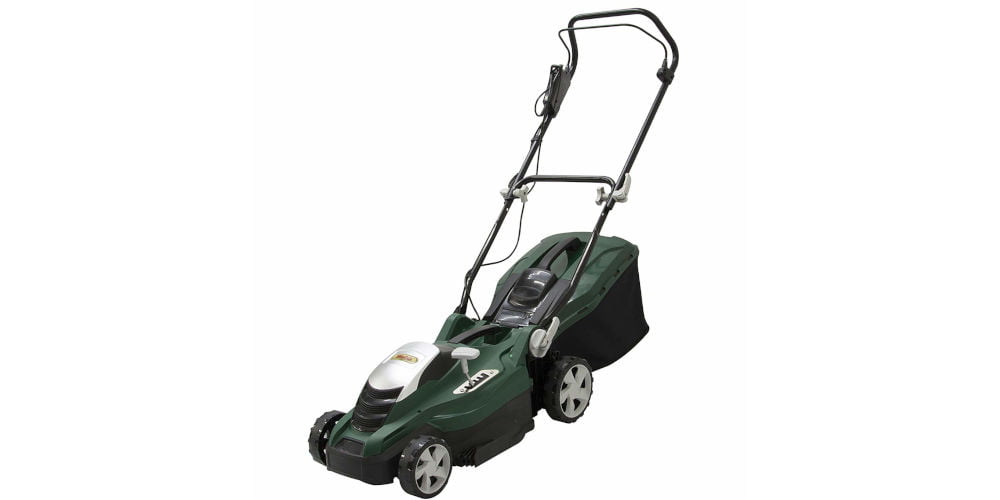 Ideal for smaller lawn, the Webb WEER33 Lawnmower is based on classic British designs. It's lightweight, practical and affordable. As a British brand, Webb designs mowers which combines hands-on experience and modern manufacturing techniques.
The Webb WEER33 uses a powerful 1300 watt motor which not only tackles general mowing but can also deal with thick growth, with ease. It's ideal for every season of lawn care as the blades' height can be easily adjusted without tools.
Cuttings are fed into a 35-litre collection bag. Not only does this help keep raking to a minimum, but it makes trimming your lawn quick!
But that's not all! What makes the WEER33 different is it's very light, it's only 8.8 kg. So if you suffer from back pain, this mower could be ideal.
If you're tight on storage space, the Webb WEER33 has a collapsible handlebar, meaning it takes up very little space.
The Webb WEER33 Lawnmower is very affordable and is one of the best lawn mowers under £100. 7/10
Pros
Lightweight design
Easy to adjust cutting height
Minimal assembly required
Cons
Grass bag
Handle on grass bag doesn't always lock in place
Cable clips attach in awkward places
Design
Designed in the UK and manufactured in the far east, the Webb WEER33 Lawnmower comes flat packed and with a 2-year conditional warranty.
Using a mixture of classic garden green and black colours with white highlights, the Webb WEER33 has a very classic look.
The mower's polypropylene chassis is rust-resistant and durable. It's designed to withstand years of use. it sits on four wheels, which make navigating it easy. The rear wheels are slightly larger and so provide more stability when dealing with uneven ground.
The 1,300 watt motor powers a 33 cm blade which sits on a movable plate. This can be set at 5 height positions between 2.5 and 6.5cm.
While not mandatory, the 35-litre grass collection bag attaches to the rear. Unlike other units with boxes, a bag takes up minimal space.
The metal handle also folds down as it made up of two parts. The bottom piece locks into the mower, while the top half uses bolts and nuts to hold it in place.
At the top of the handle is a strip of rubber, which makes operating the mower easier. Just under this rubber strip is the controls.
Finally, a 10-metre power cable is used to power the mower and should be adequate for most small gardens.
Features
Under the hood of the Webb WEER33 Lawnmower is a 1300 watt motor. This mid-sized motor will provide plenty of power and makes the WEER33 ideal for small gardens.
The motor powers a fairly sizeable 33 cm metal blade. This sits on a moving plate which has 5 different height positions (2.5, 3.5, 4.5, 5.5, 6.5 cm). Changing position is easy and doesn't require any tools. Simply adjust the lever behind the front left wheel.
While the motor is smaller than other lawn mowers currently available, the 5 different cutting heights is a feature you'd expect from a more expensive mower.
The smaller motor weights less and this has a massive impact on the overall weight. Typically, lawnmowers weight around 13 kg. However, the Webb WEER33 weighs only 8.8kg. So if you struggle with back problems, it's worth considering this mower.
The collection bag is likely to divide users. Some will love its flexibility, while others will prefer a rigid plastic box.
It easy to believe it's attached when it isn't. So you'll want to double-check before you start mowing. Of course, using the bag cuts down the amount of raking and tidying you'll need to do.
Regardless of your opinion, at 35-litres, it's on the small size. However, you should be able to cover most of your lawn before needing to empty it. On medium-sized gardens, you might be able to get away with not using it and raking the lawn after mowing.
The 10-metre power cable should be enough for smaller gardens but you'll probably need to use an extension cable if you have decking before your lawn, for example.
Set-up
As the Webb WEER33 Lawnmower comes flat packed, some assembly is required. Thankfully, it should only take about 10 minutes.
The manual contains step by step diagrams rather than text. So it might be worth viewing them a few times before attempting to assemble.
All you need to do is slot in the bottom half of handle and then screw the second half in place. You'll want to use the clips to secure the cable from the controls to the motor.
As the WEER33 uses a collection bag, there's no assembly. Most boxes are fairly fiddly to build, but you have none of those issues. After spending 10 or so minutes on assembly, you'll be ready to go.
We'd recommend setting the cutting height in the middle position (4.5 cm) to start with. This way you can learn how the mower feels and operating while trimming your lawn.
Of course, depending on the season you'll want to lower or raise the cutting height to protect your lawn.
To get started, you'll need to depress the white lever and press the red button. The white lever is a safety feature, so you'll need to keep that pressed to keep the lawnmower running.
Performance
As a lightweight lawnmower, you'll enjoy using the Webb WEER33. It's easy to manoeuvre and has plenty of power. You shouldn't feel any aches or pains after cutting your lawn.
Unless you're starting with a forest, you'll enjoy trimming your lawn to perfection and adjust the cutting height as you mow. You should only need to empty the bag once or twice.
If you're trying to tame long grass, start on higher cutting setting as this will enable you to give the lawn a good cut without blocking the mower. The on-board system will alert you when the bag is full, so you can focus on mowing.
We're unsure of the exact dimensions, but it's safe to stay, that the Webb WEER33 will probably be too tall to cut under bushes or in tight corners. As this is pretty standard, there's nothing to worry about.
As the blade is made from metal, you'll find it cuts consistently for years. Of course, replacements blades are available directly from Webb.
What could let this mower down is the 10-metre power cable. It will be fine if your lawn is directly from your door. However, will need an extension lead if your garden is set back from your house.
Is the Webb WEER33 worth buying?
Priced affordably, the Webb WEER33 Lawnmower is worth considering if you have a small lawn to mow or are looking for a lightweight solution.
Out of the box, it's very straight forward to assemble and you should be ready to mow within 15 minutes. You don't need to adjust many things before mowing, so you can assembly, plug-in and go.
The motor is small and this might feel sluggish on medium or larger lawns. And while it not designed to tackle large areas, its weight makes it ideal for covering a big space.
Even though the grass collection bag is of a generous size, we prefer boxes as they have move rigidity. The most common problem persists, it's hard to attach the plastic top of the bag to the mower. So you'll want to double-check it before you start cutting grass.
With the negatives to one side, there are many reasons to buy the Webb WEER33. It's a simple mower to operate which is light and makes cutting grass easy. The unit is well built and should withstand years of use and abuse.
Finally, it's affordable and would be a good investment if you have a small garden to tend to. 7/10