What is an IR Blaster?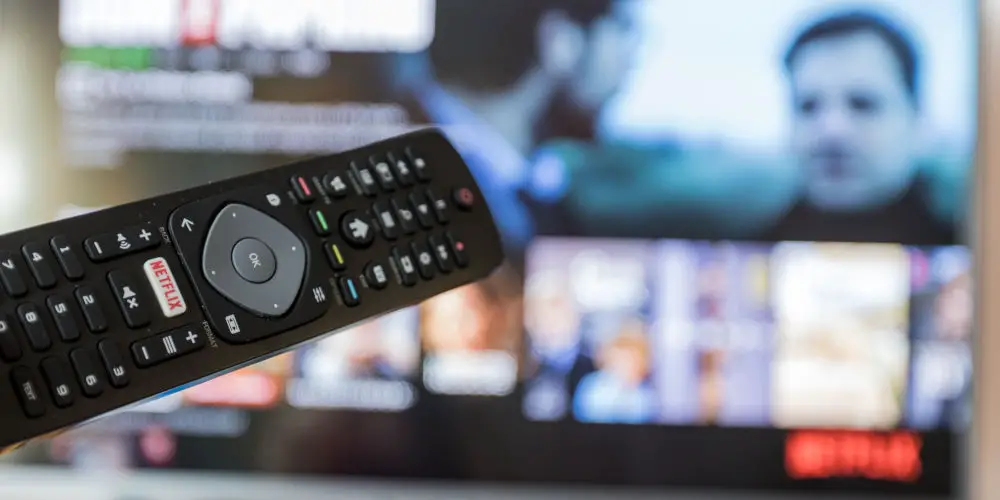 PUBLISHED: 26th January 2023 | LAST UPDATE: 24th February 2023
You probably don't stop to think about how much technology is inside your TV. Regardless of its age, TVs have some pretty fancy technology inside. One such element is IR blasters. But what is an IR blaster?
An infrared blaster or IR blaster for short is the technology that makes your remote work. You'll find them on your TV, Hi-fi, Blu-ray player, Amazon Fire TV Stick, AC unit, and many more electronic devices around your home.
Let's explore what is an IR blaster and how they work.
What is an IR Blaster?
An IR blaster sounds pretty cool, and the name describes exactly what it does. It blasts out infrared light.
A TV's remote is the most common example of an IR blaster. Your TV has an IR sensor built-in that communicates with the IR blaster in the included remote. The remote blasts out the commands, which are received by the sensor in the TV.
Infrared is a form of light. So, the remote needs to have a clear line of sight to the sensor on the TV. The light has to be able to reach the sensor. If it can't, these commands get lost and can't be fully transmitted.
Here's a simple way to convince yourself of this idea. Try pointing your remote at a random spot on the wall. You'll notice it doesn't work. Yet point the remote directly at the TV and magic. It works perfectly!
What are the most common uses for them?
Remote are the most common uses of IR blasters. But you'll also find them in set top boxes as this allows you to use a single remote to control both devices at once. Your set top box receives the commands from the remote and uses the IR blaster to send them to the TV.
You might also find that your streaming box does the same thing. Many Roku devices come equipped with IR blasters in the remote and box. During the initial set up process, the Roku will connect to your TV, allowing you to control it with the Roku remote. Pretty smart stuff!
The Amazon Fire TV Stick uses an IR blaster in the remote to control the device. And Amazon even sells Fire TV Blaster enabling you to control multiple devices and add Alexa voice controls for power and volume on your TV and soundbar.
Universal remotes in a similar way. Until recently, Logitech produced the Harmony Elite remote and Harmony Hub, which used an IR blaster to communicate commands between multiple devices. Sadly, Logitech has now discontinued the range.
The main attraction of the Logitech Harmony system was you could use the remote control of multiple devices, such as your TV, games console, and Blu-ray player. Rather than needing several remotes, the Harmony system replaced them all with a single remote. 
The SofaBaton X1 is a suitable replacement for the Logitech system and is quite similar. As an all in one smart remote, it comes with a hub and allows you to control several devices at once. The system is also compatible with Alexa.
Some Android phones had IR blasters, but this trend was short lived. You could use your phone as a basic remote with no Wi-Fi or Bluetooth connection required. Today, it's pretty difficult to find a phone with an IR blaster.
How do IR blasters work?
An IR blaster works like an IR remote control allowing your remote to connect with your entertainment devices. Before you can use this device, you first need to pair it with your smart TV system and other devices you want to control.
One of the several advantages of IR blasters is that you don't need a direct contact with your TV system to control it. Only the IR blasters and the hub they are connected to need to be close to your smart TV system.
As this is the case, it makes it possible for you to control your TV system and other smart home devices together.
Simple yet effective
IR blasters are surprisingly simple and effective little gadgets. They've been around for years, making it possible for devices to communicate with each other. And it all works with a little infrared light and a sensor to receive it.
While IR blasters are pretty old tech, they are still commonly used for TVs and remotes. Some smart TVs and streaming boxes have switched over to Wi-Fi and Bluetooth along with HDMI-CEC to control everything. However, they don't have a clear advantage over IR blasters.
So, the next time your remote isn't turning the volume down on your TV because you aren't holding it in just the right position, you'll know why.
Can I control hidden devices using IR?
What makes IR blasters so effective is that you can use a universal remote like the SofaBaton X1 to control devices like game consoles or AV receivers, even if they are inside your media centre. You no longer need devices on display.
You can even buy IR extenders, such as the Marmitek Invisible Control 6 XTRA, which makes controlling multiple devices even easier. You can use it with a universal remote to control all of your AV equipment.
Integrating IR control into your home automation system
If you're looking to control devices that use IR from your home automation system, you might want to use the Global Cache IP2IR iTach TCP/IP to IR Network Adapter.
Use the iTach IP2IR to connect your television and audio-visual equipment to your home network and then control them with your smart home system, including Z-Wave and Fibaro or app remotes such as Roomie Remote, iRule, Demo Pad etc. 
You'll never need to look for the TV remote ever again! Just imagine how powerful your smart home system could be if you could also control your AV equipment from a single app. That's how important having an IR blaster could be!