How to build your dream Fibaro home automation system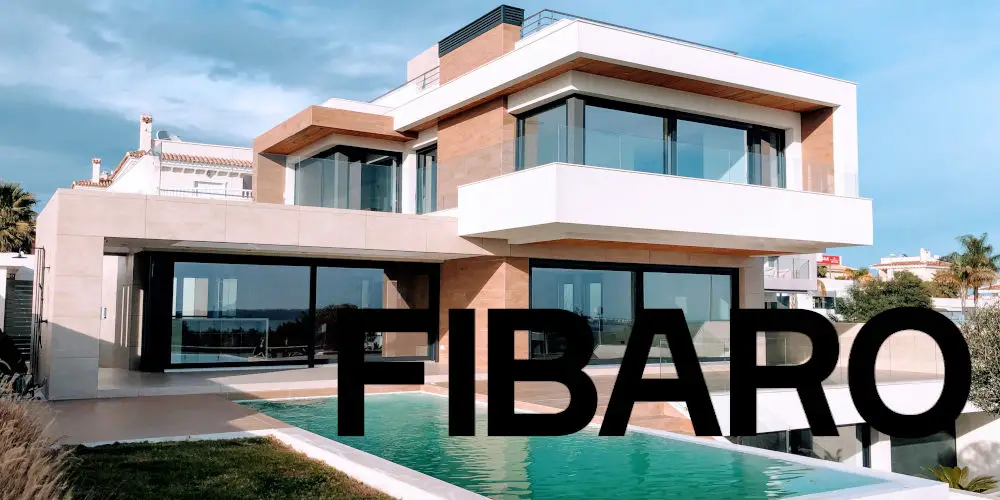 As a relative newcomer to the smart home market, Fibaro is a Polish-based brand that offers an innovative approach to building a home automation system. As all products are Z-Wave compatible, you can use Fibaro home automation devices as part of a discrete system or use them alongside other brands.
As a DIY friendly home automation system, anyone with a screwdriver and a smartphone can install and program Fibaro smart devices. That said, they offer global installations via a network of professional partners.
Their state-of-the-art approach and affordable pricing ensure many will choose a Fibaro home automation system for their property.
A brief history of Fibaro
Since launching in 2010, Fibaro has rapidly expanded globally as one of the most advanced wireless smart home systems. Headquartered in Poznan, Poland, you can buy their products in over 100 countries.
From the start, all devices were designed around the Z-Wave protocol, allowing them to rapidly cement their place in the market. As Apple introduced HomeKit®, Fibaro worked to ensure some of their devices could be compatible with the Apple HomeKit® protocol.
They aim to make the home more intuitive while building a line of DIY friendly smart devices. Fibaro now holds more than 30 patents and 150 industrial designs registered. That said, the mission is unchanged. Simplistic is still central to everything they do.
Fibaro offers devices to control every area of your home while allowing remote operation from anywhere via Wi-Fi. As voice control has become more popular, they have updated the operating system to work with Google Assistant and Amazon Alexa.
How does the system work?
Working similarly to both Z-Wave and Lightwave, Fibaro devices use 2-way wireless communication to interact with other devices and the central hub (the system's brain). Yes, Fibaro needs a hub to work, but they sell several options.
You can choose between the Home Center 3, Home Center 3 Lite (Yubii Home),  Home Center 2, and Home Center Lite. Our favourite is the Home Center 3 Lite, as it can operate up to 40 Z-Wave devices, 1 camera, 40 scenes, and 10 Quick Apps.
The central hub connects to the internet, allowing remote control from anywhere with a Wi-Fi connection. You can even use voice commands to operate the system.
Fibaro offers superior programming capabilities compared to the average Z-Wave based system. Their app and online portal offer a seamless way to control your Z-Wave devices. Their in-house software development rigorously tests devices to ensure seamless integration.
Many combine Fibaro devices with products from other brands to create a Z-Wave smart home, as they offer innovative ways to control a range of functions that are also highly flexible.
Selecting the ideal hub for your property
Currently, Fibaro offers 4 hubs: Home Center 3 Lite, Home Center 3, Home Center 2 and Home Center Lite. Each does something slightly different. So, you might need help to select the right one for your property.
Home Center Lite
As the basic hub, the Home Center Lite can control up to 50 devices. It uses an ARM Cortex-A8 with 128 MB of RAM and 128 MB of memory. So, it's ideal for smaller systems or allowing you to control a single function (such as lights or heating) within your home.
It connects to your router using an Ethernet cable, allowing you to control the smart devices using the online portal, app and voice commands. As a Lite version, it offers limited scene options, a limit of 5 plugins, and only cloud backups.
Home Center 2
Able to control up to 232 Z-Wave devices, the Home Centre 2 offers far more features than the Lite, including unlimited plugin devices, Block and LUA scenes, cloud and local USB drive backups, and has 4 USB ports.
It uses a Dual-core Intel Atom with 1GB of RAM and up to 6GB of memory. Again, like the Lite, it connects to your Wi-Fi router using an Ethernet cable and can be controlled using the online portal, App and voice commands.
Home Center 3
As the most feature-packed hub, the Home Center 3 can control up to 232 Z-Wave devices and offer multiple methods of operation (Online portal, App, Voice). Built around Quad-core Arm Cortex A53, the unit has 2 GB of RAM and 8GB storage yet still offers cloud backup.
It has built-in 2.4GHz Wi-Fi and connects to your Wi-Fi using an Ethernet cable. Home Center 3 is compatible with ZigBee and Bluetooth Low Energy (BLE).
Home Center 3 Lite
Fibaro has released this hub under two different names: Home Center 3 Lite and Yubii Home. They allow you to operate up to 40 Z-Wave devices, 40 Nice/Elero devices, and 1 camera, making it the ideal hub for an apartment or basic system.
You can build up to 40 scenes, add up to 10 Quick Apps, and use up to 5 plugins. It allows you the same flexibility as the Home Center 3, just as a slimmed down version that's highly affordable.
Building a simple smart home system
It's easy to become overwhelmed when building your first smart home system. So, it's best to start building your Fibaro home automation system with a single feature in one room. From there, expand as you feel comfortable. You'll be able to troubleshoot more effectively this way.
Of course, if you have the budget, hire a professional installer. Together, you'll be able to design a complete system that covers every aspect of your home. Plus, they will spot and solve problems quickly.
We recommend building your system around either the Home Center 2 or the Home Center 3. Ideally, you'd place the hub in the centre of your home to provide maximum communication coverage to devices.
Consider starting in your living room with lights or power sockets. Adding power sockets is easier as Fibaro sells a plug-in-and-play device called Wall Plug. For lighting control, you'd need to install a Dimmer Unit behind each light switch.
After a week or two, roll out that feature to the next room and keep adding a new room every few days. Next, repeat the process with a new feature. You'll find after a few weeks that you've managed to automate a chunk of your home and are well on the way to building a smart home.
Creating your Fibaro home automation system
With nearly 50 products in the range, building your ideal smart home system is easy. Let's discuss the key areas you might want to control and how a Fibaro home automation system can help you.
Power
Choose between attractive plug-in-and-play devices or retrofittable modules to turn your sockets smart. Unlike some brands, the plug-in sockets are unobtrusive and have safety built-in to prevent kids from being harmed.
The lighting modules can double as smart power sockets, allowing you to turn your existing socket smart by installing a module in the backbox.
Lighting
Control your lights by fitting dimmer modules in the backbox. Keep your existing switches, but turn them high tech. Several different dimmer modules are available, and installing one takes a few minutes.
Heating
Control your radiators using retrofittable TRV valves with a built-in battery, which charge using a USB cable. You can control individual radiators or the whole system, allowing you to reduce your heating bills as you only heat the rooms you're using.
Home security
A top reason for installing home automation is security, and Fibaro doesn't disappoint in this regard.
An impressive range of sensors is available, including motion, door/window, flood, Carbon Monoxide and smoke. These enable you to monitor what is happening at your home around the clock.
Improve your home security with the Fibaro Intercom, which has two-way audio, a 180-degree HD camera, night vision and two relay outputs (for controlling gates and doors). It has built-in storage to record video and audio when you're not home, and even acts as a doorbell!
The Fibaro range also includes a relay module (Roller Shutter 3), which can help automate and control blinds/curtains, gates and garage doors.
Home Cinema and Media
While there aren't any specific products aimed at turning your home cinema set-up into a smart one, there is a universal control called Smart Implant, which can interface with most devices to allow for smart control using Fibaro. It also has a built-in temperature sensor.
You could, of course, use other Z-Wave enabled devices to control your home entertainment set-up. But more on that later!
Control
As mentioned, you can control a Fibaro home automation system using their online portal or app (Apple App Store and Google Play Store). They also offer a range of unique options, including The Button, Swipe, and KeyFob.
Activate pre-programmed scenes with The Button, such as turning everything off when pressed on your way out. You could use it in your home cinema room to lower the screen and blinds and turn on the AV equipment.
Fibaro Swipe works just as it sounds. You can use the Swipe controller to activate different preset scenes based on how you move your hand past it. It can also display a photo, allowing it to blend into your home. Easily the coolest product in the range!
The KeyFob offers six programmable buttons and controls up to 30 unique actions. It has built-in safety to ensure that only you can operate your smart home system, perfect if your keys go missing.
The latest app version has a wall mode, allowing you to create a Fibaro touchscreen using a tablet mounted to a wall.
Common issues with Fibaro
You should expect issues as you would with any home automation system. As the system uses wireless communication rather than wires to pass messages, you'll likely experience drop-out, even if very rarely.
As new products enter the market and old Z-Wave chips are discontinued, there will always be the need to update software and devices. Fibaro has had some past issues with software releases. Some users have had to reprogram their system or restore software to a previous version.
It's worth mentioning that as a Z-Wave compatible system, even if you can technically add 3rd party devices to the system, this doesn't mean they will play nicely together. So you'll need to research device compatibility before buying them.
They do offer great support over the phone and email. Plus, they have a very active forum, which is a great learning resource. And, of course, you can ask for help on social media.
Can I use …?
Lightwave
There are various ways the two can communicate and work together. That said, you might want to pick between Lightwave vs Z-Wave as both are their own beast.
Z-Wave
In case you haven't been following, any Fibaro home automation system is Z-Wave ready. So, you can easily pick from thousands of devices to integrate into your system.
Samsung SmartThings
As another Z-Wave enabled system, you can seamlessly use Samsung SmartThings home automation devices with a Fibaro system.
Apple HomeKit
Fibaro has produced several devices that work with Apple HomeKit. So, you should have no issues getting the two systems to communicate.
IFTTT
Not only do they work together, but IFTTT has a dedicated section to Fibaro! Not sure what IFTTT is? Read our introduction to IFTTT for home automation and our guide to IFTTT for Fibaro.
Sonos
If you already have Sonos smart speakers, you'll be pleased to know that Fibaro works out of the box with Sonos, as you can connect the two using Fibaro Quick Apps.
Amazon Alexa / Google Home
As voice control has become popular, Fibaro has adapted and works with Amazon Alexa and Google Home products. Great news if you're already comfortable using an Echo Dot or Google Assistant.
The future of the Fibaro smart home
With such an innovative range of products available, it's hard to predict what the Fibaro home automation system of the future will look like.
It wouldn't be farfetched to imagine them releasing another tablet-sized control option, a Swipe 2; if you will! Nor would it be improbable for them to launch a range of audio products. Thankfully, several multi-room Hi-fi systems work with Fibaro, including ARYLIC Audio.
That said, as long as they continue to offer fantastic, well-designed products and software, Fibaro will be here to stay for a long time. Their journey has just started, and we await their next move with bated breath! It's sure to be exciting!