Crestron vs Control4 vs Savant: Which is the best?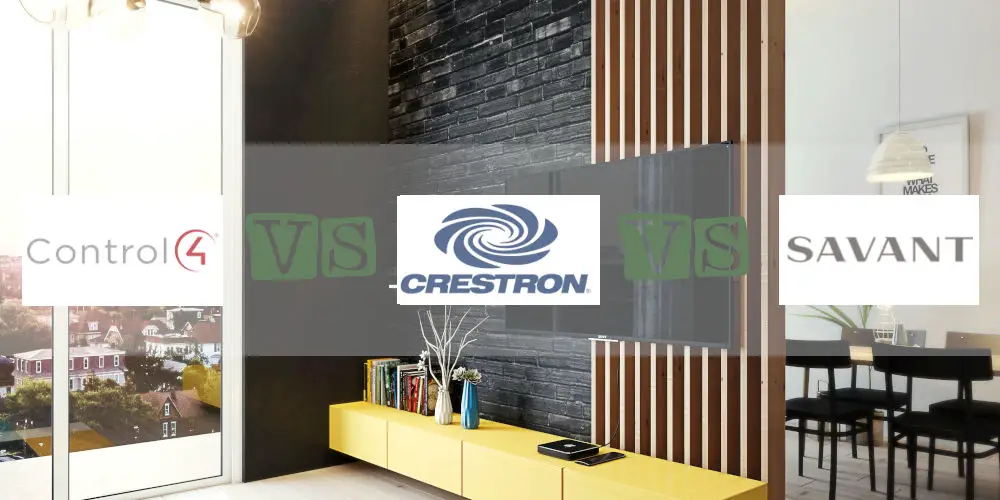 When considering professional level home automation systems, three names stand out. And while we've compared each of them, we haven't provided a comparison of Crestron vs Control4 vs Savant. Until now, that is!
Most of the information around comparing these three systems is on dealers' websites, who are (and quite rightly), looking to sell you a system. As the UK's leading smart home blog, we're different. You'll find a fair, honest comparison of them.
Comparing Crestron vs Control4 vs Savant is tricky. Each system offers something unique yet produces similar outcomes. Like buying a car or a new phone, there are plenty of options and styles, but only you can choose the ideal one.
We can't, in good faith, say one is the ultimate, and the others can be ignored. Let's start with a short overview of each before we dive into a comparison of Crestron vs Control4 vs Savant.
Crestron smart home
History
Founded in 1971 by inventor and engineer George Feldstein, Crestron Electronics is one of the oldest home automation companies in the world. Based in New Jersey, USA, the company designs, manufactures, and distributes smart home and audiovisual equipment using a global dealer network.
Offering multiple uses, you can find Crestron devices in luxury homes, the US government, Microsoft, hotels, hospitals and schools.
Crestron provides complete control of every element, both within the home and office. Easily operate lights, heating, gates, TVs and a home cinema room, both in person and remotely using Wi-Fi.
How does Crestron works?
Using a wired network, Crestron requires specialist cable to be added to your home. Rack-mounted modules control the system, and all devices within the property are wired into them. Many controllers are battery-powered, wireless units.
Despite its wired network, integrating wireless devices, including Amazon Alexa, Sonos smart speakers, and Google Assistant into a system is effortless. These add-ons increase the number of functions the user can control.
Each system is unique to the client, their home and their requirements. If you compared two homes that use a Crestron system, you'd quickly realise that each will act, look and feel differently.
Current product range
Crestron provides a range of products and solutions to build a fully automated home. They offer sophisticated lighting control, including options to program complex scenes and sequences, controllable by a single button.
Automate your blinds and curtains, so they close on cue whether you're at home or away. Enjoy superior multi-room audio and video, thanks to Crestron DigitalMedia™ technology, and a range of switchers, amplifiers and speakers. Even Sonos products seamlessly integrate into the system.
The system offers flexible temperature control that uses data from multiple sensors placed around the property. Your home's temperature will be constant, ensuring you are always warm.
Crestron provides a range of solutions to keep your home safe and secure. Secure your front door with a Yale lock and video intercom, and control your garage and gate using the system. You can even add a range of security cameras.
The current Crestron Home™ OS 3 delivers a simple, clean, and sophisticated user experience. Control your entire system from a single point using a remote, keypad, touch screen or app.
Any downsides to Crestron?
As your property needs to be rewired as part of the installation process, Crestron isn't designed for historic or listed buildings. Ideally, the system is best for new builds. As you might expect, running new cables around your home isn't cheap, and labour costs can quickly add up.
Most homeowners spend £75,000 plus when adding a Crestron system. So, it's hardly a system you would install on a whim or try to DIY. As you have to work with a dealer, it takes time to install and configure a system. You can't get up and running overnight.
As devices are only available from dealers, Crestron devices are costly, and finding a price list can be tricky. Dealers don't want to be knocked down on price or have clients trying to remove features to save money.
As new software and firmware updates become available, you'll need to pay your dealer to send their engineer out to apply the latest updates as you can't do this yourself.
Control4 smart home system
History
Since launching in 2004, Control4 has established itself as a leading provider of home automation systems for both homes and businesses. Around 475,00 homes worldwide use a Control4 system with more than 15 million connected devices.
Based in Salt Lake City, USA, the company operates through a global network of nearly 6,000 authorized dealers.
Each system is unique as it's built around the client and their requirements. Control4 allows you to control features such as lighting, audio, video, climate control, intercom, and security.
In addition to a superb range of products, the Control4 operating system now works with tens of thousands of third-party products. Over the years, they have cemented their place as a market leader by acquiring several companies such as Pakedge, Triad, Neeo and others.
How does Control4 works?
Control4 is a predominantly wired system, usually requiring your home to be rewired. Devices are wired into rack-mounted modules that control the system. However, the majority of the controllers are wireless and battery-powered.
Many wireless devices, including Sonos smart speakers, can be effortlessly integrated within a system, allowing the user access to a wider set of functions. The system even works with Google Assistant and Alexa!
As a wired system that requires programming from the ground up, unless you're a highly trained engineer, it's near impossible to install alone. It's why they have dealers all over the world!
If you were to compare two homes with a Control4 system, you'd quickly realise that each will act differently depending on the homeowner's demands and requirements.
Current product range
Designed to be a complete home automation system, Control4 helps you better control your lights, power, security, media, and more. You can even connect all of your TVs to your Control4 system and then be able to pause and move rooms while taking the show with you!
On top of the Control4 devices, they have worked with many 3rd party manufacturers, meaning you can access an even wider range of products that seamlessly integrate with the system.
Any downsides?
As installing a Control4 smart home involves rewiring your home, it isn't the best option if you live in a historic or listed property. The labour cost alone quickly adds up, not to mention buying the cables and equipment.
As a closed dealers network, they expect you to spend over £50,000. So, it's hardly a system you would install on a whim or give it go yourself. Nor should you expect your system to be installed and working overnight.
Buying Control4 products is costly. Even finding the latest price list is tricky as dealers don't want to be knocked down on price or have clients trying to remove features to save money.
You can't update the system or products with new software and firmware, so you'll need your dealer to send their engineer out to apply the latest updates. You'll need to do the same if you want to update your Control4 keypads.
Savant home automation
History
As a relative newcomer to the market, Savant was founded in 2005. Their mission is to design a technology foundation that could make all homes smart, all without the need for expensive, propriety, custom solutions that quickly become obsolete.
Available through a global dealership network, over 2 million homes are powered by Savant technology with integration and connectivity across nearly 10,000 unique protocols, devices and leading music streaming services.
Savant offers solutions that are inventive, easy to use, and designed for longevity. Take control of your device with better options and a superb user experience.
How does Savant works?
The Savant home automation system offers a simple and sleek design and easy to use functionality.
Each system can control a multitude of services, including heating, security, intelligent lighting, AV, and more. You can easily control your system using a tablet, remote control or smartphone. The system also works with Alexa and the Google Assistant.
Blending wired or wireless products, you can use devices in areas where cable access is restricted. Yet, it's sophisticated enough to still function optimally. Savant has combined performance and aesthetics to create a cutting edge home automation system.
Current product range
At the heart of every system is a hub, which acts as the brain, 4 hubs are available, allowing you to select the right one for your system size.
Monitor your home and ensure its security remotely with two-way communication. The system's temperature control options balance comfort and flexibility while helping you keep bills in check.
With GE Lighting and USAI fixtures, part of the family, Savant now offers a smart and sophisticated lighting solution for any budget. Simple to install and easy to control, their shade solutions work in harmony with the system, regardless of your location.
Savant's speakers, multi-room solutions and single app control bring the best in music enjoyment throughout your home. With excellent video distribution solutions, you can enjoy video tiling and on-demand entertainment throughout the home.
Any downsides to Savant?
Hring a dealer to design, install, and configure your system can easily double the cost of Savant. As the system blends wireless and wired elements, you might be able to save cash by not needing to rewire your home. Installing a wired system can easily double the cost due to labour.
That said, if you require a wired system can easily double the cost as a larger chunk of your budget will be spent on labour.
If you want to update or modify your system, you might need to employ a dealer unless you spend the time doing the research. Some dealers will throw in free remote software updates for a year or two, but the ongoing maintenance cost might be higher than you first expected.
Savant isn't compatible with every smart home device, so you might find your current equipment also requires updating, costing you even more.
Comparing Crestron vs Control4 vs Savant
Hopefully, you have a taste of each system. Again, they all produce similar outcomes but use different methods to get to the end result. So, you might prefer one over another.
If you like Apple computers, Savant will seem like a natural fit as they have adopted many of their ideas. However, Savant doesn't integrate with many third-party manufacturers. You might find you can't use old devices and need to update them.
Another issue with Savant is the UK dealer network is tiny. So while you're not short of options when looking for Control4 and Crestron dealers, you might have to wait until your nearest Savant dealer has capacity. Systems are cheaper than Crestron but more costly than Control4.
Control4 is widely used, affordable, and integrates with plenty of third-party devices. However, the system lacks the quality and reliability of Crestron, despite offering a superb range of functions.
By far the most expensive, Crestron is designed for commercial installations. Using their devices in the home means they have plenty of capacity and bandwidth. You can control devices using an app or switch to floor plan mode, where you see a graphical representation of devices.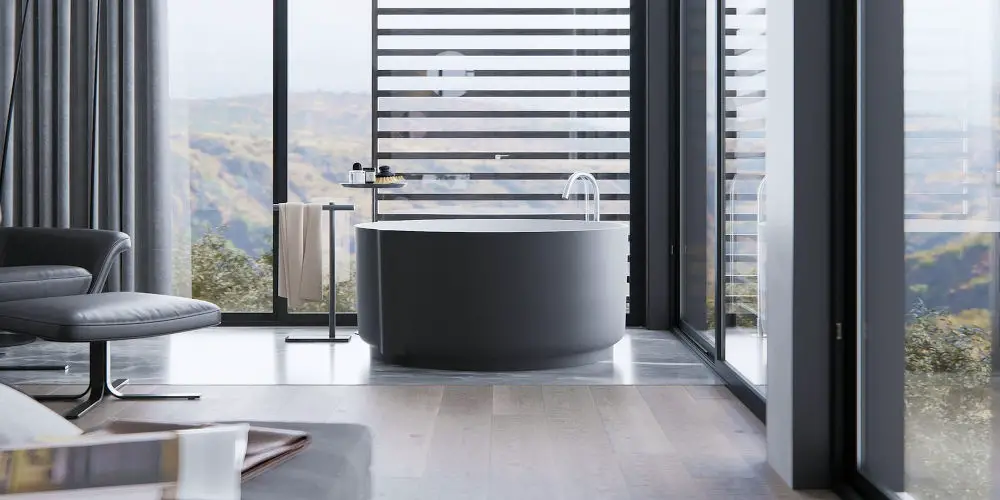 Does your smart home dealer matter?
The system you'll end up buying will depend on your requirements, property, and lifestyle. Hence the choice is highly subjective. However, one element we haven't covered that's super important is the dealer.
Selecting the right dealer is the difference between having a system that works effortlessly while combining 20 different manufacturers vs one that just about works.
When hiring a company to design, install, and configure a home automation system, you should ask to see previous projects and talk to the homeowners. See if you can try their system and listen to their feedback on both the brands they have installed and the dealer.
You should also feel comfortable with the team and their level of experience and expertise, particularly as you're handing over a large wad of cash, and letting them into your home for months on end.
There's a massive difference between changing a few sockets for smart ones and designing a home automation system that includes built-in redundancy to ensure it always works and only ever uses a fraction of its capacity.
Anyone can cook burgers on a grill but not everyone has the level of passion, skill, and experience as Gordon Ramsay. So, choose your smart home dealer with care.
Which is the ideal system for you?
We can't say which of the three is ideal for your home and requirements. But as the best professional level home automation systems available, if you have at least £50,000 to invest, one of these three will be ideal.
Unlike DIY options such as Fibaro, where you can test a system in your home before working with an installer, you can visit a smart home showroom. These allow you to experience different systems and features, and talk with an expert.
Here is a brief summary of each of the three systems to allow you to quickly compare Control4, Crestron, and Savant:
Crestron: Expensive but high quality, robust, and fully customisable. Ideal for larger home or complex system.

Control4: Affordable with plenty of features but not as robust as other options. Ideal for mid-sized or simpler systems.

Savant: Mid-priced and Apple-like but lacks wide third-party integrations. Ideal for mid-sized or simpler systems.

Hopefully, these short summaries and this article, help you compare Crestron vs Control4 vs Savant!