Introduction to high-end home automation systems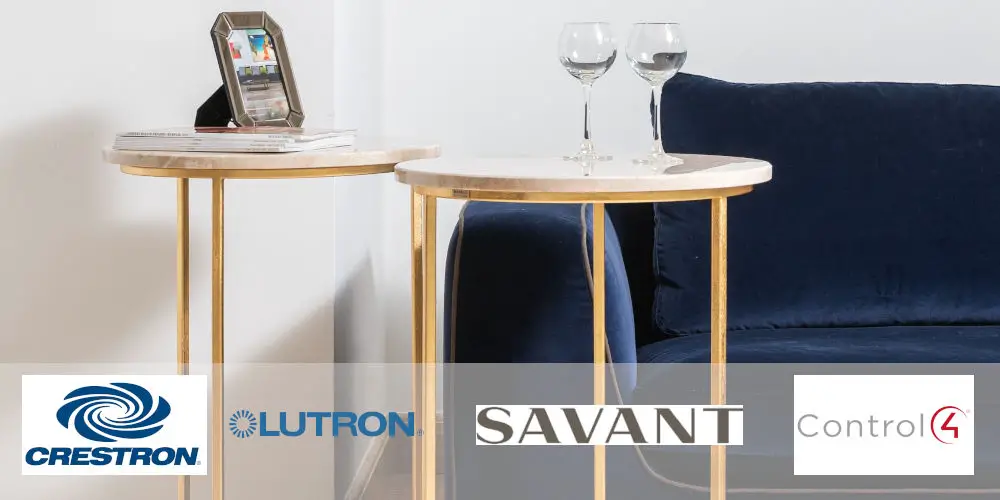 The automatic control of the many different features in your home is possible because of high-end home automation systems. As these gadgets are wired together and connected to the internet, they may be operated from almost anywhere.
Devices can trigger one another with home automation, so you don't have to operate them manually.
Home automation makes life easier and might save you money on utility costs such as heating, gas, and electricity. With these systems, you can increase the comfort and safety found within your home.
You can, for example, set your lights to turn off when you normally go to bed or set your thermostat to turn on the boiler about an hour before you return to work, so you don't have to come home to a sweltering house.
There are many unique high-end home automation systems to choose from, and finding the right one can seem like a challenge. Here are a few of our favourites to help you get started on your search!
Come with us as we explore:
Savant
Lutron
Crestron
Control4
Savant
Savant is a high-end, complete home automation solution that improves people's enjoyment of their homes. Savant's sophisticated technology integrates the control of lighting, heating, blinds, entertainment, music, and security into a single system that homeowners adore for its ease of use.
With a simple push on the keypad, remote control, or iOS or Android app, consumers can take complete control of their entire home. In addition, the Savant platform mixes its own products with third-party devices to create one-of-a-kind experiences in any house that represent the owner's personality, interests, and lifestyle.
Savant allows for timed daily activities, welcome home recognition and activation, and security monitoring from afar. Savant can now make homeowners feel better with the addition of circadian lighting!
Savant continues to redefine the luxury home automation experience with cutting-edge products and services, providing homeowners with the tools they need to create unique, personalized systems for today's most discerning customers.
Lutron
Lutron is the world's most well-known lighting control system maker. They create lighting control systems that allow you to fine-tune the brightness of your home's lights.
For example, rather than changing dimmers or turning on lamps as you walk into a room, a simple button press on a lighting keypad turns lamps on at a setting you specify, ensuring your home appears its best at all times.
A typical room's lighting can be divided into individual circuits (or channels) and muted independently, allowing you to create different moods for various activities. There are many options, all of which are user-programmable, allowing for the optimum illumination to be established and recalled for each room.
A lighting keypad near the front entrance can turn off all the lights in the house or brighten several rooms when you walk through the door with a whole-home lighting system.
External lights can be controlled by home keypads or set automatically at sunset or according to a particular schedule. While this is a fantastic lighting system, it does not automate the many other functions within a home.
Crestron
Developing cutting-edge home technology since 1972, Crestron is used in homes, hospitals and businesses across the globe. They even have installed a system in the White House.
Their main purpose is to create solutions that make everyday life at home more fluid, productive, and efficient. As a result, Crestron has developed a product line that enables homeowners to automate their entire homes.
You can control your home's audio, video, lighting, and shades, as well as the climate, from a single location using their control gear and software. A Crestron dealer can design and install a system customized to your particular demands if you want to construct an automation system that's fine-tuned to your exact needs.
Crestron is likely your best option if you need a massive installation with high-end results. However, Crestron systems can take longer to create, which may not be appropriate for some households, nor do all homeowners want Crestron's complex control choices.
Crestron makes controlling your home automation easy with the system's tablet and smartphone app. Homeowners can adjust nearly every aspect within their home to create the most perfect and safest environment.
Control4
Control4 has been in the home automation business since the early 2000s, long before the current smart home craze began, and back when Amazon's only echo was the one you'd get if you shouted something in one of its massive warehouses.
Control4 can control lighting, heating systems, multi-room audio, smart locks, security platforms. Additionally, this system uses Zigbee, Z-Wave, Wi-Fi, and Bluetooth, making it compatible with over 35,000 devices.
However, it's exclusively reserved for those who have the financial means to go through an authorized Control4 dealer. Your dealer isn't just there to put the gear together. They'll set up the entire system, from the software to the attached devices, to ensure that they're compatible with specific device settings and scenes.
A Control4 controller, which functions as the brains of the operation and a smart home hub, connects to your home network and then connects to any suitable technology. The CA-1, the most basic Control4 controller, is a little white box with Zigbee and Wi-Fi connectivity used for controlling smart lights, electric blinds, and connected locks.
Control4 also sells keypads that fit into normal light switches, in addition to touch screens. Not only can these be used to turn lights on and off, but they can also be used to trigger Control4 scenes.
As you may have guessed, scenes are routines that automate smart home behaviour. So, you could have a 'good morning' scene that starts the kettle, turns on your favourite radio station, and turns off the alarm.
How to choose between the high-end home automation systems?
While each of these high-end home automation systems come with their own benefits and disadvantages, finding the right one for your home is completely dependent on your individual preferences.
One of the easiest ways to determine if a system is right for you is by talking with an authorized dealer. They can give you an estimate of cost and better explain how an individual system works for your own home.