What's the best Acer home cinema projector of 2023 reviews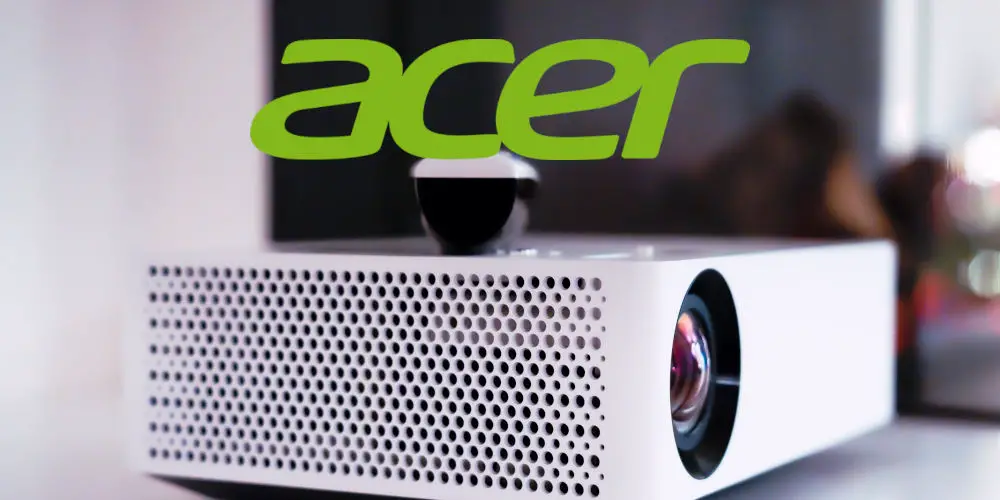 Well known for their laptops and tablets, Acer also produces excellent projectors, that are ideal for home cinemas. In this article, we'll focus on the best Acer home cinema projectors, both past and present.
You'll want to bookmark this page as over time it will become the leading guide to Acer home cinema projectors. Using this page will save you hours of wasted time. So rather than search the internet for answers, this article will help you, whatever your question!
Current product range
Let's start by viewing the extensive range of Acer home cinema projectors. With models for work, home, gaming and travel, you'll be able to find the ideal projector. Having reviewed several units, you can read an unbiased opinion of any units that interest you before buying one.
Acer C202i review
Acer C250i review
Acer B250i review
Acer H6815BD review
Acer H6523BD review
Acer H6531BD review
Acer H5385BDi review
Acer H6543Ki review
Acer H6546BDi review
Acer H6542BD review
Acer H6546Ki review
Acer H6523BDP review
Acer H6518STi review
Acer HD5385BD review
Acer H6541BD review
Acer H6800BDa review
Acer H6800 review
Acer H6522BD review
Acer H6830BD+ review
Acer L811 review
Acer H6523BD review
Acer H6541BD review
What are the best Acer home cinema projectors?
After gathering user feedback from multiple sources, the best Acer home cinema projectors are the H6546Ki, H6814BD, and C202i.
How do they compare to other leading brands?
Offering a range of features and performance options, Acer home cinema projectors are a good choice. Compared to other brands such as ViewSonic, BenQ, and Optoma, Acer projectors are known for their affordability and value for money.
Acer projectors are also easy to set up and use, usually with user-friendly interfaces. They typically offer a range of connectivity options, allowing you to connect a variety of devices to the projector.
Compared to other leading brands, some Acer projectors don't offer the same level of colour accuracy or brightness, especially in their lower-priced models. Additionally, some models may not be as reliable or last as long as other brands.
If you're looking for an affordable and user-friendly projector, Acer is  a good option.
What we love about Acer home cinema projectors?
Well known for offering high-quality projectors, Acer units are suitable for home and office use. Their projectors offer high brightness levels, which makes them ideal for use in well-lit environments. They use high-resolution displays, which results in sharp and clear images.
Known for their accurate colour reproduction, Acer home cinema projectors are ideal for graphic design and multimedia presentations. They come equipped with multiple connectivity options, including HDMI, USB, and VGA, making it easy to connect to devices.
Acer projectors offer good value for money, are user-friendly and easy to set up, which makes them a good choice for those who are not tech-savvy or those just starting to build a home cinema system.
How much does they cost?
As Acer manufactures a range of mid-market projectors, you'll need at least £400 to purchase one. They currently range from £400 to £3,500. While not the most affordable units available. For the specifications and warranty, Acer home cinema projectors represent good value for money.
Anything to be aware of?
While the manufacture excellent units, there are a few factors to be aware of that. Acer only offers a limited warranty on their projectors, which may not be enough for some users.
Some users have reported that the fan on Acer home cinema projectors can be loud, which may be distracting during movie watching. With limited lamp life, you'll need to replace your projector's lamp more frequently than models from other brands.
Compared to other available projectors, some models have a lower contrast ratio, resulting in washed-out images in darker environments. Some users have reported viewing distorted images, especially at the edges.
Some models have a limited colour gamut, meaning they aren't capable of producing as many colours as other projectors. The result is less vibrant and less accurate images.
A little brand history
Founded in 1976, Acer is a multinational computer technology corporation based in Taiwan. As one of the largest computer manufacturers in the world, Acer produces a wide range of products, including laptops, desktops, monitors, and projectors.
In the early years, Acer focused primarily on producing computer components. Over the years, they have continued to innovate and expand its product line to include a wide range of products and technologies.
In addition to its electronic products, Acer offers services and solutions, including cloud computing, big data, and digital signage solutions. The company places a strong emphasis on sustainability, including investing in renewable energy and environmentally-friendly technologies.
Where can you find support?
You'll find an excellent support section on the Acer website. So whether you want to find a manual, register a product, or request a repair, there's plenty of information available. Plus, you can find several ways to contact Acer, including email, telephone, and live chat.
Discontinued Acer home cinema projectors
According to Projector Central, Acer has discontinued over 200 projectors. The list includes:
Acer 7743, Acer 7753C, Acer 7755C, Acer 7763, Acer 7763P, Acer 7763PA, Acer 7763PS, Acer 7765PA, Acer 7765PE, Acer AOPEN QH10, Acer AOPEN QH11, Acer B250i, Acer C110, Acer C112, Acer C120, Acer C20, Acer C200, Acer C202i, Acer C205, Acer C250i, Acer EV-833H, Acer H5350, Acer H5360, Acer H5370BD, Acer H5380BD, Acer H5382BD, Acer H6500, Acer H6502BD, Acer H6510BD, Acer H6517ST, Acer H6530BD,
Acer P1273, Acer P1283, Acer P1285, Acer P1303W, Acer P1340W, Acer P1350W, Acer P1383W, Acer P1387W, Acer P1500, Acer P1525, Acer P3150, Acer P3250, Acer P3251, Acer P5205, Acer P5260E, Acer P5260i, Acer P5270, Acer P5271, Acer P5271i, Acer P5280, Acer P5290, Acer P5370W, Acer P5390W, Acer P5403, Acer P5515, Acer P6500, Acer P7203, Acer P7215, Acer P7270i, Acer P7280, Acer P7290,
Acer P7500, Acer P7505, Acer P8800, Acer PD100, Acer PD100D, Acer PD110z, Acer PD112, Acer PD113, Acer PD113P, Acer PD115, Acer PD116, Acer PD116, Acer PD116PD, Acer PD117D, Acer PD120, Acer PD120D, Acer PD123, Acer PD123P, Acer PD125, Acer PD125D, Acer PD126D, Acer PD311, Acer PD321, Acer PD322, Acer PD323, Acer PD520, Acer PD523, Acer PD523PD, Acer PD525, Acer PD525D, Acer PD525PW, Acer PD527D,
Acer S5201M, Acer SL700S, Acer SL700X, Acer SL710S, Acer SL710X, Acer U5200, Acer V6810, Acer V7850, Acer VL7860, Acer VP110X, Acer X110, Acer X1123H, Acer X1126AH, Acer X1130P, Acer X113PH, Acer X1160, Acer X1160PZ, Acer X1160Z, Acer X1161, Acer X1161-3D, Acer X1161P, Acer X1163, Acer X117AH, Acer X117H, Acer X118H, Acer X1220H, Acer X1223H, Acer X1230PS, Acer X1230S, Acer X123PH, Acer X1240, Acer X1260,
Acer X1260P, Acer X1261, Acer X1261-3D, Acer X1261P, Acer X1273, Acer X127H, Acer X1320WH, Acer X1323WH, Acer X1326AWH, Acer X1373WH, Acer X1385WH, Acer X152H, Acer XD1150, Acer XD1170D, Acer XD1250P, Acer XD1270D, Acer XD1280D