Acer H6517ST projector review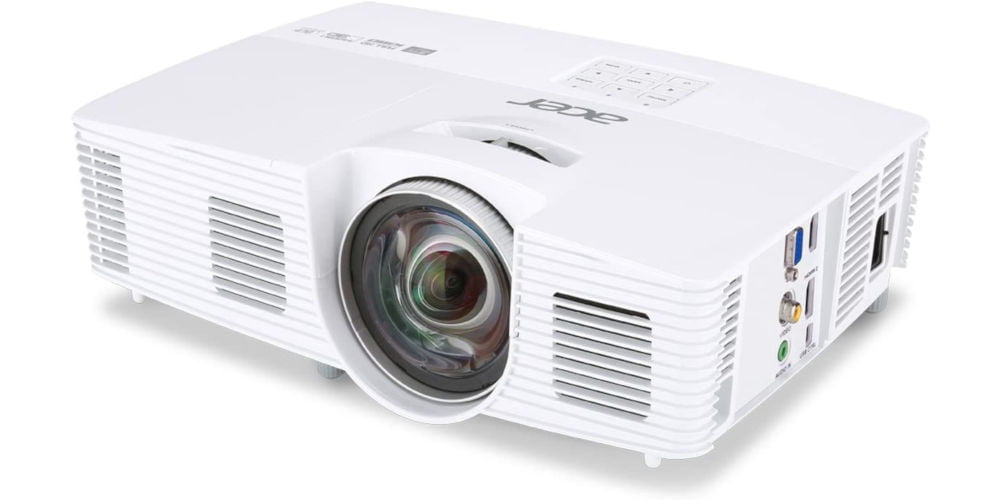 As a portable short-throw projector, the Acer H6517ST is ideal for the home cinema, living room and even in the garden! It offers 3,000 lumens of brightness, a 1080p Full HD resolution and is 3D ready.
Ideal for smaller rooms, the short-throw lens allows you to view a sizeable picture size over a relativity small distance. That said, if you have more space, it can easily project an image up to 300 inches.
Displaying 3,000 lumens of brightness, even with some natural light, you'll still be able to enjoy watching movies, TV or gaming without compromising the picture quality.
Able to display over a billion colours, the superb clarity and depth provided by the Acer H6517ST projector means you can enjoy rich details, bright and natural colours, and exceptional contrast. Plus with AcuMotion's blur control, action sequences are exciting.
Offering multiple connectivity options, a 2-watt speaker and ceiling mounting, setting the unit up is painless whatever your current set-up. Plus with manual focus and vertical keystone correction, Acer has made it easy to achieve the ultimate picture quality.
Designed for near-silent operation, in standard mode the base noise level is a tiny 33dB, with ECO mode only producing 27 dB. The ExtremeEco technology enables power saving and extends lamp life to double that of standard mode.
Even if you enjoyed a daily movie, it'll be at least 9 years before the lamp needs replacing. Plus, this Acer home cinema projector uses EcoProjection technology that reduces standby power consumption by up to 90%.
As a 3D ready projector, 3D content is played using the 144 Hz triple-flash mode, which guarantees you a flicker-free and inspiring 3D experience. All popular 3D Blu-ray players are supported.
Control the projector using the buttons on the unit, a remote or using Acer Smart Touch Kit for interactive functionality.
As one of the best projectors under £1,000, the Acer H6517ST is a fantastic unit that scores 8/10.
Pros
3,000 lumens of brightness
Ultra short-throw lens (0.5:1)
Easily mounted
Design
As far as portable projectors go, the Acer H6517ST is light and compact as it weighs only 2.5 Kg and measures 31 cm (w) by 22 cm (d) by 9 cm (h). The white case colour uses two hues and is subtle enough to blend in, even if we would prefer it to be black or charcoal grey.
Looking at unit straight-on, you'll notice the lens and three air vents. Moving round to the right reveals the connection panel which includes 2 HDMI ports, a mini-USB control port, VGA port and Video and audio inputs. A power input sits to the right of this panel.
The rear panel and left side are blank, allowing the unit to be mounted flush to the wall. On the bottom are holes ceiling mounting and 3 adjustable legs.
Finally, on the top of the Acer H6517ST is a lamp cover door, a zoom control, lens focus ring and a control panel. These controls cover the basic operation such as power on/off, source and menus as well as 3 status LEDs.
The remote offers a more comprehensive set of controls including buttons to change the mode, aspect ratio, 3D, and menus. It's a generous size with nice spacing between buttons, which suits our European sized finger well!
Features
Designed around a single DLP chip, the Acer H6517ST projector delivers a fantastic viewing experience regardless if you're watching TV, movie, sport or gaming. Offering 3,000 lumens of brightness, even with some natural daylight, it still produces a sharp, vibrant picture.
Its native 1080p resolution (full HD) ensures you can enjoy the latest releases in stunning quality. Plus as a 3D ready projector, the H6517ST uses a 144 Hz triple-flash mode to guarantee a flicker-free and inspiring 3D experience.
As full HD projector, it delivers a superior quality image with sharper detail, displaying up to 1.07 billion colours and a contrast ratio of 10000:1. Even fast action scenes are displayed with superb clarity thanks to 24p frame rate and Acer's AcuMotion's blur control.
10 modes (9 presets and 1 user) are available, allowing you to quickly optimise the projector for the activity. This is helpful as it allows you to painlessly change settings while gaming, watching a movie or TV.
With a short-throw lens (0.5:1 ratio), the Acer H6517ST can project from as little as a metre from the screen, making it ideal for smaller spaces. It's capable of projecting a screen size from 45 inches to a massive 300 inches.
A 2-watt speaker is built-in and while it won't compare to the most basic soundbar, it will enable you to get started within minutes, especially if you're using the Acer H6517ST outside.
Designed to be virtually silent and efficient, the running costs are highly affordable. In standard mode, it only produces 33dB of operating noise with a lamp life of 4,000 hours. Switching into ECO mode, and noise is reduced to 27 dB and the lamp life extends to 6,000 hours.
Switch into ExtremeEco mode for even more power savings (up to 70 per cent) and to extend lamp life to 8,000 hours.
Set-up
Depending on how you intend to use the Acer H6517ST, you'll want to position it differently. Thankfully, you can choose between 4 different positions including front and rear table, and front and rear ceiling.
You can use the auto position mode, which will guess and adjust based on where it thinks you've positioned it but we'd recommend manually adjusting settings.
If positioning the H6517ST on a table, either in front or behind the screen, you can use the three adjustable feet to tweak the performance. However, if ceiling mounting (mount sold separately), then you'll need to adjust that first before the other settings.
As a short-throw projector at 50 cm between the unit and screen, you'll be able to produce a 45-inch image. At just over 1 m, it comfortably fills a 100-inch screen comfortably.
Having positioned it in place, next you'll want to connect the power and any inputs. If you're using a Blu-ray player or AV Receiver, then use one of the HDMI ports. The other can be used for a streaming stick such as the Google Chromecast. Leaving you with 2 additional inputs available.
With the Acer H6517ST plugged in, it's time to switch on the power and adjust it for the best picture. The first menu allows you to set the location and position, language and adjust the vertical keystone. With the basic set-up complete, you should be ready to enjoy watching content.
Of course, there are plenty of menus available to tweak the mode (9 presets and 1 user), brightness, contrast and saturation. You might want to spend some time tweaking and experimenting with the various settings to get the optimum result for your set-up.
Performance
One of the first things you'll notice about the Acer H6517ST is how silent it is, especially if you're upgrading from another projector. This is most obvious when comparing it to other similarly priced units as it happily beats almost all.
Also compared to other affordable projectors, the H6517ST offers a superior balance of colour and contrast. In bright mode, the colour accuracy and details start to soften, especially at the edges but that's to be expected from a DLP projector.
Cycling through the different picture modes improves the quality slightly regardless of the input source. Plus as there's an additional preset available, if none of the 9 preset modes takes your fancy, you able to build a preset that's custom to your set-up.
The Acer H6517ST does suffer from quite a long input lag, 33 milliseconds to be exact and switching to game mode doesn't reduce this. So you can use any of the modes for gaming.
As a short-throw projector, it can be a little temperamental during the initial set up as it designed to be close to the screen and reacts when positioned further away. Thankfully these idiosyncrasies can be fixed with some tweaking of the settings, but that does take some time.
For what is an entry-level projector, the 3D capabilities are basic but sufficient. The built-in speaker feels rather more like a gimmick than a feature you'll use. But overall, it's a solid projector.
Is the Acer H6517ST worth buying?
It's easy to like the Acer H6517ST projector as it's a budget unit with plenty of nice features. It might lack a certain wow factor but it's hard to find fault when viewing it as an entire package.
As a portable projector, it's highly versatile whether you're using it for watching sport while enjoying a BBQ on a hot summer's day or mounted in a home cinema room. Plus as setting up the Acer H6517ST is relatively painless, you won't mind moving it.
That said, it's the only downside is the lack of audio output or decent-sized speaker. Having either or both would make enjoying BBQ or sports outside even more fun. Instead, you'll have to hook up a soundbar or speakers to hear anything.
If you're looking for a projector that offers 1080p resolution, near-silent operation and a superb level of brightness without a high price tag, then it's worth considering the Acer H6517ST projector. It's ideal if you're starting on your home cinema journey and trying to piece together a good albeit basic set-up. 8/10