What is the best Samsung soundbar for your home?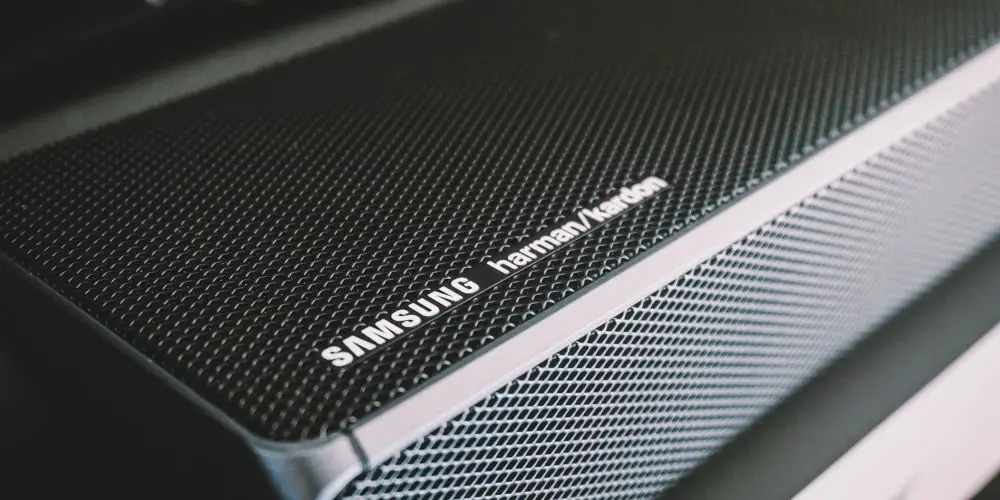 Using a soundbar with your TV can elevate your viewing experience. You could even use one with a projector and get a superb yet basic home cinema set up. Samsung current offers 28 different soundbar options, making finding the best Samsung soundbar for your home quite tricky.
After researching the range, we've picked out five products that are excellent options for your home. Each offers a different solution to improve your TV's poor sound, and range from under £100 to nearly £1,000!
Our five best Samsung soundbars include a budget option, one that's ideal for TV watching, another that's excellent for gaming, and two designed for surround sound both are ideal for watching movies. One uses virtual technology, while the other is a full 5.1 speaker set up.
Hopefully, at least one from our list will be the best Samsung soundbar for your home. If you haven't purchased a soundbar before, start with our soundbar buying guide.
Best Value for money: Samsung T400 2ch Soundbar
Samsung T400 2ch Soundbar with Bluetooth is highly affordable with a price tag below £80. Measuring 64 cm in length, it's compact and ideal for most TVs, yet can be wall-mounted, if you so wish. Offering 40 watts of output, it has plenty of volume on tap.
As a budget option, inputs are quite limited. It only offers a single optical input. It might not work for your TV if you only have a headphones output. That said, it does work with Bluetooth, allowing you to stream music from your phone or tablet, or even your Samsung TV.
There is a USB port on the rear, that you can use to play music from a memory stick. However, we're not a big fan of having such inputs hidden, particularly as you should have quick access to it. Not great if you wall-mount the soundbar but still want to enjoy music from a USB device.
Easily control the T400 soundbar using the four buttons (volume up/down, source, power) on the right-side panel control. You could instead use the included remote, you do need to supply the batteries! If you're using a Samsung TV, use the remote to control the soundbar.
The Samsung T400 Soundbar produces a balanced sound across the frequency range that's slightly better than the average TV's speakers. It is not world-changing but is a solid option.
Best virtual surround sound: Samsung HW-S50A 3ch Virtual DTS:X Soundbar
In some homes, you don't have the space for a 5.1 surround sound system or the patience to install and configure six different speakers. Thankfully, we have the technology to emulate surround sound and the Samsung HW-S50A Soundbar is a prime example.
Unlike the majority of soundbars that are only available in black, the Samsung HW-S50A comes in a cool grey hue that adds an element of sophistication. Offering 140 watts of output across its three channels, it has plenty of volume. Plus, it comes with a wall mounting kit.
With a quick glance, you'll see control buttons and LEDs on top. On the rear there is a USB port, Optical input and HDMI ARC port, allowing you to easily add this soundbar to your TV. It also works with Bluetooth. The remote is equally sleek, covering the basic options and a few extras.
The HW-S50A has 2 woofers and 5 tweeters built into its slender frame, so it delivers a rich sound across the entire frequency spectrum. The 3-channel design improves dialogue as the central speaker is specifically optimised.
What's more exciting is the built-in software, namely the Virtual DTS: X 3D Surround Sound. Enjoy a professional cinema sound experience at home without needing a lot of equipment and for a fraction of the cost.
The Samsung HW-S50A Soundbar is compatible with Samsung Wireless Subwoofer and Wireless Rear Speaker Kit (both sold separately). So if you want to, you can build an excellent surround sound speaker set up at your own pace and without needing piles of cables.
Best for cinema room: Samsung HW-Q950A Dolby Atmos Soundbar with Rear Speakers and Subwoofer
The Samsung HW-Q950A isn't your average surround sound package and comes with a price tag to match! Ideal if you're just starting to explore building a home cinema or want to turbocharge how your main TV sounds.
The package comprises of a soundbar, an 8-inch subwoofer and two rear speakers. The Samsung HW-Q950A delivers the world's first true 11.1.4ch surround sound, allowing you to experience audio like never before. Enjoy 3D object-based sound thanks to built-in Dolby Atmos and DTS:X.
Regardless of what you're watching, you'll feel like you're in the middle of the action with a truly immersive 3D sound experience. Hear planes fly overhead, dramatic explosions, and even the faintest of crowd noise in stunning detail.
In addition to 2 HDMI inputs (one of which is HDMI ARC) and an optical input, the Samsung HW-Q950A has Wi-Fi built-in, allowing you to connect wirelessly to your TV. It also has Bluetooth, AirPlay 2 and Tap Sound. You have plenty of options to easily enjoy media from several sources.
The subwoofer has a built-in microphone to ensure sound settings are automatically optimised and calibrated to match the sound field of your room for a more superior sound and tone.
Thanks to Samsung's Q-Symphony, this system works in perfect harmony with your Samsung TV by synchronising together to play sound simultaneously from both your Samsung TV* and soundbar. Plus, you can control both using Alexa, which is built-in to the soundbar.
Use Samsung's Smart One Remote Control to operate both your soundbar, TV, and set-top boxes. You shouldn't have to deal with the frustration of multiple remotes!
Best for gaming: Samsung HW-Q800A 3.1.2ch Dolby Atmos Soundbar
With a dedicated Game Mode Pro and built-in Dolby Atmos, the Samsung HW-Q800A soundbar and subwoofer package offers 3.1.2ch surround sound for your home. It even has Amazon Alexa built-in for hands-free control! Perfect for gaming, movies or TV watching.
The HDMI ARC (Audio Return Channel) input allow you to enjoy Dolby Atmos and DTS:X formats for a truly cinematic surround sound experience. Combine this with Samsung's market-leading technology, and you'll enjoy a new level of 3D surround sound.
Delivering 3.1.2ch sound as the Samsung HW-Q800A uses multiple, custom-designed speakers. Add to this the superb subwoofer, and you have the ideal package for pure and precise directional sound.
The 3-channel soundbar has a dedicated built-in centre speaker that elevates dialogue and use an 'Active Voice Amplifier' and AI to ensure you hear every conversation and every whisper.
Samsung's Acoustic Beam technology mixes and delivers the sound, providing another level of sound realism, making it perfect for movies and gaming. You'll enjoy the realistic panoramic sound experience.
Game Mode Pro configures automatically and creates a dynamic sound dedicated to an extraordinary gaming experience. Be the best gamer you can with the right environment.
If you prefer not to use yet another remote, then synchronise the HW-Q800A with your Samsung TV and use a single remote control for both. With Alexa built-in, you don't even need a remote! Simply, activate the soundbar using voice commands. Leave your hands on the controllers!
Add SWA-9500S wireless rear speakers and enjoy an enhanced cinematic experience complete with 3D sound. These wireless speakers take minutes to set up, and they use no wires! Ideal for a minimalist look
Best for TV watching: Samsung S60A 5ch Soundbar
Sporting a contemporary design, the Samsung S60A 5.0ch Soundbar is available in black and grey. Connect this wireless soundbar to your TV with Bluetooth or Wi-Fi. You could, instead, use the HDMI port. All of these options provide you with the best possible sound.
Enjoy music from your smartphone or tablet using Bluetooth or seamlessly connect your iPhone with AirPlay 2. The S60A also comes with Tap Sound enabled, allowing you to transfer your music with a simple tap.
Built using 7 custom-designed speakers, you can enjoy room-filling sound. Dual-sided horn speakers combined with Samsung's state-of-the-art Acoustic Beam technology further enhance the audio you hear.
Experience crystal clear dialogue thanks to the built-in centre speaker. You'll never miss a word or a whisper! The onboard Adaptive Sound technology ensures you'll always hear the best sound with each scene optimised by AI Sound.
Enjoy a natural sound suitable for any use with this harmonious all-in-one compact soundbar solution that can be placed anywhere thanks to its seven built-in speakers.
While you can control it using a remote, enjoy hands-free voice control of your soundbar with Amazon Alexa built-in! You'll never have to look for the remote again!
For the full 3D sound experience, you can painlessly add the SWA-W500 subwoofer for deep rich wireless bass and wireless rear speakers to your soundbar. Both are available separately but allow you to create surround sound that's perfect for movies without needing lots of cables.
But, which is the best Samsung soundbar for your home?
Our standard disclaimer applies. Before buying any of the units we've covered, check what cables come included. If you don't, it might take a few extra days to get your new soundbar set up, as you'll have to order the right cables. So double-check the cable situation before buying!
As picking the single best Samsung soundbar is tricky, we decided to show you five options that all excel in different situations. Within our five, you should find at least one option that's suitable for your home and TV set up.