Is Samsung SmartThings home automation life changing?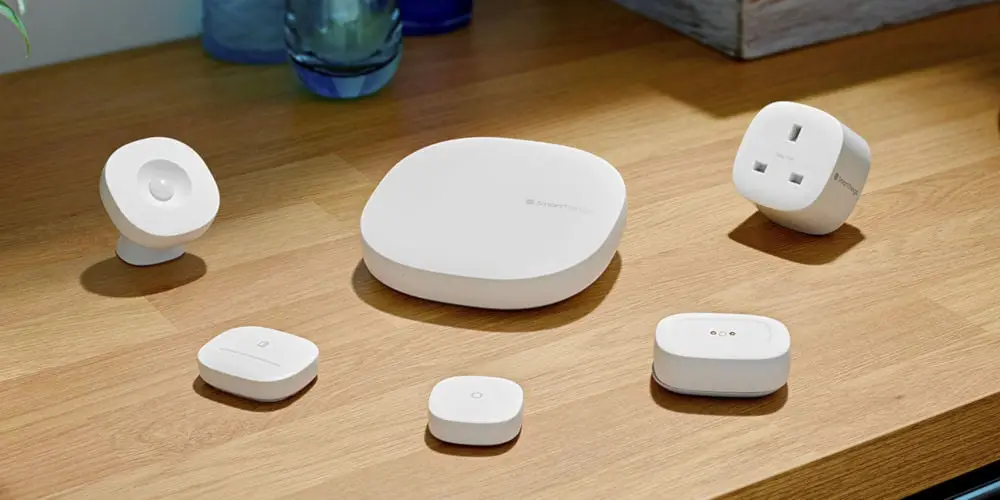 As a relatively new entry to the smart home arena, Samsung SmartThings home automation system offers a unique perspective. Combining their own technology with Z-wave and Zigbee protocols enables easy integration with thousands of products.
Samsung continues to roll out SmartThings within its existing product line. Creating a truly smart home is now more possible than ever.
Thanks to Samsung's investment, it's now possible to control basics such as lights, power and heating as well as your TV, clothes washer and even fridge! Not to mention controlling your robotic vacuum cleaner!
If you're looking for a future proof home automation system from a world-leading company, then a Samsung SmartThings home automation system might be for you!
SmartThings history
As with most tech companies, SmartThings started as a response to a real-life problem. Co-founder Alex Hawkinson's Colorado mountain home was extensively damaged after a power outage. This cause the house's pipes to freeze and burst. When the electrics was restored the property was flooded with water.
Reasoning that this damage could have been avoided by using the right technology, Hawkinson set about looking for a suitable solution. After failing, Hawkinson and co-founders started SmartThings.
Fast forward a few years and Samsung acquired the start-up for $200 million. This was widely seen as Samsung to move into the Internet of Thing (IoT) space and thus provide customers with a fully integrated and automated home solution.
System overview
Sitting at the heart of the Samsung SmartThings home automation system is a hub that sends and receives commands from up to 231 linked devices. The hub connects to a Wi-Fi router, allowing devices to be controlled from anywhere in the world either using the SmartThings app or online portal.
The SmartThings range includes power socket, light switches, heating control and sensors. Many new Samsung products already have the technology built-in, allowing you to integrate them into your smart home.
What Makes the Samsung SmartThings home automation system incredible powerful is that it also works with any Z-Wave or ZigBee devices. At the last count, for Z-Wave alone, there are over 5,000 products that use their chip and allow seamless integration.
In short, if you want to be able to remotely control an element within your home, there will be at least one solution. Plus, the cost of SmartThings is highly affordable.
Starting simple with Samsung SmartThings
One of the best places to start is with the Samsung SmartThing starter kit. Included in the set is a Hub, Power socket, 3 Sensors (2 multi-purpose, 1 motion sensor). While it offers a fairly basic level of control, it's an affordable way to see if the system is right for you.
If that doesn't appeal, then we'd recommend starting with a single feature such as 3-pin plug sockets in one room. In addition to the hub, you would need to purchase power sockets.
After a few weeks, you can start to expand the feature across your property as you feel confident. With one feature up and running, you can add another. Again, it's best to start in a single room, work out any issues and then expand.
Unless you have plenty of time or are upgrading an existing smart home system, we don't recommend installing everything at once. As with any DIY task, it's never as easy or smooth as you think! It's best, therefore, to give yourself time to adjust to the new system and let it grow with you.
Creating your SmartThings smart home
With your hub powered and connected into your Wi-Fi router, let's explore some basic functions that you may want to automate as well as some nice extras. You'll quickly see how powerful a SmartThings smart home can be.
Power
Controlling hard to reach or often used power socket is a great place to start. SmartThings uses plug-in-and-play devices that take seconds to install. While they don't look as seamless as Lightwave's retrofittable units, there's no DIY involved.
To add or 'pair' a new power socket, connect it into a socket near the hub and use the app to locate and include the socket into the system. Once paired, you can move the socket to the correct location.
Lighting
While Samsung doesn't offer bulbs or light switches, there are plenty of solutions available that work with the Z-Wave or Zigbee protocols. View our top picks for Samsung SmartThings bulbs.
Top of the pile is Philip smart bulbs, which have a colour range of 16 million hues and has the smart chip built-in. Within seconds, bulbs can be swapped and you can keep your existing switches.
If you would like to upgrade your switches, need special bulbs or have LED strips, then you use either Fibaro dimmer 2 or Aeotec Nano Switch. Both retrofit behind your existing light switch meaning you can keep the appearance constant.
Again pairing any of these products into a Samsung SmartThings home automation system is straight forward and involves the app.
Heating
In terms of heating, SmartThings have partnered with Honeywell and a newer brand Netatmo. The choice depends on the level of control you want to have and budget.
For basic control, use the Honeywell Programmable Thermostat Lyric. This replaces your current thermostat and provides seamless control over your boiler. We'd recommend this route if you live in an apartment or a new build, which retains heat well.
If you want control over each radiator and have the budget, then consider using a Netatmo system. They offer a smart thermostat and smart TRV valves, which retrofit to radiators. Combining these two elements enables you to control your heating room by room.
As both systems use Z-Wave, they are easily integrated into a SmartThings automation system. If the Netatmo system appeals but you don't yet have the budget to change all of your TRVs, then start with their thermostat and build the system as you have the money.
Home security
One of the main reasons to install a smart home system is security. While other brands offer a basic solution forcing you to choose between systems or compromising, Samsung SmartThings doesn't disappoint.
The SmartThings product range includes several sensors covering ones that detect motion, water and opening door/windows. For example, you could add a Multi-purpose Sensor to your front door and be notified each time it's opened/closed as well as check the temperature.
While these might not be that exciting, SmartThings also offer security cameras enabling you to check on your property from anywhere. They also offer a smart doorbell, which has a camera and two-way audio.
Several Yale smart door locks are compatible with the system, meaning you can remotely see and talk to any who rings the doorbell and let them in. You can, of course, set the system up to start to record when it senses motion, meaning you can catch burglars in the act!
Home cinema and media
What sets the Samsung SmartThings universe apart is Samsung's willingness to include into a range of their products. Since 2016 most TVs have been at worst able to be controlled by the system and at best can act as a hub. No other smart home brand offers thing level of integration.
In addition to TVs, Samsung have started to roll out products with SmartThings built-in including a Blu-ray player and 3 Soundbars.
Add to this integration with SONOS and BOSE product and you can easily create a home media set-up worthy of watching movies with near cinema quality.
Control
The main way to control a SmartThings home automation system is using their app which is available for iOS devices and Android devices. Samsung regularly updates their apps and use customer feedback to inform these changes.
If you have a Samsung Galaxy phone, then you can use Bixby to control your smart devices by voice. Also if you have a Samsung Smart Watch, you can use this as a control device. Using the app, you can create scenes and automations.
Any issues with SmartThings?
As a Wi-Fi based network, some have experienced drop-outs or poor signals. Sometimes this is due to the position of the hub or the thickness of the walls.
This is one of the reasons why we recommend starting with a single function in one room. As you add functions or expand into other spaces, you can take a pragmatic approach and sort small issues before they become major.
You can add a secondary hub if you have a large property to boost the signal. But it's worth trying to place the hub as central as possible.
Some devices can fail to pair with the hub. Sometimes this is a temporary problem and they can be eventually found. Another common pairing issue is the device's pull-tab hasn't been completely removed. If the LED is flashing then you're fine. If not, inspect where the pull-tab was and clear it.
Early February 2020, they rolled a new SmartThings app which, of course, had many bugs. Samsung did roll out a minor update to fix some of the issues. That said, they offer superb customer service over email.
As a system which blends multiple manufacturers, you might find that two brands don't work well together. Thankfully as Z-Wave enabled products are plentiful, you should be able to find devices that get on.
Finally, in comparison to Lightwave, many user-facing devices look cumbersome. For example, plug-in-and-play 3-pin sockets are more user-friendly, yet they don't have the same aesthetic as retrofittable one with the technology built-in.
Can I use … with Samsung SmartThings?
Lightwave
Yes but only via IFTTT as the two systems are separate ecosystems. You might like to read our comparison of Lightwave vs Samsung SmartThings to learn about the differences between the two smart home systems.
Fibaro
As both Samsung SmartThings and Fibaro use the Z-Wave chip, they are compatible and interchangeable. That said, SmartThings also works with Zigbee making it a unique offering.
For more, see our comparisons: Fibaro vs Samsung SmartThings and Z-Wave vs Samsung SmartThings.
IFTTT
The entire Samsung SmartThings home automation system is ideal for using with IFTTT, which is fantastic for interfacing with older Z-Wave devices and other home automation system such as Lightwave.
For more read our introduction: Does Samsung SmartThings work with IFTTT?
Sonos
As a partner brand, Sonos smart speakers works out of the box with Samsung SmartThings as does Bose Audio devices.
Amazon Alexa / Google Home
You can use Bixby voice recognition software if you have a Galaxy smartphone. Out of the box, SmartThings works with both Amazon Alexa (read our guide), Google Home and Google Assistant (see how SmartThings compares to Google Home).
Siri/Apple HomeKit
As HomeKit and Siri are exclusive to Apple, they don't work with SmartThings. That said, we've compared HomeKit vs SmartThings to help you decide between them.
Robotic Vacuum Cleaners
Samsung produces a robotic vacuum cleaner (VR7000), which seamlessly works with a Samsung SmartThings home automation system . Several other robovacs can be integrated using ITFFF just as long as they have onboard Wi-Fi.
Household Appliances
There are several Samsung washing machines that have been built using SmartThings technology such as Samsung AddWash™ ecobubble™ WW10N645RPW.
Thanks to SmartThings, Alexa can control your Samsung TV as many newer units have the technology built-in.
The future of Samsung SmartThings home automation
As Z-Wave and Zigbee continue to grow, so will the Samsung SmartThings home automation ecosystem. We're excited about the roll-out of the technology within the existing Samsung range.
They do offer fridges in the USA and hopefully, this range will become available in the UK as this will be an exciting item to add our homes.
With Samsung investment and it's Z-Wave capabilities, we predict that the Samsung SmartThings home automation system will be around for years to come. If you're considering automation your property, SmartThings should be on your list of brands to explore.