Samsung HW-Q60T soundbar review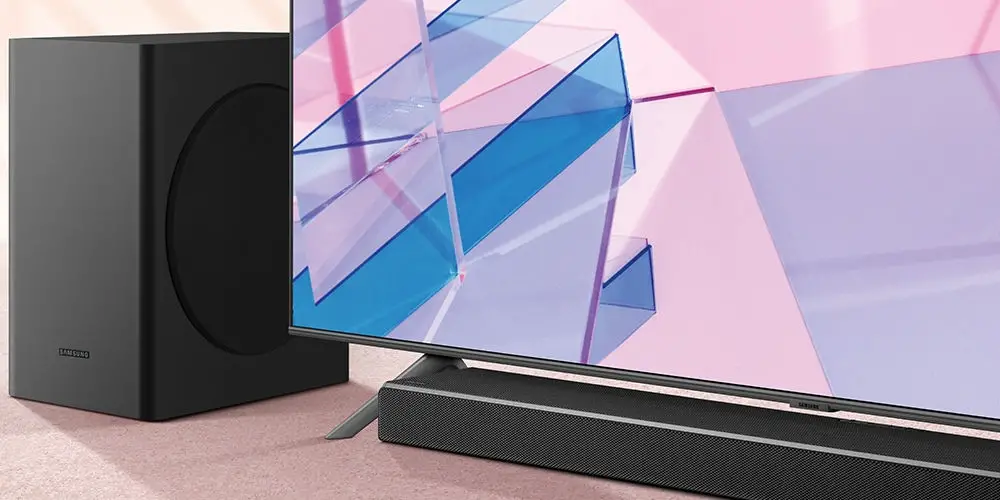 Delivering an impressive home cinema experience, the Samsung HW-Q60T consists of a soundbar and a subwoofer. Complete with Acoustic Beam technology, this soundbar package offers virtual DTS:X 3D surround sound that's ideal for movies, TV and gaming.
Connecting the Samsung HW-Q60T couldn't be easier as it offers both HDMI and optical inputs as well as Bluetooth. Plus, switching between inputs is simple, allowing you to enjoy a variety of audio at the touch of a button.
As a Samsung product, the HW-Q60T is best paired with a Samsung QLED TV to allow you to access all of the soundbar's features. That said, the HW-Q60T will improve the sound of any TV.
The HW-Q60T features Samsung's unique Acoustic Beam technology, which uses 56 holes that act as individual speakers to create the ultimate audio experience. Another unique feature is Adaptive Sound, which automatically enhances voice clarify at low volumes using AI sound.
If you're not a fan of needing multiple remotes and are using a Samsung TV, you can use Samsung's Smart One Remote Control, which can control several media devices at once.
When you're ready for the complete cinema experience, simply purchase Samsung SWA-9000S Wireless Rear Speaker Kit. It takes seconds to instal these speakers as there are no wires and they are highly flexible.
The Samsung HW-Q60T soundbar is ideal for pairing with a projector for a basic home cinema set up. 9/10
Pros
360 watts of output
Virtual 3D surround sound
Works with Samsung SmartThings
Cons
Some subwoofers have developed a hissing sound
Design
Sporting a boxy design, the Samsung HW-Q60T consists of a soundbar and wireless powered subwoofer.
The soundbar measures 98 cm in length, making it ideal for a 40-inch TV screen. On the top of the soundbar is four buttons that allow for basic control of the unit. These include power, source, and volume up and down.
On the rear of the soundbar are two HDMI ports, optical port, USB port and power input. These are split between two recessed panels, allowing you to easily mount the soundbar on a wall using the included mounting kit.
Moving to the subwoofer. It's of a decent size yet doesn't create an eye-sore. As a wireless unit, it only needs mains power to work. You can play with its position to find the sweet spot without worrying about cables.
Finally, the remote. It's uncluttered and contains only the essentials. There are controls for the overall volume and a separate subwoofer volume control, power on/off, source selection and Bluetooth pair button. A mute button and two sound mode buttons are also available.
There are Bluetooth track buttons, allowing you to control media without needing to find your smartphone. These controls allow you to skip tracks, repeat a song and play or pause music.
Features
Despite the minimalist look of the Samsung HW-Q60T, it offers a range of superb features from virtual DTS:X, Samsung's Acoustic beam Q-Symphony and technologies and Bluetooth Multi Connect. The subwoofer completes the package, offering fantastic surround sound.
At the heart of the HW-Q60T is Samsung's unique Acoustic Beam technology, which has 56 holes that act as individual speakers. The Acoustic Beam technology evenly disperses sound around your room for a more immersive experience.
If you often struggle to hear dialogue when watching TV, you'll enjoy using the Q60T. It uses AI to automatically enhance voice clarity at low volumes. You should be able to hear every syllable without constantly adjusting the remote.
Enjoy 3D surround sound when watching movies thanks to the built-in virtual DTS:X, which simulates a cinematic experience including overhead sounds while ensuring dialogue remains clear.
If you're using a Samsung QLED TV and plan to add the HW-Q60T, you can enjoy the Samsung Q Symphony technology. Your devices work in perfect harmony by synchronizing together to play sound simultaneously from both devices. Enjoy better sound without any complicated set up.
Aside from the optical input and HDMI ports that offer 4K HDR10+ pass-through, the Samsung HW-Q60T soundbar offers Bluetooth Multi Connect. Connect up to two devices simultaneously to your soundbar using Bluetooth and switch between them in seconds.
As with other Samsung soundbars, the HW-Q60T works with Samsung's One Remote, allowing you to swap multiple remotes for a single universal controller.
Set-up
Getting started with the Samsung HW-Q60T is simple. After removing the soundbar and subwoofer from the box, it's best to get them working before mounting the soundbar on the wall and positioning the subwoofer.
How you supply the soundbar with audio depends on what other equipment you're using. You can connect the soundbar directly to your TV using the included HDMI cable.
If you're using a Blu-ray player and projector, you could wire the media player to the HW-Q60T using an HDMI cable. A second HDMI cable could connect the soundbar to your projector. You could, instead, use an HDMI cable from your Blu-ray player to projector and an optical cable for audio.
With the soundbar connected to mains power and audio, we can turn our attention to the subwoofer. After plugging it into the mains, switch on both units. They'll automatically pair. When successfully paired, you'll see a blue LED light up the rear of the subwoofer.
After completing the basic set up, you'll want to play some music or a movie to test how the HW-Q60T sounds in your room. Ideally, you'd position the soundbar under the screen. You have more flexibility with the subwoofer and can experiment with a few different placements.
If you're happy, you can experiment with the different sound options using the remote. You might want to try playing music over Bluetooth or if you're using a Samsung phone, use the Tap Sound feature. By now, you should be set up and ready to enjoy using your Samsung HW-Q60T!
Performance
The Samsung HW-Q60T is easy to use and sounds fantastic overall. Even though it offers virtual 3D surround sound using DTS:X, it doesn't compare to a 5.1 system. However, if you have the budget, you can buy additional wireless rear speakers and complete the package.
If you want a proper 5.1 surround sound system, consider the Sony HT-S20R, which is more complex to install and configure but uses six speakers to deliver an immersive 3d experience. That said, the Samsung HW-Q60T is a superb starting point.
As it uses AI to adjust the volume of dialogue, it's easy to hear everything on the screen, even at low volumes. At higher volumes, it comes into its own. The Acoustic Beam technology creates an exciting audio experience for movies, gaming, sports and TV.
We like the dedicated subwoofer volume control on the remote as it allows us to balance the sound for the content without having to suffer from poor bass. The subwoofer provides a powerful low-end that's ideal for reproducing rumbles and explosions in movies.
Away from the core functions, the Bluetooth Multi Connect feature and Tap are good features, but ones that won't necessarily be used that often.
Is the Samsung HW-Q60T soundbar worth buying?
Balancing essential features with superb sound, the Samsung HW-Q60T soundbar is well worth buying. It pairs well with TVs of all brands and projectors yet is flexible enough for a living room or home cinema.
Despite using some advanced technology, it doesn't compare to a 5.1 surround system. However, the virtual DTS:X is a welcome addition that gets close. Also, if you want the complete surround experience, you can buy wireless rear speakers that take seconds to install.
Putting that to one side. The Samsung HW-Q60T offers two wired inputs (HDMI and optical) and several wireless options, including Bluetooth. So, you can easily connect the soundbar to TVs, media players and more. The Bluetooth and Tap Sound features probably won't be used that much.
It offers a few different modes, allowing you to fine-tune the sound for the content. Plus, the remote has a subwoofer volume control, allowing you to adjust how much bass you want to hear.
If you're using the HW-Q60T with a newer Samsung TV, you should be able to access the Q Symphony feature and connect the soundbar wirelessly to the TV. Also, if you're using several Samsung devices, you can use their universal remote.
Overall, the Samsung HW-Q60T is a fantastic soundbar and subwoofer package that's worthy of your consideration. 9/10