DIGGRO KK320 robotic vacuum cleaner review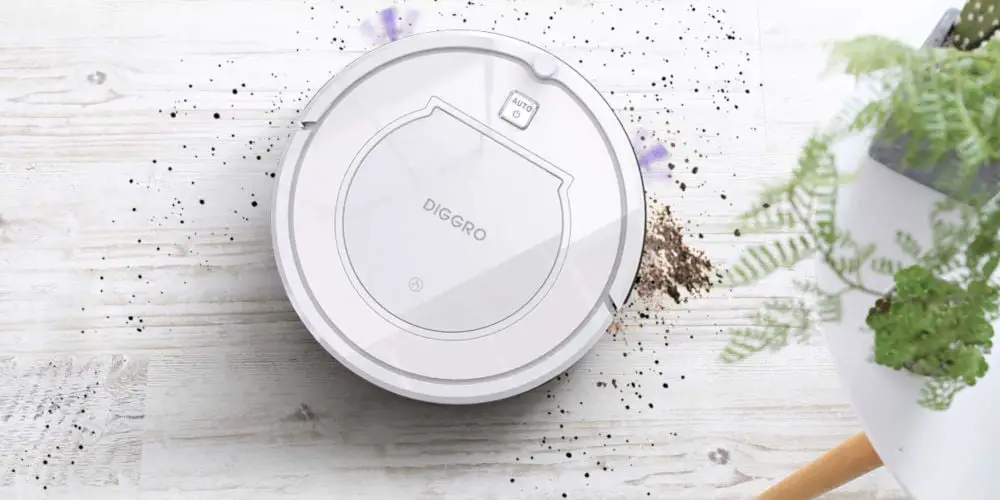 If you're looking for a highly affordable robovac that offers a range of essential functions, then it's worth considering the DIGGRO KK320 robot vacuum cleaner. It'll only set you back .
The KK320 uses an exciting colour combination of white, charcoal grey and purple.
A Li-ion battery sits at the heart of the unit and provides 1 hour of cleaning when fully charged. When the battery is low, the KK320 automatically docks for recharging.
The unit's low noise motor creates 900 Pa of suction. So it's quiet yet has enough power to clean even tough stains. Two side brushes sweep dust and dirt into the 0.3-litre dustbin.
With 4 cleaning modes, the DIGGRO KK320 robovac is flexible and navigates in a methodical pattern, making sure each millimetre is vacuumed.
As a budget-friendly robotic vacuum, the control options are limited to a remote or buttons on the unit. Overall the DIGGRO KK320 Robotic Vacuum Cleaner scores 6/10.
Pros
4 cleaning modes
Low noise
Slim design
Cons
No app or smart home integration
Can struggle to navigate between rooms
Tiny 330ml dustbin
Design
Normally any discussion of robotic cleaner colours would be unremarkable and could even be seen as condescending. However, the vast majority of robotic vacuum cleaners have a dull, remarkable charcoal grey finish.
On the other hand, DIGGRO KK320 robotic cleaner uses an exciting combination of colours. The white case colour provides a subtle contrast over the charcoal grey of the underneath.
The vibrant purple brushes add interest and make the unit easy to spot from a distance.
The classic circular design feels familiar and is 32 cm in diameter by 8.5 cm in height. So the KK320 can easily fit under most furniture, reaching places you can't normally. At 2.8 kg, it's light and easy to move.
Starting with the top, the sleek design includes an infrared sensor, power and start buttons, as well as a door to the dustbin.
On the front of the KK320 robotic cleaner is a bump sensor, which is a part of the onboard navigation system. This charcoal coloured sensor extends around half of the unit. Also, the side contains a power input.
Turning the unit over reveals the 3 wheels which propel the recharging robotic cleaner. Two changeable purple brushes sweep debris into a suction channel and on to the dustbin.
Features
For just under £100, you might expect the DIGGRO KK320 to be light on features. Thankfully, that isn't the case and specifications are comparable to other, far more expensive units.
The KK320 uses a 1200mAh Li-ion battery, which charges in 4 hours. Once charged, the unit has a run time of around 60 minutes. As we've mentioned in other robovac reviews including the Eufy Robovac 11s, this ratio is important.
While not the best charge to use ratio, a full charge should adequately enable the unit to clean your entire house. And therefore having to wait 4 hours for the DIGGRO KK320 to fully charge isn't a major deal-breaker.
When the unit has less than 20% of battery charge remaining, it will automatically navigate to its dock and start to recharge.
The battery powers a motor and a working noise level of under 60dB. You can easily set the robovac going while watching TV and hardly notice it.
In terms of suction power, the KK320 provides 900 Pa. While this is less than other robotic vacuums, it still packs a punch and is unlikely to majorly affect performance.
What does impact the unit's performance is the dustbin. At 0.3-litre, it's very small and will require emptying more frequently than others. You might find that there's only enough space to clean a single floor.
Two purple two side brushes to sweep dust and dirt into the suction channel and to the dustbin. Sensors are located near these brushes, which enable the unit to avoid dropping down steps and hitting objects.
Finally, the DIGGRO KK320 comes with a 1-year warranty.
Set-up
Setting the DIGGRO KK320 is quite easy. Firstly place the dock near a mains plug and clear any objects within a metre of either side.
Secondly, you'll want to attach the filters to the dustbin and then put it in the unit. Next, attach the brushes. Finally, charge the KK320 for around 4 hours.
Once charged, it's best to use the default cleaning mode for the first time. We'll explore all 4 modes in a moment, but for now, we'll keep it simple.
The benefit of using the default mode is that the unit automatically switches on in this cleaning mode and so you can hit the clean button and don't need the remote to start the first vacuum.
As the KK320 doesn't map rooms, it does use sensors to track where it is within the property and navigate around each room while avoiding objects. Due to its slim design (8.5 cm tall), the sensors are also used to navigate under furniture.
It's worth watching during the first few vacuums; if only to check it's operating correctly and doesn't destroy any lose cable you've forgotten to clear away.
Modes
With 4 cleaning modes, the DIGGRO KK320 is flexible.
Powerful mode turbo-charges the KK320 and provides more power suction. If you have tough stains or plenty of pet hair, this mode will ensure your floor is thoroughly clean.
The default Automatic mode provides a consistent clean across your home and is ideal for day to day vacuuming.
In Edge mode, the KK320 tracks the wall while providing a deep clean to the outer area. The unit as standard will navigate around and under objects while vacuuming.
Random mode might at first seem unusual. However, it's ideal for ensuring all stains are removed and the flooring is very clean.
Performance
As navigation is very important, it's worth talking about how the DIGGRO KK320 travels. It uses multiple sensors to feel out walls, objects and steps.
With no mapping function, it will always seem to move in a clunky way, regardless if it's vacuumed that room once or a hundred times. That said, most robotic vacuums suffer in this regard.
Sometimes the KK320 can't seem to find the doorway and so either gives up or keeps trying in order to return to the dock. That's why it's worth watching it vacuum the first couple of times.
Overall it vacuums consistently and each of the four modes offers a different yet useful function. However, the biggest let down is the tiny dustbin. You'll need to check the DIGGRO KK320 after every usage and might find it doesn't have enough room to vacuum an entire floor.
Of course, it will dock when full and start to charge. However, there's no indicator to alert you that the dustbin is full. So it's hardly set and forget.
Finally, it's worth touching on control options. For the price, if you're expecting an app or smart home integration, then you'll be disappointed. Equally, if you're looking for a robovac you can set on a schedule, then the DIGGRO KK320 isn't for you.
What it does offer, is simple control via 2 buttons on the unit and an easy to use remote. Again for the price, these options are too expensive to include.
Is the DIGGRO KK320 worth buying?
Given the DIGGRO KK320 has a highly affordable price, it's a fantastic entry point if you're looking to automate key tasks in the home.
If you're looking at upgrading from another entry-level robovac, then we would advise considering the iRobot Roomba 671. It is double the price but offers more functions then DIGGRO KK320.
So what don't we like about the KK320 robotic vacuum cleaner?
Like most robovacs, it uses sensors to navigate, so moves in a clunky way. While it should be able to sense objects before it bumps them, it does occasionally lightly hit some objects.
The dustbin lets the unit down and is a comparable size to the iRobot Roomba 671. The lack of capacity in our opinion comes down to it being top-loaded. We think this reduces the space available and so directly impacts the dustbin's size.
The control options are basic (on unit and remote) and you have no smart way to block spaces other than to shut doors. However, for the price, you can't fault it. Neither should the lack of scheduling surprise you.
Several elements stand out for the right reasons.
Firstly, the battery, while charging time is quite long, it does provide a run time of an hour when charged. It'll likely the KK320 can clean your property within this time frame with some battery left over.
One element that did surprise us was the modes. it has 4 different modes, each is different and worthwhile. It's not something you would expect to see on a budget model.
While the DIGGRO KK320 Robotic Vacuum Cleaner scores 6/10, we would recommend it as your first robovac as it packed full of features and highly affordable.