Eufy RoboVac 11S review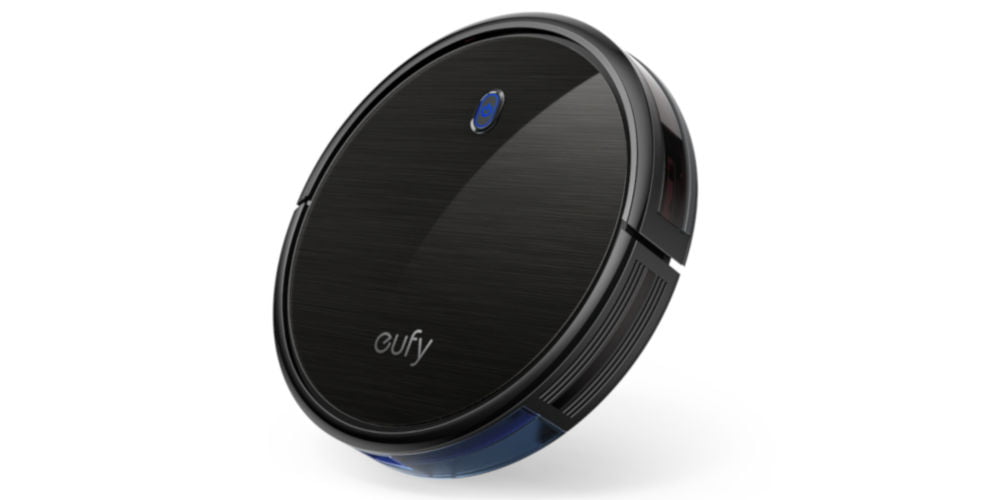 Eufy RoboVac 11S  cleaner is an updated and slimmer version of the 11 that we covered in our Top 10 best robotic vacuum cleaners.
As a mid-priced robotic vacuum, the Eufy BoostIQ RoboVac 11S manages to balance an impressive 1300Pa of suction power without producing a ton of noise.
The new, slimmer body measures 7.24 cm (2.85 inches), means the unit can happily glide under furniture for a more comprehensive and deeper clean.
Eufy's BoostIQ Technology ensures that even tough stains are removed and that the ideal amount of suction is used for the job.
Designed to allow you to set and forget, the Eufy RoboVac 11S navigates using infrared-sensors, which keep it from bumping into objects or falling down steps.
It also automatically recharges and when full, provides up to 100 minutes of vacuuming. So it's always ready to go when you need it.
Overall the Eufy RoboVac 11S Robotic Vacuum Cleaner scores 8/10.
Pros
Multiple cleaning heads for an deeper clean
Works across many flooring types
Quiet when in use
Cons
Some users have had docking issues
Brushes wear out quickly
Several units have died within a year
Design
The first thing you'll notice about the Eufy RoboVac 11S is how small it is. At just over 7 cm, it'll glide around different flooring types and under furniture such as beds, side tables and even sofas.
The circular design is pleasing to look at and so is the interplay of the black and blue colours. While you might not notice it, the top is made of anti-scratch tempered glass. This protects the unit while at work and is a high-end feature not usually available at this price point.
As we move down the body, it's equally as sleek as the top. You'll notice that the sockets are recessed for added protection. The front bumper includes an infrared sensor, which forms part of the unit's navigation system.
On the rear sits the large 0.6 Litre collection box, which is easily released by pushing the blue button. Emptying the 11S takes seconds and doesn't require tools.
Turning the unit over, there's a lot going on. Firstly, there are 3 wheels which move the unit. Complimenting the main rolling brush are two swivel brushes at the front. These ensure any debris is removed from your floor.
The bottom also contains the drop sense, battery, power switch and charging points.
The dock plugs into the mains and sits on the floor as the Eufy RoboVac 11S auto-charges. Finally the remote control is fairly straightforward to use and runs on the 2 included AA batteries.
Features
The Eufy RoboVac 11S is powered by a 2600mAh Li-ion battery which takes between 5 and 6 hours to charge. When fully charged, the 11S will run for around 100 minutes (or 1 hour and 40 minutes). So the ratio between charge to use is 1:3.
It's always worth considering this ratio with any battery tool as you want to select the lowest. A higher ratio is likely to frustrate you as no one like to watch batteries recharge! A ratio of 1:3 is pretty good.
As you might expect the 11S automatically docks when the battery is low and start recharging. Once charged, it'll pick up where it left off.
The Eufy RoboVac 11S produces 1300 Pa of suction power (or 13 aw) and cleans using a combination of 2 outer swivel brushes and a central brush.
The front swivel brushes push debris into the main brush, which is then sucked into the dustbin. At 0.6 litres, it's one of the largest dustbins of any robovacs available. You'll spend less time emptying it and the 11S will spend more time cleaning!
In terms of navigation, the unit moves on wheels, guided by a sensor and is reactive to the bumper at the front. There's also a drop sensor on the bottom, which protects the unit from falling.
Finally, the Eufy RoboVac 11S robotic vacuum cleaner comes with a worry-free 12-month warranty.
Set-up
Setting up the Eufy RoboVac 11S robot vacuum cleaner is straight forward as you don't need to do much. Start by attaching the swivel brushes and switch the unit on.
Next, place the charging dock on the floor, against the wall and plug-in the mains cable. For optimum charging, you'll want to clear any objects within a 1 metre of the base.
As the battery is pre-installed, the final step is to ensure the unit's charging pins are aligned with the base and is charging. The first charge will take around 5 to 6 hours.
With the unit charged, we can control it in 2 ways. Firstly on the unit and of course, using the remote control. Sadly, it doesn't integrate with any home automation system or with Google Home or Amazon Alexa.
While there are 4 cleaning modes (Auto, Spot, Edge, Single Room), the default is auto. In this mode the 11S will travel between rooms, cleaning as it moves. When it finished or low on battery, it will navigate back to its base and start to recharge.
For the first clean, it's best to run it in auto mode while you're there. It's worth emptying the dustbin and cleaning the filters after the first vacuum, even if it's just for curiosity's sake!
Modes
With the first clean complete, you'll notice the Eufy RoboVac 11S easily moves from carpet to hard floors with ease.
Next, it's a good idea to understand the 4 different modes and experiment with BoostIQ™ feature.
Auto mode is the default and simple travels between rooms vacuuming until it either runs low on battery or completes cleaning. It should have more than enough charge to vacuum the average 3-bed semi. Albeit with a bit of help from you to navigate the stairs!
In Spot mode, the unit intensively cleans a specific area in a spiral pattern for 2 minutes. This is designed to remove tough concentrations of dust or debris.
With Edge mode selected, the Eufy 11S tracks the wall, vacuuming as close as possible for 20 minutes. After the time is up, it'll return to the dock and start recharging.
In Single Room mode, the RoboVac intensively cleans that room for up to 30 minutes. You'll need to check the door is closed and then place 11S back on the charging base after it's finished.
In addition to the 4 modes, the remote has directional buttons, which you can use to modify the unit's direction.
In both auto and single room modes, the BoostIQ™ feature can be used to adjust the suction. There are three options: Standard, Max and BoostIQ. The first two are self-explanatory.
The BoostIQ option automatically switches between standard and maximum suction depending on the flooring type and the type of debris. It's best to leave the 11S with this option active.
Performance
The first vacuum should give you an idea of how the Eufy RoboVac 11S performs, it's quirks and how much suction power it offers.
The first thing you'll probably spot is that the navigation isn't as smart as you'd like to be. This is because the 11S doesn't map and remember rooms. Instead, it uses an front sensor to feel its way around a space.
This also means there's no way to stop it from entering certain rooms without closing doors. While other robot vacuum cleaners use magnetic tape to block off rooms or spaces.
While it navigates in a fairly clunky way, it does sense objects and different heights of flooring. It will automatically adjust when moving from carpet to wooden floor. Plus it continually scans for steps using a sensor on the bottom and avoids falling.
It's worth pointing out that some modes require you to dock the unit in order for it to recharge. Some users have reported issues with the unit not returning to the dock for charging, meaning they'll have to search for it around the house.
What's satisfying about the Eufy RoboVac 11S is you can set and forget it. Setting up a schedule is easy and it'll largely take care of itself. Of course, you'll want to empty it weekly and clean the filters every couple of months.
You can also run the 11S as and when you want to, whether using auto mode or the spot or edge modes. This flexibly is superb, especially if you want to run to the robovac while you're walking the dog or if you have a tough stain.
It's easy to imagine how freeing a robovac can be, especially if, like us, you hate having vacuum!
Is the Eufy robovac 11S worth buying?
If your planning to buy the Eufy RoboVac 11S as your first foray into robot vacuums, then you won't be disappointed.
It's worth pointing out before we get onto the good points, that even though the Eufy RoboVac 11S is largely set and forget, you will need to check it from time to time.
It's worth checking after every use that it has completed its cleaning task and emptying the dustbin, even if it's for peace of mind. You'll probably be surprised how much dust and debris it collects. Unlike most of us, it will clean behind the sofa and under the bed!
Of course, if you run it in single room mode or spot mode, then you'll have to be more hands-on. However, the results speak for themselves and are worth the extra effort.
There's lots of love, the charging to use ratio is fairly good and setting up for the first time is very easy. The manual is easy to follow and uses a mix of text and diagrams.
While the navigation is somewhat clunky and feels fairly basic, it does a good enough job moving around a room without bumping any objects too hard. One of the better aspects of its navigation is the ability to move between different flooring heights and materials. 
If your looking to never vacuum again, then the Eufy RoboVac 11S Robotic Vacuum Cleaner will help you get close. Sad to say, you'll never get completely free of vacuuming!
On balance, the Eufy RoboVac 11S is a fantastic unit and our scores is a strong 8/10.