Epson EH-TW7400 home cinema projector review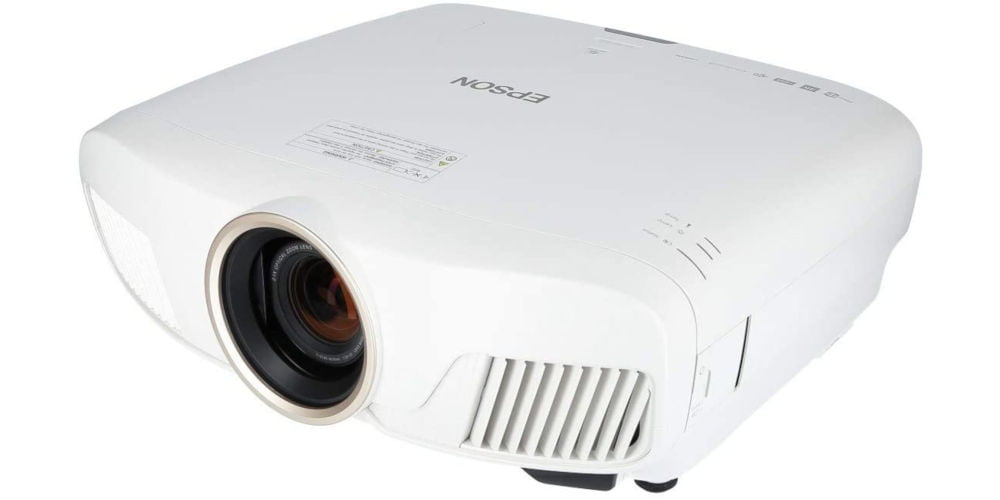 Offering an impressive UHD picture quality, digital zoom and affordable price tag, the Epson EH-TW7400 projector supports multiple formats with ease including 4K, HDR and 3D content.
Using sophisticated enhancement processing technology, the EH-TW7400 takes the native Full HD (1080p) resolution and double the frame rate. This enhancement creates a far more detailed image with stunning, lifelike colours.
While not strictly a 4K projector, even the latest formats appear with deeper colours and details. It is also supports 4K and UHD streaming services including Netflix, Amazon Prime and Disney+.
Offering 2,600 lumens of brightness and long lamp life (5,000 hours in Eco), the Epson EH-TW7400 is easy to maintain and cheap to run. Plus it's virtually silent (31 dB in normal mode), allowing you to enjoy watching content without distraction.
Installing and optimising the Epson EH-TW7400 for your room is painless thanks to the built-in 2.1x optical zoom, vertical (up to 96%) and horizontal (47%) keystone correct and powered focus. Even in an awkward location, this projector can produce a fantastic image.
If you rightly insist on watching films in the right aspect ratio, then you'll be relieved to learn that you can sort up to 10 different settings and can recall them at the touch of a button. You'll never feel the frustration of changing settings again.
Good connectivity is matched by smart home system compatibility, allowing you to create the ultimate smart home cinema set-up. Regardless of whether you're watching TV, a film or gaming, the EH-TW7400 creates an immersive experience.
As one of the best 4K home cinema projector current available, we rate the Epson EH-TW7400 as 8/10.
Pros
2,600 lumens of brightness
Quite (only 20 dB in ECO mode)
Built-in 2.1x optical zoom
Save 10 settings presets
Smart home system compatible
Cons
Limited connectivity
Not full 4K
No built-in speakers
Design
Looking at the Epson EH-TW7400 the front is marked by the lens and a lens shutter. Either side of the lens is air vents.
Moving to the right side reveals a control panel which includes buttons for power on/off, source and configuration. Directly above this panel are 3 LEDs that denote key settings including when the lamp needs replacing.
To the rear of the top is a lamp cover, allowing you to easily change lamps when required.
On the bottom, several mounting holes allow flexible installation. There are also 3 feet, enabling you to use front projection from a table. The rear foot is fixed but the 2 front feet are adjustable. Towards the front is two screw holes for an anamorphic lens.
Finally, the rear of the Epson EH-TW7400, which contains an IEC power socket, 2 HDMI ports, a LAN port, USB and micro USB ports, and 2 PC ports. Finally, there is a trigger output, allowing you to control the projector externally.
The included remote covers the basics options already found on the unit but also has track controls, individual buttons for each source, and a plethora of buttons for the many settings menus. An illuminate button at the top right, when pressed lights up the remote for 10 seconds.
Features
One of the most impressive features the Epson EH-TW7400 is how quiet it is. While this might seem odd, projectors are often noisy which can impact, even slightly, the viewing experience. In Normal mode, the EH-TW7400 produces 31dB of noise, with this dropping to 20dB in Eco mode.
Providing 2,400 lumens of brightness ad a contrast ratio of 200,000:1, this Epson home cinema projector can easily contend with some natural daylight without picture washout. As the typical lamp life is 3,500 hours, under normal use, it should last 10 years.
As a 3LCD projector, it's doesn't produce 4K images in the strictest sense. However, the onboard PRO-UHD 4K enhanced software takes Full HD (1080p) resolution and uses sophisticated processing to double the frame rate. This creates a far superior image with added clarity and depth.
HDR10 is also supported allowing you to enjoy more vibrant colours from deep blues to shining whites. Watch your favourite movies exactly as the producer intended. As a 3D ready unit, you can even enjoy the latest 3D releases.
In fast-moving scenes, it's easy for projectors to lose clarity and for pictures to appear with blurry edges. Thankfully, Frame interpolation and Detail Enhancement are both on hand to provide sharper and smoother motion pictures.
Ideally, you'd watch movies in their intended aspect ratio. Typically changing the aspect ratio involves modifying the projector settings, only to have to reset them again, which is fairly painful. The Epson EH-TW7400 allows you to store 10 pre-set image settings and easily recall them.
Further control over the individual settings is available thanks to the onboard professional ISF calibration tools, which can be accessed using the remote.
If you're already using a home automation system or planning to, then you'll want a projector which can be seamlessly included. Out of the box, the EH-TW7400 is compatible with such home automation systems as AMX, Crestron and Control4.
Set-up
There 4 ways to set-up the Epson EH-TW7400 in a room depending on the space you have to play with and the room's overall purpose. You can front or rear project either from a table or the ceiling. To make set-up easier, we'll assume you're using one of the best projector ceiling mounts and front projecting onto the screen.
Depending on the distance between the projector and screen, the EH-TW7400 can produce an image ranging from 50 inches to an impressive 300 inches. At a distance of 4 metres, it will comfortable produce an image size capable of filling an 100 inch screen.
With the projector mounted and pointed at the screen, connect a power cable and using an HDMI cable, either an AV Receiver, Blu-ray player or games console. As there's no built-in speakers or audio output, we'd recommend pairing it with an AV Receiver.
If you're planning on streaming content, it's worth connecting the Epson EH-TW7400 to your Wi-Fi router using an Ethernet cable. You could instead use a streaming device such as a Google Chromecast or Amazon Fire TV stick and use the USB port for power.
With the projector mounted and connected into your system, next use the remote with included batteries to operate the unit. You can use the control panel on the unit for basic operation, however, the remote offer access to all settings.
The onboard test screen (activated on remote) allows you to quickly adjust the projector's basic settings including the focus, zoom, and lens shift (Vertical +/- 96%, horizontal +/- 47%).
Of course, it's worth taking time to experiment with these settings to arrive at the best picture quality for your room and overall set-up. Once you're happy, it's worth saving these settings as a preset, so you can easily recall them while trying other settings.
Performance
In terms of projectors, the Epson EH-TW7400 is relatively large and heavy. So you'll want to use a solid mount with it to ensure it stay fixed in place.
With three modes of operation, you can tailor the Epson EH-TW7400 to your set-up. In full mode, the fan is slightly noisy. However, switching it in Eco or Normal modes, lowers the fan noise right down yet the unit still offers fantastic performance.
In terms of picture quality, regardless of the original resolution images appear bright, sharp with natural-looking colours. There's support for Rec.709, BT.2020 and HDR10, which is beneficial if you're watching a DVD or Blu-ray. Even 3D Blu-rays come alive, as long as you supply the 3D glasses!
That said, 4K streaming is less impressive as content often isn't displayed in full 4K resolution. However, there's plenty of setting you can tweak to optimise the picture for your set-up and you can save up to 10 different picture settings for easy recall.
Again as a pseudo 4K projector, it's doesn't offer the ultimate picture quality but it's very close, especially as you can purchase one for under £2,000. If you're considering upgrading to a true 4K projector, after trying the Epson EH-TW7400 you'll probably forget that ideal altogether.
Controlling the unit is easy thanks to a well-designed remote which covers a lot of ground. You can use the controls on the unit for the basics and even use the trigger input to connect it into a home automation system.
Is the Epson EH-TW7400 worth buying?
The Epson EH-TW7400 excels at many things, making it a worthwhile investment. It may not be a true 4K projector, it does lack built-in speakers and multiple connectivity options.
However, putting that to one side, the EH-TW7400 offers fantastic picture quality that's close to 4K resolution, it highly configurable and quiet. Each image is rich with details and colours are lifelike, allowing you to experience even your favourite movies in a new, unique way.
As part of a home cinema set-up, this Epson projector comes into its own. And despite its size, when mounted, it quickly blends into the background thanks to its near-silent operation and neutral stylings. You'll quickly forget about any desire to save for a true 4K projector.
Whether you plan to watch DVDs, Blu-rays or stream content, the EH-TW7400 handles all these formats with ease and even reproduces 3D images well. Despite limited HDR/HLG support, it does offer superb image quality and true-to-life colours.
While there are other projectors with a more compressive range of inputs, including several that include built-in speakers and multiple different audio outputs, the Epson EH-TW7400 is an affordable unit with plenty of features that make it ideal for any home cinema. 8/10