What's the best Blu-ray player under £500?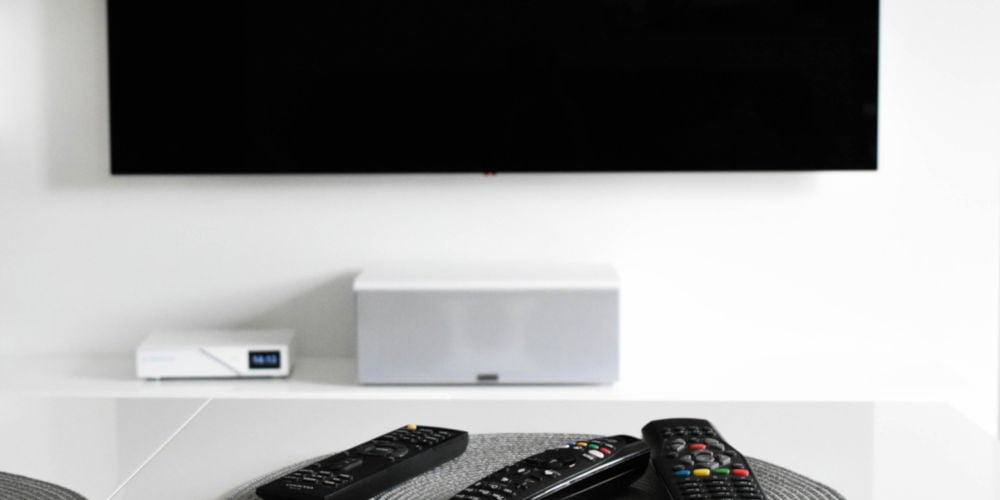 PUBLISHED: 14th December 2019 | LAST UPDATE: 27th January 2023
Whether you love re-watching classic movies or viewing the latest films in 3D, you'll want to use the best Blu-ray player under £500 to watch them!
Thankfully, the market is full of fantastic options from many leading brands as well as some newer manufacturers. Having recently covered several of best Blu-ray players under £200, we decided to up the budget to £500.
While most Blu-ray players may, at first glance, be created equal, each offers something unique. It could be simple as connectivity or built-in Wi-Fi. However, it could be 3D support or that it uses the latest Dolby decoders.
All of these Blu-ray players are fantastic options, regardless of whether you're buying your first unit, upgrading from a cheaper device or starting to build a home cinema. So what's the best Blu-ray player under £500?
* Prices correct at time of publishing
Panasonic DP-UB820 Ultra HD Blu-ray Player
Description
As an Ultra HD Blu-ray player, the Panasonic DP-UB820 support a range of formats including DVD, images, audio, as well as UHD, 4K and 3D Blu-rays. Both the front and rear-mounted USB ports further extends the available formats, as it reads directly from a media player or Hard Disc.
Regardless of the medium, all formats are displayed in the highest possible 4k quality thanks to Panasonic's Hollywood Cinema Experience (HCX) picture processor. The unit is also compatible with Dolby Vision and supports Hybrid Log-Gamma as well.
The audio is equally impressive as this model reproduces audio in high-resolution. Playing a range of conventional formats, as well as Hi-Def DSD and ALAC music files. Enjoy music in studio master sound quality from the comfort of your home.
In terms of connectivity, the Panasonic DP-UB820 offers 2 HDMI outputs (full Audio Video and Audio only), optical audio out and 7.1 surround sound. Simple connect powered speakers and enjoy an immersive audio experience.
Connect this Blu-ray player to Wi-Fi using the LAN port and enjoy a range of smart features including voice control via Google Assistant/Amazon Alexa, web browsing and Apps. The remote is easy to use and has a Netflix button, allowing for quick access to a range of on-demand content.
Pros
Fantastic playback image
Great connectivity
Voice control via Google Assistant/Amazon Alexa
Cons
Wi-Fi over LAN
Limited internet function
Conclusion
With it's sleek, slim design the Panasonic DP-UB820 is aesthetically pleasing. The minimalist layout (only a power and tray buttons) means you'll need to keep the remote handy.
It's future proof as it offers excellent connectivity and shares much of its hardware with the far more expensive Panasonic DP-UB9000. Whether you're watching the latest 4k Blu-ray or an old DVD, the difference is tiny, thanks to the onboard upscaling technology.
The audio experience is as impressive, even more so if you connect a soundbar or external speakers into the 7.1 phono outputs. Both audio and visual elements are highly configurable, allowing you to customize the experience to the media.
If you're pairing it with a TV, you might wonder how useful the apps with be, especially as the TV is likely to have them built-in. however, as part of a home cinema set-up, these functions are good. Although you do need to run an Ethernet cable from your router.
While the remote is easy to use and well laid out, if you're already using Google Home or Amazon Alexa voice control then you'll enjoy being able to extend these functions to the Panasonic DP-UB820. 9/10 (read our full review)

Sony UBP-X800M2 4K Ultra HD Blu-ray Player
Description
Providing immersive audio and 4k UHD picture quality, the Sony UBP-X800M2 Blu-ray Player offers an impressive specification list.
The unit offers Dolby Atmos and DTS: X, which are favoured by cinemas. They provide a truly immersive audio experience whether you're watching a movie or listening to High-Resolution Audio.
The unit also uses DSEE HX which upscales the frequency and widens the dynamic range of compressed music files, allowing you to enjoy them as the artist created them.
In terms of picture quality, you can watch and stream almost anything in the highest-quality formats. The UBP-X800M2 automatically upscales content to 4K UHD. You can seamlessly enjoy old DVDs, Blu-rays and even 3D Blu-rays without seeing a drop in quality.
The sleek design of the front is mirrored on the rear. There are 2 HDMI outputs, with the second offering audio-only. You can easily connect the UBP-X800M2 into a projector and AV receiver. Also, the rear has a LAN port and a digital coaxial output.
The minimalist front panel is hiding a USB port, which allows you to watch media stored on a media player, smartphone or hard disc. A handy feature to have, especially for listening to audio.
If you want to watch a film or listen to music without creating noise, then the built-in Bluetooth function allows you to wirelessly connect to a pair of Bluetooth headphones and delivers exceptional audio.
More than Blu-ray player, connect to your Wi-Fi router to enjoy popular on-demand streaming services including Netflix, Amazon and YouTube, all in 4k quality!
Pros
Dolby Atmos and DTS: X decoders
Images are upscaled to 4K UHD
Wireless connect Bluetooth headphones
Conclusion
The Sony UBP-X800M2 provides several upgrades on the previous UBP-X800 including HDR and Dolby Vision support. While its lack a range of outputs, it does offer two HDMI ports (one is dedicated to audio) and Coaxial out.
But that's not all, unlike any of the other units we've covered, the UBP-X800M2 wirelessly connects to any Bluetooth headphones and offer superior audio, albeit without disturbing those around.
The sleek design cleverly hides the front USB port, which is ideal for occasional use. With only power and tray eject buttons, you'll need to keep the remote handy. Luckily it's well designed and includes a Netflix button.
The strong dual-band Wi-Fi connection means you won't experience drop-outs when streaming content. It also supports MIMO (multiple-input and multiple-output) as long as your router does.
As you'd expect from Sony, the UBP-X800M2 is a fantastic unit packed full of features that easy to set-up and virtually silent. 9/10 (read our full review)
Yamaha BD-S681 Blu-ray Player
Description
Offering an impressive range of features including 4K upscaling, CD Mode and Pure Direct, the Yamaha BD-S681 allows for exciting enjoyment of high-quality audio and video.
Providing an immersive home cinema experience, the BD-S681 can play a range of video and audio formats either as a disc or via one of the two USB ports. The device supports 3D Blu-rays, DVDs and SACD, amongst many others.
With onboard 4K upscaling, even your old DVDs look sharp and full of detail. And thanks to Dolby decoders, audio sounds rich and crystal clear. Once you've experienced 4K content, other formats will appear inferior.
The built-in Wi-Fi enables access to a range of on-demand video and audio streaming services. While the Wi-Fi Direct feature allows you to stream media directly from your smartphone.
In addition to the essential controls on the unit, the remote enables full control of the Blu-ray Player. Connect the unit to Wi-Fi and control the unit using the AV Controller app which can be used with smartphones and tablets.
On the rear of the Yamaha BD-S681 is an HDMI port, stereo audio phonos, a coaxial output and an optical output. There is also a second USB port. Setting it up takes minutes.
Pros
4K upscaling
Built-in Wi-Fi
Can be controlled via AV Controller app
Conclusion
The Yamaha BD-S681 contains many exciting features yet has limited connectivity. It would be nice to have a second audio-only HDMI port as this would make it easy to add a soundbar or external speakers.
Putting that to one side, the BD-S681 is easy to set-up and configure plus you can control the unit using an app. This is especially helpful if you're trying to automate your home.
The unit offers impressive image quality, thanks to the onboard software which upscales all pictures to 4k. There's little difference between older standard and newer HD formats.
As one of the best best Blu-ray player under £500, the Yamaha BD-S681 offers superb value for money. 8/10
Marantz UD5007 Universal Blu-ray HD Player
Description
The Marantz UD5007 is a 3D ready Blu-ray player which builds on the legendary Marantz audio quality and provide many exciting features. The UD5007 is available in silver and black.
Interestingly, the UD5007 is built to minimise interference and vibrations. Its solid construction is coupled with fast and silent disc loading, which offers an improved viewing experience. When running, it's almost silent, so doesn't distract from the watching or listening.
Handling a range of formats, you can enjoy watching DVDs, standard Blu-rays and 3D Blu-rays. It also reproduces CDs and SACDs in superb quality. In addition to playing several disc formats, the two USB ports enable you to enjoy video and audio using a media storage stick.
Both the picture quality and audio processing are impressive regardless of the original format. Pictures are rich and vibrant, while the audio spans the full dynamic range.
The front panel is well laid out and covers a lot of ground without feeling busy. Moving the rear, it's sparse in comparison. There is an HDMI output, stereo phono audio output, LAN port and several control ports.
A handy remote is well-designed with sensibly sized buttons. As well as all the usual buttons you'd expect, there are Netflix and YouTube buttons, allowing easy access to on-demand streaming when connected to Wi-Fi.
Pros
Excellent build quality and quiet operation
Plays Blu-ray Disc, DVD, DVD-Audio, SACD and CD
Supports 3D formats
Cons
Limited internet functionality
No built-in Wi-Fi
Conclusion
The Marantz UD5007 is exceptionally well designed and built. Plus it's available in two colours (black and silver). The front panel is cleverly arranged not to seem busy yet offer access to main key features.
The rear is paired back and sadly only contains limited connectivity options. For the price, it would be nice to have a second HDMI port and USB port. We're unsure why there are several control inputs on the rear as this feels superfluous.
Connecting to the internet requires connecting to a router using an Ethernet cable as there's no built-in Wi-Fi. That said, the UD5007 only offers Netflix and YouTube, and so is quite limited in this regard.
Regardless of the medium, the UD5007 performs well. Both 1080P and 3D media appear sharp and vibrant. Standard DVD also looks fantastic, thanks to the onboard technology. The audio is equally superb and the stereo phonos (on rear) make it easy to add external speakers. 8/10
Onkyo BD-SP809 Blu-ray Disc Player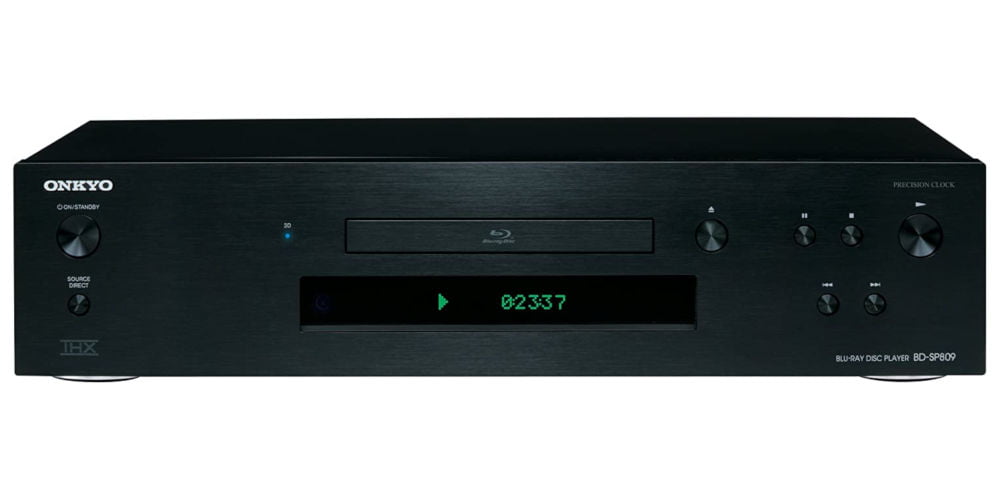 Description
Finally on our list of the best Blu-ray player under £500 is the The Onkyo BD-SP809 Blu-ray Disc Player has a superb specification. Onkyo are well respected for their AV equipment both in terms of build and features.
The unit offers a fantastic level of connectivity including 2 HDMI which can be configured as both Audio and Video or one of each. The main HDMI delivers optimum, THX certified video quality.
A stereo phono audio output enables connection to a range of devices as does the optical and coaxial audio outputs. Plus there is a component video output and Ethernet port.
Whether you play media in disc format or using the rear USB port, the BD-SP809 handles a range of formats with ease. It automatically upscales DVDs to 1080p and is 3D Blu-ray ready. It uses Dolby TrueHD and DTS-HD to provide HD surround sound.
There's no support for streaming services but wiring the unit into your Wi-Fi router does allow Firmware Updates and access to BD-Live. This is quite restrictive when compared to other units.
Looking at the front panel, you'll notice it contains pretty much all you need to enjoy watching movies or listening to music. The remote, on the other hand, feels very dated but does cover a range of functions.
Pros
Offers 1080p upscaling
Great connectivity
THX certification
Cons
Lacks streaming support
No hi-res audio
Conclusion
Leaving us feeling mixed, the Onkyo BD-SP809 falls behind other units on our list. Its robustly built, sleek and well designed. The rear connectivity is good. Although, we would prefer a front-loading USB port.
It doesn't offer support 4k, FLAC or WAV files but does automatically upscale to 1080p and does support 3D discs – display allowing. Also, the unit offers DLNA and THX certification.
All that said, it lacks the level of Web content you might expect. This will be less than ideal if you're using the BD-SP809 in a home cinema room with a projector and would like to use on-demand streaming services.
If these issues bother you, then consider the Panasonic DP-UB820. However, if you're after a well-built unit with an excellent list of features, then the Onkyo BD-SP809 Blu-ray Disc Player is worth considering. 7/10 (read our full review)
What's the best Blu-ray player under £500?
Two units stand out in our quest for the best Blu-ray player under £500. But first, some helpful advice concerning what to look for when reading Blu-ray player reviews.
First, we'd avoid Onkyo BD-SP809 as it lacks some of the basics that a Blu-ray player should have. It doesn't support 4k content, and so, isn't future proof. Also, you can't use apps or streaming services without an additional device.
We recommend the Panasonic DP-UB820 as it offers multi-channel audio outputs, fantastic connectivity and supports a wide range of formats. Out of the box, it works with Google Home/Amazon Alexa voice control.
Sharing the top spot is the Sony UBP-X800M2, while it lacks the connectivity the Panasonic does, it offers some unmatched features. For example, the dual-band Wi-Fi, Bluetooth headphone streaming and of course, it's 3D ready and supports 4k content.