How to create your dream Fibaro smart audio system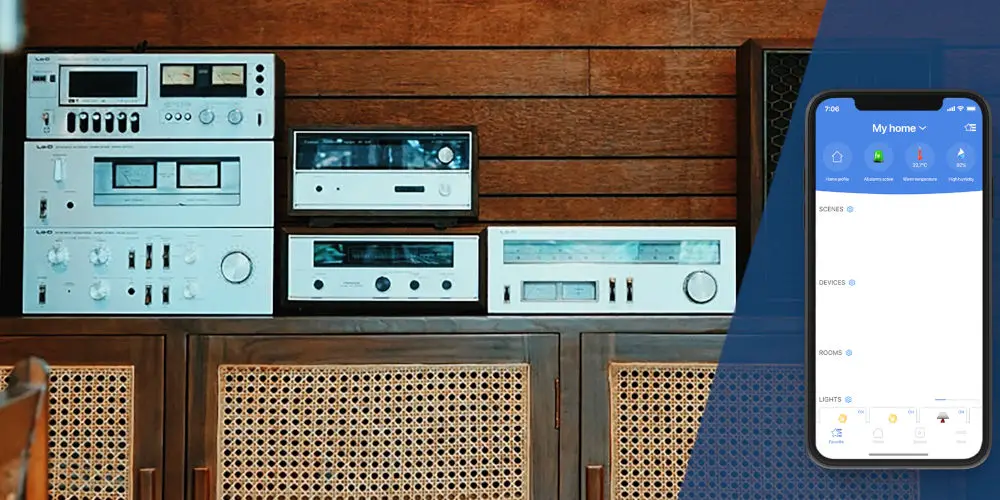 An aspect that stops many from building a smarter home is the lack of easy to integrate DIY audio and video options. Who wants to be endlessly flicking between several apps to control their system?! Thankfully, there are multiple ways to create your dream Fibaro smart audio system.
You're probably familiar with Sonos and its excellent range of smart speakers. But you might not know they painlessly integrate with Fibaro. Several niche audio brands, including Arylic, Russound, iEAST, and Lithe Audio also integrate with Fibaro using Quick Apps.
In this article, we'll explore how to build an epic sounding Fibaro smart audio system that you can control from your phone without needing multiple apps. You'll be able to enjoy listening to your favourite music in minutes while remaining in full control.
Smart audio system basics
Before we jump into the different options that integrate with Fibaro, it's worth just getting clear on the basic building blocks we need to create an audio system within our home.
Music sources
A Hi-fi alone isn't much use! We need something to play music from. Luckily there are thousands of music sources to choose from, including Spotify, TIDAL, YouTube Music, Amazon Prime, and TuneIn. You might even have music on your phone or tablet or a USB memory stick.
Amplifier
Now we have something to play, we need an amplifier that can turn the digital signal into sound waves we can hear with speakers.
Speakers
Plenty of speakers have a built-in amp, but you might prefer to use separate pieces as they might sound better. You could use bookshelf speakers, in-ceiling speakers, or a smart speaker.
Control options
If like us, you grew up in the 90s, you'll know the only two control options were the remote and whatever buttons on the unit. And while we still have both of these options today, most Hi-Fi systems work with an app. You can even control some using voice commands via Alexa/Google Assistant.
As we're trying to integrate audio with a Fibaro system, you'll need to be using one of their hubs, such as the Home Center 2, Home Center 3 or Home Center 3 Lite. From here, we'll shorten Home Center to HC.
You'll also need to create an account on the Fibaro online portal to add new devices and Quick Apps that allow you to integrate devices with the system. The process of adding Quick Apps to your system is painless and only takes a few minutes.
Sonos
By far, the most popular smart audio system is Sonos. They seem to be everywhere! You can buy stand alone Hi-Fi speakers, an amplifier (allowing you to add Sonos functionality to an existing set up), and in-wall/ceiling speakers.
You can find several Sonos Quick Apps on the Fibaro marketplace, including Sonos Player v0.2 by tinman. It works with the HC3 and HC3 Lite to provide all the simple functionality you might need to simply play music.
ARYLIC
While not as well known as Sonos, ARYLIC offer a range of highly affordable and superb products. They offer several wireless stereo amplifiers, a preamp that works with your existing Hi-Fi to add more features, DIY audio modules, and speakers.
We discovered the brand doing research a few months ago when we were looking at how to create a Fibaro smart audio system for our home. ARYLIC kindly sent us an A30+ Mini Stereo Amp for review, which is coming soon.
Part of our testing of the A30+ is installing and using their Quick App to control the system. Available for HC3 and HC3Lite, the ARYLIC Player for HC3, offers full control for ARYLIC audio devices and even displays album art!
You can link several ARYLIC devices together and either play different tracks on each or combine them into a single Hi-Fi system.
Russound
Another great yet largely unknown brand is Russound. In the UK, Connected Distribution is the main contact for Russound. The products are well built, packed full of features, and create a fantastic sound, but aren't the cheapest option.
Many of their devices work with Fibaro, using the Russound MBX AMP Quick App. Compatible Russound products include X5, XSource, XZone4, and MCA series.controllers. The Quick App is very basic compared to the ARYLIC or Sonos Quick Apps.
Lithe Audio
We first discovered Lithe Audio from our good friend Daniel at Smaart Home, who just happens to be the UK distributor of Fibaro and other brands. A few months ago, he posted a video from a client's home where he had just added Lithe Audio speakers and integrated them with Fibaro.
They offer both passive and active in-ceiling speakers as well as a subwoofer. So, if you're looking for a more seamless look, Lithe Audio might be a great option.
The Lithe Audio Player QA works with the Lithe Audio WiFi Multi Room Ceiling Speakers and either the HC2, HC3, or HC3 Lite with firmware 4.460 or greater. The Lithe app supports browsing of music services and allows full control over the music and your speakers.
Creating your dream Fibaro smart audio system
Depending on your requirements and budget, you can build a Fibaro smart audio system in several ways, all of which are controllable from the Fibaro app. You shouldn't have to flick between multiple apps to use your smart home system.
Arylic might be for you if you're looking for an affordable solution. Only after ceiling speakers? Lithe Audio has you covered, just ensure you buy the Wi-Fi speakers and not the Bluetooth model. You could use Sonos or Russound, both sound great but aren't cheap.
Hopefully, you can see how easy it is to integrate a Hi-Fi system into Fibaro and create a more complete smart home.