Should you invest in Sonos smart speakers?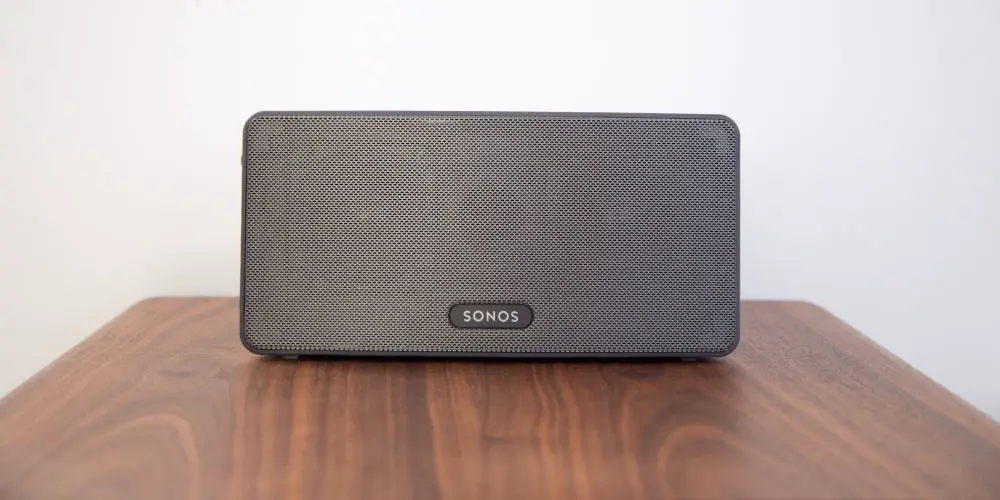 It seems that everyone has Sonos smart speakers in their home. If you don't, you probably wonder if you're missing out. You might even question if the Sonos products provide something different than other smart speakers available.
If you already have an Amazon Echo Dot or a Google Nest Mini, the talk about Sonos could well fall on deaf ears (sorry!). However, the Sonos smart speakers offer a far superior audio experience as they're designed solely to faithfully reproduce audio, not offer a hundred different functions.
That's not to say that you don't need a smart assistant in your life. Don't be so quick to bin your Echo or uninstall Google Assistant or Siri! It's just that they are designed to complete a range of functions, with playing audio being one but no their sole feature.
Listening to music on an Echo Dot, for example, is like playing the radio in your car. Completely fine but not the ultimate listening experience. Whereas using Sonos smart speakers ensures you hear the complete sound field from the lowest note to the highest in crystal clear details.
But that's only part of the picture. Sonos is more than just a speaker company or one that produces amplifiers. They are an home automation brand that combines the latest smart home technology with an amplifier and speakers.
What's the difference between smart assistants vs Sonos smart speakers?
As smart assistants are designed to be a jack of all trades and a master of none, it's no wonder they only produce adequate audio lacking in dynamic range and high definition. But that's hardly surprising or shocking.
Enter Sonos smart speakers. These products burst on the market years ago with many coffee shops, hotels and clothes shops being early adopters. By solely focusing on providing the best audio experience, Sonos has quickly cornered the market.
The first time you hear a Sonos device, you'll know about it as they produce a crisp and clear sound complete with a full dynamic range, even at low volumes. You no longer have to listen to tinny-sounding music that lifeless and flat.
So, there's a need for you to own both Sonos smart speakers and an Amazon Echo or Google Nest device, or as in my case, multiple! Having both types of devices allows you to start building your ultimate smart home.
Learn more about controlling your Sonos gear using an Amazon Echo.
Why are Sonos Smart Speakers ideal for your home?
There's plenty of reasons why Sonos has taken over the home audio market, all of which make their product ideal for your home.
Low system cost
Many would love to add a multi-room audio system to their homes yet this has traditionally be seen as a high-end feature due to the overall cost. Installing a multi-room audio system is expensive as you need to run cables between rooms as well as buying speakers and amplifiers.
Not to mention the cost of hiring a company to install and programme the system for you. Plus having to run wire between rooms can mean needing to redecorate as the installation process can be quite disruptive.
On the other hand, Sonos is relatively cheap and the majority of their devices combine both an amplifier and speakers. Installation takes a couple of minutes.
Advanced technology
As Sonos products use Wi-Fi and exclusive mesh technology, it's easy to include them in your home and even link multiple speakers together. Like with smart assistants, if you have power and Wi-Fi, you're ready to go!
Another benefit of Sonos smart speakers is you can use them as a stand-alone audio system, allowing different people to listen to different songs or link multiple devices together and play one song throughout the entire system.
Easy streaming integration
You can easily enjoy your favourite music, podcasts and radio from a wide range of streaming services, whether you're using Amazon Music (30-day FREE trial), Spotify, Apple Music, Tidal, or other services.
Painless control options
Operating Sonos is really simple. You don't need fancy control panels or remotes with 50 buttons, nor do you need a PhD as you can operate the system from your smartphone or tablet. Even a child could operate it!
Sonos also works with all of your digital assistants like Amazon's Alexa, Google Assistant, and Siri. It couldn't be easier or more flexible.
What smart speaker devices do Sonos offer?
With products for pretty much every conceivable application, you can use Sonos smart speakers as a stand-alone Hi-Fi, with your TV, and even as a surround sound system for your home cinema room.
There are even portable speakers available, which are great for using on the go or in the garden.
Regardless of your requirements, you can build a system or find an appropriate smart speaker using the Sonos product range. All products are available in both black and white, allowing them to seamlessly slot into just about any interior design scheme.
Let's explore the range.
Sonos Roam
As a portable smart speaker, the Sonos Roam is ideal for use at home, in the garden or on the move. Built using an all-day battery and with waterproof durability, Roam allows you to enjoy streaming music and can be used as a multi-room system. It even offers voice control!
Sonos Move
Much like the Roam, the Sonos Move is a durable, battery-powered smart speaker for outdoor and indoor listening. Designed to be weatherproof and drop-resistant yet still produces excellent sound.
You can control using your voice, the Sonos app, Apple AirPlay and use Bluetooth to stream when you don't have Wi-Fi.
Sonos One
Don't be fooled by the small size of the Sonos One. As a powerful smart speaker with voice control built-in, it offers expansive, room-filling sound. Easy to operate thanks to built-in voice control, as well as control via the Sonos app, Apple AirPlay 2, and more.
Ideal for installing around your home either as part of a multi-room audio system, a smart Hi-Fi or as a way to improve a TV's basic sound.
Sonos One SL
As a powerful smart speaker, the Sonos One SL delivers the same audio experience as the One, just without voice control. It's therefore ideal for use around the home including in the bedroom, lounge or study.
You can even pair it with a Sonos One and control both using the voice control option. Also, you could pair the One SL with a soundbar and subwoofer for a complete 5.1 surround sound system.
Sonos Five
Sporting multiple speakers, the Sonos Five is a smart Hi-Fi albeit in a compact design. Use it alone or pair it with another one for truly impressive studio-quality sound. Enjoy streaming music from a variety of source or use the line-in socket to connect a CD player or turntables.
Experience vividly clear, room-filling sound thanks to the multiple speakers and built-in crossover. As with other Sonos smart speakers, control it using the Sonos app and Apple AirPlay 2.
Sonos Sub
If you like your audio with a powerful, deep bass then you'll want to invest in a Sonos Sub. Designed around two force-cancelling drivers, which eliminate vibration and rattle ensuring you hear a powerful bass sound without any distortion.
There are multiple uses for the Sonos Sub. Pair with a Sonos soundbar and elevate your TV's poor sound to new heights. You could use it with a soundbar and two Sonos One SL and create a superb surround sound experience.
Sonos Beam
Replace your TV's poor sound quality with the Sonos Beam soundbar. Ideal for watching TV, sport or movies or listening to music. With built-in voice control, you don't need the remote or the Sonos app, although you can use these methods!
You could pair the Beam with a Sub for the perfect 2.1 channel speaker system or use it as part of a surround sound system with a Sub and two Sonos One SL.
Sonos Arc
As a premium soundbar, the Sonos Arc faithfully recreate audio in exacting detail, whether you're catching up on TV, enjoying a movie, listening to music or gaming.
Arc has a secret weapon, built-in Dolby Atmos, which delivers realistic, true-to-life 3D sound for movies and games. Enjoy control with your remote, the app, your voice, and Apple AirPlay 2.
Can I use Sonos with my existing speakers?
Some want the functionality of Sonos smart speakers but want to use their existing speakers and amplifier. Why invest in buying a Valve Hi-Fi or a top-of-the-line turntable only for it to gather dust. And anyway, to some they prefer how vinyl sounds over newer digital audio formats.
Thankfully Sonos provides two solutions, namely: Port and Amp.
You could use Sonos Port as which connects to your stereo or receiver and allows you to stream music and more. You can control Port with the Sonos app or Apple AirPlay 2, and easily expand your sound system to more rooms.
If you already have speakers but want to upgrade your amp with smart technology then invest in the Sonos Amp. You can use this device to bring the Sonos experience to your floor-standing, in-wall, in-ceiling, outdoor, and bookshelf speakers with Amp.
Does Sonos make outdoor speakers?
While Sonos don't directly make outdoor speakers, they have partnered with Sonance, who have released a range of ceiling, in-wall and outdoor speakers! You can now use Sonos technology with a wider range of applications.
Just imagine lounging by your pool or your outdoor kitchen, listening to your favourite tunes thanks to Sonos and their high-quality speakers. Wouldn't that make summer even better?!
Should you try Sonos smart speakers?
Now that you have a clearer idea of Sonos smart speakers and how they operate, should you buy them? Yes, don't waste your money on smart assistants like the Amazon Echo Dot or Google Nest mini, when you actually want a superb Hi-Fi without any of the tricks.
Start by buying a Sonos One and give it a go. If you love it then you can start to build a complete wireless multi-room audio system that customised to your requirement and home.
As Sonos develops integrating its products with various home automation systems will become easier, quicker and produce an even better sound.