Groov-e Soundbar 50 GV-SB02 review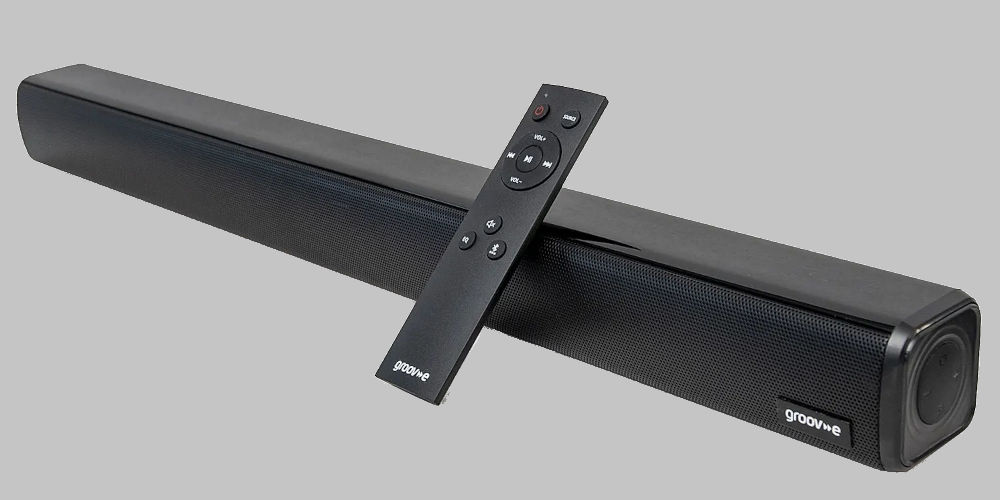 About a month ago, the Groov-e PR team sent us two soundbars to review. We've already reviewed the Groov-e Soundbar 160. And now, it's the turn of the Groov-e Soundbar 50! While they have given us products for free, the following is our honest opinion.
With that disclaimer out the way, let's explore the Groov-e Soundbar 50 GV-SB02. It's ideal for improving a TV's basic sound or adding speakers to a projector.
One appeal of the Groov-e product range is they offer highly affordable devices. For example, this GV-SB05 model will set you back £40, which is fantastic value for a 50-watt soundbar with 3 EQ settings and a super bass driver.
Thanks to multiple inputs, you can easily connect it to a range of AV devices. It even has a bright LED screen beneath the grille, making it user-friendly. But that's not all. You'll also find an optical cable and batteries for the remote in the box.
Compared to soundbars from other leading brands, the Groov-e Soundbar 50 GV-SB02 is affordable and offers a significant improvement over most modern TV speakers. 8/10
Pros
50 Watts of volume
3 EQ settings
LED panel
Cons
Weird button layout
Flat sounded
Design
Sporting an unimaginative design, the Groov-e Soundbar 50 is fairly compact at 65 cm long and 7 cm high. So it's ideal for smaller spaces such as the bedroom, kitchen or for weekends on the motorhome.
Underneath the grill sits two speakers. Together, they put out 50 watts in volume. An LED display panel sits in the middle of the unit, making it easy to operate.
On the far right-hand side is a control panel with 4 multi-purpose buttons. So you don't need the remote to control this Groov-e soundbar.
The top button is power on/off. It doubles as an input selector if held down for a few seconds. Below are the volume down and up buttons. These double as track controls (previous/next). The final button allows you to select between the three different EQ settings.
Moving to the rear, you'll see the input panel. There's a DC power port and Optical, AUX, USB, and Coaxial inputs.
Finally, the remote, which is well laid out and unfussy. Unlike other brands, Groov-e has created a decently sized remote that doesn't cram 101 buttons.
It has buttons for power, source, volume up and down, mute, EQ, track controls, and the built-in Bluetooth feature. As a nice bonus, Groov-e has included an Optical cable and screws to enable wall mounting!
Features
We'll start with the different input options as there are several. You can connect your TV using either Optical or Coaxial ports. There's also a mini-jack input, allowing you to connect the soundbar to a variety of devices. The LED display shows what input you've selected as standard.
The Groov-e Soundbar 50 GV-SB02 has built-in Bluetooth. So you can listen to music from your phone or tablet without using a cable. Finally, there's a USB port on the rear. Use it to play music stored on a memory stick or hard disc.
Regardless of the input, select from the three sound modes (Music, Movie, Voice). Each offers different bass, mid, and treble settings, allowing you to fine-tune how it sounds to the activity.
As with the inputs, the LED display panel will show you which sound mode is selected as you circle through them. So you're not working in the dark and hoping for a different sound after tapping buttons.
Set-up
Given there are 5 inputs on the Groov-e GV-SB02, you might want to experiment a little. You'll likely use the Optical with your TV as most have that option or a Coaxial. If not, your television should have a mini-jack headphones out.
To get set up, you want to unpack the soundbar and plug in the power cable. Next, find some AAA batteries for the remote. If you're connecting it to a TV, you should be able to use the included Optical cable. However, with an AV receiver or Blu-ray player, you might need a mini-jack cable.
Once you've added the soundbar to your AV system, you'll find the controls on the unit are plenty to get up and running. It'll take you a few minutes to figure out how they work, as each of the unit's buttons handle multiple functions.
Before you mount it on a wall or place your soundbar in front of your TV, it's worth experimenting with the USB port. It's a worthwhile feature but badly placed, just like the AUX input. If only it was on the left-hand side as that would allow for easy access.
There are two screws included for wall mounting. You need to drill two holes. Next, attach your Groov-e Soundbar 50 to the wall and secure the cables.
Performance
After testing the Groov-e GV-SB02 with Netflix and YouTube, our conclusion is a little mixed. For what it is, it's good. Not great or inspiring, but a clear improvement over the built-in TV speakers.
The different EQ sound modes actually do something. You're not just listening to a slightly different sound but a completely different frequency curve.
The first mode is flat and ideal for watching TV. Mode 2 offers a bass and treble boost, making it good for movies. And the 3rd mode boosts the mid-range, so is designed for listening to dialogue.
However, the sound modes feel a little flat and generic, especially compared to the Groov-e Soundbar 160 GV-SB05 unit or the Hiattchi 2.1 channel soundbar with subwoofer we typically use. Granted the Hiattchi is more than double the cost of the GV-SB02 and a completely different beast.
As with the GV-SB05 soundbar, the buttons take a few minutes to learn how to use as they require multiple taps or being held down for a few seconds before allowing you to adjust that setting.
The remote is good and easy to use. Plus, we're big fans of free cables and mounting kits!
Is the Groov-e Soundbar 50 GV-SB02 worth buying?
While not the best sounding unit, there are a few positives to consider when looking at the Groov-e Soundbar 50 GV-SB02. It's highly affordable, packed full of features, and compact. That said, we'd save up a little and buy the 160, even though it's twice the price.
Both of these Groov-e soundbars are far cheaper and yet are comparable to the big name brands, giving you a real choice. Why spend £200 on a second soundbar for the bedroom or kitchen when a £40 one will do?!
If you're looking at improving your TV's sound and don't have a massive budget, buy the Groov-e Soundbar 50 GV-SB02. Likewise, if you have a second TV say in the bedroom or study, consider buying one, you'll appreciate the difference.
It might be best to buy the more expensive Groov-e Soundbar 160 if you're already used to hearing great audio and don't fancy spending £300 on a Sonos or Sony soundbar. Overall, they are both good units. We rate the Groov-e Soundbar 50 GV-SB02: 8/10