Groov-e Soundbar 160 GV-SB05 review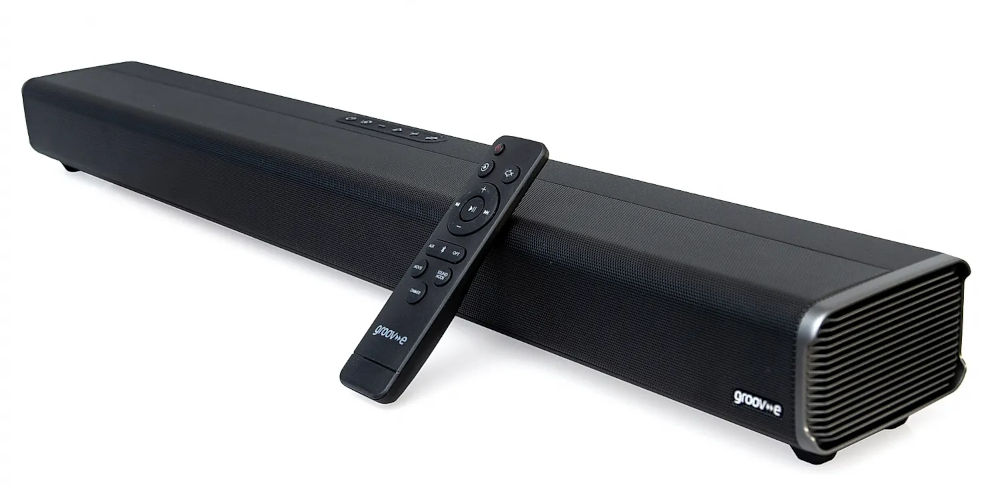 A few weeks ago, the Groov-e PR team got in contact and offered to send us some free products. A few days later, a package arrived with the Groov-e Soundbar 160 and another soundbar we'll review later. While they have given us products for free, the following is our honest opinion.
With that disclaimer out the way, it's worth discussing why their Groov-e Soundbar 160 GV-SB05 is a unique beast and a great option if you're looking to improve a TV's basic sound or add speakers to a projector.
One appeal of the Groov-e product range is they're all highly affordable. For example, this GV-SB05 model is priced at just shy of £80. Not bad for a soundbar that puts up 160 watts, with a built-in sub and super bass driver. 
It also offers multiple inputs, several sound modes, and has a bright LED screen beneath the grille. But that's not all. In the box is an optical cable and batteries for the remote.
Compared to other soundbars we've reviewed, the Groov-e Soundbar 160 GV-SB05 holds its own, sounds fantastic and offers superb value for money. 9/10
Pros
160 Watts of volume
Dedicated downward facing sub speaker
LED panel
Cons
Lacks HMDI ARC input
No mounting brackets
Design
While the Groov-e Soundbar 160 GV-SB05 won't win any design award, it does have some interesting lines to it, that give it a stylish edge over the typically boxy design.
Looking at it for the first time, you might not see the LED display that's neatly tucked behind the grille. When on, it shines bright and can be adjusted using the remote. But more on that later. Beneath the grill are two mid to high end drivers, each putting out 25 watts.
On the top are several controls, allowing you to operate the soundbar without needing a remote. There are buttons for power, source, volume down/previous, play/pause, volume up/next, and sound mode.
Moving to the rear, there's a neat panel in the middle with a power input, Optical input, USB port, and AUX (mini-jack) input. It's well-designed, if not compact.
One element that makes the Groov-e Soundbar 160 unique is the 40-watt subwoofer driver. Located underneath the unit, it fires sound down towards the ground.
Finally the remote, which comes with batteries. It's a generous size and has plenty of buttons. You can control the basics (on/off, volume up/down, mute), select an input source, choose between the different sound modes, and dim the LED screen.
Features
Offering 90 watts of power and a peak output of 160 watts, the Groov-e Soundbar 160 GV-SB05 is ideal for the home. It uses three speakers (2 x medium-high frequency drivers and 1 x bass driver) to deliver a balanced sound with deep bass.
Thanks to the 4 inputs, you can connect to most TVs or home cinema projectors. You can choose from an Optical input, AUX mini-jack input, stream audio via Bluetooth, or use the USB port to play media.
An LED display panel makes it easy to see the source, volume, or sound mode. Plus, you can dim it using the remote.
There are three sound modes (Music, Movie, and Voice), and the remote has a Virtual 3D Surround mode for movies. There is some difference between the mode, so it's worth experimenting.
Set-up
Soundbars are very simple to set up. Plug in the power cable, connect an audio cable from your TV/Blu-ray player/projector, and you're good to go. Usually, you'd need to supply your own audio cables, but Groov-e has supplied a 1.5-metre optical cable.
If you want to use the AUX input, you'll need to supply your own 3.5 mm cable. Similarly, with the USB port, you'll need a USB memory stick with some audio files saved on it.
The trend with many soundbars in the last few years is to have no or little controls, making the remote mandatory. So, it's nice to see some basic controls on the top of the Groov-e Soundbar 160. This placement might not suit everyone, but it's good to have them, nonetheless.
If you want to use the remote with this Groov-e soundbar, you'll be glad to know that they have been super helpful by including batteries.
As the sub port on the underside of the unit, You'll want to place it on a surface that's large enough to allow it to rest on its feet and not muffle the subwoofer speaker. Groov-e reportedly sells mounting brackets, so you always have that option if you'd prefer.
Performance
At first glance, the idea of a soundbar with a built-in subwoofer might not sound all that exciting. We get it. There are lots of options with a similar description, and most fail to live up to the hype. And that's largely down to the design.
Typically, these units have bass drivers at each end of the soundbar that throws the low end into the room rather than down onto the floor. The result is a lacklustre low end. So, it's understandable if you're sceptical.
Groov-e with the GV-SB05 has taken a different approach. The bass driver points down allowing the low end to hit the floor, much like it would if you had a separate subwoofer. So the unit produces a rich sound across the frequency spectrum.
Whether watching a movie or listening to music, it sounds superb and is comparable to a 2.1 soundbar with a subwoofer set up. We tested the Groov-e against an old Hitachi 240W 2.1 Ch Soundbar with wireless subwoofer, and it sounds better.
Compared to the Hitachi, the Groov-e is far more flexible as it offers different sound modes. There might be a subtle difference between these three modes, but it's fun to experiment with them.
The LED display is a little bright by default. Thankfully you can dim it slightly using the remote. Just one of the remote's many features.
We found the buttons on the unit a little awkward as you have to press and hold for a second before they jump into action. It took us a few minutes to get used to this.
Some might find these buttons aren't ideally located as they are on top and might not be easily reached if you place the soundbar in a TV unit. And while that's a fair criticism, we'd rather have buttons on the unit than not.
As there's no HDMI ARC, you'll always need to turn it on manually as you can't feed it from your TV or media unit. That said, it does power down after 15 minutes of non-use. So will save you from having to turn it off or needlessly using electricity.
Is the Groov-e Soundbar 160 GV-SB05 worth buying?
Offering fantastic value for money and an impressive list of features, the Groov-e Soundbar 160 GV-SB05 is ideal for your living room or bedroom with a TV. It compares to an entry level soundbar with subwoofer set up without needing two components.
Of course, it won't sound as complete as a full 5.1 surround sound system. But for the price, you can't beat it or other units in the Groov-e soundbar range!
It doesn't have HDMI ARC, and the control buttons take a little time to get used to. However, these are minor points when you consider how powerful the unit is and the other features included. Not to mention the free cable and batteries!
Having tested the Groov-e Soundbar 160 GV-SB05 for a day with the XGIMI Elfin, we can say it's a great piece of kit for watching movies, TV or listening to music. 9/10