How to choose the ideal home cinema curtains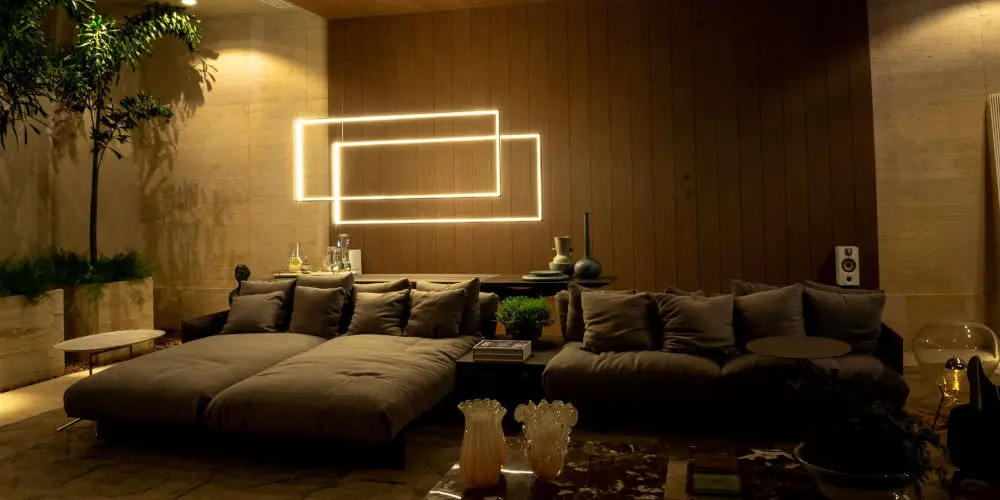 After spending countless hours and thousands converting a bedroom into a home cinema room, all you need is some heavy curtains to finish the room. Home cinema curtains not only need to look fantastic but are also an essential component for any home theatre. But you can't just use any old curtains.
There are a few elements to consider when buying curtains for a home cinema room, including acoustic properties, heat retention and how well they block out ambient light.
Many blow their budget on the equipment, leaving a tiny amount of cash for curtains and furniture. However, without the right home cinema curtains, your experience will be less than optimum. So how can we find the ideal curtains for your media room?
What types of home cinema curtains are available?
You can either use blackout or soundproof curtains in your home cinema room. Let's explore each type in more detail.
Blackout curtains
If you're using a home cinema projector, you want to block any ambient light from the room. Unlike a TV, your projector needs a completely dark room. Blackout curtains reduce the amount of ambient light that can enter your home cinema, reducing reflections on the screen.
Typically blackout curtains use multiple layers of fabric, ensuring ambient light is unable to filter into the room and keeping the heat in.
Soundproof or acoustics curtains
These are thicker than your average curtains. Not only do they remove any ambient light, but they also absorb sound. Also, they reduce the acoustic reflection off of the glass in your windows and walls of the room. They provide a much better sonic experience.
But that's not all. These soundproof curtains also block noise pollution from entering the room via your windows. You'll enjoy a more immersive movie experience with less distraction from the outside world. Plus, they will help keep the room warm.
If you're serious about your home cinema room, it's worth investing in soundproof or acoustics curtains as they will enhance your viewing experience.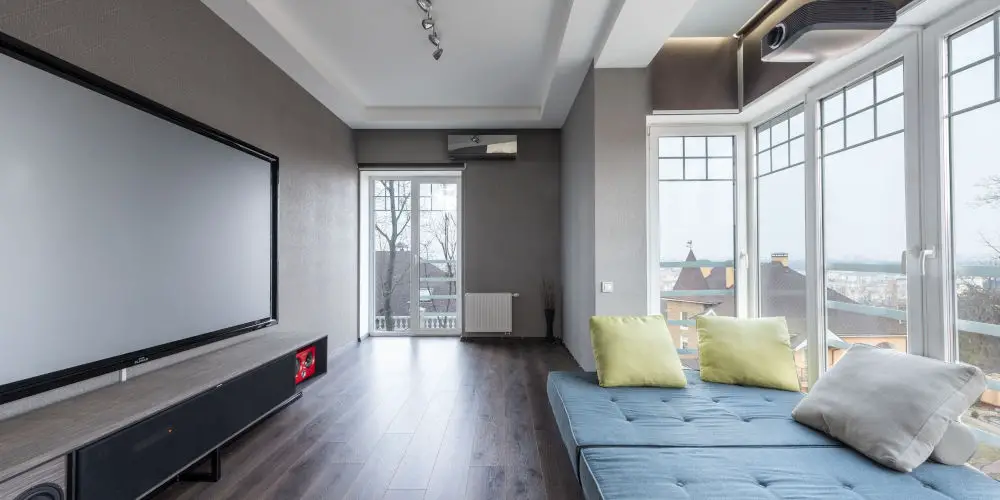 Tips for picking the ideal curtains
Here are a few tips that will help you choose the ideal home cinema curtains for your room.
Dark colour
Ideally, you want to use dark coloured curtains. They blend into the room, create a dramatic effect and offer better light-blocking properties. They will also make your room feel more private and intimate.
Fabric
It's best to use a triple weave blackout construction over a standard curtain with a blackout backing. As these types of curtains are heavier in weight, they provide noise reduction or acoustic absorption, enhancing the sound of your room and audio equipment.
Size
Don't scrimp on size. Instead, ensure you have plenty of curtain material available. A curtain that just about covers a window won't be as effective at blocking ambient light as a curtain that extends below the window. The same is true for sound absorption.
You might prefer to buy fabric by the metre and cut to size after experimenting, rather than ordering made to measure curtains. The extra effort will be worth it as you'll be able to fine-tune the room for the best experience.
Installation
It's worth spending time on installing your curtains correctly or hiring a professional. Ensure the curtains cover the entire window. Doing so will reduce the amount of ambient light, block more noise pollution and help to maintain the temperature of the room.
Extra-long curtains
Using oversized curtains that drape on the floor makes the room feel more opulent. They not only look terrific, but also they provide additional soft furnishings, again providing added noise absorption.
Mounting style
Two main mounting styles are typically used: Grommets and Rod Pockets. Curtains with metal grommets simply slide over the curtain rod. Rod pockets have holes for the curtain rod to slip through. It's a matter of taste which style you choose. That said, rod pockets are quieter.
Price
As with any curtain purchase, the price is determined by the material used and the size. Prices range from as low as £25 to well into the hundreds.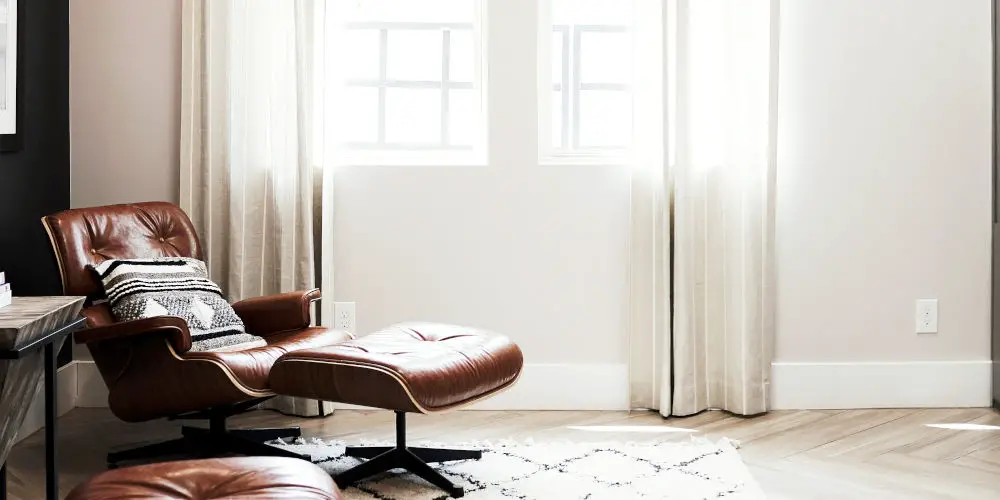 Will I still need additional soundproofing?
Depending on the room size, you might need to add soundproofing to correct any acoustic issues. You should be able to use DIY acoustic panels, heavy fabrics and bass traps to remove most of the unwanted reflections present in the room.
Bear in mind, your room should provide a consistent frequency response across the spectrum. Curtains are just one element to making a room sound at its best while removing unwanted noise. It's worth reading our guide to home cinema acoustics.
Can I use blinds instead?
It's possible to use blinds rather than curtains in your home cinema room. But they can be harder to work with for a few reasons.
You'll need to mount your blinds from the ceiling so that they cover the entire window and not just the glass pane. Otherwise, they'll only block out some of the ambient light, meaning your room won't be completely dark.
Another reason we prefer curtains to blinds is the ease of adjusting the material thickness. Blinds do come in a range of thicknesses. However, you can easily add backing material to curtains to increase their density. If your blinds aren't thick enough, you'd need to buy new ones.
In a media room, you could use a combination. Blinds for everyday TV watching as they'll block some of the room's natural light, and then curtains with a projector for the best home cinema experience.
Invest in home cinema curtains
Investing in good quality home cinema curtains is essential to building the best possible room. They will block out ambient light, absorb unwanted sounds and ensure the room stays warm.
Ideally, purchase oversized curtains that drape from the ceiling to the floor with some overhang. Also, ensure they are wider than the window frame. Doing so will help you to block out any light.
If you can't afford specialist soundproof curtains, buy the thickest curtains possible and add blackout backing. You'll find the combination of these materials is sufficient.
Bear in mind, curtains are one element of soundproofing a room, but they aren't a substitute for proper acoustic treatment. Good luck finding the ideal home cinema curtains for your room!